The global fish protein hydrolysate market was valued at USD 212.7 million in 2020 and is expected to grow at a CAGR of 4.8% during the forecast period. The market is expected to increase in response to rising customer preference for nutrient- and chemical-free food items. The Fish Protein Hydrolysate (FPH) is utilized as a component in a variety of food products. It contains a considerable amount of minerals and vitamins A and D.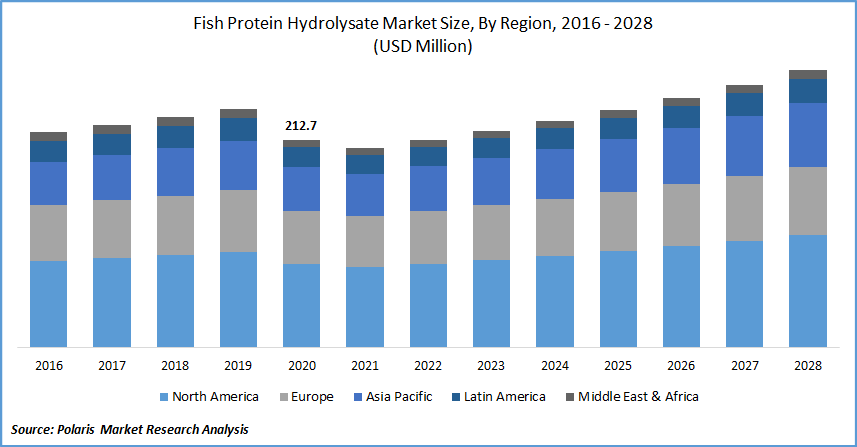 Know more about this report: request for sample pages
The fish protein hydrolysate is employed in manufacturing numerous animal feeds and their broad use in the food industry. Since it is high in micronutrients, it has various health benefits, including anti-aging qualities for the skin, blood pressure regulation, and bone growth enhancement in animals.
Organic cosmetics and pharmaceuticals industries are also developing fish protein-based products in recent years. These products are great nutraceutical that helps to improve the health of an individual and also improve dermatological issues associated with old age, making it a great cosmetic product.
Globally, there are over 700 million senior people. Most of them suffer from some skin-related issues. The improving awareness and economic progress across the world have resulted in the rising consumption of cosmetics. Considering both the nutraceutical and cosmetic benefits of fish protein hydrolysate, it is extensively being used as an organic nutria-cosmeceuticals, which is expected to significantly boost the market demand for the product.
The emergence of COVID-19 is expected to slow market growth due to disruptions in the supply chain of various raw materials. that include fish protein hydrolysate that has applications in various pharmaceutical and food & beverage industries. The situation is expected to improve over the coming period, with the pandemic is expected to subsidize across the globe.
The increasing applications of fish protein hydrolysate in pharmaceuticals along with the cosmetic, food, and beverages industry due to the various clinical benefits will be the major driving factors for the growth of the global market. The swelling consumption of animal food owing to the increasing number of pet animals and the need for quality animals in the food industry is expected to further drive the fish protein hydrolysate market over the coming years.
Industry Dynamics
Growth Drivers
Fish protein hydrolysate is being used in the food & beverages industry in recent years as they are known to improve various disease conditions such as Crohn's disease and irritable bowel syndrome (IBS). Fish proteins are hypoallergenic in nature, and hence it is a good alternative for people who are allergic to dairy-based products.
Fish protein hydrolysate is used by people suffering from gluten intolerance, celiac disease, and milk allergy. Celiac disease affects nearly 1% of the global population, whereas gluten sensitivity is more common than celiac disease and affects 20 million people in the United States alone, which is 6% to 7% of the total population. These factors augment the growth of the fish protein hydrolysate market during the forecast period.
The acid hydrolysis technology dominated the hydrolysate market and generated the highest revenue in 2020, owing to its widespread use. The increasing product market demand as a gelling agent, binder and emulsifier, for various use in the food and beverage industry, as functional foods and nutritional supplements, is anticipated to augment market segment growth.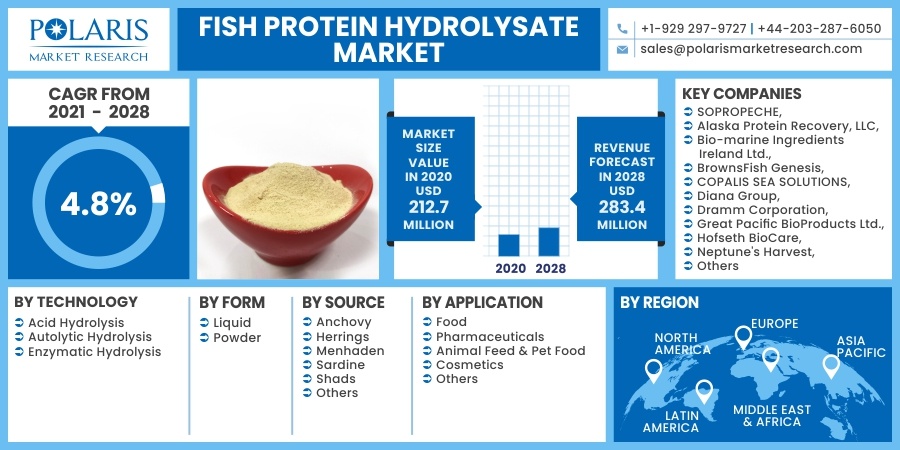 Know more about this report: request for sample pages
Report Segmentation
The market is primarily segmented on the basis of technology, form, source, application, and By Region.
By Technology

By Form

By Source

By Application

By Region

Acid Hydrolysis
Autolytic Hydrolysis
Enzymatic Hydrolysis

Anchovy
Herrings
Menhaden
Sardine
Shads
Others

Food
Pharmaceuticals
Animal Feed & Pet Food
Cosmetics
Others

North America (U.S., Canada)
Europe (Germany, UK, Italy, France, Spain, Austria, Netherlands)
Asia Pacific (China, Japan, India, Indonesia, Malaysia, South Korea)
Latin America (Brazil, Argentina, Mexico)
Middle East & Africa (Israel, Saudi Arabia, South Africa, UAE)
Know more about this report: request for sample pages
Insight by Technology
The acid hydrolysis technology dominated the market and generated the highest revenue in 2020, owing to its widespread use. The increasing hydrolysate protein demand as a gelling agent, binder, and emulsifier for various use in the food & beverage industry, as functional foods, and nutritional supplements, is anticipated to augment market segment growth.
The enzymatic hydrolysis segment is projected to grow at a high growth rate during the forecast timeframe. The technique works well in hydrolyzing fish by-products. This procedure meticulously monitors parameters such as enzyme concentration, temperature, pH concentration, and time. It is frequently used in the food and pharmaceutical industries.
Insight by Form
In 2020, the powder form dominated the market for fish protein hydrolysate and generated the most revenue. It is gaining popularity in a variety of applications, including the production of pharmaceutical-grade protein powders. The fish protein hydrolysate powder has a high nutritional profile as well as functional properties. Furthermore, longer shelf life, simple to handle, and transport are few factors that drive the hydrolysate segment's growth.
Liquid fish protein hydrolysate contains around 90% moisture, has high water solubility, and has a favorable amino acid composition, making it ideal for nutraceutical and pharmaceutical formulations. Liquid form also has a satiating effect, which helps keep cholesterol levels in control and lowers people's incidence of benign and malignant cancers.
Geographic Overview
North America hydrolysate industry is the biggest region for the global market during the forecast period due to the increasing market demand for nutraceuticals and cosmetics in countries like the U.S. Consumers in this region use more collagen enriched expected to drive the growth. In addition, well-known cosmetics product manufacturers are focusing on improving their product portfolio and consumer reach.
Asia Pacific is anticipated to be the fastest-growing region for the global hydrolysate market during the forecast period owing to the increased consumer awareness for healthy food products and cosmetics in emerging economies like India and China. The region is also extensively involved in fish farming, with China, India, and Indonesia are some of the largest producers of fish used in the production of protein hydrolysates.
Competitive Insight
Major players in the hydrolysate market are investing in R&D to further study the clinical benefits of fish protein to develop innovative food and cosmetic products. Companies are involved in product launches, partnerships, and mergers to expand their foothold in the hydrolysate market.
Some of the major players operating in the market include SOPROPECHE, Alaska Protein Recovery, LLC, Bio-marine Ingredients Ireland Ltd., BrownsFish Genesis, COPALIS SEA SOLUTIONS, Diana Group, Dramm Corporation, Great Pacific BioProducts Ltd., Hofseth BioCare, Janatha Fish Meal & Oil Products, Marutham Bio Ages Innovations (p) Limited, Neptune's Harvest, New Alliance Dye Chem Pvt. Ltd., SAMPI, Scanbio, Shenzhen Taier, U.S. Ag Florida, Inc., and United Fisheries.
Fish Protein Hydrolysate Market Report Scope
| | |
| --- | --- |
| Report Attributes | Details |
| Market size value in 2020 | USD 212.7 million |
| Revenue forecast in 2028 | USD 283.4 million |
| CAGR | 4.8% from 2021 - 2028 |
| Base year | 2020 |
| Historical data | 2016 - 2019 |
| Forecast period | 2021 - 2028 |
| Quantitative units | Revenue in USD million and CAGR from 2021 to 2028 |
| Segments covered | By Technology, By Form, By Source, By Application, By Region |
| Regional scope | North America Europe Asia Pacific Latin America; Middle East & Africa |
| Key companies | SOPROPECHE, Alaska Protein Recovery, LLC, Bio-marine Ingredients Ireland Ltd., BrownsFish Genesis, COPALIS SEA SOLUTIONS, Diana Group, Dramm Corporation, Great Pacific BioProducts Ltd., Hofseth BioCare, Janatha Fish Meal & Oil Products, Marutham Bio Ages Innovations (p) Limited, Neptune's Harvest, New Alliance Dye Chem Pvt. Ltd., SAMPI, Scanbio, Shenzhen Taier, U.S. Ag Florida, Inc., and United Fisheries. |