The global halal cosmetics market size is estimated to grow at a CAGR of 6.0% from 2018 to 2026. The market is projected to witness significant growth over the forecast period, primarily due to the growing Muslim population across the globe. In addition, the growing population of absolute vegans worldwide is acting as another driver propelling the halal cosmetics market growth.
Halal cosmetics are expected to be manufactured, packaged, stored, and distributed as per Islamic teachings. Moreover, these products are considered much safer, cleaner, and of high quality. The improving economic condition in Islamic countries is expected to pose great potential for growth of halal cosmetics markets relevant to beauty and personal products. In addition, the growing issues over the environmental and health hazards are also responsible for such a significant impact on the cosmetic industry. Some of the health hazards such as distortion, breast cancer, and abnormalities pertaining to genital are usually blamed to occur as a result of excessive usage of cosmetics products comprising nano-particle ingredients. All these factors together, offers great opportunity for the market to grow in the next eight years.
A noticeable shift from the delusion of halal being applicable only to food consumption and financial transactions has been observed. More businesses outside the industry are acknowledging this fact and are looking out for opportunities to enter the halal market. Furthermore, the increasing consumer awareness about personal care is encouraging them to shop for personal care and beauty care products.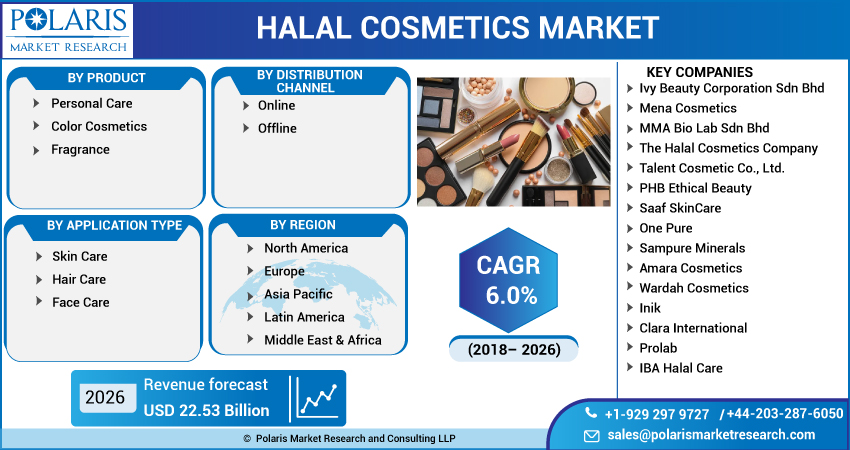 Segment Analysis
The overall halal cosmetics market has been segmented on the basis of products, application and distribution channel. On the basis of product type, the market can be further segregated into three types namely, color cosmetics, personal care, and fragrance. Among these, personal care segment acquired the largest market share and is expected to retain its dominance over the forecast period. Personal care products are utilized by a larger customer base in comparison to color cosmetics and fragrance. Moreover, they are utilized on daily basis that automatically elevates their consumption and demand.
Application segment can be categorized within hair care, skin care, and face care, among others. Among these applications, hair care segment dominates the market, owing to the importance of healthy hairs that forms an important part of an individual's personality. Halal hair care products usually comprise shampoo, oil, hair gel, conditioner, and massage creams among others.
Online distribution channel is expected to emerge as the fastest growing mode of distribution within the halal cosmetics market, as it allows companies to reach and serve a larger number of customers. Moreover, online channels are quite popular these days and are gaining popularity due to increasing utilization of social media and internet.
Regional Analysis
Asia Pacific is expected to retain the largest market share for halal cosmetics market over the forecast period, due to the presence of emerging nations such as India, Indonesia, Malaysia, Bangladesh, Maldives, and Pakistan. A large majority of population in these nations follow Islam. Moreover, MEA region is also anticipated to acquire a considerable share in the global halal cosmetics market.
Competitive Landscape
The list of key companies that are operating in the market include Ivy Beauty Corporation Sdn Bhd, Mena Cosmetics, MMA Bio Lab Sdn Bhd, The Halal Cosmetics Company, Talent Cosmetic Co., Ltd., PHB Ethical Beauty, Saaf SkinCare, One Pure, Sampure Minerals, Amara Cosmetics, Wardah Cosmetics, Inika, Clara International, Prolab, and IBA Halal Care. These players are observed engaging in activities aimed at the development of new products.
Global halal cosmetics market is marked by the presence of numerous international, regional, and local players. However, the market is largely dominated by few well-established international players that are continuously working towards new product development, and are observed spending significant amounts research & development activities. The newly launched products are usually differentiated based on variety and quality. Moreover, it helps the companies to attract new customers and retain the existing ones.