The global glycols market was valued at USD 31.80 billion in 2017 and is expected to grow at a CAGR of 5.1% from 2018 to 2026. Increase demand for polyester fibers and antifreeze products for several industrial processes, that manufactured from glycols are expected to drive the market growth. Ethylene glycol is the most consumed product in all of its forms. It is an odorless, colorless, low-viscosity, low-volatility hydroscopic liquid.
The solubility and reactivity of these products provides the basics for various applications. Its widespread application as antifreeze is mainly based on its lower the freezing point when mixed with water. As glycols are petrochemical feedstocks, and its price volatility owing to unstable supply demand scenario has significant impact in glycol prices and this has been different for different regions.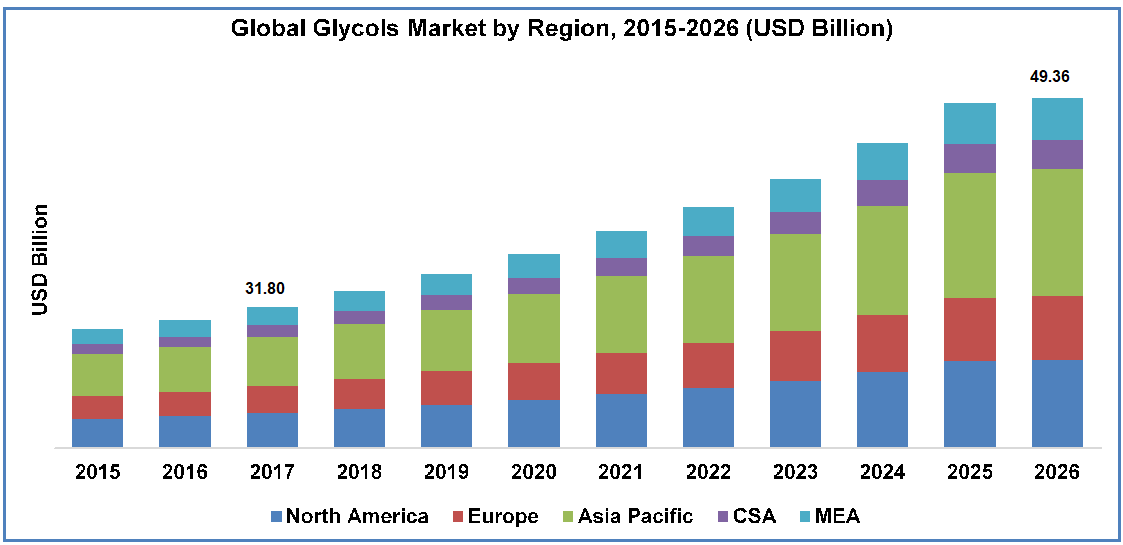 Know more about this report: request for sample pages
In the European market, prices of mono-ethylene glycol increased in the initial months of 2017, but the industry participants were able to maintain the European demand performed in line with the market expectations. In 2016, around the fourth quarter most of the MEG buyers in the region resisted price rises and this mimicked a strong uptrend seen in the Asia Pacific market. This resulted in the European prices to lag behind the other worldwide markets mainly the Asia Pacific. In Asian market in 2017 first quarter, glycol prices increased throughout the year, with an average weekly MEG spot prices at USD 622/tonne CFR (cost & freight) CMP (China Main Port), and by late December they had risen to USD 848.5/ tonne CFR CMP.
The gains in the regional industry was majorly attributed to the high than anticipated macroeconomic performance, mainly in Chines. The primary end-use sector of the product i.e. polyester manufacturing in Asia Pacific market were higher in terms of production rates and sales. This resulted in a boost in market sentiment and in turn led to higher MEG values.
Europe is majorly a net importer of ethylene glycols, and while a small fraction of the global production takes place in the region, both of the European contract and spot markets are completely reliant on imports. In order to bring volumes in the market, the prices typically command a premium over the other regional prices, mainly the Asia Pacific.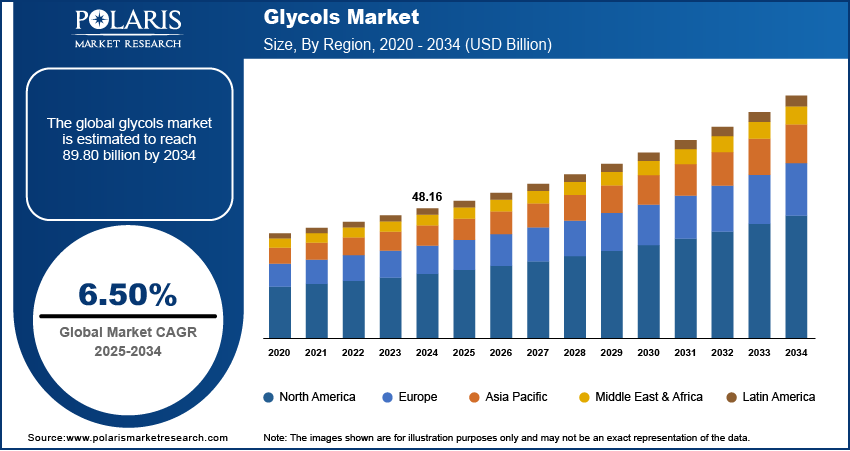 Know more about this report: request for sample pages
Segment Analysis
The glycol market is segmented based on its products and its end uses. The product segment is segmented into propylene and ethylene glycol, which is further sub-divided into mono-ethylene (MEG), di-ethylene (DEG) and tri-ethylene glycol (TEG). The end-use segment is further divided into textiles, automotive, HVAC, medical, airline, polyester fiber & resins, food & beverage, others.
Ethylene glycol was the largest product segment in 2017 and with its significantly rising applications, this segment market is anticipated to be the fastest growing product over the forecast period. MEG witness a double digit increase in its price in the first two months of 2017 and its spot prices reached the highest since 2015. Europe witness its highest price range globally. Around 90% of the MEG produced worldwide is used for production of polyesters, thst is being largely used in the textile industry and also in production of polyethylene terephthalate (PET) bottles.
The ethylene glycol petrochemical family has progressed to such a point that these products or its derivatives assist us in several phases of out daily lives. Its various applications such as chemical intermediates, polyester resins, plasticizers, heat transfer agents, and solvents put these products on the list of heavy tonnage petrochemicals.
Glycols Market Scope
By Product

By Application

By Region

Propylene glycol
Ethylene glycol

Polyethylene
Textiles
Automotive
HVAC
Medical
Airline
Polyester Fiber & Resins
Food & Beverage
Others

North America (U.S., Canada)
Europe (Germany,
UK, France, Italy, Spain, Belgium, Russia, Netherlands, Rest of Europe)
Asia Pacific (China, India, Japan, Korea, Singapore, Malaysia, Indonesia, Thailand, Philippines)
Latin America (Brazil, Mexico, Argentina, Rest of LATAM)
Middle East & Africa (UAE, Saudi Arabia, South Africa, Rest of MEA)
Know more about this report: request for sample pages
Regional Analysis
Asia Pacific region was the largest consumer of glycols and also the highest producer in 2017. China is the largest producer in the region with 6.13 million tons produced in 2017 and an import of 8.75 million tons the same year, an increase of 15.6% from 2016, also made it the largest consumer with 14.90 MT that was an increase of 17.2% from 2016. Despite the fact that, China has been continuously increasing its capacity for domestic production of MEG, it still relies heavily on imports that accounted for 58.9% of its overall consumption in 2017 and the import share to overall consumption was at 59.7%.
The U.S. is yet another significant industry space for the glycols industry. MEG prices in the country remained largely stable in the past months in 2018 and its pricing is anticipated to follow the movement of its feedstock propylene till the end of first half of 2019. Glycol availability in the country was generally good in 2017 and its demand was relatively steady. In 2018, the U.S. demand for MEG was on the higher side compared to DEG and TEG owing to growing demand from antifreeze/ deicing sector with the onset of colder weather.
Competitive Analysis
The worldwide glycols market is a competitive marketspace with moderate degree of integration across the value chain by several market players. Some of the lading market participants include ExxonMobil Corporation, Saudi Basic Industries Corporation (SABIC), Dow Dupont, Royal Dutch Shell plc, LyondellBasell Industries, Total S.A., and China Petroleum & Chemical Corporation.