The global grow lights market size was valued at USD 1.28 billion in 2020 and is expected to grow at a CAGR of 32.1% during the forecast period. Grow lights are artificial lights developed to stimulate plant development. These lights are used in controlled-environment agriculture practices to simulate a spectrum similar to the sun to enable plant development. The different types of light sources used in grow lights include high-intensity discharge lights, light-emitting diodes lights, and fluorescent lights. Increasing adoption of farming practices such as vertical farming, indoor farming, and commercial greenhouses has increased the demand for grow lights. Development in plant factories and initiatives were taken to adopt sustainable practices has further boosted the market demand.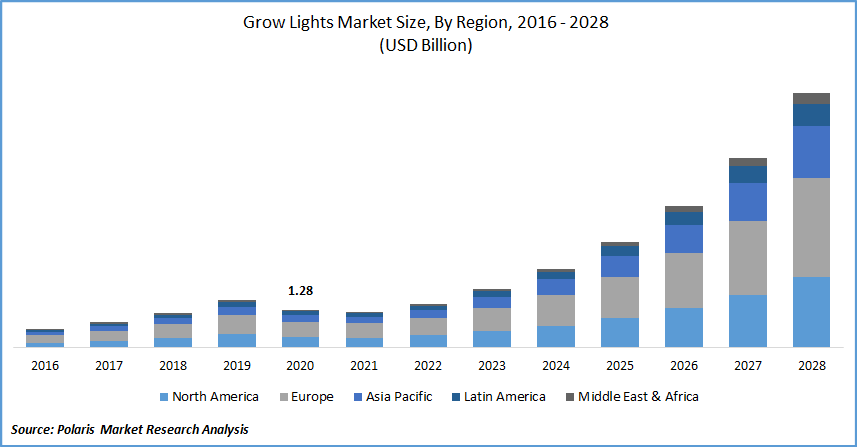 Know more about this report: request for sample pages
The COVID-19 outbreak has negatively impacted the development of the market owing to operational challenges, transportation delays, and travel restrictions. The farming sector has been affected by the pandemic and has experienced disruption of the supply chain, the shutdown of factories, and workforce impairment. Restrictions on imports of goods to curb the spread of the virus have further contributed to restricting the market demand. The operations have also been halted due to various government regulations across the globe, restricting the market's demand. However, the market is expected to increase post-COVID-19 and attract investments and research initiatives to increase applications of grow lights.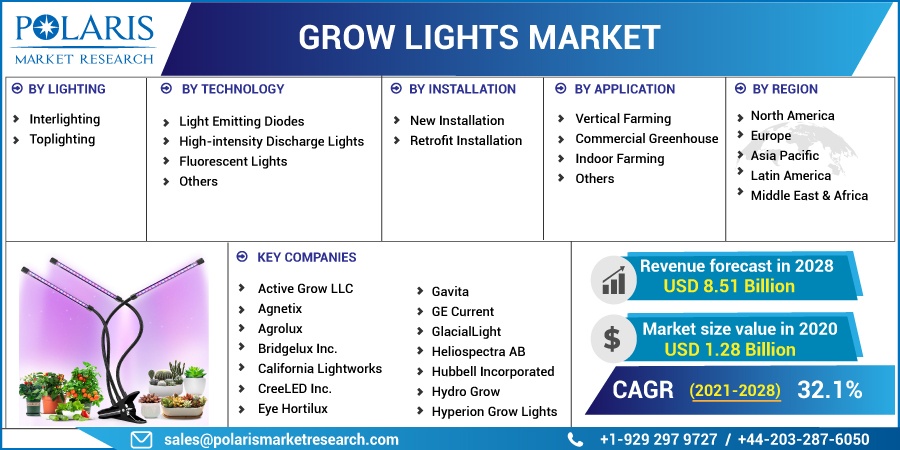 Know more about this report: request for sample pages
Industry Dynamics
Growth Drivers
The rise in demand for high-quality food products and the increasing requirement for naturally sourced ingredients has increased the demand for grow lights. Increasing the use of solid-state lighting solutions owing to their energy efficiency supports the market demand. There have been increasing efforts to legalize cannabis cultivation, further increasing the demand for grow lights. Increasing environmental concerns, introducing innovative farming practices, and reducing cultivable land have encouraged the use of grow lights for farming. Population increase, greater need to optimize yield and plant quality, and technological advancements, further boost the market demand.
Economic development in developing countries, supportive government initiatives, and changing consumers' lifestyles are some factors expected to provide development opportunities during the forecast period. The adoption of LED-based grow lights has increased owing to their higher efficiency, longer life, and color quality. Market players are developing new innovative products to cater to the increasing consumer demand.
In May 2021, BIOS launched its next generation of DLC-certified BIOS Icarus LED Grow Lights. This new product is developed with the focus on providing energy-efficient and safe products to the consumers. It offers higher efficacy and greater long-term performance. It is designed to enable maximum light output, uniformity, and operation in harsh development environments. In March 2021, Thrive Agritech, Inc. introduced its new product, Pinnacle LED grow light. The 600W Pinnacle light offers power and efficiency to optimize for plant health and crop yield. The new product enhances the company's offerings while providing benefits such as ease of installation, high energy efficiency, and superior crop yields to consumers.
Report Segmentation
The market is primarily segmented on the basis of lighting, technology, installation, application, and region.
By Lighting

By Technology

By Installation

By Application

By Region

Interlighting
Toplighting

Light Emitting Diodes
High-intensity Discharge Lights
Fluorescent Lights
Others

New Installation
Retrofit Installation

Vertical Farming
Commercial Greenhouse
Indoor Farming
Others

North America (U.S., Canada)
Europe (Germany, UK, France, Italy, Spain, Netherlands, Austria)
Asia Pacific (China, India, Japan, South Korea, Indonesia, Malaysia)
Latin America (Brazil, Mexico, Argentina)
Middle East & Africa (Saudi Arabia, South Africa, Israel, UAE)
Know more about this report: request for sample pages
Insight by Lighting
Based on lighting, the market is segmented into interlighting and toplighting. The demand for interlighting is expected to increase during the forecast period. Interlighting enables lighting between high wire crops and low levels of canopies. It provides benefits by lighting areas that lead to higher yields and greater plant production. It provides control of the development process leading to higher quality crops.
Insight by Technology
The technology segment has been divided into light-emitting diodes, high-intensity discharge lights, fluorescent, and others. The demand for light-emitting diodes is expected to increase during the forecast period. Consumers are increasingly turning towards light-emitting diode lighting solutions owing to higher energy efficiency and longer life. Lower energy consumption, reduced costs, improved environmental performance, and the ability to operate in cold conditions boost this segment's development.
Insight by Installation
On the basis of installation, the market is segmented into new installation and retrofit installation. There has been a high demand for new installations in 2020. The major factors driving the development of this segment include an increasing number of plant factories, rising awareness regarding the benefits of grow lights, and increasing application in cannabis farming. The introduction of advanced LED lighting solutions and supportive government regulations further support the demand.
Insight by Application
The application segment has been divided into vertical farming, commercial greenhouse, indoor farming, others. The market demand from the vertical farming sector is expected to increase during the forecast period. Greater adoption of vertical farming to acquire greater yield supports the development of this segment. The decline in cultivable land, greater demand for high-quality food products, and technological advancements boost the segment's market demand.
Geographic Overview
Europe holds the majority of share in the global grow lights market in 2020. Increasing population, development in the agricultural sector, and implementation of vertical and indoor farming practices have increased the demand for the product in the region. Increasing adoption of commercial greenhouses and rising use of the product in indoor agricultural operations further support the demand in the region. Increasing adoption of indoor horticulture and lower dependency on weather conditions has further attributed to the development in this region. The presence of leading market players in the region, and increasing use of LED bulbs, and supportive government regulations are expected to offer development opportunities during the forecast period.
Competitive Landscape
The leading players in the grow lights market include Signify Holding, LumiGrow Inc., Heliospectra AB, Everlight Electronics Co. Ltd, Osram Licht AG, Epistar Corporation, California Lightworks, Savant Systems Inc., Gavita, Illumitex Inc., Hydro Grow, and Iwasaki Electric Co. Ltd. These players are expanding their presence across various geographies and entering new markets in developing regions to expand their customer base and strengthen their presence in the market. The companies are also introducing new innovative products in the market to cater to the growing consumer demands.
Grow Lights Market Report Scope
| | |
| --- | --- |
| Report Attributes | Details |
| Market size value in 2020 | USD 1.28 billion |
| Revenue forecast in 2028 | USD 8.51 billion |
| CAGR | 32.1% from 2021 - 2028 |
| Base year | 2020 |
| Historical data | 2016 - 2019 |
| Forecast period | 2021 - 2028 |
| Quantitative units | Revenue in USD million/billion and CAGR from 2021 to 2028 |
| Segments covered | By Lighting, By Technology, By Installation, By Application, By Region |
| Regional scope | North America, Europe, Asia Pacific, Latin America, Middle East & Africa |
| Key companies | Active Grow LLC, Agnetix, Agrolux, Black Dog Grow Technologies Inc., Bridgelux Inc., California Lightworks, CreeLED Inc., EconoLux, Epistar Corporation, Everlight Electronics Co. Ltd., Eye Hortilux, Foxconn, Gavita, GE Current, GlacialLight, Heliospectra AB, Hortilux Schréder (Dool Industries), Hubbell Incorporated, Hydro Grow, Hyperion Grow Lights, Illumitex Inc., Iluminar Lighting, Indulux Technologies, Iwasaki Electric Co. Ltd., LumiGrow Inc., Nichia Corporation, Oreon, Osram Licht AG, PARsource, Samsung Electronics Co., Ltd., San'an Optoelectronics Co., Ltd., Savant Systems Inc., Signify Holding, Thrive Agritech, Valoya, ViparSpectra, VividGrow |