The global high-performance thermoplastics market size was valued at USD 36.5 billion in 2018 and is anticipated to grow at a CAGR of 7.7% from 2019 to 2026. High-Performance Thermoplastics (HPTP) is highly specialized polymeric compounds with highly demanding and specific applications. They are high-priced, low volume polymers that are grossly used for its list of rich features including high-heat temperature tolerance. HPTP's are excessively priced in comparison to engineering thermoplastics and are equipped with more thermal resistance and excellent properties. These HPTP's can replace metal parts and are looked upon to be the lightweight material in the industry.
The main markets are electrical/ electronics, automotive, aircraft/aerospace, industrial (including oil and energy) and health (medical/dental). These plastics are gaining excellent mobility on account of increased demand for them in automotive and aviation industry. These plastics are made to resist severe conditions while gearing up for high efficiency simultaneously. High rigidity, high impact strength, high resistance to temperature, creep resistance and better surface quality together with low count of rejection are the most important features that come to depend upon in the end-uses. The electronics industry cannot do without HTTP's on account of constant drive for miniaturization, higher temperature generation and greater stresses, consumer demand, increased durability and rampant use of mobiles and electronic devices.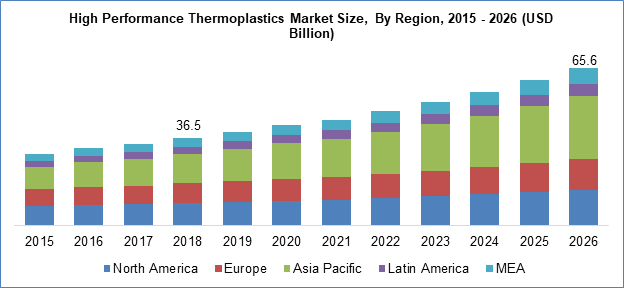 Know more about this report: request for sample pages
HPTP's are also used extensively in defense industry, electrical and electronics and consumer goods. Plastics and polymer industries have observed considerable development in product design and material science. This has made plastics lighter and put plastics in bracket of metals with strength identical to that of metals. Technical advancements categorized by resin materials have attributed a growing market that has the required characteristics to replace ceramic, advanced metal and other metal parts.
The consequences of choosing wrong material can prove to be costly in industries such as aerospace where part failure can be devastating. High performance thermoplastics are costly but provide greater thermal resistance than contemporary engineering polymers. Growth lies in that they offer greater thermal stability which means that they have high melting points, heat deflection temperatures, glass transition temperatures and stronger burn coefficient of resistance.
Medical industry requires HPTP's for driving reasons including aging population, stronger heat requirements, biocompatibility for implants, use of more aggressive cleaners and disinfectants, increased lifetime durability and others.
Restraints to the market include high cost of manufacturing and a strict compliance network in place which hold up market growth. Thermoplastics' biodegradability is a serious environmental backlash and hence the manufacture of thermoplastics and its disposal is highly controlled. Being a petrochemical derivative, thermoplastics undergo lot of price variations that is anticipated to be yet another restraint for the market.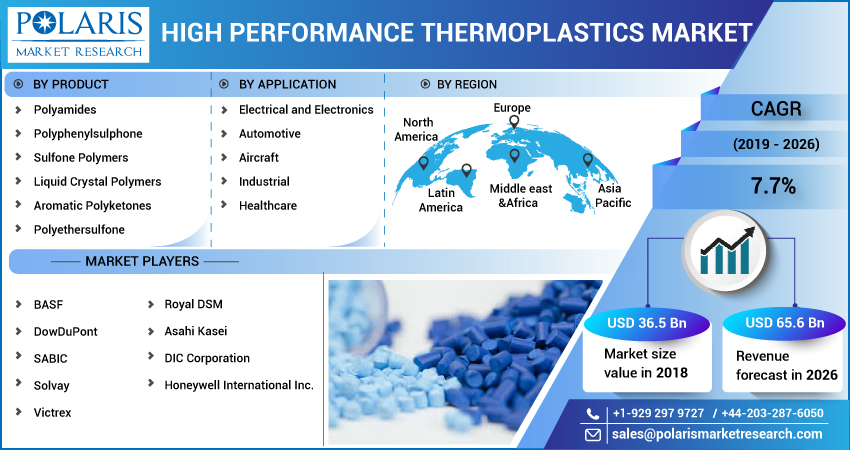 Know more about this report: request for sample pages
High Performance Thermoplastic Market Scope
By Product

By Application

By Region

Polyamides
Polyphenylsulphone
Sulfone Polymers
Liquid Crystal Polymers
Aromatic Polyketones
Polyethersulfone
Others

Electrical and Electronics
Automotive
Aircraft
Industrial
Healthcare
Others

North America (U.S, Canada)
Europe (Germany, UK, France, Italy, Spain, Belgium, Russia, Netherlands)
Asia Pacific (Germany, UK, France, Italy, Spain, Belgium, Russia, Netherlands)
Latin America (Brazil, Mexico, Argentina)
MEA (UAE, Saudi Arabia, South Africa)
Know more about this report: request for sample pages
Product Type Analysis
High performance polyamides are the largest product segment for HPTP's. Polyamide derivatives such as polyamide 6 and polyamide 66 are natural extensions of polymer and fill the void in industrial applications with its use in sports equipment, construction, electronics and consumer goods. Polycarbonates are expected to witness considerable traction during forecast period. The largest volume HPTP's are high performance polyamides (HPPA's). High Performance polyamides are designed for use in areas where engineering thermoplastics nylons are unsuitable such as automotive engine coolant pumps, impeller, valves and other applications. HPPA's can withstand high temperatures and continuous contact with fluids because they are not prone to absorbing water. A significant factor driving polyamides is a high demand for automatic weight reduction that result from strict regulations and lower CO2 Emissions.
Application Analysis
On the basis of end-use applications, High performance thermoplastics find inclusive growth in space, defense, industrial applications, electrical and electronics, automotive, consumer goods and other industrial sectors. Aerospace continues being the most attractive industry for HPTP's with light-weight performance and efficiency ranking high.
An increasing demand for more light-weight aircraft structures has forced the aircraft industry to back the use of thermoplastics in component structures. The thermoplastics were initially used in military aerospace applications only as it was considered too expensive. Strict environmental concerns and rising cost of aviation fuel had civilian aircraft sit up and take notice of these light weight and high-performance structures for use in civilian aircraft industry.
Regional Analysis
Asia Pacific is leading player for High performance thermoplastics owing to dense population and modernization of developing economies such as India and China. Constant innovative practice in industrial infrastructure has led to significant growth in end-use industries such as electronics, automotive, aerospace and consumer goods. Technologically advanced nations in Asia Pacific such as Japan will observe rapid industrial growth during forecast period in the region.
North America is also expected to ring in high growth rates with United States having a developed automotive industry in company with major presence of aerospace stalwarts. Europe represents another mature growth region in the race for HPTP owing to a stellar automotive industry.
The key industry players in High Performance Thermoplastics market include major multinational industries with no dearth of experience in polymer processing and manufacturing. Small players with marginal involvement have also contributed evenly to growth. A major competitiveness factor among leading players is gravitation towards polymer modification via intensive R& D and progressive techniques in manufacturing.
Competitive Landscape
The key industry players in High Performance Thermoplastics market include BASF, DowDuPont, SABIC, Solvay, Victrex, Royal DSM, Asahi Kasei, DIC Corporation and Honeywell International Inc.