The global nurse call systems market was valued at USD 1.36 billion in 2020 and is expected to grow at a CAGR of 11.1% during the forecast period. The key factors responsible for the market growth include growing need for diversified integrated platforms, rising necessity to decrease human intervention in medical facilities in order to contain COVID-19 infections among caregivers.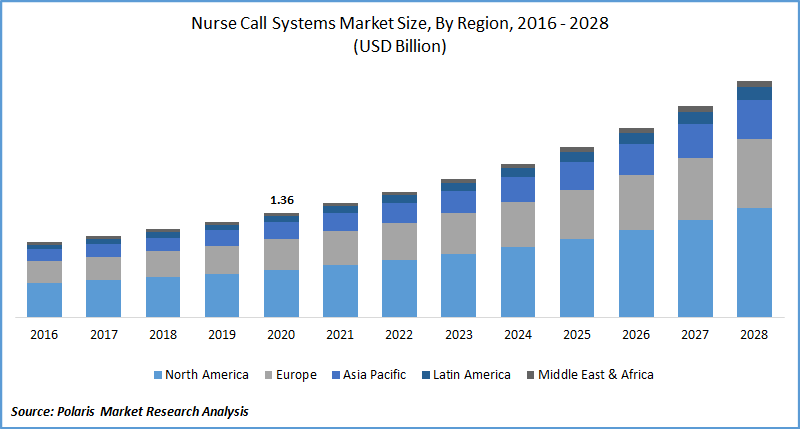 Know more about this report: request for sample pages
In addition, strong mandate in developed economies to have such systems and rising purchasing power capacity of healthcare facilities across the globe facilitating the market adoption of nurse call systems. Apart from medical facilities, the assisted living care centers, and old age homes are major end-users.
Rising adoption of real time location system (RTLS) is driving the market for nurse call systems. It allows medical facilities to track movement of attendants to enhance productivity. For instance, in 2019, U.S. based Piedmont Healthcare established RTLS in its six different hospital facilities to track its assets within the site.
Moreover, with the rise in cases of work fatigue among nurses, in home healthcare and assisted living care centers, vendors in the marketplace are differentiating their offerings by integrating devices with different diagnostic and technologies. For instance, in June 2019, Vocera Communications, introduced analytics solutions, which provides information about alarms, texts, alerts, and calls to the clinicians. The players in the marketplace are focusing customizing services as per hospital requirements.
These systems enable providers to offer extended level of care through customized services designed according to the needs. Key part in these systems include real time location systems (RTLS), which improves service efficiency and the ability of the caregivers in providing medical assistance, or any loophole need to resolve.
Wireless receivers are strategically placed across the facility, which enable caregivers to know the patient in need. Patients are provided with pendants/ badges which provides information about the patient's location and assistance requirement.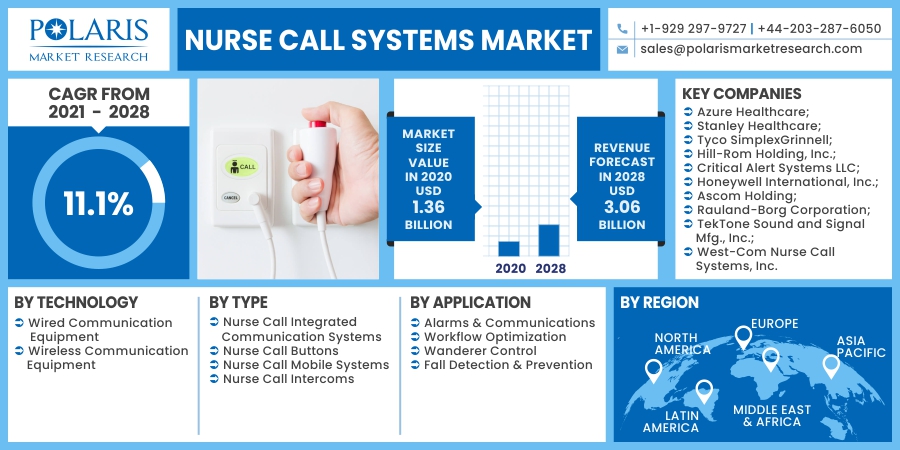 Know more about this report: request for sample pages
Nurse Call Systems Market Report Scope
The market is primarily segmented on the basis of technology, type, application, and region.
By Technology

By Type

By Application

By Region

Wired Communication Equipment
Wireless Communication Equipment

Nurse Call Integrated Communication Systems
Nurse Call Buttons
Nurse Call Mobile Systems
Nurse Call Intercoms

Alarms & Communications
Workflow Optimization
Wanderer Control
Fall Detection & Prevention

North America (U.S., Canada)
Europe (France, Germany, UK, Italy, Spain, Netherlands, Austria)
Asia Pacific (Japan, China, India, Malaysia, Indonesia, South Korea)
Latin America (Brazil, Mexico, Argentina)
Middle East & Africa (Saudi Arabia, UAE, Israel, South Africa)
Know more about this report: request for sample pages
Insight by Technology
The wired communication equipment market segment accounted for the largest revenue share, in 2020. The players in the market are focusing on offering integrated solutions, where data is saved on the monitor screen from different individual systems.
Hospitals all over the world, are expanding their facilities by installing new and updated systems. Beds are wired to the diagnostic systems, which send all the information to the nurse call systems to allow a two-way communication system in the market.
Wireless technology for nurse call systems is expected to witness a lucrative market growth rate over the study period. Segment's growth is attributed to its advantages, as it offers a high level of integration at reduced upfront installation costs, as compared to wired technology.
This is most suitable in assisted living care facilities; wherein patient movement is important, and pendants/badges play an important role. In line with this, in January 2020, Rauland introduced the next-generation platform for its "Responder intelligent nurse call solution" to improve its workflow systems.
Insight by Application
In 2020, the integrated communication systems market segment accounted for the largest share. Such a high share is due to the rapid adoption of innovative technologies to enhance the efficiency of the nurses working in long-term care facilities. Governments across the globe, are focusing on sponsoring hospitals to incorporate nurse call systems.
For instance, in 2019, Kiwanis Care Center received funding of USD 750 thousand from the British Columbia government to upgrade its facilities with new systems. Hence, demand from caregivers for the robust equipment, with established patient requests and emergency, is projected to invigorate the market adoption of nurse call systems.
Geographic Overview
The global nurse call systems market is bifurcated into North America, Europe, Asia Pacific, Latin America, and Middle East & Africa (MEA). North America region is the largest revenue contributor followed by Europe and the Asia Pacific market.
Regional market factors contributing to the North America market growth for nurse call systems include favorable regulatory reforms, funds received by the hospitals for installing necessary technology environment, and technological advancements in the sector.
U.S. and Canada have a huge shortage of nurses and caregivers and it is being estimated that in the past decade more than 55% of the registered nurses got retired. Moreover, hospitals all over the globe are increasing their healthcare spending to update their existing capabilities.
Competitive Insight
The prominent players operating in the nurse call systems market are Azure Healthcare; Stanley Healthcare; Tyco SimplexGrinnell; Hill-Rom Holding, Inc.; Critical Alert Systems LLC; Honeywell International, Inc.; Ascom Holding; Rauland-Borg Corporation; TekTone Sound and Signal Mfg., Inc.; and West-Com Nurse Call Systems, Inc.