The global adhesive equipment market was valued at USD 31.32 billion in 2021 and is expected to grow at a CAGR of 5.6% during the forecast period. One of the primary factors supporting the market's growth is a significant increase in the supply of disposable hygiene products (DHP). To provide better quality goods faster and at a lower cost, adhesive equipment is commonly used in DHP manufacturing.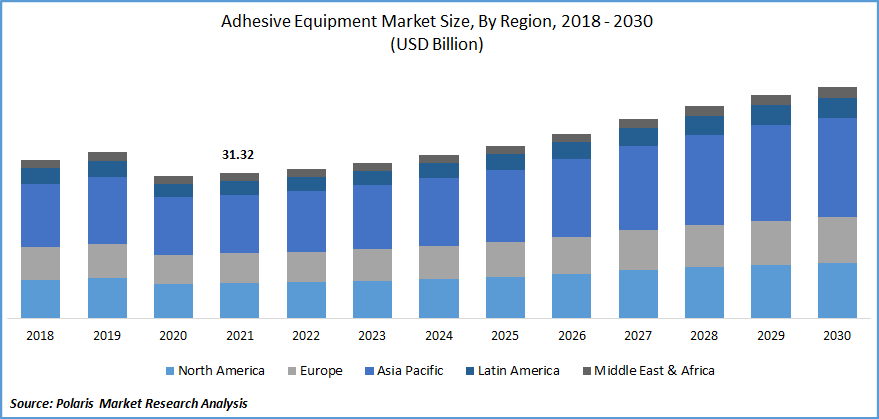 Know more about this report: Request for sample pages
Tools and gears that assist in bonding incompatible items are referred to as adhesive equipment. Adhesive controls, industrial hot melts, water pumps, and adhesive application guns are part of the system. It eliminates stress concentration at weaker points, increases productivity, and reduces vibration, fatigue, and noise. As a result, it is widely used in the packaging, building, and textile sectors worldwide.
The global adhesive equipment market has declined due to the COVID-19 pandemic, which forced lockdown and shutdown. Countries have temporarily halted production due to the covid-19 epidemic. Furthermore, in June 2020, textile and clothing growth slowed due to low demand. However, demand for adhesive equipment climbed marginally as several big manufacturers began manufacturing. Due to increased demand, the top producers of adhesive equipment have planned to invest in expanding their manufacturing capacity.
Industry Dynamics
Growth Drivers
Expanding infrastructural activity due to emerging countries' industrialization has significantly increased demand. Construction demand in Singapore is projected to increase throughout the projection period, driven by public construction projects such as government housing and private projects like the continuous development of industrial sites and berth capabilities at the Jurong and Tanjong Pagar port Terminal.
Further, chemical substances, including fuels, oils, and hydraulic fuels, resist the product used to compress and seal bolts, gaskets, and electrical components in the automotive industry. Automobile consumption is a significant part of the manufacturing sector in North America, accounting for substantial amounts of cross-border trade, industrial sales, and manufacturing of the gross national product. Production in Canada's automotive sector, like manufacturing as a whole, declined substantially during the recent recession but has risen as consumer demand for new vehicles increased in Canada and the United States.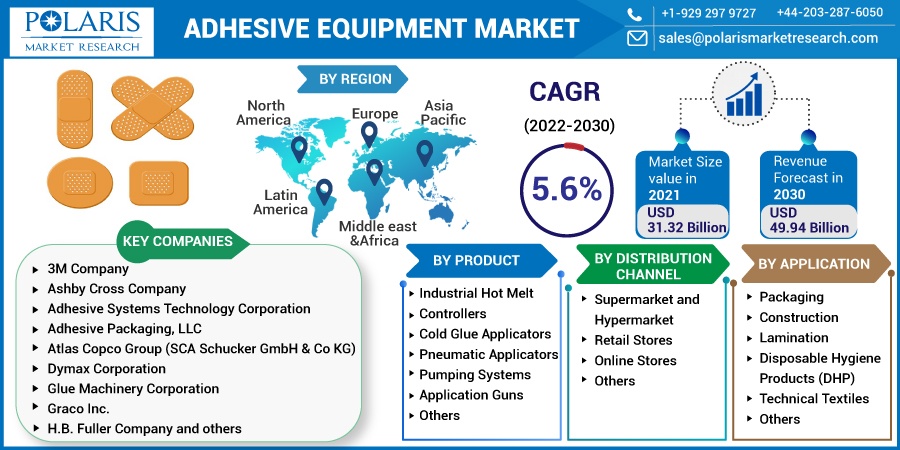 Know more about this report: Request for sample pages
Report Segmentation
The market is primarily segmented based on product, application, distribution channel, and region.
By Product

By Distribution Channel

By Application

By Region

Industrial Hot Melt
Controllers
Cold Glue Applicators
Pneumatic Applicators
Pumping Systems
Application Guns
Others

Supermarket and Hypermarket
Retail Stores
Online Stores
Others

Packaging
Construction
Lamination
Disposable Hygiene Products (DHP)
Technical Textiles
Others

North America (U.S., Canada)
Europe (France, Germany, UK, Italy, Netherlands, Spain, Russia)
Asia Pacific (Japan, China, India, Malaysia, Indonesia. South Korea)
Latin America (Brazil, Mexico, Argentina)
Middle East & Africa (Saudi Arabia, UAE, Israel, South Africa)
Know more about this report: Request for sample pages
Construction is expected to witness the fastest growth
Construction is predicted to rise at the fastest rate during the forecast period, owing to increased building construction activity and the manufacture of durable items like furniture, machinery, and appliances. The funds are expected to be utilized to invest in infrastructure, water, electricity, and telecommunications. These initiatives would directly impact the chemical industry, particularly the adhesives divisions, which are involved in the bonding layer for flooring fixing between the old floor and the substrates.
According to the Office for National Statistics, Monthly building production in the United Kingdom climbed by a record 23.5 percent in June 2020, much larger than the corresponding record monthly rise of 7.6 percent in May 2020; here, the product is combined with cement and utilized in joints.
The use of glue in packaging for electronics, FMCG, food and drinks, pharmaceuticals, chemicals, and other products is predicted to increase, boosting the equipment industry's growth. Other uses, such as DHP, where the products are applied to adult continence goods, women's sanitation materials, newborn diapers, and training trousers, are likely to grow significantly.
Industrial Hot-melt accounted for the highest market share in 2021
Industrial hot melt holds the highest share due to competition for adhesives in consumer devices, automobile parts, and other manufacturing facilities. The need for industrial hot melt equipment in the worldwide market has risen as manufacturing facilities for electronics goods such as smartphones, laptops, tablets, and other items have increased in emerging countries.
Controllers, distributing meter mix, cold glue applicators equipment, pumping systems, and guns are also growing substantially due to increased demand for bonding products by logistics solutions. In various industrial applications, controllers control patterns, viscosity, and flow, all of which contribute to a pleasing aesthetic. Because of growing awareness about conservation, which leads to intermittent bead application, adhesive equipment market is likely to see considerable demand.
Packaging is expected to hold the significant revenue share
The packaging application category held a significant revenue share. Consumption for packaging and non-woven goods is increasing, a key driver driving equipment market expansion. A major aspect driving growth is the high demand for HMA in the building and packaging industries. In addition, the usage of HMA for endpoint mending in the automobile industry and an increase in demand for HMA in pressure-sensitive sectors are likely to propel the equipment market forward.
The demand in Asia-Pacific is expected to witness significant growth
The market demand for the equipment is rising in the regions due to the rapid industrialization and expanding end-use industries. It is expected to be driven by growth in the E-Commerce industry, retail stores, technological developments, and the building boom. The key factors include:
Strong economic growth increases people's capacity to buy a better home.
Government efforts to promote home ownership.
The perception is that real estate is one of the best investments with decent returns
Consumer development in the Asia Pacific region is dependent on the region's rapidly expanding packaging industrial base and the quickly rising demand for disposable goods. As a result, property demand continues to be high, assisting in the growth of equipment sales in developing nations such as China, India, and others.
Furthermore, Europe is expected to be the most significant user due to the growing aging population and the resulting need for DHP, such as adult incontinence products made with adhesives using equipment. In the United Kingdom, rising construction spending to rebuild and remodel existing buildings and infrastructure is expected to stimulate demand for dispensing equipment.
Competitive Insight
Some of the major players operating in the global equipment market include 3M Company, Ashby Cross, Adhesive Systems, Adhesive Packaging, Atlas Copco, Dymax Corporation, Glue Machinery, Graco Inc., H.B. Fuller, Henkel AG, Hernon Manufacturing, ITW Dynatec, Nordson Corporation, RPM Worldwide, Robatech AG, Sika AG, and Valco Melton.
Recent Developments
In July 2021, Bostik, Arkema's Adhesive Solutions business segment, introduced a development plan to boost its poly-urethane (PU) sealants, concentrating on bonding applications in the construction sector. This new product line positions Bostik well in this market, fueled by a new building in growing markets and a consistent demand for higher-quality solutions and equipment.
Furthermore, in October 2021, Loctite Pulse, a revolutionary portfolio of Industrial Internet of Things (IIOT) technologies designed to minimize downtime, save maintenance fees, and ensure growth and security, will be introduced at AUTOMA 2021 by Henkel Adhesive Technologies. By checking the progress of essential assets in real-time and giving proactive maintenance suggestions, these information solutions enable the industry to boost maintenance efficiency and effectiveness.
Adhesive Equipment Market Report Scope
| | |
| --- | --- |
| Report Attributes | Details |
| Market size value in 2021 | USD 31.32 billion |
| Revenue forecast in 2030 | USD 49.94 billion |
| CAGR | 5.6% from 2022 - 2030 |
| Base year | 2021 |
| Historical data | 2018 - 2020 |
| Forecast period | 2022 - 2030 |
| Quantitative units | Revenue in USD billion and CAGR from 2022 to 2030 |
| Segments covered | By Product, By Application, By Distribution Channel, By Region |
| Regional scope | North America, Europe, Asia Pacific, Latin America; Middle East & Africa |
| Key companies | 3M Company, Ashby Cross Company, Adhesive Systems Technology Corporation, Adhesive Packaging, LLC, Atlas Copco Group (SCA Schucker GmbH & Co KG), Dymax Corporation, Glue Machinery Corporation, Graco Inc., H.B. Fuller Company, Henkel AG & Company, Hernon Manufacturing Inc., ITW Dynatec, Nordson Corporation, RPM Worldwide Inc., Robatech AG, Sika AG, and Valco Melton |