The global adult day care market was valued at USD 16.15 billion in 2022 and is expected to grow at a CAGR of 5.7% during the forecast period.
Market is poised for growth due to the increasing global geriatric population and the rising need for transitional care among elderly individuals and those with Alzheimer's disease. As stated in the World Population Ageing 2020 report published by the United Nations, the global population of individuals aged 65 years and above reached approximately 727 million in 2020. This trend is particularly prominent in major economies and developing countries, where the aging population is rapidly expanding. Consequently, there is a growing demand for elderly care services to cater to the needs of this demographic.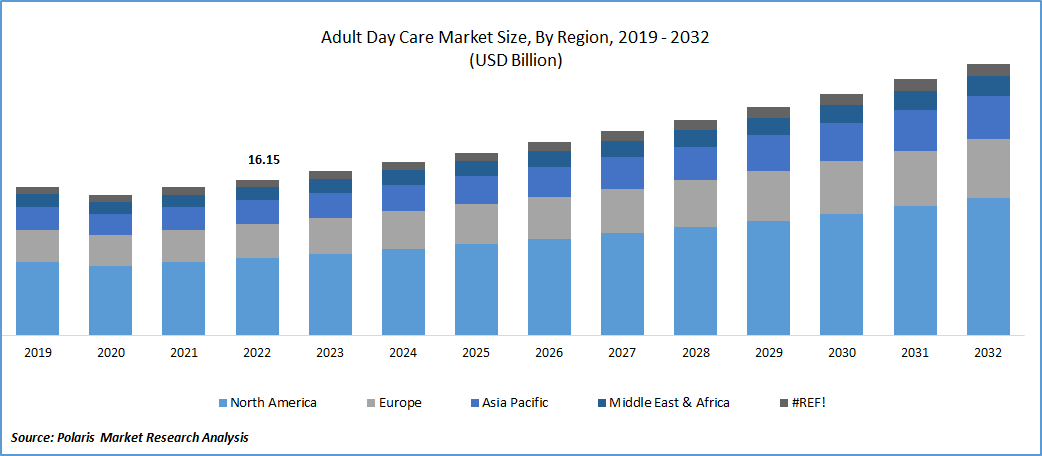 To Understand More About this Research : Request a Free Sample Report
Additionally, there is a growing global demand for transitional care services, specifically tailored to patients with Alzheimer's disease and developmental disabilities. As a result, Adult Day Care (ADC) centers are expanding their offerings to meet the specific needs of these patient cohorts, with a heightened emphasis on health maintenance and prevention. For instance, a recent article published in April 2023 on AgingInPlace.org highlighted that in the United States, approximately 90% of ADC centers provide cognitive stimulation programs, while around 80% offer memory training programs. Moreover, more than 75% of these centers provide educational programs designed to cater to the unique requirements of individuals with Alzheimer's and developmental disabilities.
The COVID-19 pandemic had a significant negative impact on the ADC market, leading to the temporary suspension of operations during the early phase of the pandemic. The implementation of travel restrictions and physical distancing measures resulted in a decrease in visits, particularly among high-risk populations. As a result, many ADC centers were forced to close their operations in 2020. For instance, a survey conducted in 2020 by the National Library of Medicine revealed that approximately 95.5% of the surveyed facilities had to close due to travel and physical restrictions imposed during the pandemic.
Industry Dynamics
Growth Drivers
Growing aging population and increasing demand for senior care services
Transition from traditional extended family structures to nuclear families, particularly in countries across the globe, has resulted in a significant number of elderly individuals living alone or with limited support. Urbanization has accelerated this trend by promoting the formation of smaller, independent households, leading to a decrease in caregiving and support for the elderly population. However, ADC centers have emerged as a valuable solution to enhance social support and engagement for these individuals. ADC centers provide various services such as daily living support, nutritional assistance, and mental health support, improving the overall well-being of the elderly population.
The funding landscape for ADC centers is diverse and can vary across countries. In most cases, service providers rely on a combination of funding sources, including public and private funds, donations, and grants, to cover the costs associated with operating these centers. For instance, a study published in the National Library of Medicine in July 2021 reported that in the United States, approximately 65% of the cost of ADC services is covered by Medicaid. This funding model aims to shift expenditures from more costly nursing home care to home- and community-based care settings, providing a more cost-effective and person-centered approach to long-term care.
Report Segmentation
The market is primarily segmented based on funding, services, and region.
By Funding

By Services

By Region

Adult Social Day Services

Adult Day Healthcare Services

Specialized Day Care Services

North America (U.S., Canada)

Europe (France, Germany, UK, Italy, Netherlands, Spain, Russia)

Asia Pacific (Japan, China, India, Malaysia, Indonesia. South Korea)

Latin America (Brazil, Mexico, Argentina)

Middle East & Africa (Saudi Arabia, UAE, Israel, South Africa)
To Understand the Scope of this Report : Speak to Analyst
By Funding Segment Analysis
Public segment accounted for the largest market share in 2022
This significant share can be attributed to the increased government investment aimed at promoting the adoption of institutional care for individuals with special needs. An article published in the BMC Journal highlighted that in 2018, approximately 87.7% of municipalities in Norway provided Adult Day Care (ADC) services specifically for dementia patients.
Governments in various countries have taken initiatives to ensure the provision of different types of ADC services to their population, particularly those suffering from dementia. For instance, since 2020, it has been mandated in Norway that all municipalities offer ADC services to dementia patients. The range of services offered may vary, with some municipalities providing unique options like Farm-based daycare that emphasize outdoor activities in addition to the regular daycare services.
Private segment is projected to gain steady growth over the study period. This is primarily due to the emergence of innovative care centers and the provision of specialized services. One notable example is the opening of Town Square Sandy Springs in Atlanta, U.S. in 2022. This adult ADC offers a unique and innovative approach to care, providing cognitive & memory services. By offering specialized and personalized care experiences, such private centers aim to cater to the diverse needs of individuals seeking high-quality care services.
By Services Analysis
Specialized services segment held the significant market share over the forecast period
Specialized services segment held the maximum market share. The dominance of the is attributed to the increasing demand for ADC services specifically tailored to meet the needs of Alzheimer's and dementia patients. Research done by the BMC Journal in 2022 highlights the importance of day care as a crucial component of community care for the dementia patients. Globally, around 10-18% of individuals with dementia are utilizing day care services, underlining the significance and widespread adoption of such services. In Ireland, for instance, approximately 13% of the community care expenditure for dementia is allocated to ADC services.
Adult day services segment is anticipated to grow at fastest growth rate. These services encompass a range of licensed medical offerings, including nursing services, intensive health services, therapeutic services, therapy services, and other essential medical services. As a result, numerous service providers are strategically expanding their operations to gain a competitive advantage in the adult day care market. An illustrative example of this expansion trend is Rainbow Adult Day Health Care, which recently opened a second facility at the Quincy location, situated within a public housing complex. This move signifies the company's commitment to meeting the growing demand for adult day healthcare services and positioning itself as a prominent player in the market.
Regional insights
North America region dominated the global market in 2022
North America dominated the global market. This significant market share can be attributed to the growing recognition of adult day care programs as a valuable source of long-term care for individuals in need. Consequently, the number of adult day care centers offering these services has experienced rapid growth throughout the region. According to data provided by the National Adult Day Services Association (NADSA), the United States witnessed a remarkable increase in the number of adult day care centers. In 2022, the country boasted more than 7,500 ADC centers, a significant rise from the approximately 5,000 centers reported in 2020.
Asia Pacific is projected to be the fastest emerging region. This growth can be attributed to the significant increase in the proportion of elderly individuals within the region, who face a higher risk of developing chronic diseases and experiencing a decline in functional and mental capacities. Japan has witnessed a surge in the popularity of adult day care services among the disabled population. According to a publication from the National Library of Medicine, approximately 1.13 million individuals availed themselves of these services in Japan. This highlights the strong demand for adult day care centers in the country, serving as a reflection of the growing need for comprehensive support and care services for individuals with disabilities.
Key Market Players & Competitive Insights
Key players in the market are constantly upgrading their services to stay ahead of the competition and to ensure efficiency, integrity, and safety. These players focus on partnership, product upgrades, and collaboration to gain a competitive edge over their peers and capture a significant market share.
Key players include
Active Day/Senior Care

Adult Life Programs

Age U.K.

Ascension Living Saint Joseph Village Adult Day Center

Badisa

Care Futures

CCACC Joyful Day Care Center

Deutsches Altenheim

GerHogar

Grace Adult Health Care
Recent Developments
In January 2023, New Jewish Home has recently launched an Adult Day Health Care program in New York, specifically designed to cater to the needs of vulnerable, older adults. This program offers a range of services and support to enhance the well-being and quality of life for older adults in the local community.
Adult Day Care Market Report Scope
| | |
| --- | --- |
| Report Attributes | Details |
| Market size value in 2023 | USD 17.02 billion |
| Revenue forecast in 2032 | USD 28.13 billion |
| CAGR | 5.7% from 2023 – 2032 |
| Base year | 2022 |
| Historical data | 2019 – 2021 |
| Forecast period | 2023 – 2032 |
| Quantitative units | Revenue in USD billion and CAGR from 2023 to 2032 |
| Segments covered | By Funding, By Services, By Region |
| Regional scope | North America, Europe, Asia Pacific, Latin America; Middle East & Africa |
| Customization | Report customization as per your requirements with respect to countries, region and segmentation. |