The global aerosol caps market was valued at USD 286.34 million in 2021 and is expected to grow at a CAGR of 4.2% during the forecast period. The market is anticipated to develop as a result of the rising demand for the market in automotive and industrial applications. Also, the demand is anticipated to be driven by the growing use of paint cans to improve the aesthetic value of the vehicle.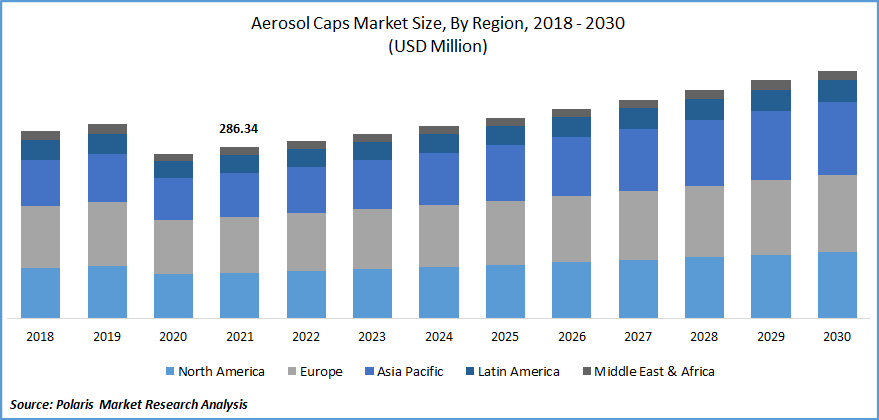 Know more about this report: Request for sample pages
The market is anticipated to be driven by an increase in cap demand due to the product's rising use in application industries and high-performance efficiency that results in cost-effectiveness. A plastic cover known as an aerosol cap fits over a can in a variety of consumer goods. It is securely fastened to the spray valve on the can's body's top. Due to the exceptional material quality and great toughness of caps, the pressure within the can is kept at its maximum level.
Typically, metals like aluminum or iron are used to make cans. Specific pressure is created inside the container when it is filled with gas or liquid. The method of injection molding is used to create caps. They are made from a variety of materials, including polyethylene, polypropylene, clarified polypropylene co-polymers, and non-antistatic polypropylene.
Due to the closure of can manufacturing plants all around the world, the COVID-19 epidemic has harmed the cap business. With the exception of health care, the majority of aerosol items fall under the non-essential category; as a result, corporations were compelled to halt the production of cans.
To reduce the financial impact of the coronavirus epidemic, businesses began producing facemasks, sanitizer bottles, and other necessary goods. Businesses have begun their industrial operations following the relaxation of lockdown restrictions. Due to the high demand for small aerosol cans in the domestic market, they have started producing them.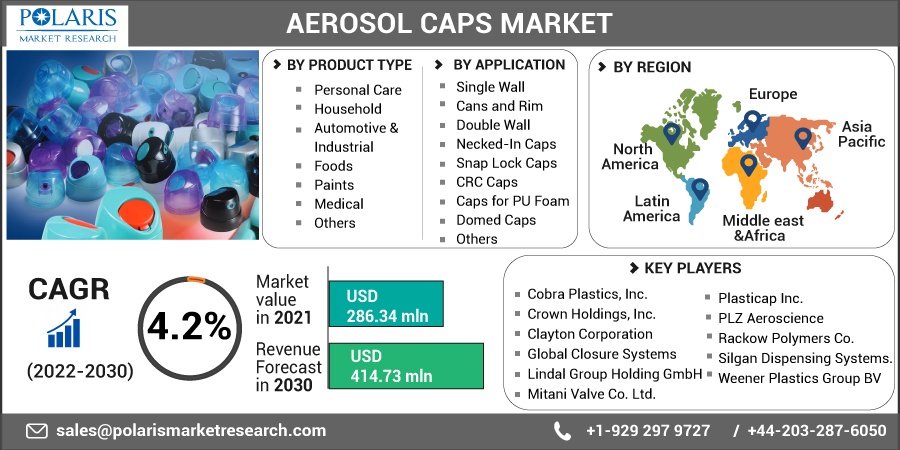 Know more about this report: Request for sample pages
Industry Dynamics
Growth Drivers
The manufacturing of these items, such as cans, has become more efficient as a result of the introduction of new technologies into the market, allowing for the creation of creative designs. For instance, in 2020, the US-based Ball Corporation developed novel forms for aluminum cans using its 360-degree technology, while the Canadian business Montebello Packaging developed a novel Farm's maple seed aluminum can using dry dot screening and color separation technology.
Automotive aerosol spray paint is used to improve the appearance of automobiles, especially two-wheelers. For instance, The Insurance Institute of Highway Safety reported in March 2021 that 8.6 million on-road motorcycles were registered in the United States in 2021, up from 4.3 million in 2002.
The demand for this technology in cleaning, detailing, and lubricating applications for two-wheelers would rise along with the growth in the two-wheeler market. Because more caps will be used in spray paints as their use increases, such demand will have a favorable effect on the market growth.
Report Segmentation
The market is primarily segmented based on application, product type, and region.
By Application

By Product Type

By Region

Personal Care
Household
Automotive & Industrial
Foods
Paints
Medical
Others

Single Wall
Cans and Rim
Double Wall
Necked-In Caps
Snap Lock Caps
CRC Caps
Caps for PU Foam
Domed Caps
Others

North America (U.S., Canada)
Europe (France, Germany, UK, Italy, Netherlands, Spain, Russia)
Asia Pacific (Japan, China, India, Malaysia, Indonesia, South Korea)
Latin America (Brazil, Mexico, Argentina)
Middle East & Africa (Saudi Arabia, UAE, Israel, South Africa)
Know more about this report: Request for sample pages
Personal Care is expected to witness the fastest growth
Aerosol caps are used for a variety of packaging applications for a variety of personal care products, and these applications require qualities such as hot lack strength, safety resistance, dart impact, strength, and recycled plastic offers all the customer needs. Growth in the population and an improved way of life are anticipated to increase the demand for personal care products and, as a result, are considered a major growth factor for the aerosol caps market during the forecast period.
The packaging industry's need for aerosol bottles, canisters, and cans is rising as personal care product usage rises. These cans and bottles are being used by the majority of personal care and pharmaceutical firms for their diverse product lines. The market for caps is expected to grow as a result throughout the forecast period.
Many people frequently use a variety of personal care products, including hair sprays, body sprays, fragrances & deodorants, and pain relievers. A significant factor anticipated to drive the demand for the aerosol caps market during the forecast period is the growing tendency of young people in emerging nations to use personal care products.
Households accounted for the highest market share in 2021
The market for aerosol sprays is expected to increase as more people use air fresheners, cleaning products, and surface disinfectants, among other things. While this is happening, the rise of the "do-it-yourself" movement is predicted to fuel demand for spray-based paint and coating products, which will then fuel demand for the aerosol caps market.
This is because aerosol spray cans are not suitable for domestic uses like painting interior walls as they are lightweight, affordable, and convenient to store. Spray paint cans are typically built of steel or aluminum and can safely hold pressurized liquid and air.
As a result, the development of spray paint cans has led to some customization in aerosol caps, increasing their suitability for a wider range of applications, many of which are in the automobile industry. The need for aerosol spray goods like automobile spray paint will rise along with the demand for light vehicles and two-wheelers, which will raise the need for the aerosol caps market.
Single wall caps are expected to hold the significant revenue share
This is because caps of this type are also employed in pesticide spray, in addition to being frequently found in cosmetics and personal care items. The need for single-wall aerosol caps in these industries will rise along with the introduction of new products.
For instance, in February 2021, Old Spice unveiled its three new deodorant lines, dynasty, sea spray, and royalty, which come in antiperspirant and aluminum-free varieties. As part of the spring and summer 2021 collection, Woodland, a well-known footwear brand, has also released a variety of deodorants in India.
The demand in Asia Pacific is expected to witness significant growth
Local aerosol spray producers in nations like China, India, and others are what is driving the industry in the Asia Pacific region. The market is expected to grow over the forecast period due to the region's flourishing paints and coatings industry. This can be ascribed to the area's fast industrialization, urbanization, and increase in investments in infrastructure development projects. Additionally, the increase in the product's numerous end-use industries, including the medical, automotive, and industrial, among others, is probably going to create attractive growth prospects for the market.
The demand for personal care products is very high in North America and Europe due to higher per capita income. In the upcoming years, this is predicted to drive the demand for aerosol caps. During the projected period, an increase in demand for personal care products in China, Japan, and India is anticipated to drive up demand for aerosol caps. Additionally, the growing demand for industrial and automotive sprays in the packaging sector throughout Asia Pacific's developing nations is projected to present lucrative prospects for the market in the area.
Competitive Insight
Some of the major players operating in the global market include Cobra Plastics, Inc., Crown Holdings, Inc., Clayton Corporation, Global Closure Systems, Lindal Group Holding GmbH, Mitani Valve Co. Ltd., Plasticap Inc., PLZ Aeroscience, Rackow Polymers Corporation, Silgan Dispensing Systems., and Weener Plastics Group BV.
Recent Developments
In September 2021, Ball Company has announced plans to construct a new US aluminum beverage packaging facility In North Las Vegas, Nevada. Eventually fully operational, the multi-line plant is anticipated to provide up to 180 manufacturing jobs and start operations in late 2022.
In July 2021, 220 Laboratories has been acquired by PLZ Aeroscience Corporation. With the help of this combination, PLZ is now able to provide its clients with a full range of services, from custom aerosol and non-aerosol product manufacture to new product conceptualization and formula development.
In September 2021, The LINDAL Group has declared open a brand-new €14 million, cutting-edge 12,000 square meter facility in Sao Paulo, Brazil.
Aerosol Caps Market Report Scope
| | |
| --- | --- |
| Report Attributes | Details |
| Market size value in 2021 | USD 286.34 million |
| Revenue forecast in 2030 | USD 414.73 million |
| CAGR | 4.2% from 2022 - 2030 |
| Base year | 2021 |
| Historical data | 2018 - 2020 |
| Forecast period | 2022 - 2030 |
| Quantitative units | Revenue in USD million and CAGR from 2022 to 2030 |
| Segments covered | By Application, By Product Type, By Region |
| Regional scope | North America, Europe, Asia Pacific, Latin America; Middle East & Africa |
| Key companies | Cobra Plastics, Inc., Crown Holdings, Inc., Clayton Corporation, Global Closure Systems, Lindal Group Holding GmbH, Mitani Valve Co. Ltd., Plasticap Inc., PLZ Aeroscience, Rackow Polymers Corporation, Silgan Dispensing Systems., and Weener Plastics Group BV |