The global aerospace adhesives & sealants market was valued at USD 1.02 billion in 2020 and is expected to grow at a CAGR of 5.1% during the forecast period. Adhesives & sealants have been extensively used in the aerospace industry today with their high efficacy in structural bonding of various substrates.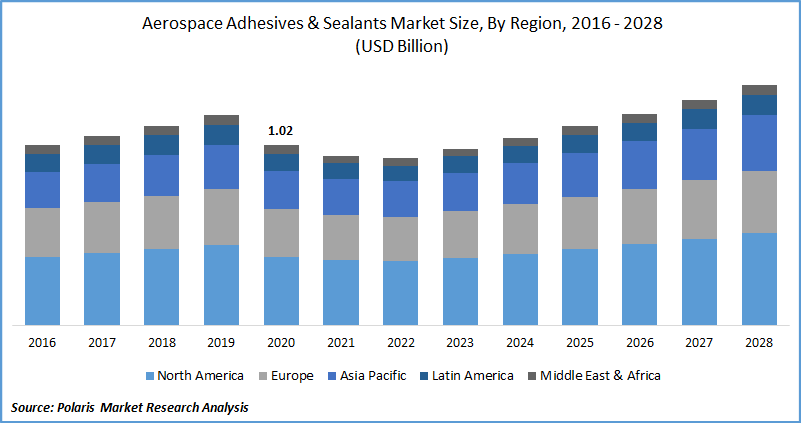 Know more about this report: request for sample pages
Adhesives and sealants have been deployed in numerous applications in aerospace manufacturing across the fuselage, interiors, engines, electronics, control surfaces, and other application areas. Adhesives enable bonding to assemble dissimilar substrates and carry a high load with uniform stress distribution across bonded joints. They act as a mainstay of integrity and strength and eliminate the need for nuts, bolts, and screws that are bulky and prone to corrosion.
COVID-19 pandemic has created huge disruption in aerospace industry demand with a sudden downfall in air traffic and new aircraft production leading to losses for entire aerospace industry stakeholders. A downfall in aircraft demand has led to a decrease in the demand for adhesives and sealants for manufacturing and assembling various parts and systems. However, the recoup in domestic air traffic at a greater pace and expected rebound of international air traffic over the coming years is likely to provide some solace in the distressing pandemic environment and signals a resilient outlook for the industry and its constituent markets such as adhesive & sealants.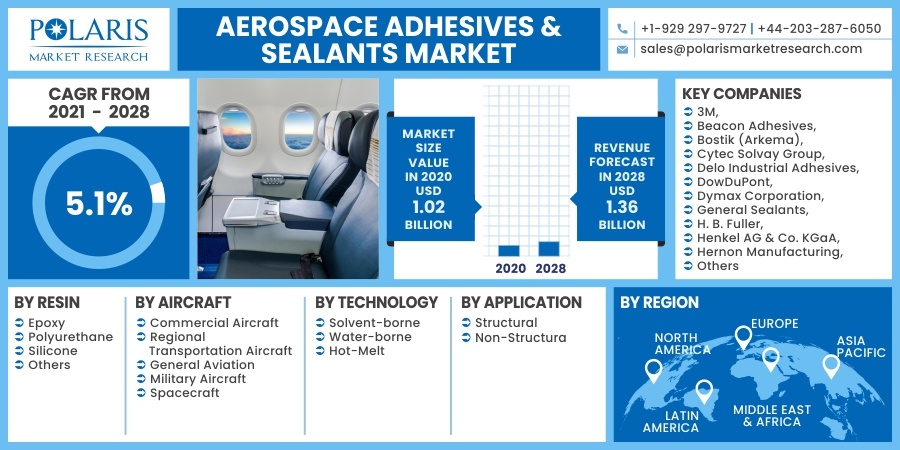 Know more about this report: request for sample pages
Industry Dynamics
Growth Drivers
The trend of the shift from conventional mechanical fasteners to adhesives and sealants for bonding and assembly in the aircraft industry is one of the prime drivers for the aerospace adhesives market. Fasteners and related attachments tend to be bulkier and add significant weight to the overall components. On the contrary, adhesives and sealants are lighter and stronger, making them a preferred choice for weight savings and contributing towards the industry trend of reducing carbon footprints.
There is increasing penetration of composites in the aerospace industry, which has led to a gain in share of adhesives and sealants over traditional fasteners for assembly and bonding. For instance, next-generation aircraft platforms B787 and A350XWB have at least 50% of the content of composites by weight which has substantiated the usage of adhesives in the market. Adhesives meet the bonding requirements of different composite materials and are suitable for composite to composite and composite to metal bonding.
Report Segmentation
The market is segmented in the most comprehensive way based on resin, aircraft, technology, application, and region.
By Resin

By Aircraft

By Technology

By Application

By Region

Epoxy
Polyurethane
Silicone
Others

Commercial Aircraft
Regional Transportation Aircraft
General Aviation
Military Aircraft
Spacecraft

Solvent-borne
Water-borne
Hot-Melt

Structural
Non-Structural

North America (U.S., Canada)
Europe (Austria, France, Germany, Italy, Netherlands, Spain, UK)
Asia Pacific (China, India, Indonesia, Japan, Malaysia, Australia)
Latin America (Brazil, Mexico, Argentina)
Middle East & Africa (Israel, UAE, Saudi Arabia, South Africa)
Know more about this report: request for sample pages
Insight by Resin
Epoxy resins are expected to remain the key resin type among all aerospace bonding products being sold in the market during the foreseen future. It is widely used in various aerospace applications bonding and assembly operations owing to its versatile properties, including impressive strength, stiffness, relatively high-temperature performance, and outstanding chemical resistance. Additionally, it also offers protection against corrosion and can endure pressure and extreme environmental conditions.
Polyurethane resins are likely to witness the fastest growth among the resin types in the market for aerospace adhesives & sealants during the forecast period. It is highly suitable for thermoplastic composite bonding, which is gaining traction, thereby replacing metals and thermoset composites. There is a high significance of polyurethane resins in interior applications with options of flame retardant variants, making them suitable across the interior framework.
Insight by Aircraft
Commercial aircraft to maintain its leadership position in the global market driven by growing market demand for lightweight materials to meet stringent emission standards of the industry and attain goals of reduction in carbon emissions. Modern commercial aircraft programs are increasingly replacing traditional fasteners with sealants to save weight, enhance strength and improve corrosion resistance at the same time.
Spacecraft and satellites withstand extreme temperature and high vacuum conditions. Bonding products used in space-borne equipment need to cope with such environment and governments, leading space agencies such as NASA to require adhesives to meet ASTM-595 outgassing test for their qualified usage. There is a surge in market demand for adhesive & sealants that can meet low outgassing, resistance to extremely low and high temperatures, thermal conductivity, and cryogenic serviceability in space environments.
Insight by Technology
The water-based segment is attributed to witnessing the highest growth in the market for aerospace adhesives & sealants during the forecast period. Recent breakthroughs in technologies with the development of novel and effective compositions of water systems have surpassed high standards set by solvent-based technologies. Growing concern over reducing volatile organic compounds (VOC) emissions in the aerospace adhesives & sealants industry has led to the sheer interest in environment-friendly water-based adhesive technologies.
Over the recent years, the functionality and applicability of adhesives and sealants in the aerospace industry have been efficaciously improved with respect to efficiency, long-term durability, weight reduction, versatility, strength, energy savings, and sustainability. The hot-melt segment has also been gaining interest in the market to meet the ever-changing market demand of the aerospace adhesives & sealants industry.
Geographic Overview
Geographically, North America region held the dominance in the global aerospace adhesives & sealants market driven by a host of factors such as technology-rich aerospace platforms, high penetration of composites in modern aircraft, and leading position in aircraft manufacturing as well as repair services.
Modern aircraft platforms in the region such as B787, A220, and B777x have been increasing the penetration of composites in fuselage or wing applications, thereby generating substantial market demand for solutions to bond composite bodies in the aerospace adhesives & sealants industry.
Asia Pacific region is attributed to depict the highest growth opportunity in the aerospace adhesives & sealants market driven by an insane shift from traditional fasteners to advanced adhesive bonding and repair solutions. The region holds the highest share of the commercial aircraft fleet, which implies strong market demand from airlines for part repairs and replacement assemblies fueling the adhesive requirements in the aerospace adhesives & sealants market.
Emerging Asian economies such as China and India have fleets of older aerospace vehicles that still heavily rely on conventional mechanical fastening systems such as nuts, bolts, and screws. There is a huge whitespace opportunity to replace mechanical fasteners with high-strength and lightweight adhesive and sealants.
Competitive Insight
The key strategy adopted by leading market players in the aerospace adhesives & sealants industry is new product launches, mergers & acquisitions, and extensive R&D activities in the aerospace market. Leading adhesive & sealant suppliers are focusing on offering sustainable products to meet quality standards.
Some of the key players competing in the global market are 3M, Beacon Adhesives, Bostik (Arkema), Cytec Solvay Group, Delo Industrial Adhesives, DowDuPont, Dymax Corporation, General Sealants, H. B. Fuller, Henkel AG & Co. KGaA, Hernon Manufacturing, Hexcel Corporation, Huntsman Corporation, Hylomar Limited, Illinois Tool Works Inc., L&L Products, Lord Corporation, Master Bond, Parson Adhesives, Permabond, PPG Industries, Scigrip Adhesives, Sika AG, The Reynolds Company, Uniseal.
Aerospace Adhesives & Sealants Market Report Scope
| | |
| --- | --- |
| Report Attributes | Details |
| Market size value in 2020 | USD 1.02 billion |
| Revenue forecast in 2028 | USD 1.36 billion |
| CAGR | 5.1% from 2021 - 2028 |
| Base year | 2020 |
| Historical data | 2016 - 2019 |
| Forecast period | 2021 - 2028 |
| Quantitative units | Revenue in USD million/billion and CAGR from 2021 to 2028 |
| Segments covered | By Resin, By Aircraft, By Technology, By Application, By Region |
| Regional scope | North America, Europe, Asia Pacific, Latin America, Middle East & Africa |
| Key Companies | 3M, Beacon Adhesives, Bostik (Arkema), Cytec Solvay Group, Delo Industrial Adhesives, DowDuPont, Dymax Corporation, General Sealants, H. B. Fuller, Henkel AG & Co. KGaA, Hernon Manufacturing, Hexcel Corporation, Huntsman Corporation, Hylomar Limited, Illinois Tool Works Inc., L&L Products, Lord Corporation, Master Bond, Parson Adhesives, Permabond, PPG Industries, Scigrip Adhesives, Sika AG, The Reynolds Company, Uniseal |