The global aircraft engine exhaust market was valued at USD 576.9 million in 2020 and is expected to grow at a CAGR of 7.5% during forecast period. Aero engines have witnessed a growing trend of reducing emissions, improving exhaust sound reduction, and increasing engine power output.
Know more about this report: request for sample pages
Increasing market demand for these products, shift from traditional CFM56 to modern LEAP, and increasing demand from airlines on reducing heavy engine maintenance costs are some of the key factors fueling the market growth of the exhaust systems in the global aircraft industry.
In 2020, the COVID-19 pandemic brought the biggest ever decline in the aviation industry with a 66% plunge in passenger traffic compared to the year 2019 (as per IATA Feb 2021 data). Depressed travel confidence, closed borders, and strict travel restrictions have led to unprecedented challenges for the industry. The industry has been striving hard to cope up with the losses caused due to the grounding of a majority of the fleet for a significant interval of time in the year 2020.
However, governments across the world continue to provide fiscal stimulus and accelerate vaccination drives which are helping to reduce virus infection rates, thereby leading to gain in consumer confidence to travel and start adapting to new normal. Domestic air travel remains the bright spot with openings of state borders within countries across the world, however international travel restrictions continue to be in distress for a longer period.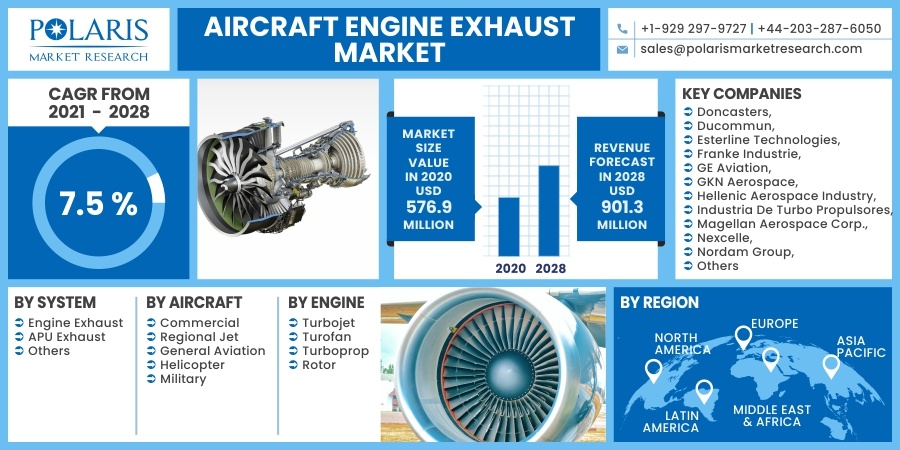 Know more about this report: request for sample pages
Industry Dynamics
Growth Drivers
Exponential increase in market demand for reducing noise and enhancing thermal performance has led to significant advancements in airplane exhaust systems across the market verticals. Modern airplane is increasingly being exposed to extreme temperatures more than 1200 to 1400 degrees of Fahrenheit, thereby propelling market demand for highly efficient exhaust systems along with reduced sound attenuation. Additionally, the constant replacement of conventional low exhaust bypass thrust engines to modern high bypass thrust engines with enhanced efficiency and reduced fuel burns is elevating the market to a greater extent.
Besides, organic growth factors such as ever-increasing air passenger and air cargo traffic and increasing aero-engine production to support increasing commercial airplane deliveries are also acting as the driving factor for the market's demand globally. The trend of integrating advanced components in these systems such as exhaust mufflers and usage of high-performance alloys in exhaust cones or nozzles ensures a strong market demand during the forecast period.
Report Segmentation
The market is segmented in the most comprehensive way based on system, aircraft, engine, and region.
By System

By Aircraft

By Engine

By Region

Engine Exhaust
APU Exhaust
Others

Commercial
Regional Jet
General Aviation
Helicopter
Military

Turbojet
Turofan
Turboprop
Rotor

North America (U.S., Canada)
Europe (Austria, France, Germany, Italy, Netherlands, Spain, UK)
Asia Pacific (China, India, Indonesia, Japan, Malaysia, South Korea)
Latin America (Argentina, Brazil, Mexico)
Middle East & Africa (Israel, Saudi Arabia, South Africa, UAE)
Know more about this report: request for sample pages
Insight by System
Engine exhaust to remain the leading segment in the global aircraft engine exhaust market during the forecast period. Increasing market demand for these lightweight components to reduce carbon emissions and improve airplane efficiency is one of the prime drivers of the segment's market. Modern commercial aircraft platforms feature key technological requirements such as extremely high-temperature, excellent acoustics, and significant weight savings driving the advancements in exhaust systems.
For instance, the upcoming airplane program of Boeing B777x, empowered by the GE9X engine, will feature a titanium-based exhaust system being developed by Aircelle, providing benefits such as reduced weight and improved resistance heat, and enhanced acoustics for reduction of the noise level for these components.
APU exhaust system also accounts for the sizeable market opportunity and is driven by increasing market demand for thermally complaint APU exhaust systems. Nickel alloys are predominantly used in manufacturing APU exhausts; however, there is a growing need for the usage of lightweight yet high-performance materials such as exotic metals and high-performance composites in the application.
Insight by Aircraft
The commercial aircraft segment is attributed to retaining its supremacy in the global aircraft engine exhaust market during the foreseen future driven by increasing market demand for high thrust engines, recoup in air passenger traffic and commercial airplane deliveries, push from airlines to reduce operational cost and maintenance. There has been a notable market growth in the bypass ratio of modern commercial airplane propelled by the growing need for higher thrust and energy among commercial aero engines making advancements in these components, including exhaust systems. For instance, CFM in the 1980s have had a bypass ratio of 5:1, which has been increased significantly to 11:1 in modern LEAP engines.
There has been a surge in military aircraft expenditure worldwide, making it the only segment to have a negligible impact due to the COVID-19 pandemic. In 2020, OEM Lockheed Martin's leading military aircraft delivered more than 120 F-35 aircraft, closer to 134 aircraft delivered in 2019. It aims to deliver about 139 F-35 aircraft in 2021 and ramp up to 169 aircraft in 2022, signaling a speedy recovery and promising outlook in the near term.
Insight by Engine
Based on this segment, turbofan is likely to remain the most dominant and fastest-growing type in the global aircraft engine exhaust market. Most of the best-selling commercial aircraft programs are empowered by turbofan having high bypass exhaust systems.
For instance, CFM's LEAP turbofan is empowered in the best-selling variants of both Boeing and Airbus B737max and A320neo, along with the upcoming Chinese commercial aircraft COMAC C919. Similarly, next-generation wide-body aircraft programs A350XWB and B787 feature high exhaust bypass turbofan Trent and Trent 1000 engines, respectively.
The turboprop segment holds a unique position in the market driven by short-haul regional aircraft and general aviation. Pratt & Whitney PW100 and PT6 are some popular models serving the segment. Furthermore, the turboprop segment is also driven by military transport aircraft such as Lockheed Martin C-130 Hercules and Airbus A400M. Amid pandemic, these military aircraft programs have witnessed a surge in usage, driving the market demand.
Geographic Overview
North America secures a gigantic share in the global market-driven, leading by its leadership in these manufacturing technology and robust demand from both civil and defense aircraft business. Leading aero OEMs such as GE Aviation, Pratt & Whitney (part of Raytheon), and CFM International have manufacturing bases in the region. Amid pandemic, in Oct 2020, Pratt & Whitney announced the expansion of its aero-engine plant in Ashville, the USA, with a plan to build 1 million square feet of the advanced manufacturing center.
Asia-Pacific is estimated to offer the highest growth in the market during the foreseen future. There has been growing interest in emerging Asian economies, especially China and India, in improving their local manufacturing for these products.
For instance, in 2018, GE Aviation and Tata Advanced Systems Limited have set up a structural center of excellence with a partnership to manufacture high precision complex aero-engine components in India for LEAP engines. Additionally, there is a surge in middle-income group population in the emerging Asian economies giving rise to aircraft fleet size fueling the market demand.
Competitive Insight
Leading market players are striving hard on innovations and technological advancements such as integration of 3d printing technology and usage of lightweight, high-performance materials such as ceramic matrix composites (CMC) within exhaust systems. Strategic collaborations and vertical integration are some other key strategies adopted by the industry stakeholders.
Some of the key players competing in the global aircraft engine exhaust market are Doncasters, Ducommun, Esterline Technologies, Franke Industrie, GE Aviation, GKN Aerospace, Hellenic Aerospace Industry, Industria De Turbo Propulsores, Magellan Aerospace Corp., Nexcelle, Nordam Group, Northrup Grumman, Orbital ATK, Rolls Royce Holding Plc., Safran S.A., Senior Aerospace, Sky Dynamics Corporation, Triumph Group
Aircraft Engine Exhaust Market Report Scope
| | |
| --- | --- |
| Report Attributes | Details |
| Market size value in 2020 | USD 576.9 million |
| Revenue forecast in 2028 | USD 901.3 million |
| CAGR | 7.5 % from 2021 - 2028 |
| Base year | 2020 |
| Historical data | 2016 - 2019 |
| Forecast period | 2021 - 2028 |
| Quantitative units | Revenue in USD million/billion and CAGR from 2021 to 2028 |
| Segments covered | By System, By Aircraft, By Engine, By Region |
| Regional scope | North America, Europe, Asia Pacific, Latin America, Middle East & Africa |
| Key Companies | Doncasters, Ducommun, Esterline Technologies, Franke Industrie, GE Aviation, GKN Aerospace, Hellenic Aerospace Industry, Industria De Turbo Propulsores, Magellan Aerospace Corp., Nexcelle, Nordam Group, Northrup Grumman, Orbital ATK, Rolls Royce Holding Plc., Safran S.A., Senior Aerospace, Sky Dynamics Corporation, Triumph Group |