The global alpaca apparel and accessories market was valued at USD 637.88 million in 2022 and is expected to grow at a CAGR of 7.2% during the forecast period. Consumers are environmentally conscious and seek out sustainable products, ethical, & eco-friendly. This shift in consumer behavior has had a positive impact on the market. Alpaca wool, known for its softness, durability, and warmth, has become popular among consumers, especially in cold climatic regions. The efficient insulation properties of alpaca wool make it ideal for withstanding cold weather conditions. As a result, products made from alpaca wool, such as sweaters, scarves, shawls, and jackets, have experienced significant sales growth in these regions.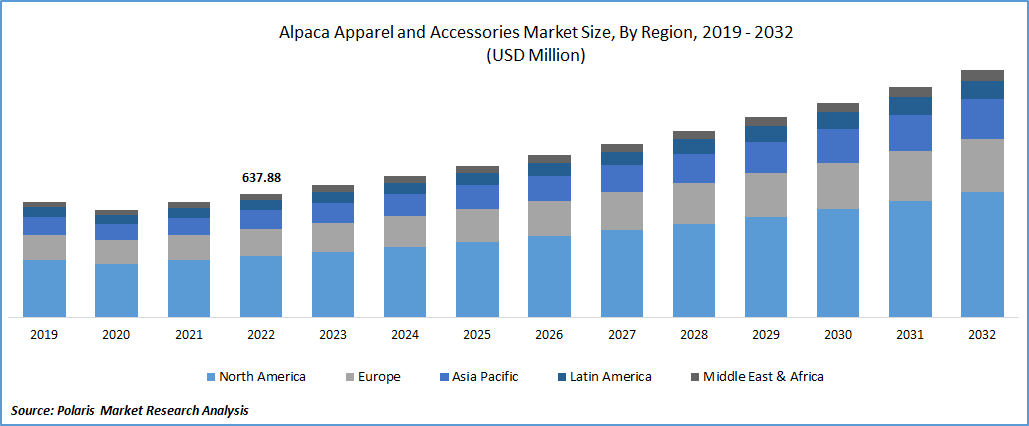 To Understand More About this Research: Request a Free Sample Report
The appeal of alpaca clothing goes beyond its functional benefits. Alpaca wool is often considered a luxury material due to its quality and rarity. It's natural colors and hypoallergenic properties also add to its desirability. Consumers are willing to pay a premium for alpaca products that are ethically sourced and support fair trade practices. Furthermore, the alpaca industry promotes sustainability and animal welfare. Alpacas are raised in a manner that minimizes their impact on the environment, and their wool is shorn without causing harm to the animals. This aligns with the values of environmentally conscious consumers, who increasingly make purchasing decisions based on the ethical and sustainable practices of the brands they support.
Investments in research and development aimed at improving the nutrition of alpacas play a crucial role in enhancing the quality of their fiber. Companies are actively engaged in these efforts, recognizing that fiber quality is a key factor in the success of the alpaca industry. Additionally, scientists utilize various genetic tools to advance alpaca production and develop superior-quality fibers. In November 2022, Wild Saint London launched new scarves, showcasing their commitment to using 100% alpaca fibers sourced from baby alpacas. Using baby alpaca fibers in the scarves adds to their appeal, as these fibers are known for their exceptional softness and luxurious feel.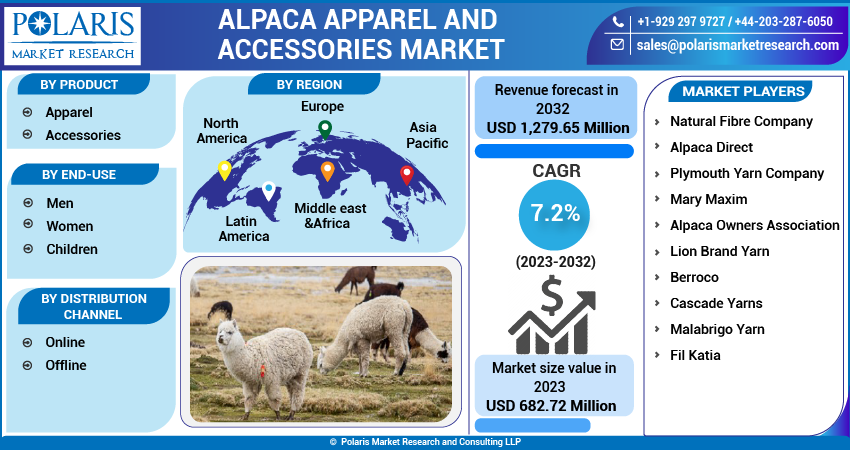 For Specific Research Requirements, Request for a customized e Report
Industry Dynamics
Growth Drivers
Fashion and textile conferences organized by key players in the alpaca industry have significantly influenced consumer preferences for alpaca garments and accessories. These conferences have driven the demand for alpaca apparel and accessories. One notable example is the Alpaca Fiesta 2021, hosted by the International Alpaca Association (IAA) and the Peruvian Government Agency (PROMPER). This event was prominent in the 2021 textile conference and event calendar. It featured various activities such as alpaca testimonials and movies, showcases of breeders, fashion presentations, debates, and seminars focusing on sustainability and circularity within the alpaca value chain.
These conferences provide a platform for industry experts, designers, and consumers to come together and explore the latest trends, innovations, and developments in the alpaca industry. Attendees gain valuable insights into the sustainable practices, ethical sourcing, and eco-friendly aspects of alpaca clothing through these events. The exchange of knowledge and information at these conferences directly impacts shaping consumer preferences and creating awareness about the benefits of alpaca apparel and accessories.
Report Segmentation
The market is primarily segmented based on product, end use, distribution channel, and region.
By Product

By End Use

By Distribution Channel

By Region

North America (U.S., Canada)

Europe (France, Germany, UK, Italy, Netherlands, Spain, Russia)

Asia Pacific (Japan, China, India, Malaysia, Indonesia. South Korea)

Latin America (Brazil, Mexico, Argentina)

Middle East & Africa (Saudi Arabia, UAE, Israel, South Africa)
To Understand the Scope of this Report: Speak to Analyst
Apparel segment accounted for the largest market share in 2022
The apparel segment accounted for the largest alpaca apparel and accessories market share. The demand for alpaca apparel is expected to be driven by factors such as the high consumer spending power in developed nations and the favorable weather conditions in these regions that encourage the consumption of alpaca wool-based sweaters and scarves. The softness, warmth, and durability of alpaca wool make it highly desirable for products like sweaters, shawls, and scarves. These items provide excellent insulation in colder climates and exude elegance and style, making them a perfect choice for the affluent consumer demographic with high-income levels.
Alpaca wool's excellent insulation properties make it an ideal material for manufacturing winter clothing, enabling the production of such products worldwide. In April 2022, Paka, a sustainable alpaca fiber apparel manufacturer, introduced the traceable alpaca sweater as part of its Origin program. This initiative showcases that regenerative and small-scale farming practices can lead to a more interconnected and sustainable future.
Women segment garnered largest share in 2022
The women segment held the largest revenue share in 2022. Alpaca fiber products have gained popularity among women due to their exceptional qualities. The softness and luxurious feel of alpaca fiber make it highly desirable for women's clothing. The inherent warmth and insulation properties of alpaca fiber also make it suitable for various climates, adding to its appeal. Moreover, the eco-friendly nature of alpaca fiber aligns with the growing preference for sustainable and environmentally conscious choices among women consumers. Alpaca fiber is biodegradable, renewable, and has a lower environmental impact than synthetic fibers. These eco-friendly properties further contribute to the attractiveness of alpaca clothing among women. Their willingness to invest in high-quality, sustainable, and fashionable clothing, combined with the desirable characteristics of alpaca fiber, positions them as a key segment for the industry's growth.
The men's category is expected to grow at the fastest rate. This growth is attributed to the increasing demand for clothing and accessories for men, such as jackets, sweaters, hoodies, and other apparel products. These items have become popular among men who prioritize investing in high-end, fashionable garments and accessories. Men are increasingly seeking stylish and sophisticated options in their clothing choices and the availability of alpaca fiber-based products caters to their preferences. The versatility and durability of alpaca fiber make it suitable for a range of men's clothing items. Men's jackets have gained significant popularity due to the warmth and insulation of alpaca wool, making them ideal for cold weather conditions.
North America

region dominated the global market in 2022
North America dominated the global market with a considerable market share. The region is expected to experience rapid growth in the market due to increasing consumer awareness of its benefits, such as sustainability and durability. The United States, with its sizable population and high spending power, contributes significantly to the growth. These factors collectively contribute to the region's dominance and its potential for further expansion in the years to come. As consumers become more conscious of the environmental impact of their fashion choices, there is a growing demand for high-quality, sustainable clothing options like alpaca fiber. The attributes of alpaca fiber align well with these consumer preferences, driving its popularity in the region.
Europe is projected to witness a steady growth rate over the study period. Europe's favorable weather conditions, particularly during the winter months, further contribute to consumers' popularity of alpaca clothing and winter wear. The need for warmth and comfort drives the demand for alpaca-based products in the region, as they provide excellent insulation properties and a luxurious feel. The combination of consumer preferences for soft and comfortable winter wear and the region's weather conditions establishes Europe as a significant market for alpaca apparel and accessories. Manufacturers and designers recognize this demand and cater to the European market by offering a wide range of alpaca-based products that meet the region's style, comfort, and functionality requirements.
Competitive Insight
Some of the major players operating in the global market include Natural Fibre Company, Alpaca Direct, Plymouth Yarn Company, Mary Maxim, Alpaca Owners Association, Lion Brand Yarn, Berroco, Cascade Yarns, Malabrigo Yarn, and Fil Katia.
Recent Developments
In November 2022, Y. & SONS & THE INOUE BROTHERS collaborated with the design studio 'The INOUE BROTHERS' to produce haori and kimono garments from royal alpaca wool.

In January 2023, At the event 'Just Around the Corner,' Bee & Alpaca, a sustainable fashion company, presented their latest upcycled creations that offer affordable and environmentally friendly fashion to a wider audience. Their clothing designs are known for being fun, creative, and captivating, making sustainable fashion more accessible to the mainstream market.
Alpaca Apparel and Accessories Market Report Scope
| | |
| --- | --- |
| Report Attributes | Details |
| Market size value in 2023 | USD 682.72 million |
| Revenue forecast in 2032 | USD 1,279.65 million |
| CAGR | 7.2% from 2023 – 2032 |
| Base year | 2022 |
| Historical data | 2019 – 2021 |
| Forecast period | 2023 – 2032 |
| Quantitative units | Revenue in USD million and CAGR from 2023 to 2032 |
| Segments covered | By Product, By End Use, By Distribution Channel, By Region |
| Regional scope | North America, Europe, Asia Pacific, Latin America; Middle East & Africa |
| Key companies | Natural Fibre Company, Alpaca Direct, Plymouth Yarn Company, Mary Maxim, Alpaca Owners Association, Lion Brand Yarn, Berroco, Cascade Yarns, Malabrigo Yarn, and Fil Katia. |