The global anticoagulant rodenticides market was valued at USD 676.19 million in 2021 and is expected to grow at a CAGR of 3.5% during the forecast period. The factors such as the benefits associated with the anticoagulant rodenticides, increasing rodent-related disease, and government regulation for rodent control are boosting the market growth during the forecast period.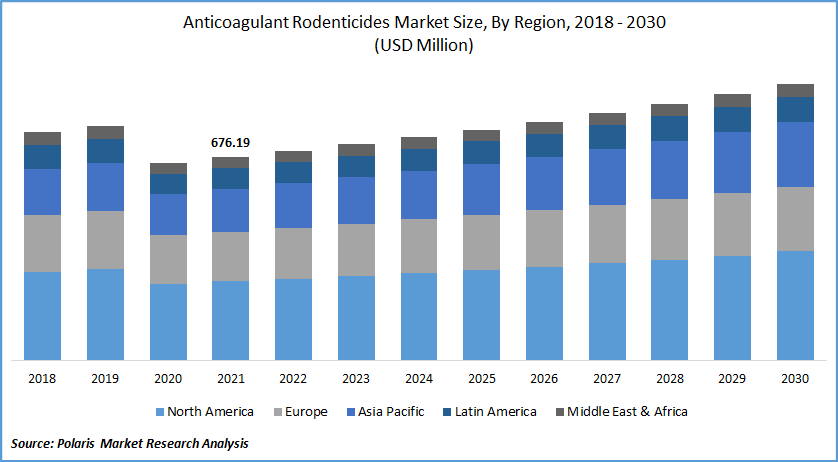 Know more about this report: request for sample pages
Anticoagulant rodenticides (ARs) are commonly used to control rodent populations such as house mice, Norway rats, and black rats. The primary goals of rodent management are to produce plants, stored goods, and infrastructure and preserve human and livestock health and natural flora and fauna. As a result, the market is expected to grow.
Anticoagulant rodenticides are a common cause of pet and wildlife poisoning. Intoxications in household pets have been linked to anticoagulant concentrate pollution of feed, malicious usage of these compounds, and feed mixed with machinery used to manufacture rodent bait. The rising frequency of pest-related diseases, the growing need for pest control, and the accessibility of natural rodenticides are projected to expand the anticoagulant rodenticides market.
In addition, Plague is a zoonosis caused by the bacteria Yersinia pestis and transmitted by parasites that feed on black rats (Rattus rattus). Milder weather conditions benefit rodent populations, whereas harsh weather conditions, including heatwaves, may push rodents indoors searching for food and water, increasing contact with humans.
Furthermore, Hantaviruses are rodent-borne infections with four genotypes circulating in Europe, including human infections (Puumala, Dobrava, and Saaremaa viruses). Rodent populations respond quickly to favorable climatic circumstances, including heavy precipitation events, which can directly or indirectly spread rodent-borne illnesses like spirosis and veterinarian predominance across Eastern Europe and the Mediterranean.
Moreover, the Environmental Protection Agency collaborates with the Centers for Disease Control and Prevention (CDC) and other municipal and state agencies and organizations to offer the community information and resources for controlling rodents and the threats they bring. The CDC safeguards public health and collaborates closely with state health authorities to deliver info to the people.
They are a good source of knowledge on rodent control. The CDC also provides an information sheet on rodent control in calamities. While pest management begins with people, effective control is frequently centered at the community or local level. Each state and municipality have its pest management system, including rodent detection and care. However, one of the most significant barriers to developing the anticoagulant rodenticides industry over the forecast period is the increasing opposition to traditional rodenticides.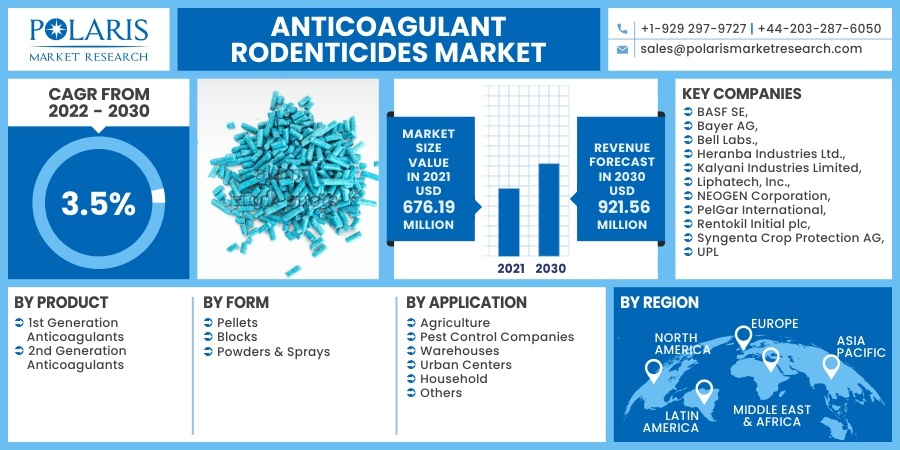 Know more about this report: request for sample pages
Industry Dynamics
Growth Drivers
The agriculture industry has the biggest need for rodenticides because of the risk of rodent infestation in crops storage facilities and farming implements. The increased damage caused by rodents is growing anticoagulant rodenticides industry demand from the agriculture industry worldwide. Hotels, homes, retail business apartments, office complexes, food processing sector, manufacturing facilities, agricultural, warehouse, and electronics sectors are all served by pest control firms. Although rodents do not contaminate food, they do carry numerous diseases.
Increasing damage to electric wires and walls in industrial buildings is predicted to boost demand for pest management services and thus market demand for these rodenticides over the forecasted period. These goods are mostly utilized in agricultural applications, households, pest control businesses, and warehouses. The anticoagulant rodenticides market for these items for diverse end-use applications is heavily influenced by regional rules set by the government, which consider toxicity and efficiency. The increased worldwide supply of staples such as wheat, rice, and coarse grains is predicted to result in higher market demand over the projection period.
Furthermore, these items are employed in agriculture, urban areas, families, and pest management companies and warehouses. As global food security concerns grow, there is a greater desire for increased agricultural yields and effective growing processes that utilize new and advanced technologies. As a result, the use of chemicals in rodent control has increased to develop effective control products. Such items have already emphasized their competitiveness against older rodent control products available presently.
Report Segmentation
The market is primarily segmented based on product, form, application, and region.
By Product

By Form

By Application

By Region

1st Generation Anticoagulants
2nd Generation Anticoagulants

Pellets
Blocks
Powders & Sprays

Agriculture
Pest Control Companies
Warehouses
Urban Centers
Household
Others

North America (U.S., Canada)
Europe (France, Germany, UK, Italy, Spain, Netherlands, Austria)
Asia Pacific (Japan, China, India, Malaysia, Indonesia, South Korea)
Latin America (Brazil, Mexico, Argentina)
Middle East & Africa (Saudi Arabia, UAE, Israel, South Africa)
Know more about this report: request for sample pages
Insight by Form
Based on the form market segment, the blocks segment is expected to be the most significant revenue contributor in the global anticoagulant rodenticides industry. This high market share can be due to their capacity to withstand shifting climate conditions, making them excellent for outdoor use.
Furthermore, mice's inclination to nibble on hard items is likely to fuel market demand for block anticoagulant rodenticides. Pellets, as opposed to powders and sprays, are better ideal since they provide good control against mice and rats and are robust to changing circumstances.
Geographic Overview
North America had the highest share in the global anticoagulant rodenticides market. This is due to greater awareness about the increased population of rats and worries about safety surrounding farms, businesses, and residential buildings, factories, and management of agriculture rodents in nations such as the U.S., Canada, and Mexico.
Based on their toxicity level and action method, these products used in the United States are classified as first-generation anticoagulants and second-generation anticoagulants. A rise in the number of rats in areas such as Chicago, New York City, San Francisco, Los Angeles, and Washington D.C., combined with increased knowledge about the diseases caused by mice, is expected to fuel market demand for the products over the forecast period.
Moreover, Asia Pacific is expected to witness a high CAGR in the global anticoagulant rodenticides market in 2021. Rodent attacks on farm areas have become extremely common in developing countries around the region. According to the International Rice Research Institute (IRRI), rats have indeed been projected to harm more than 1% of the world's largest cereal crops, with estimates ranging from 3-5% in underdeveloped nations. Rodents can transmit approximately 50 diseases to humans, including typhoid, paratyphoid, and scabies.
Furthermore, rats may be carriers of many diseases that harm domestic animals. Rodents cause significant damage to the nutritious value and reproductive ability of seeds because they prefer protein and vitamin-rich foods and eat mostly on the embryo. Furthermore, due to a huge rodent problem, Tokyo's Tsukiji fish market with 480 varieties of seafood and 270 types of fruit and vegetable enterprises shuttered and relocated in 2018. As a result, the region's need for rodenticides is predicted to rise during the projection period.
Competitive Insight
Some of the major players operating in the global market include BASF SE, Bayer AG, Bell Labs., Heranba Industries Ltd., Kalyani Industries Limited, Liphatech, Inc., NEOGEN Corporation, PelGar International, Rentokil Initial plc, Syngenta Crop Protection AG, and UPL.
Anticoagulant Rodenticides Market Report Scope
| | |
| --- | --- |
| Report Attributes | Details |
| Market size value in 2021 | USD 676.19 million |
| Revenue forecast in 2030 | USD 921.56 million |
| CAGR | 3.5% from 2022 - 2030 |
| Base year | 2021 |
| Historical data | 2018 - 2020 |
| Forecast period | 2022 - 2030 |
| Quantitative units | Revenue in USD million/billion and CAGR from 2022 to 2030 |
| Segments covered | By Product, By Form, By Application, By Region |
| Regional scope | North America, Europe, Asia Pacific, Latin America, Middle East & Africa |
| Key companies | BASF SE, Bayer AG, Bell Labs., Heranba Industries Ltd., Kalyani Industries Limited, Liphatech, Inc., NEOGEN Corporation, PelGar International, Rentokil Initial plc, Syngenta Crop Protection AG, and UPL |