The global aqueous based metal cleaners market was valued at USD 11.26 billion in 2022 and is expected to grow at a CAGR of 5.3% during the forecast period. Cleaning has obvious cosmetic benefits, but it is also important for keeping a healthy indoor environment. Using environmentally friendly solution, the risks to human health is minimized. This will fuel the demand for the usage of Aqueous solutions as it is environmentally friendly and has great cleaning functionalities.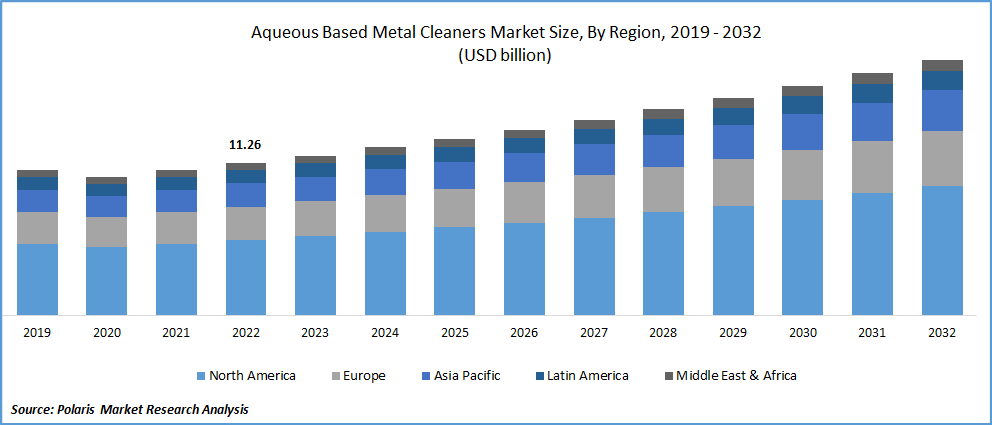 Know more about this report: Request for sample pages
Trichloroethylene and other solvents pose threats to human health and the environment. Thus, they are not a smart thought. Businesses that are active in the market have also come to understand the benefits of employing safe and sustainable operational procedures. The need for environmentally friendly solutions has increased.
The market for aqueous-based metal cleansers is primarily driven by the rising desire for aqueous-based metal cleaning, the quickly expanding automotive and manufacturing industries, and the shift to safer alternatives for solvent-degreasing applications.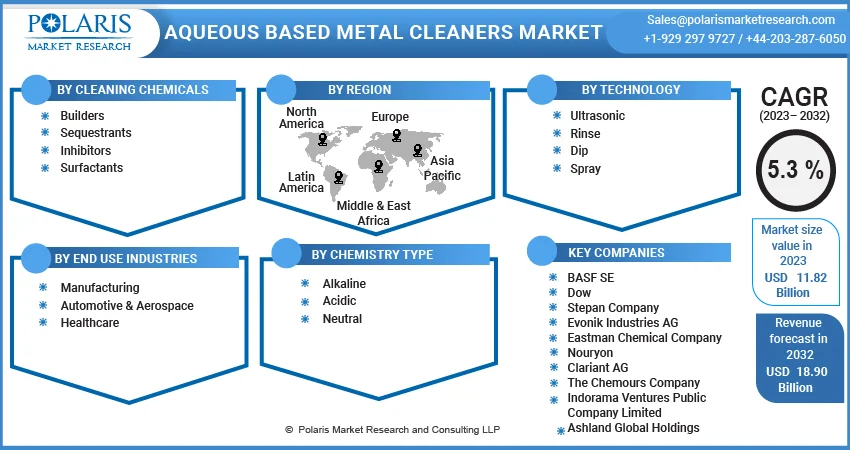 Know more about this report: Request for sample pages
Industry Dynamics
Growth Drivers
Factors driving the aqueous based metal cleaners market include growing concerns about the environmental impact of certain chemicals used in cleaning products may lead to increased demand for aqueous-based cleaning solutions, as they are generally considered to be more environmentally friendly. Government regulations and guidelines on the use of certain chemicals in cleaning products may drive demand for aqueous-based cleaning solutions, as they may follow such regulations.
The growth of certain industries, such as food and beverage production and healthcare, may drive demand for aqueous-based cleaning solutions as they are commonly used in these industries. Advancements in technology may lead to the development of more efficient and effective aqueous-based cleaning solutions, which can increase demand for these products. Economic conditions can also influence the demand for aqueous-based cleaning solutions. Consumer preferences also play a role in the aqueous market, as more and more consumers are becoming conscious about the environmental impact of the products they use and prefer eco-friendly solutions. The level of competition in the market can also influence the aqueous market, as companies may try to differentiate their products through pricing, advertising, or product development.
The two main end-use sectors for such metal cleaners are the automotive and manufacturing sectors. When creating body components, aqueous-based metal cleansers are a must. Metal body portions of vehicles are cleaned with aqueous-based cleansers. Vehicle manufacture has increased on a worldwide scale. These metal cleansers are used more frequently as a result in the industry. Removal of metallic scale & corrosion products is another common usage for aqueous-based metal cleaners in the manufacturing sector.
Report Segmentation
The market is primarily segmented based on cleaning chemicals, end use industries, chemistry type, technology, and region.
By Cleaning Chemicals

By End Use Industries

By Chemistry Type

By Technology

By Region

Builders

Sequestrants

Inhibitors

Surfactants

Manufacturing

Automotive & Aerospace

Healthcare

Ultrasonic

Rinse

Dip

Spray

North America (U.S., Canada)

Europe (France, Germany, UK, Italy, Netherlands, Spain, Russia)

Asia Pacific (Japan, China, India, Malaysia, Indonesia, South Korea)

Latin America (Brazil, Mexico, Argentina)

Middle East & Africa (Saudi Arabia, UAE, Israel, South Africa)
Know more about this report: Request for sample pages
Sequestrants segment is led the market in 2022
Sequestrants dominates the cleaning chemicals segment owing to wide range of usage of this chemical. Sequestrants are water purifiers that stop metal ions from precipitating and settling in alkaline medium. They support the regulation of water hardness and the elimination of oxide layers without damaging the base metal. They can combine metals from dissolved oxides with calcium, magnesium, and other soluble compounds. These sequestrants include sodium gluconates, tri-polyphosphates, organic phosphates, & poly-carbonate salts. These cleaning solutions use inhibitors to prevent corrosion. With alkaline cleaners & ferrous metals, the corrosion of metal components during cleaning is less important. Iron and steel are stable in alkaline liquids.
Healthcare segment is expected to hold the significant revenue share
The Healthcare segment is projected to have good growth owing to its various functions in the healthcare industry. In terms of effectiveness, fewer surface residues, and simpler cleaning, the use of aqueous-based metal cleansers in the healthcare sector is paving the way for various advantages. Depending on the kind of contaminants involved, aqueous-based cleaning is performed in two processes. All greasy residues are first removed with an alkaline cleaner, then rinsed to avoid drag out. In order to get rid of inorganic contaminants that are insoluble in alkaline, this is followed by an acid cleanser and thorough rinse. This will propel the growth in upcoming years due to growing health consciousness among the people.
Acidic segment accounted for the largest market share in 2022
Acidic segment is projected to witness significant growth rate owing to increasing demand for the purpose of efficient and effective cleaning. Acidic cleaners are used the second most widely worldwide, after alkaline cleaners. Acidic metal cleansers are water-based solutions with a pH rating under 7. They are employed to clean metals of scale, rust, and oxides. Acidic chemistry kinds of aqueous solutions are used for surface treatments including phosphating and brightening. When using acidic cleansers, it is necessary to wear gloves and eye protection equipment to guard against fumes. This will create wide range of opportunities for such metal cleaner's industry throughout the forecast period.
Ultrasonic segment is expected to hold the significant revenue share
Ultrasonic segment is projected to witness higher growth rate owing to the increasing in the usage in different sectors for different functionalities. When an audio speaker produces music in the air by vibrating a diaphragm, it also makes a sound wave in the air, which is how ultrasonic cleaning works. Areas of high and low pressure are produced alternately as the sound wave travels through the water. A high level of cleanliness is required in the electronics, jewelry, healthcare, and precision optics industries, where this technology is better suited for small and complicated components. By removing foreign contaminants from equipment surfaces, ultrasonic cleaning lowers maintenance-related issues. This may result in less maintenance and ongoing production. This will further fuel the growth of the market in upcoming years.
The demand in Asia Pacific is expected to witness significant growth
Asia Pacific is expected to witness higher growth rate owing to the increasing demand for sustainable green solutions, technological advancement, government regulations and economic growth.
Asia Pacific has become a desirable market for aqueous-based metal cleansers due to the rapid economic growth in developing nations and rising disposable incomes. The region's high use of aqueous-based metal cleaners is primarily due to the region's rapid increase in industrial production, which boosted trade and increased demand for automobiles.
Competitive Insight
Some of the major players operating in the global market include BASF, Dow, Stepan Company, Evonik Industries, Eastman Chemical Company, Nouryon, Clariant, Chemours Company, Indorama Ventures, and Ashland Global Holdings.
Recent Developments
In December 2022, BASF introduced automobile coatings using certified biomass balance techniques and renewable raw materials in China. A customer in China received the first shipment of the biomass balance ColorBrite Airspace Blue ReSource basecoat. The item will contribute to a 20% reduction in the product's carbon footprint. To satisfy various customer needs in China, BASF is able to offer a variety of biomass-balanced automobile coatings products.

In November 2022, Dow chose AB Specialty as authorized distributor in U.S & Canada to assist in the Dow's segment growth of the "OH based silicone polymers ERC industry. Silicones are highly regarded for White Reflective Roof coating applications because they provide great UV stability & resistance to ponding water.
Aqueous based Metal Cleaners Market Report Scope
| | |
| --- | --- |
| Report Attributes | Details |
| Market size value in 2023 | USD 11.82 billion |
| Revenue forecast in 2032 | USD 18.90 billion |
| CAGR | 5.3% from 2023 - 2032 |
| Base year | 2022 |
| Historical data | 2019 – 2021 |
| Forecast period | 2023 - 2032 |
| Quantitative units | Revenue in USD billion and CAGR from 2023 to 2032 |
| Segments covered | By Form, By Product, By Application, By Region |
| Regional scope | North America, Europe, Asia Pacific, Latin America; Middle East & Africa |
| Key companies | BASF SE, Dow, Stepan Company, Evonik Industries AG, Eastman Chemical Company, Nouryon, Clariant AG, The Chemours Company, Indorama Ventures Public Company Limited, Ashland Global Holdings and others. |