The global Artificial Intelligence (AI) in computer vision market was valued at USD 16.05 billion in 2020 and is expected to grow at a CAGR of 26.2% during forecast period. The growing innovation in industrial applications by deploying sophisticated hardware and solutions positively influences the market's computer vision. Further, the introduction of Artificial Intelligence (AI) enabled robotics with machine systems is also driving the market growth. This development is intended to support navigation tasks and is controlled by machine algorithms, which helps increase productivity and efficiency and lowers production costs.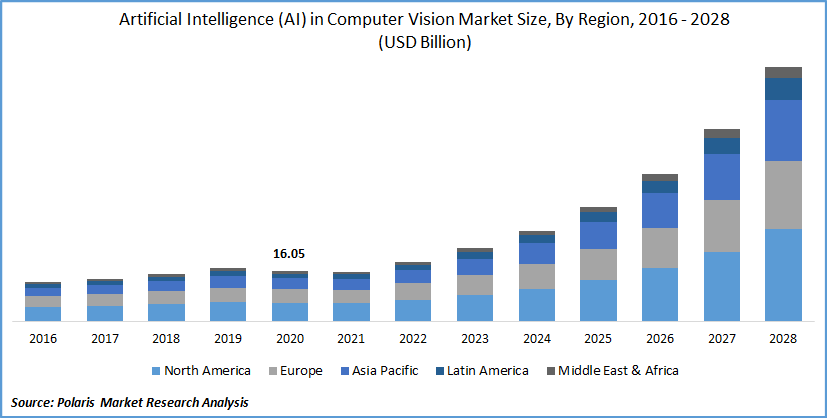 Know more about this report: request for sample pages
In addition, the rising artificial intelligence market demand for quality inspection and automation, escalating demand for Artificial Intelligence computer vision systems in emerging applications, and favorable government initiatives to support industrial automation are also augmenting the market growth.
The outbreak of the COVID-19 pandemic is widespread around the world, tapping communities, countries, and societies under massive pressure. As the ongoing pandemic (COVID-19) has spread worldwide, companies and several industry verticals are undergoing difficulties in keeping their resources safe during the pandemic.
However, this pandemic has further created several opportunities for Artificial Intelligence (AI) technology to combat the pandemic, as various tech giants and start-ups are working to prevent, mitigate, and contain such a virus.
For instance, Alibaba's research institute called Damo Academy has established an algorithm for diagnosis that can identify new coronavirus cases with the chest CT scan. The Artificial Intelligence (AI) solution used in the system has been accomplished with sample data from more than 5,000 positive coronavirus cases. As a result, the market is anticipated to grow at a significant pace during the forecast period.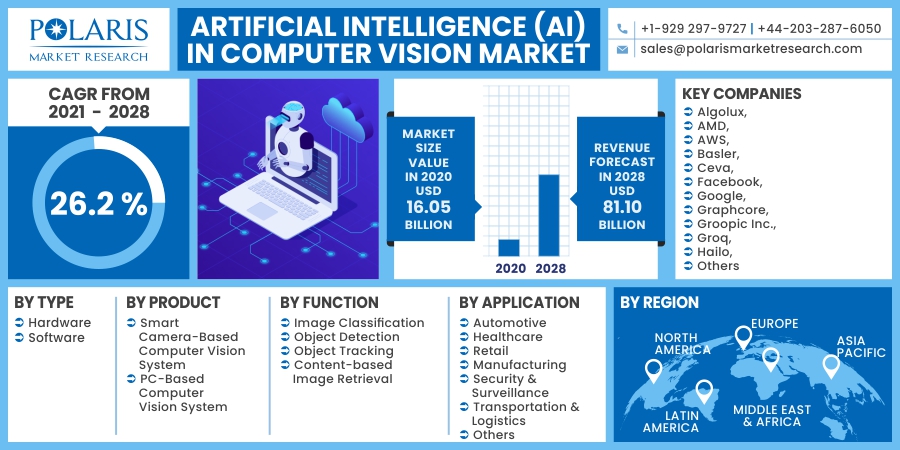 Know more about this report: request for sample pages
Industry Dynamics
Growth Drivers
Computer vision in Artificial Intelligence (AI) has observed an increased adoption backed by the surging penetration of Artificial Intelligence (AI) technology in several business verticals. It is considered the foundation of technology and a vital means of exploiting and testing deep-learning prototypes that are advancing artificial intelligence towards abundant and practical applications.
Currently, various technology manufacturers have been stepping up on implementing Artificial Intelligence (AI) technology in their products & services. For instance, Google Maps uses Artificial Intelligence (AI) dynamically to learn traffic patterns and create efficient routes; various smartphone manufacturers use this technology to recognize facial commands. Thus, the high deployment of this technology could lead to extensive market demand for Artificial Intelligence (thereby, accelerating the market growth around the world.
Apart from these factors, the increased impact of Artificial Intelligence (AI) in machine is also expected to strengthen the market demand for this in computer vision worldwide. Machine vision was remarkably constrained in its application due to the requisite controlled environments, indefinite feature detection technology, and high-priced sensor technology. Further, the integration of Artificial Intelligence (AI) in machine technology is set to change the dynamics of this technology, establishing a new class of applications and immense market opportunities.
Moreover, the implementation of Artificial Intelligence (AI) enabled computer vision services detects imprecise prediction of data inaccurate projections can be found and related to recorded data, thus Artificial Intelligence (AI) enabled systems are used. For this reason, various public and private investors are spending a substantial amount on incorporating this technology to provide advanced technology.
According to the PitchBook Platform, global venture capital investors have invested more than USD 10.8 billion into Artificial Intelligence (AI) & machine learning companies in 2017, up from nearly USD 500 million since 2010. Likewise, the global spending on artificial intelligence systems is reached approximately USD 35.8 billion in 2019. Thus, the rapidly growing spending is creating a higher integration of Artificial Intelligence (AI) in machine systems, thereby making a significant impact on market growth worldwide.
Report Segmentation
The market is primarily segmented on the basis of type, product, function, application, and region.
By Type

By Product

By Function

By Application

By Region

Smart Camera-Based Computer Vision System
PC-Based Computer Vision System

Image Classification
Object Detection
Object Tracking
Content-based Image Retrieval

Automotive
Healthcare
Retail
Manufacturing
Security & Surveillance
Transportation & Logistics
Others

North America (U.S., Canada)
Europe (Austria, France, Germany, Italy, Netherlands, Spain, UK)
Asia Pacific (China, India, Indonesia, Japan, Malaysia, South Korea)
Latin America (Argentina, Brazil, Mexico)
Middle East & Africa (Israel, Saudi Arabia, South Africa, UAE)
Know more about this report: request for sample pages
Insight by Type
Based on the type segment, the hardware segment is expected to hold the largest market capture in the global artificial intelligence (AI) in computer vision market in 2020. The large share can be accredited to the significant accessibility of the most up-to-date hardware platforms, which allow easy component interconnection and advanced features, such as multi-megapixel resolution, quick processing, and fully digital data handling.
On the contrary, the closed source segment is expected to register a considerable share in terms of revenue in the global artificial intelligence (AI) in computer vision market. The segment includes the scope of software that allows the system's functioning to provide optimal identification and inspection. The major tasks accomplished by computer software such as image classification, object tracking, object detection, and content-based image retrieval.
Moreover, some tech giants are working on advancing computer software development. For instance, IBM Corporation is helping companies to innovate computer applications by providing efficient services for software development. Therefore, this factor will act as a key factor for driving the artificial intelligence market growth worldwide.
Geographic Overview
Geographically, Asia-Pacific is leading the global artificial intelligence (AI) in computer vision market in 2020 and is estimated for the major share in terms of revenue due to the rising investments in Chinese companies for expanding the scope of computer vision technology. For instance, the People's Republic of China (PRC) owned nearly 66% of the overall capital invested by companies in 2018, which was almost three times the capital invested in U.S. companies.
Besides, the invested capital by China in computer vision saw an increase of 20 times over than the venture capital in 2016. This, along with the growing public-private initiatives for promoting the use of advanced technology and the rise in the presence of key market vendors, such as Omron Corporation and Sony Semiconductor in China, India, and Japan, is further responsible for the dominance of the Asian market in the industry. For instance, in 2018, China deployed approximately 176 million cameras nationally to meet the requirements for upgraded surveillance.
Europe's vision in the A.I. market is driven by the emerging concept of industry 4.0, which eventually promotes the market demand for advanced technologies to manage industrial operations with improved security and decision-making ability.
Moreover, the U.K. and Germany are the key market for computer vision and A.I. technology as recent advancements in computer vision, including advanced cameras, deep learning techniques, and image sensors, have accelerated the scope for computer vision systems in various industries, especially in various the automotive and healthcare industries. Therefore, the market demand for artificial intelligence in computer vision is expected to grow in these economies.
Moreover, North America is projected to perceive a significant market growth stake over the forecast period. This growth is attributable to supportive government initiatives to promote the adoption of computer vision in the region. For instance, in November 2019, the National Institute of Standards and Technology supported a computer vision start-up named Voxel51 Inc. to acquire an Artificial Intelligence (AI) enabled video analytics platform under the Public Safety Innovation Accelerator Program (PSIAP).
Competitive Insight
Some of the key players operating in the global artificial intelligence (AI) computer vision market include Algolux, AMD, AWS, Basler, Ceva, Facebook, Google, Graphcore, Groopic Inc., Groq, Hailo, IBM, Intel Corporation, Leap Motion, Microsoft, Nvidia, Oculus, Qualcomm, Trivision, Xilinx.
Artificial Intelligence (AI) in Computer Vision Market Report Scope
| | |
| --- | --- |
| Report Attributes | Details |
| Market size value in 2020 | USD 16.05 billion |
| Revenue forecast in 2028 | USD 81.10 billion |
| CAGR | 26.2 % from 2021 - 2028 |
| Base year | 2020 |
| Historical data | 2016 - 2019 |
| Forecast period | 2021 - 2028 |
| Quantitative units | Revenue in USD million/billion and CAGR from 2021 to 2028 |
| Segments covered | By Type, By Product, By Function, By Application, By Region |
| Regional scope | North America, Europe, Asia Pacific, Latin America, Middle East & Africa |
| Key Companies | Algolux, AMD, AWS, Basler, Ceva, Facebook, Google, Graphcore, Groopic Inc., Groq, Hailo, IBM, Intel Corporation, Leap Motion, Microsoft, Nvidia, Oculus, Qualcomm, Trivision, Xilinx. |