The global artificial lift market was valued at USD 6,089.76 million in 2022 and is expected to grow at a CAGR of 5.2% during the forecast period. The market plays an important role in the oil and gas industry by enhancing production rates and prolonging the life of wells. It involves using various techniques to increase the flow of oil or gas from reservoirs to the surface when the natural drive energy is insufficient. This market has witnessed significant growth due to the rising exploration and production of unconventional oil and gas resources, particularly the increase in shale gas production in emerging economies.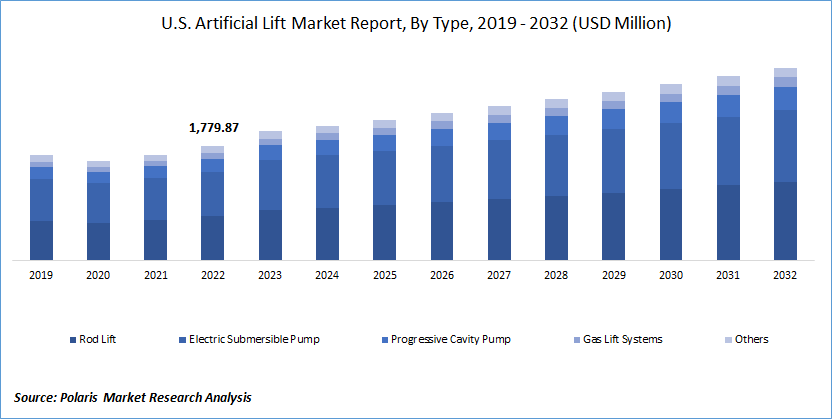 To Understand More About this Research: Request a Free Sample Report
One of the primary methods employed in artificial lifts is using downhole pumps. Positive-displacement downhole pumps, such as a beam or progressive cavity pumps, are widely used to lower the bottom hole pressure, enabling higher production rates. These pumps are installed downhole and connected to the surface equipment through rods or tubing.
Increasing production and reservoir pressure are key drivers, as artificial lift methods allow operators to maximize production and recovery from oil and gas wells. By reducing the flowing pressure at the pump intake, artificial lift techniques enable the oil or gas to reach the surface efficiently.
Additionally, the desire to extend the productive life of wells contributes to the market's growth. Artificial lift methods help maintain production rates and ensure economic viability as natural production declines. Operators can access the remaining reserves in the well by implementing artificial lift techniques and maximizing overall recovery.
However, the artificial lift market has faced challenges, particularly due to the COVID-19 pandemic. The pandemic resulted in a significant decrease in oil and gas demand, as governments implemented measures to contain the virus's spread, leading to reduced transportation activities and lower energy consumption. This has impacted the artificial lift market, causing a decline in sales and production.
Nonetheless, the industry has responded to these challenges by adopting new strategies. Digitization has played a crucial role in restructuring operations and optimizing artificial lift systems. Advanced data analytics and remote monitoring techniques enable better analysis of good conditions, predictive maintenance, and improved operational efficiency. This digital transformation helps reduce costs, increase safety, and optimize artificial lift operations.
Overall, the artificial lift market continues to evolve and grow, driven by the increasing demand for oil and gas, the need for production optimization, and the adoption of digital technologies. As the industry focuses on efficiency, sustainability, and cost-effectiveness, artificial lift techniques will remain vital for maximizing production and extending the life of wells in the oil and gas sector.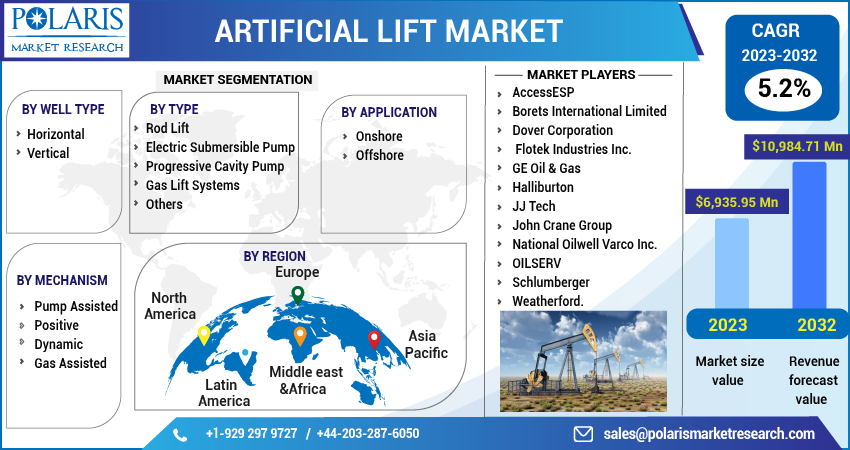 For Specific Research Requirements, Request for a Customized Report
Industry Dynamics
Growth Drivers
The artificial lift market is witnessing a surge in energy demand due to population growth, industrialization, urbanization, and economic development, particularly in emerging economies. As economies expand and populations increase, there is a significant need for energy sources, with a particular emphasis on oil and gas. The artificial lift market is crucial in optimizing production rates and maximizing recovery from oil and gas wells to meet this rising demand.
Emerging economies like China, India, and Brazil are experiencing rapid industrialization and urbanization, leading to increased energy consumption. This growth in energy demand necessitates efficient extraction and production of oil and gas to meet the rising needs. Developed economies also contribute to the demand for energy in the artificial lift market, as they rely on a steady energy supply to operate existing infrastructure such as refineries, power plants, and transportation networks. The increasing focus on renewable energy sources further drives the need for efficient extraction and production methods.
Artificial lift methods optimize production rates from oil and gas wells to address the growing energy demand. These techniques ensure the maximum extraction of hydrocarbons from reservoirs, contributing to the overall energy supply. The artificial lift market plays a vital role in meeting the rising global energy requirements by enhancing production rates and maximizing recovery from oil and gas wells.
Report Segmentation
The market is primarily segmented based on type, mechanism, well type, application, and region.
By Type

By Mechanism

By Well Type

By Application

By Region

Rod Lift

Electric Submersible Pump

Progressive Cavity Pump

Gas Lift Systems

Others

Pump Assisted

Gas Assisted

North America (U.S., Canada)

Europe (France, Germany, UK, Italy, Netherlands, Spain, Russia)

Asia Pacific (Japan, China, India, Malaysia, Indonesia, South Korea)

Latin America (Brazil, Mexico, Argentina)

Middle East & Africa (Saudi Arabia, UAE, Israel, South Africa)
To Understand the Scope of this Report: Speak to Analyst
The rod lift type held a significant market share in 2022
The rod lift type held a significant market share in 2022, primarily driven by its increasing applications in onshore operations. Rod lift, a pump jack or beam pump, is a standard artificial lift method that uses a pump jack at the surface to bring oil and gas to the surface through a sucker rod string and pump. It offers superior qualities such as high system efficiency, optimized controls, positive displacement, and wide flexibility. Moreover, its capability to operate in wells with depths of up to 15,000 ft. has led to increased sales and production, contributing to the growth of this segment.
Gas-assisted is anticipated to exhibit the fastest growth rate during the forecast period.
Gas-assisted is anticipated to exhibit the fastest growth rate during the forecast. Gas-assisted artificial lift techniques, such as gas lift and plunger lift, are gaining traction due to their effectiveness in enhancing production rates and optimizing well performance.
Gas lift involves injecting gas into the wellbore to reduce the hydrostatic pressure and lift the reservoir fluids, while plunger lift uses gas pressure to lift accumulated liquids in the wellbore intermittently. These techniques offer advantages such as improved production efficiency, reduced downtime, and enhanced reservoir recovery. With increasing exploration and production activities, the demand for gas-assisted artificial lifts is expected to surge, driving its rapid growth in the market.
Horizontal well type segment dominates the market
The horizontal well type dominates the market with the largest market share and is expected to experience the fastest growth during the forecast period. This growth is primarily attributed to significant discoveries of shale gas reserves in the North American region. In recent years, the North American region has witnessed substantial advancements in shale gas exploration, leading to the discovery of vast shale gas reserves. This has positively impacted the market's growth, and the trend is expected to continue over the forecast timeline.
Horizontal wells have become increasingly popular in shale gas extraction due to their ability to access and extract gas from multiple layers of the shale formation. The horizontal drilling technique allows for several reservoir layers to intersect, resulting in higher production rates and improved efficiency compared to vertical wells. Additionally, the hydraulic fracturing technique used in conjunction with horizontal wells further enhances shale gas extraction.
North America dominated the global market in 2022
North America dominates the market with the largest share and is poised to experience significant growth during the forecast period. This growth is primarily driven by the expansion of horizontal drilling, particularly for unconventional reserves such as tight oil and shale gas. The region benefits from the presence of aged and horizontal wells and vast potential in the offshore area, contributing to the growing demand for artificial lift solutions.
Europe is expected to be the second-largest growing region in the market. The region's growth is fueled by several factors, including the increasing number of mature fields and the volatile nature of oil prices, creating favorable conditions for company development. The rising demand for gas in Eastern Europe has led to the exploration of previously untapped subsea sources, particularly in the United Kingdom. Despite stringent emission standards, concerns over domestic energy security have prompted nations to grant exploration and production licenses to companies, further driving market growth in the region.
Competitive Insight
Some of the major players operating in the global market include AccessESP, Borets International Limited, Dover Corporation, Flotek Industries Inc., GE Oil & Gas, Halliburton, JJ Tech, John Crane Group, National Oilwell Varco Inc., OILSERV, Schlumberger, and Weatherford.
Recent Developments
In January 2022, Unbridled ESP systems introduced high-rise series pumps for minimizing carbon emissions during ESP operations used in unconventional well-completion operations.

In November 2021, Halliburton signed an MOU with Cairn Oil & Gas to develop new technologies to help Cairn Oil & Gas achieve its target of increasing recoverable reserve to 300 MMboe from 30 MMboe, which will help Cairn Oil & Gas increase its domestic production of crude oil.
Artificial Lift Market Report Scope
| | |
| --- | --- |
| Report Attributes | Details |
| Market size value in 2023 | USD 6,935.95 million |
| Revenue forecast in 2032 | USD 10,984.71 million |
| CAGR | 5.2% from 2023 – 2032 |
| Base year | 2022 |
| Historical data | 2019 – 2021 |
| Forecast period | 2023 – 2032 |
| Quantitative units | Revenue in USD million and CAGR from 2023 to 2032 |
| Segments Covered | By Type, By Mechanism, By Well Type, By Application, By Region |
| Regional scope | North America, Europe, Asia Pacific, Latin America; Middle East & Africa |
| Key Companies | AccessESP, Borets International Limited, Dover Corporation, Flotek Industries Inc., GE Oil & Gas, Halliburton, JJ Tech, John Crane Group, National Oilwell Varco Inc., OILSERV, Schlumberger, and Weatherford. |