The global augmented reality & virtual reality in the healthcare market was valued at USD 2.01 billion in 2020 and is expected to grow at a CAGR of 27.1% during the forecast period. Advancement in technology and digitalization in healthcare, supportive government initiatives, increasing healthcare spending, surging usage in medical procedures, and training are critical factors that drive the adoption of the technologies for augmented/virtual reality in the healthcare market.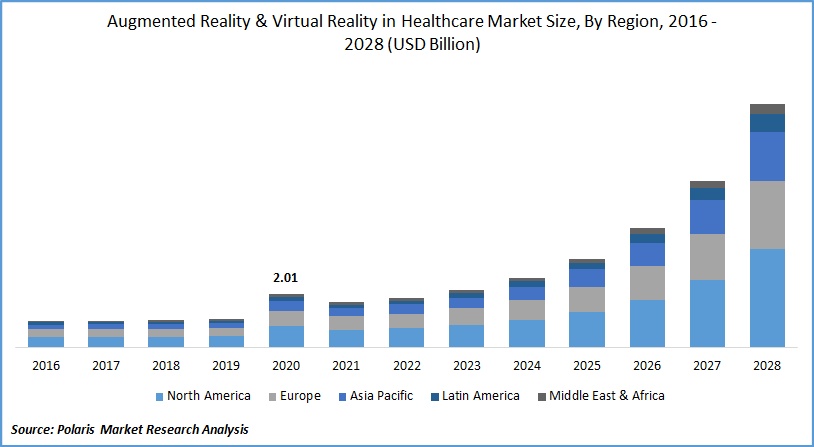 Know more about this report: request for sample pages
The growing demand for robotic processes rather than by-pass surgeries, upsurge in spinal disorders and brain-related difficulties, and growing need for cardiovascular surgery are some of the primary factors responsible for industry expansion for augmented & virtual reality in healthcare.
The increasing number of surgeries has significantly contributed to the growth of the global market in recent years. The U.S. alone has more than 1.6 million spinal procedures been performed each year. Modern technologies are being adopted in hospitals to assist the surgeons that are expected to improve the surgical outcome in patients.
Augmented/virtual reality systems help in providing 3D visualization of the patient's anatomy to the surgeons. For instance, recently, in 2020, Johns Hopkins University surgeons used the FDA-approved vision Augmented Reality Guidance system in the spinal fusion surgery (posterior lumbar decompression, slipped vertebrae correction, and fusion) for the first time in the U.S.
COVID-19 has positively influenced the growth of the global market for augmented/virtual reality in healthcare owing to the adoption of these systems in telemedicine, patient care management, and medical marketing during the pandemic. Many critical surgeries are still being performed even during the lockdown in many countries, and many new products have been introduced in the market in recent times, which is expected to fuel the augmented reality & virtual reality in healthcare market growth.
Industry Dynamics
Growth Drivers
The global market growth for augmented/virtual reality in healthcare will be mainly driven by the increasing number of surgeries across the world. The application of augmentation and virtual reality systems in surgeries, patient care management, and medical training and education is expected to boost the market's growth. The advancement in technology has resulted in the introduction of new products into the market, which will further increase the adoption of technology in healthcare.
More than 2,800 medical schools are functioning globally, and in the U.S. alone, there are 155 accredited MD-granting institutions, and every year more than 20,000 medical students get admission into medical schools. All these factors will cumulatively favor the augmented reality & virtual reality in healthcare market growth.
The major players in this market are launching new products and have been involved in collaborations, funding, and acquisitions in recent years. In January 2020, Augmedics received FDA clearance for the vision Spine system (XVS) that will help in 3D visualization of the spinal anatomy of a patient during surgery. Ocutrx Vision Technologies launched OR-Bot Surgery Visualization Theatre in May 2020, and this system features ORLenz augmented reality (AR) surgery headset that provides many visualization options for surgeons.
Similarly, Medicis launched an augmented reality (AR) technology platform known as SurgicalAR in 2019. XRHealth received USD 7million funding in April 2020, which will be used for the expansion of its telehealth virtual/augmented reality (AR) platform that has applications for use in patients who have multiple sclerosis, menopause, anxiety, chronic pain, breast cancer, fibromyalgia, brain injury, substance abuse, post-stroke rehabilitation, and others.

Know more about this report: request for sample pages
Report Segmentation
The market is primarily segmented on the basis of component, technology, and region.
By Component

By Technology

By Region

Hardware
Software
Service

Augmented Reality

Surgical Application
Rehabilitation
Training & Medical Education

Virtual Reality

Simulation
Diagnostics
Virtual Reality Exposure Therapy (VRET)
Rehabilitation
Pain Distraction

North America (U.S., Canada)
Europe (Germany, UK, Italy, France, Spain, Austria, Netherlands)
Asia Pacific (China, Japan, India, Indonesia, Malaysia, South Korea)
Latin America (Brazil, Argentina, Mexico)
Middle East & Africa (Israel, Saudi Arabia, South Africa, UAE)
Know more about this report: request for sample pages
Insight by Component
The hardware segment earned the highest revenue in 2020 and is anticipated to maintain its position during the forecast timeframe. VR and AR in healthcare are dominated by devices such as smart glasses, head-mounted displays, and 3D sensors.
Smart glasses and head-mounted devices are extensively used in surgery, training and simulation, telemonitoring, diagnostics, and many other applications. Augmented/virtual reality hardware currently has a broad commercialized brand portfolio with a significant adoption rate, particularly in developed countries.
Insight by Technology
Augmented reality held the largest market share in 2020. It formed a 3D picture of the objects with wearable like smart glasses and mounted display devices. Technological developments, increasing demand for effective treatment, growing trend of acquisitions and mergers, cultivating public and private investments, and lower pricing of head-mounted devices are some of the factors that drive the segment's demand in augmented/virtual reality.
The virtual reality segment is anticipated to witness a high growth rate during the forecast timeframe. It allows users to communicate with a three-dimensional environment, opening new possibilities for rehabilitation and pain management.
Virtual reality exposure therapy is a treatment method for phobias like claustrophobia, driving, fear of heights, and posttraumatic stress disorder. Factors such as the rising need for innovative diagnostic procedures and an upsurge in the occurrence of neurological illnesses are propelling the market for augmented/virtual reality in healthcare forward.
Geographic Overview
North America is expected to be the most significant region for the global market due to increased technology adoption, modern healthcare facilities, growing investment in research & development activities, and the favorable regulatory environment for innovative products. In recent years, many new augmented/virtual systems have been launched in the U.S., and hospitals are adopting these systems to assist surgeons during critical procedures better.
Asia Pacific is expected to be the fastest-growing region for the market for augmented/virtual reality in healthcare as the countries like China and India have been continuously investing in healthcare infrastructure in recent decades. This region is also adopting these technologies due to rapid improvement in medical education. Recently, in 2021, a hospital in Tokyo used virtual reality to live stream surgery for research and education purposes.
Competitive Insight
The major players in the market are investing significantly in R&D to bring the technology for healthcare. Companies are devising strategies such as acquisitions, funding, mergers, and collaborations to increase their presence in the global market for augmented/virtual reality in healthcare.
Some of the major players functioning in the market for augmented/virtual reality in healthcare include Atheer, Inc., Augmedix, CAE Healthcare, EchoPixel, EON Reality, Firsthand Technology Inc., GE Healthcare, Hologic, Inc., Intuitive Surgical, Inc., LAYAR, Medical Realities Ltd, MindMaze, Orca Health, Osso VR Inc., Philips Healthcare, Psious, Siemens Healthineers, SURGICAL THEATER, INC., TheraSim Inc., WorldViz
Augmented Reality & Virtual Reality in Healthcare Market Report Scope
| | |
| --- | --- |
| Report Attributes | Details |
| Market size value in 2020 | USD 2.01 billion |
| Revenue forecast in 2028 | USD 9.14 billion |
| CAGR | 27.1% from 2021 - 2028 |
| Base year | 2020 |
| Historical data | 2016 - 2019 |
| Forecast period | 2021 - 2028 |
| Quantitative units | Revenue in USD million/billion and CAGR from 2021 to 2028 |
| Segments covered | By Component, By Technology, By Region |
| Regional scope | North America Europe Asia Pacific Latin America; Middle East & Africa |
| Key Companies | Atheer, Inc., Augmedix, CAE Healthcare, EchoPixel, EON Reality, Firsthand Technology Inc., GE Healthcare, Hologic, Inc., Intuitive Surgical, Inc., LAYAR, Medical Realities Ltd, MindMaze, Orca Health, Osso VR Inc., Philips Healthcare, Psious, Siemens Healthineers, SURGICAL THEATER, INC., TheraSim Inc., WorldViz |