The global automotive silicone market was valued at USD 2.18 billion in 2021 and is expected to grow at a CAGR of 6.9% during the forecast period. Automotive silicone is used extensively in the auto industry for the production of ignition sets, windshield lining, airbag cushion coatings, radiator seals, cables, exhaust hangers, hoses, headlamps, and shock absorbers, among others.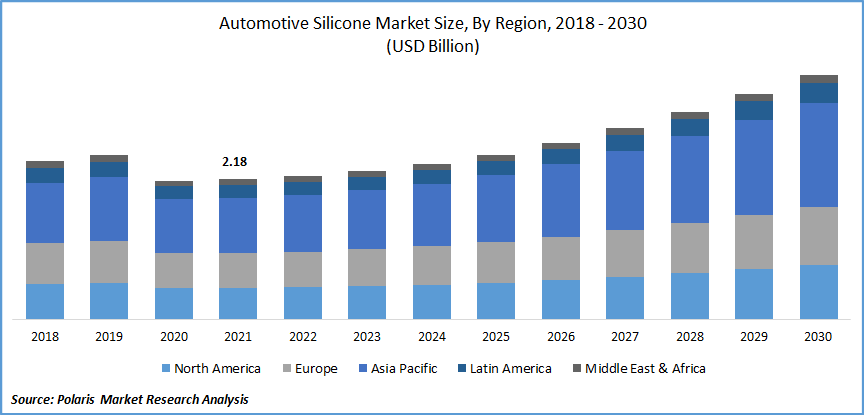 Know more about this report: Request for sample pages
It possesses high strength, resistance to high temperatures, and durability required in many automotive appliances and plays a role in extending the service life of automotive. These products are extensively being used in automobiles to make them lightweight and improve reliability, safety, and comfort.
Additionally, they offer lead-bearing, vibration suspension, and shock absorption, offering greater vehicular comfort. It is also used in lubricants to enhance durability and performance. There has been increased use of rubber with thermoplastics to improve scratch & mar resistance and lower frictional coefficient. Also, the increase in the adoption of electric and hybrid vehicles and the use of silicone in their components will offer substantial market growth.
Government regulations and greater environmental concerns have led to greater adoption of electric vehicles. The European Union has regulated CO2 emissions in the atmosphere and aims to reduce them; Corporate Average Fuel Economy (CAFÉ) standards have been set in the U.S. to improve the average fuel economy of cars and light trucks. These standards will influence the demand for lightweight and efficient cars during the forecast period.
COVID-19 has impacted the supply chain of the global automotive silicone market. Due to lockdowns and closure of international borders, production in the automotive industry dropped significantly, which in turn affected the demand for the automotive silicone market.
Furthermore, suppliers of automobiles and airbag fabrics are expected to lower their financial investments in the automotive silicone R&D. However, reviving of production services and introduction of vaccination facilities for coronavirus disease are expected to restart production and restore demand.
Know more about this report: Request for sample pages
Industry Dynamics
Growth Drivers
The product assists in reducing the overall weight of vehicles, thereby enhancing fuel efficiency and reducing emissions. This rise in initiatives to enhance fuel efficiency and surge in demand for lightweight materials is expected to drive market revenue growth. The demand for the industry is also driven by the growth in the automotive industry in developing countries such as China, South Korea, and India.
Additionally, governments have now mandated airbags in the front seats of automobiles which will drive the growth of the market throughout the forecast period. Regulations state that airbags must be present at least in the front seat due to the high risk of injury in case of collisions. For instance, the Indian government mandated the addition of airbags in all new models manufactured after 1 April 2021.
Increased demand for lightweight materials is expected to drive global market revenue growth. The product helps in weight reduction and lowers carbon emissions. The market has seen an upwards trend in the usage of silicone-based airbags due to the regulations imposed by many governments. These airbags come with rubber fabric coatings and seam sealants.
Manufacturers are looking for new, safer, durable, and cost-effective products. Rubber accessories are becoming popular in wires and cables as they are resistant to heat and fire, thus providing good insulation properties.
Report Segmentation
The market is primarily segmented based on type, application, and region.
By Type

By Application

By Region

Resins
Elastomers
Adhesives and Sealants
Gels
Others

Engine and Drivetrain Systems
Electrical Systems
Interiors and Exteriors
Suspension Systems
Tires
Others

North America (U.S., Canada)
Europe (France, Germany, UK, Italy, Netherlands, Spain, Russia)
Asia Pacific (Japan, China, India, Malaysia, Indonesia. South Korea)
Latin America (Brazil, Mexico, Argentina)
Middle East & Africa (Saudi Arabia, UAE, Israel, South Africa)
Know more about this report: Request for sample pages
Interior and exterior segment accounted for the largest market share
The interior and exterior segment dominated the automotive silicone market with the largest share in terms of value. Consumption of automotive silicone is the maximum in this segment. An increase in demand for the product in interior & exterior components, such as airbags, exhaust hangers, headlamps, hoses, and shock absorbers, is expected to drive its growth in these applications. The product is widely used in all of these parts in the form of rubber, adhesive, sealant, and coatings.
It is used in bonding and sealing the interior and exterior cosmetic components and provides the strength, resistance, and durability necessary for these applications. Automotive manufacturers rely on the performance of the rubber material. To boost power and performance, increased heat is generated in vehicles, which requires the use of rubber as it can withstand higher temperatures.
This has increased the usage of the product and has replaced EPDM due to its less tolerance to heat. It is also used for the protection of electric and electronic components such as airflow meters, pressure and temperature sensors, and ECUs (electronic control units).
The electrical segment in the automotive silicone market accounted for the fastest growth in terms of value during the forecast period. It is used to protect the multi-layered steel gaskets from sticking to the other metals in the engine. Their elasticity allows it to adapt to changing thermal expansion coefficients, which is useful on these multi-material seams.
Technological improvements in batteries are expected to achieve cost competitiveness over conventional vehicles. Additionally, the availability of electric charging stations and infrastructure with an increase in consumer acceptability accounts for the reason for the fastest growth witnessed in the segment.
Adhesives and sealants segment is expected to grow at a significant rate
U.S., Canada, Japan, China, and Europe will drive the growth of this segment. Improvement in the quality of adhesives and sealants is seen due to an increase in the need for fuel efficiency through vehicle weight reduction. Silicone rubber is extensively used in electronic sealants, tires, and cables despite its high cost.
It retains its properties for longer periods and performs better than other materials due to its strength and flexibility. They have the ability to resist chemicals and water and hence have been used for sealing engines and gaskets in the automotive industry.
Asia Pacific is expected to hold the largest revenue share
The Asia Pacific market, comprising developing countries such as China, India, Japan, and South Korea, dominated the automotive silicone market and accounted for the largest revenue share. The shift of production facilities from Europe and North America to Asia due to greater availability of raw materials, cheap labor, and greater market penetration offers growth opportunities. This large market share is due to the prevalence of many large, medium, and small-sized market players.
With the strengthening of the automotive industry, the standard of living and income level have risen owing to the rise in labor opportunities. As the Asia Pacific region is rapidly developing its economy, many foreign investors and automotive manufacturers are establishing their production plants in the region. The increase in automotive production will increase the demand for product-based automotive components. This region has the largest volume of automotive production and thus is the prime market for product.
Competitive Insight
Some of the major players operating in the global market include BRB International b.v., Elkem ASA, Evonik Industries AG, Gelest Inc., Henkel, Kibaru Manufacturing Sdn Bhd, Momentive, Novagard Solutions, Primasil Silicones, Silicone Solutions, Siltech Corporation, Shin-Etsu Chemical Co. Ltd., Specialty Silicone Products, Inc., The Dow Chemical Company, Wacker Chemie AG.
Recent Developments
In April 2022, Shin-Etsu Chemical Co., Ltd., introduced thermal interface rubber sheet, called "TC-BGI Series". The product is developed for applications in components for electric vehicles. It is designed to be used as heat dissipation measures for component parts of electric cars. It is a high hardness thermal interface rubber sheet offering high voltage endurance and thermal conductivity.
In May 2022, Dow introduced a new mouldable material, which finds application in adaptive driving beam (ADB) light guides in cars. Silastic MS-5002 mouldable silicone is a specialized Liquid Silicone Rubber (LSR) that offers extremely low mould fouling for faster cycle times and high-quality optics. The material is developed for injection moulded parts needing high-productivity manufacturing. The product launch is aimed at decreasing vehicle weight and reducing energy requirements for production.
Automotive Silicone Market Report Scope
| | |
| --- | --- |
| Report Attributes | Details |
| Market size value in 2021 | USD 2.18 billion |
| Revenue forecast in 2030 | USD 3.80 billion |
| CAGR | 6.9% from 2022 - 2030 |
| Base year | 2021 |
| Historical data | 2018 - 2020 |
| Forecast period | 2022 - 2030 |
| Quantitative units | Revenue in USD billion and CAGR from 2022 to 2030 |
| Segments covered | By Type, By Application, By Region |
| Regional scope | North America, Europe, Asia Pacific, Latin America; Middle East & Africa |
| Key companies | BRB International b.v., Elkem ASA, Evonik Industries AG, Gelest Inc., Henkel, Kibaru Manufacturing Sdn Bhd, Momentive, Novagard Solutions, Primasil Silicones, Silicone Solutions, Siltech Corporation, Shin-Etsu Chemical Co. Ltd., Specialty Silicone Products, Inc., The Dow Chemical Company, Wacker Chemie AG. |