The global bamboo market was valued at USD 59.3 billion in 2021 and is expected to grow at a CAGR of 4.6% during the forecast period.
Growing infrastructure construction expenditures and customer awareness towards ecologically sustainable products are expected to fuel global industry growth. Extensive development in demand for green building, particularly in developed nations such as North America and Europe, and greater use of bamboo in construction, are likely to drive market valuation throughout the forecast period.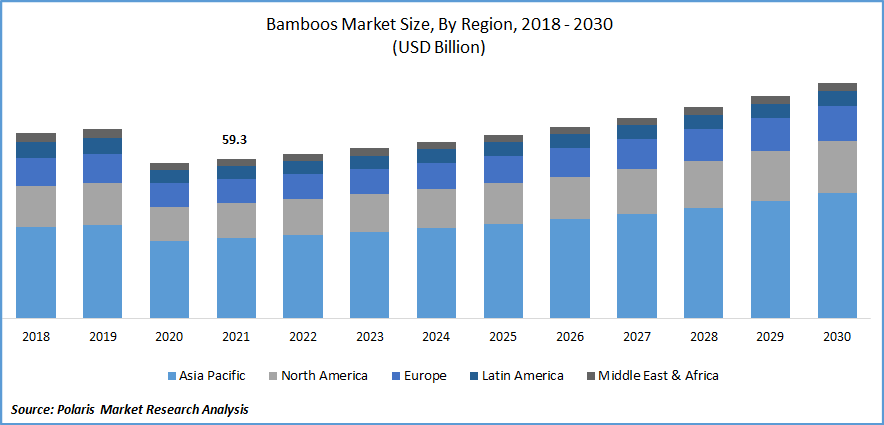 Know more about this report: Request for sample pages
The COVID-19 epidemic shook the world economy and brought it to a halt. Over the whole production cycle, supplies, cultivation trends, and optimum harvesting periods were all disturbed. The impact was felt by growers, suppliers, manufacturers, and intermediaries, and many connected small-scale enterprises were destroyed during COVID-19. Due to massive movement of labor forces during the pandemic, bamboo cultivations & farms were left unattended, resulting in harvest losses in many areas of the world.
Bamboo is becoming increasingly popular in the construction of green structures. Furthermore, the market is predicted to grow at a significant CAGR due to rising acceptance and requirements for green building to support the sustainable development trend in advanced economies. The increased awareness of the many health advantages of bamboo, as well as the increasing research and innovation in the healthcare sector, are projected to result in a variety of new application areas for bamboo in the healthcare profession, creating new possibilities for the bamboo marketplace.
Despite the enormous demand for diverse uses, government rules and regulations and policies on resource ownership and security have made it challenging for buyers and dealers to unleash the potential of its numerous sources, which is likely to limit the market.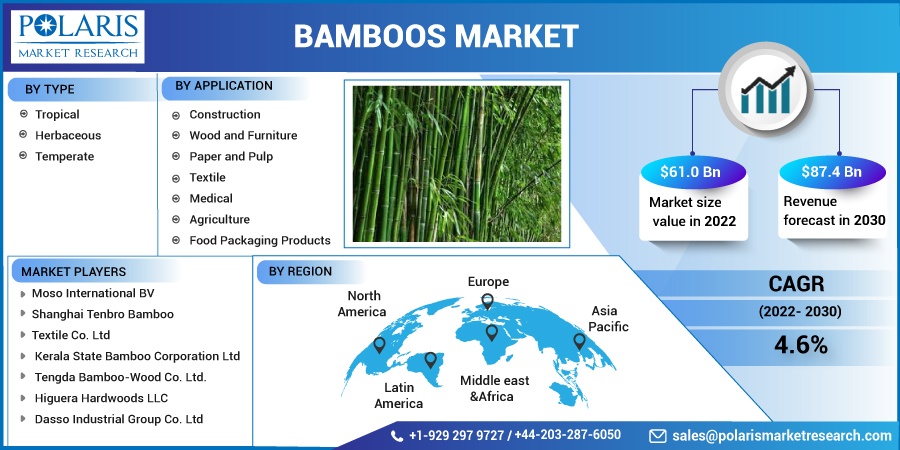 Know more about this report: Request for sample pages
Industry Dynamics
Growth Drivers
Bamboo may be utilized for a multitude of purposes in environment, including the building of watercraft, fortifications, and other structures. Bamboos are lighter and stronger than other types of wood. Aside from that, bamboo is easily machined and may be formed into useful forms. However, with the widespread acceptance and desire for green construction to support the environmental trend in developed nations, the passion for bamboo is likely to rise at significantly higher growth in coming years.
Bamboo, a flexible multi-purpose forest produce, is critical to the world's home and industrial economies. Because of its availability and adaptability, bamboo is utilized for various interior and outdoor applications. It is frequently regarded as a timber and industry feedstock alternative in both advanced production and traditional cottage industries. Because bamboos have a wide range of applications, demand for them is predicted to climb at phenomenal rates throughout the forthcoming assessment period across all areas.
The world population and urbanization are rapidly increasing. This has resulted in a rise in the number of housing construction. Bamboo is commonly employed in the construction industry for various purposes, including extra equipment, carpeting options, and other construction materials. As a result, the growing trend of building activities is promoting the expansion of the bamboo market.
Furthermore, the expansion of the e-commerce business has greatly boosted demand for paper and board packaging. This has increased the usage of bamboo, one of the primary sources of pulp and fiber used in producing paper and board.
Furthermore, bamboo is an excellent source of nutrients in many areas. For example, nations such as South Korea and Japan eat shoots, an edible portion of the bamboo root. Bamboo salt, another edible bamboo product, is in high demand across the world due to its therapeutic properties. Such changes are expected to have a favorable impact on the bamboo sector.
Report Segmentation
The market is primarily segmented based on type, application, and region.
By Type

By Application

By Region

Tropical
Herbaceous
Temperate

Construction
Wood and Furniture
Paper and Pulp
Textile
Medical
Agriculture
Food Packaging Products

North America (U.S., Canada)
Europe (France, Germany, UK, Italy, Netherlands, Spain, Russia)
Asia Pacific (Japan, China, India, Malaysia, Indonesia, South Korea)
Latin America (Brazil, Mexico, Argentina)
Middle East & Africa (Saudi Arabia, UAE, Israel, South Africa)
Know more about this report: Request for sample pages
Tropical bamboo is projected to witness significant growth.
Tropical bamboo has become increasingly popular over the last few decades, owing partly to a view of varieties as wonder crops or miraculous crops, which are exceptionally beneficial in addressing contemporary economic and social demands. Several writers have suggested that commercially farmed bamboos are more ecological and recyclable than traditional forestry crops.
Modern processing methods have further expanded the number of bamboo-based items available. As a result, the frequency at which genera are introduced and farmed in new areas has grown, particularly bamboo cultivation, in response to rising worldwide demand for wood products. While bamboo introductions have a lengthy history, more needs to be understood about which subspecies have been relocated and where and the results of these moves.
Wood & furniture dominated the market in 2021
In 2021, wood & furniture led the market, accounting for a higher percentage of total sales. Because of its longevity, ease of production, and good tensile resilience, handwoven and knitted furniture has seen a surge in global demand. Furthermore, it is a wood replacement with a similar look to wood, increasing the consumption of bamboo in furnishings.
Bamboo goods are supplied in national and international markets through traditional and digital methods. Local producers often sell their goods directly to customers via third-party e-commerce channels, while big corporations maintain regional headquarters to service their clients with specialized items. The global need for residential development is expanding dramatically because of continuous urbanization and population growth. As a result, the number of building projects has increased. During the coming quarters, the rise in building activities globally is expected to expand the raw goods segment.
Asia Pacific dominated the global market in 2022 and is projected to show a similar trend over the forecast period
Growing consumer awareness of sustainable products, increased investment in infrastructure development, and increased use of sustainable building resources are responsible for regional growth in Asia Pacific. China is the world's largest bamboo cultivator due to idealistic climatic conditions and an inexpensive labor force. There are more than 800 species of bamboo in this region.
North America is projected to show significant growth. The demand in the Americas is predicted to increase rapidly as people become more aware of the benefits of bamboo, such as its appetizing shoots and the usage of older canes in various uses, such as handicrafts and residential buildings. As more regional producers seek to produce bamboo, bamboo investment opportunities are expected to improve, supporting industry expansion in the future. Owing to various measures to conserve the environment and improve the lives of underprivileged people by providing jobs via bamboo planting and manufacturing bamboo goods, Central and South America is predicted to increase. In terms of the variety of bamboo species, Central and South America outnumbers other American areas.
In Europe, the consumption of bamboo is increasing as it gains acceptability as a tropical wood alternative. Bamboo cultivation in the region is gradually expanding due to increased demand for bamboo goods and ideal growing circumstances in Southern Europe. Manufacturers are also working with bamboo farmers in Eastern Europe to improve production and assist the area market's rise.
Competitive Insight
Some of the major players operating in the global market include Bamboo Australia, Ecoplanet Bamboo, Smith & Fong, Moso International, Shanghai Tenbro Bamboo, Kerala State Bamboo, Tengda Bamboo-Wood, Higuera Hardwoods, Dasso Group, Jiangxi Kangda Bamboo Ware, Fujian Jianou Huayu Bamboo, Jiangxi Shanyou Industry, and Xingli Bamboo.
Recent Developments
In 2022, Libas Consumer Products Ltd announces a rights issue and the introduction of KNG, a bamboo-based Organic Innerwear brand.
In 2021, Nestlé said it would plant 3.5 million natural bamboo bunches and trees in the Philippines. This forestry program produces Nestlé's objective of planting 200 million trees by 2030. It also fits with the company's strategy to ramp up regenerative agricultural initiatives, deploy environmental alternatives to capture carbon pollution, and assist in Nestlé's net-zero target by 2050.
Bamboos Market Report Scope
| | |
| --- | --- |
| Report Attributes | Details |
| Market size value in 2022 | USD 61.0 billion |
| Revenue forecast in 2030 | USD 87.4 billion |
| CAGR | 4.6% from 2022 - 2030 |
| Base year | 2021 |
| Historical data | 2018 - 2020 |
| Forecast period | 2022 - 2030 |
| Quantitative units | Revenue in USD billion and CAGR from 2022 to 2030 |
| Segments Covered | By Type, Application, and By Region |
| Regional scope | North America, Europe, Asia Pacific, Latin America; Middle East & Africa |
| Key Companies | Moso International BV, Shanghai Tenbro Bamboo Textile Co. Ltd, Kerala State Bamboo Corporation Ltd, Tengda Bamboo-Wood Co. Ltd., Higuera Hardwoods LLC, Dasso Industrial Group Co. Ltd., |