The bronchoscopy market was valued at USD 2,627.7 million in 2021 and is expected to grow at a CAGR of 7.6 % during the forecast period. The rising prevalence of respiratory diseases and the growing demand for minimally invasive surgeries are the primary factors responsible for the bronchoscopy market growth. Additionally, growing hospital investments in bronchoscopy facilities are supposed to influence the market's growth.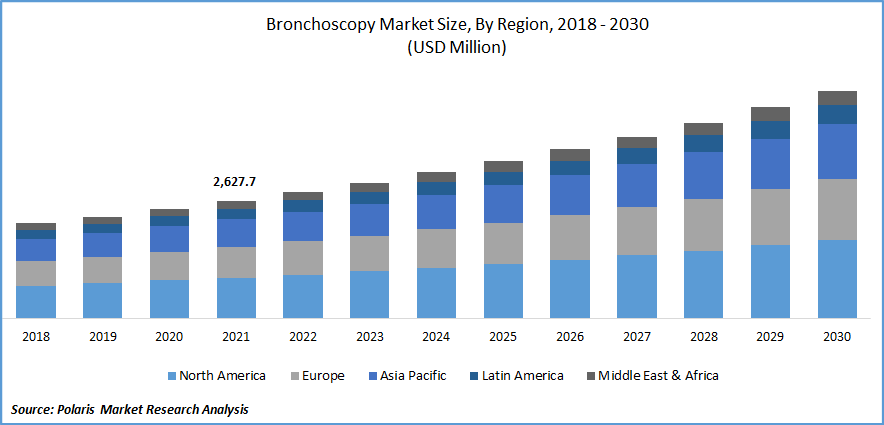 Know more about this report: Request for sample pages
The most frequent interventional pulmonology technique carried out using bronchoscopes is bronchoscopy. Both single-use and reusable bronchoscopes can be utilized for bronchoscopy. Both single-use and reusable bronchoscopes are meant to be used during the endoscopic examination, diagnosis, and treatment of the tracheobronchial tree and airways. Furthermore, single-use bronchoscopes can be used to diagnose conditions like COPD, tumors, lung cancer, airway stenosis, pneumonia, bronchitis, and other lung infections.
By giving a three-dimensional image of the lungs and real-time information about the position of the steerable probe during bronchoscopy, advanced bronchoscopy techniques like Electromagnetic navigation bronchoscopy (ENB) are designed to improve standard bronchoscopy. The demand for this market would be driven by electromagnetic navigation bronchoscopy, which is anticipated to secure better reimbursement over the forecast period and provide many growth opportunities in the extended run.
The Covid-19 pandemic benefited the market in 2020. The large patient population suffering from acute respiratory syndrome is what has caused the increase in product demand. The management of problems, the gathering of samples for microbiological cultures, and the help of artificial airway management are all necessary during bronchoscopy in severely ill Covid-19 patients. Therefore, the need for bronchoscopies has been positively influenced by the rapidly increasing Covid-19 cases worldwide.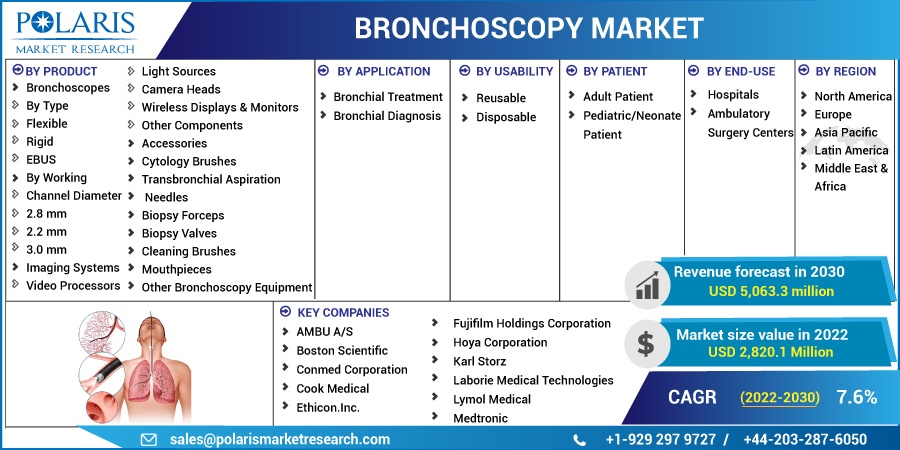 Know more about this report: Request for sample pages
Industry Dynamics
Growth Drivers
The primary reason driving the bronchoscopy market is the increased prevalence of respiratory tract ailments like COPD (Chronic Obstructive Pulmonary Disease) or lung cancer due to the growing elderly population. It is an endoscopic procedure used by medical experts to treat problems such as an obstruction or growth in the airway or to diagnose abnormalities in the lymph nodes in the chest, lungs, and airways.
For instance, according to a WHO report of May 2022, COPD is the third most significant cause of mortality worldwide, and as a result, it was responsible for 3.23 million fatalities in 2019.
One of the main factors propelling the growth of the global bronchoscopy market is the technical advancements in bronchoscopy. Electronics and microtechnology advancements have accelerated the development of bronchoscopy. Better patient outcomes have resulted from the earlier and safer detection of lung disorders made possible by bronchoscopy's technological breakthroughs. Therefore, the worldwide bronchoscopy market would rise throughout the projection period with the rising need for enhanced bronchoscopy procedures.
Report Segmentation
The market is primarily segmented based on product, application, usability, patient, end-use, and region.
By Product

By Application

By Usability

By Patient

By End-Use

By Region

Bronchoscopes

By Type
By Working Channel Diameter

2.8 mm
2.2 mm
3.0 mm
Other Working Channel Diameters

Imaging Systems

Video Processors
Light Sources
Camera Heads
Wireless Displays & Monitors
Other Components

Accessories

Cytology Brushes
Transbronchial Aspiration Needles
Biopsy Forceps
Biopsy Valves
Cleaning Brushes
Mouthpieces
Other

Other Bronchoscopy Equipment

Bronchial Treatment
Bronchial Diagnosis

Adult Patient
Pediatric/Neonate Patient

Hospitals
Ambulatory Surgery Centers

North America (U.S., Canada)
Europe (France, Germany, UK, Italy, Netherlands, Spain, Russia)
Asia Pacific (Japan, China, India, Malaysia, Indonesia, South Korea)
Latin America (Brazil, Mexico, Argentina)
Middle East & Africa (Saudi Arabia, UAE, Israel, South Africa)
Know more about this report: Request for sample pages
Bronchoscopes to account the largest market share in 2021
Bronchoscopes acquired the largest market revenue in 2021 due to their benefits in diagnosing and treating lungs problems such as a tumor or bronchial cancers, interstitial pulmonary disease, airway blockages, and inflammation and infection such as TB, pneumonia, and fungal or parasitic lung infections.
The flexible type bronchoscopes dominated the type sub-segment due to their excellent video quality and high cost-effectiveness. Additionally, its various advantages, including high-quality videos that make tumors and infections in deeper levels of bronchioles easy to identify, are supposed to drive the segment's growth.
Furthermore, flexible bronchoscopes are practical for both patients and clinicians. Flexible bronchoscopy requires substantially less recovery time than rigid and EBUS bronchoscopes. Additionally, the small size of these devices enables a deeper reach into tiny lumens.
Disposable equipment accounted for the significant market share in 2021
The disposable segment accounted for significant market revenue during the forecast period as one of the key benefits of these devices, particularly those that have lately entered the market is their affordability. In comparison to the expenditures associated with reusable bronchoscopes, medical facilities that carry out fewer than 500 procedures annually save a substantial amount of money. Other elements that contribute to market expansion are the absence of cross-contamination, quick availability, and no reprocessing expenses.
Moreover, the reusable segment is supposed to grow fastest during the forecast period. The main benefits of these gadgets are their versatility and affordability. More than 500 bronchoscopy procedures are consequently carried out each year. This will undoubtedly propel the market during the forecast period at a profitable rate.
Adult patient accounted to hold significant market share
Adult patients acquired the most significant market share during the forecast period on account of its enhanced image superiority attained through reusable bronchoscopes and accessories.
The development of healthcare infrastructure boosted access to healthcare, raising the population's median age and extending life expectancy. For instance, according to statistics from the World Health Organization (WHO), in 2020, the elderly population was anticipated to exceed children under the age of five. By 2050, the population's share of people over 60 will be close to 22%.
Additionally, the most prevalent diseases that affect the elderly population include COPD, diabetes, dementia, and many others. Therefore, during the course of the forecast period, the growing adult population will favorably affect this industry's expansion.
Hospitals accounted to hold largest market share
Hospitals accounted for the largest market share in 2021 due to the high patient preference for hospital-based treatments and procedures. Additionally, technologically advanced facilities and favorable reimbursement scenarios are supposed to influence the segment's growth.
Furthermore, as compared to others, the availability of skilled professionals in hospitals is also accelerating the segment's growth during the forecast period.
Moreover, ambulatory surgery centers are supposed to grow fastest over the forecast period due to their benefits, such as less time, reduced stress, predictable scheduling, convenience, and accessibility, and helps to cut costs and reduce out-of-pocket expense for patients.
North America dominated the regional market
North America obtained the largest market revenue of the bronchoscopy market in 2021 due to increasing chronic respiratory illness incidence and prevalence, attractive reimbursement situations in the US, rising lung cancer rates in Canada, a sharp rise in healthcare spending, simple access to cutting-edge technology, and a strong presence of market players in this region.
Moreover, Asia Pacific is supposed to grow fastest during the forecast period due to the large patient population, healthcare infrastructural development, growing geriatric population suffering from COPD, and rising favorable government initiatives.
Competitive Insight
Major industry participants are engaged in product development to increase their product portfolio as well as R&D activities to gain competitive edge in the market. Some of the major players operating in the global market include AMBU A/S, Boston Scientific, Conmed Corporation, Cook Medical, Ethicon.Inc., Fujifilm Holdings Corporation, Hoya Corporation, Karl Storz, Laborie Medical Technologies, Lymol Medical, Medtronic, Olympus Corporation, Richard Wolf GmbH, Roper Technologies, and Teleflex Incorporated.
Recent developments
In May 2022, Auris Health, Inc., a subsidiary of Ethicon, Inc., declared that the FDA granted 510(k) approval for its Monarch robotic surgery platform, it offers flexible robotic solution for use in both urology and bronchoscopy.
In April 2021, Olympus Corporation expanded its respiratory portfolio with the launch of H-SteriScopes, which provides flexibility and choice to physicians performing advanced procedures.
Bronchoscopy Market Report Scope
| | |
| --- | --- |
| Report Attributes | Details |
| Market size value in 2022 | USD 2,820.1 million |
| Revenue forecast in 2030 | USD 5,063.3 million |
| CAGR | 7.6% from 2022 - 2030 |
| Base year | 2021 |
| Historical data | 2018 - 2020 |
| Forecast period | 2022 - 2030 |
| Quantitative units | Revenue in USD million and CAGR from 2022 to 2030 |
| Segments covered | By Product, By Application, By Usability, By Patient, By End-Use, By Region |
| Regional scope | North America, Europe, Asia Pacific, Latin America; Middle East & Africa |
| Key companies | AMBU A/S, Boston Scientific, Conmed Corporation, Cook Medical, Ethicon.Inc., Fujifilm Holdings Corporation, Hoya Corporation, Karl Storz, Laborie Medical Technologies, Lymol Medical, Medtronic, Olympus Corporation, Richard Wolf GmbH, Roper Technologies, and Teleflex Incorporated. |