The global cardamom oil market was valued at USD 570.49 million in 2022 and is expected to grow at a CAGR of 8.7% during the forecast period. Elettaria Cardamom is another name for cardamom oil. Steam distillation is used to extract cardamom essential oil from the Elettaria cardamomum, or cardamom, plant's seeds. It has a center note that is sweet and smoky and goes well with citrus, wood, and a variety of other scents. It is thought to be an aphrodisiac, has several health advantages, and may also be used to enhance the condition of the skin and hair. Its main ingredients are sabinene, alpha-pinene, terpinene, heptenone, eugenol, cineol, linalool, nerolidol, alpha-terpineol, limonene, myrcene, and others. The benefits of this oil for the skin, hair, and health are numerous.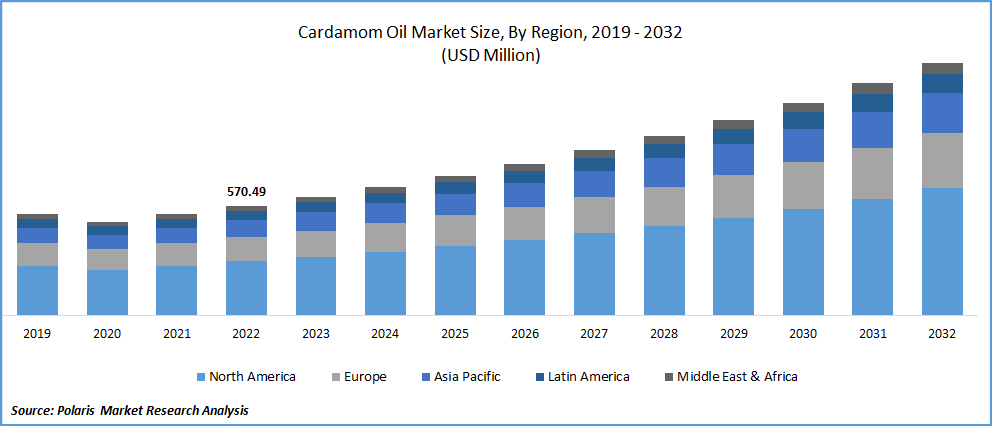 Know more about this report: Request for sample pages
Furthermore, it can be used to prepare healthcare items in a variety of culinary and beverage applications. Indian and Indonesian origins can be seen in the spice known as cardamom. Indian cuisine is colorful and delicious, and the spices not only give meals a unique twist but also provide several well-established health benefits. One such spice, among numerous others, is cardamom. It's fascinating to note that cardamom is derived from seeds of various ginger family plants growing in Guatemala, India, and Indonesia.
Increased use of cardamom has broadened the range of end-use industries where it is used, including cosmetics, personal care, healthcare, food, and drinks, etc. This has had an impact on the growth of the market globally. The rising consumer disposable incomes are driving the demand for cardamom oil which is boosting the growth of the market over the forecast period.
According to Eurostat, In the EU and the euro region, respectively, household gross disposable income rose by 1.4% and 1.6%, in nominal terms, during the second half of 2022. Europe is the center for organic cardamom oils because all of the market categories for this oil have profitable growth prospects there. Due to the high discretionary income of the bulk of the population, this proportionately higher, the consumer-oriented market is much more likely to come to Europe.
Companies are expanding quickly to fulfill the short-term product demand impact of COVID-19, but they must be cautious when interpreting these unusual demand patterns. Cardamom oil is in more demand than anticipated in all locations compared to pre-epidemic levels due to the unprecedented and overwhelming global COVID-19 pandemic. Following the epidemic, it is projected that shifts in economic, trade, social, and political variables, as well as anticipated changes in environmental regulation, will shape the market. For different uses and areas during COVID-19, the market produced contrasting findings. The shutdown of the manufacturing, cosmetology, and health industries had an impact on the market.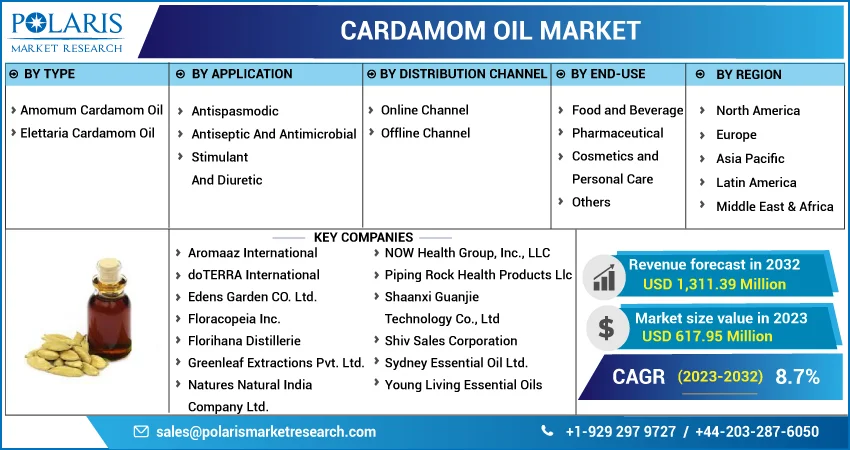 Know more about this report: Request for sample pages
Industry Dynamics
Growth Drivers
The demand for plant-based and natural products is rising as a result of consumers' increasing health consciousness, which is driving the growth of the cardamom oil market. Cardamom is a herb that is widely used to season cuisine. Sometimes, seed oil and seed seeds are used to make medications. Cardamom contains chemicals that may boost the immune system, lessen edoema, and perhaps possibly kill some bacteria. The rising pharmaceutical and healthcare sectors, which are one of the main users of the product, provide additional support for this.
The largest oil content was found in the seeds as compared to the leaves, pericarp, complete pods, and fruit, etc. The extraction of phytochemicals from plant material has shown prospective niches to be employed as potential future strategies using advanced extraction methods like MAE, or DIC. Furthermore, compared to conventional procedures, the quality of cardamom phytochemicals obtained using greener (advanced) methods was found to be superior.
Furthermore, other reasons that are considerably boosting the market growth include rising demand for natural flavoring agents and rising consumer preference for plant-based cosmetic products. One of the chronic gastrointestinal diseases is gastric ulcer, which affects the gastrointestinal tract. Large-scale efforts have been made in recent years to investigate phytochemicals as nutraceuticals to deal with gastrointestinal problems, with a particular focus on gastric-ulcer. In this context, phytochemicals derived from herbaceous plants, including ginger and cardamom, have documented their extraordinary potential with encouraging gastroprotective actions.
Report Segmentation
The market is primarily segmented based on type, distribution channel, application, end-user, and region.
By Type

By Application

By Distribution Channel

By End-Use

By Region

Amomum Cardamom Oil

Elettaria Cardamom Oil

Antispasmodic

Antiseptic And Antimicrobial

Stimulant

And Diuretic

Online Channel

Offline Channel

Food and Beverage

Pharmaceutical

Cosmetics and Personal Care

Others

North America (U.S., Canada)

Europe (France, Germany, UK, Italy, Netherlands, Spain, Russia)

Asia Pacific (Japan, China, India, Malaysia, Indonesia. South Korea)

Latin America (Brazil, Mexico, Argentina)

Middle East & Africa (Saudi Arabia, UAE, Israel, South Africa)
Know more about this report: Request for sample pages
The antiseptic and Antimicrobial segment is expected to witness the fastest growth
The segment is growing owing to its benefits for the treatment of antimicrobial and anti-inflammation diseases. Cardamom oil has many advantageous qualities, including being antibacterial, enhancing digestion, being utilized in aromatherapy, being antimicrobial, assisting with correct digestion, and relieving muscle spasms. A traditional aromatic herb called cardamom (Elettaria cardamomum) has been linked to several pharmacological activities. The antibacterial activity of two cardamom extracts (fruit and seeds), which are high in volatile chemicals, was assessed in this study against the main periodontal pathogens. Additionally, the extracts capacity to have an anti-inflammatory effect.
A treatment with cardamom extracts caused P. gingivalis's cell membrane to rupture, indicating the bactericidal mode of action. This show that cardamom fruit and seed extracts may be useful therapeutic agents for periodontal infections due to their antibacterial and anti-inflammatory characteristics. Throughout the anticipated period, these benefits are expected to increase demand for cardamom oil.
The food and beverage industry accounted for the largest market share in 2022
The food and beverage segment is accounted for the largest share due to its various benefits which are driving the growth of the market over the forecast period. To offer foods and drinks a unique flavor and smell, cardamom oil is utilized in food and beverage production. The growing demand for cardamom in beverages like tea and other flavored beverages on the international market has an impact on essential oil producers' need for it as a natural ingredient or taste.
Historically, cardamom was considered a herb and an essential part of Ayurveda. Ancient Egyptians & Romans used this spice for different therapeutic uses as well as to flavor essential oils & mints. In addition, it is used as an antidote for the poison, cardamom was also thought to be effective for treating stomach problems, throat infections, and chest congestion. Popular culinary additive cardamom is utilized in a wide range of dishes, from spicy foods to sweet desserts and beverages. As the selection of options keeps growing, more and more people are considering using cardamom in their diet as a supplement for general health.
Asia pacific dominated the market and will continue its dominance over the forecast period.
Throughout the forecast period, the Asia Pacific region is anticipated to hold a significant portion of the market. One of the world's top producers of cardamom is India. The easy accessibility of cardamom essential oil and the expanding popularity of natural components are two factors that have contributed to the market expansion in the area. Because Asia Pacific is the largest producer and offers several advantages in terms of personal and health care, it is projected that the region would dominate by holding a significant portion of the cardamom oil market share. Due to the numerous advantages it provides, the product is in constant demand in the area.
Furthermore, the demand for the product is anticipated to increase due to the growing concern around the use of cosmetic and healthcare goods. Latin America is the world's greatest producer of cardamom, followed by the Asia Pacific region in terms of total production. Being one of the best flavoring agents, cardamom oil is likely to see an increase in demand in bakery and other food products, which will help the market for cardamom oil in the United States and Europe. Cardamom oil will continue to be used in aromatherapy, and additional benefits will support the market's expansion across the Middle East and Africa.
Competitive Insight
Some of the major players operating in the global market include Aromaaz International, doTERRA International, Edens Garden, Floracopeia, Florihana Distillerie, Greenleaf Extractions, IL Health & Beauty Natural Oils, Naissance Trading & Innovation, Natures Natural India, NOW Health Group., Piping Rock Health, Shaanxi Guanjie Technology, Shiv Sales Corporation, Sydney Essential Oil, & Young Living Essential Oils.
Recent Developments
In June 2018,

A new kind of fragrance experience is introduced by Edens Garden's release of their collection of natural perfumes. The six natural perfumes, all prepared with 100% pure essential oils, are independent of chemical poisons and entirely sourced from nature. There are six alluring scents in the collection, including Lavender Magnolia, Allure, Shine, Rose Bergamot, and Vanilla Sandalwood, each of which has advantages and distinct flavors. Aside from that, XOXO has heart notes of cardamom and clove, which provide flavor.
Cardamom Oil Market Report Scope
| | |
| --- | --- |
| Report Attributes | Details |
| Market size value in 2023 | USD 617.95 million |
| Revenue forecast in 2032 | USD 1,311.39 million |
| CAGR | 8.7% from 2023 - 2032 |
| Base year | 2022 |
| Historical data | 2019 - 2021 |
| Forecast period | 2023 - 2032 |
| Quantitative units | Revenue in USD million and CAGR from 2023 to 2032 |
| Segments Covered | By Type, By Application, By Distribution Channel, By End-Use, By Region |
| Regional scope | North America, Europe, Asia Pacific, Latin America; Middle East & Africa |
| Key Companies | Aromaaz International, doTERRA International, Edens Garden CO. Ltd., Floracopeia Inc., Florihana Distillerie, Greenleaf Extractions Pvt. Ltd., IL Health & Beauty Natural Oils Co., Inc., Naissance Trading & Innovation Co Ltd., Natures Natural India Company Ltd., NOW Health Group, Inc., LLC, Piping Rock Health Products Llc, Shaanxi Guanjie Technology Co., Ltd, Shiv Sales Corporation, Sydney Essential Oil Ltd., and Young Living Essential Oils |