The global cashew nutshell liquid market was valued at USD 371.1 million in 2021 and is expected to grow at a CAGR of 7.5% during the forecast period. Rise in environmental concerns, increasing inclination toward green chemistry, strict regulations regarding harmful emissions, and growing government initiatives to promote the use of sustainable and bio-based products boost the adoption of cashew nutshell liquid.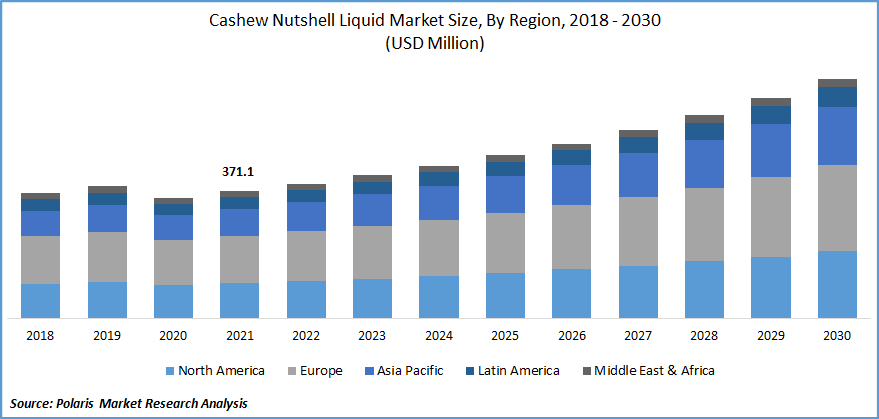 Know more about this report: Request for sample pages
Cashew nut liquid is obtained from cashew nuts, a byproduct of the cashew processing industry. Some major countries producing cashew nuts and the byproduct cashew nutshell liquid include Bangladesh, Brazil, Tanzania, India, and Kenya, among others. It is manufactured using several processes, such as the hot oil bath process and roasting process, among others, to obtain commercial-grade cashew nutshell liquid. The demand for cashew nutshell liquid has increased on account of its renewability.
It offers versatility in chemical modification and polymerization for the production of high-performance polymers. Polymers based on cashew nutshell liquid offer decreased brittleness, greater processability, resistance to wear and tear, and high electrical, alkali, & acid resistance. It provides greater solubility in organic solvents along with antimicrobial properties and insect and termite resistance.
Owing to its versatility, it is used in various applications such as coatings, adhesives, laminates, and others. CNSL is increasingly being utilized in rubber compositions for enhanced performance, strength, and efficiency of rubber products. It is also used to develop laminates for greater flexibility and reduced brittleness.
Adhesives derived from CNSL manufacture plywood and particle boards, among others. Greater consumer awareness associated with bio-based and sustainable products and growing environmental concerns has increased the use of cashew nutshell liquid across different applications.
The COVID-19 outbreak has hampered the growth of the market. The decline in global Industries such as automotive and construction led to decreased demand for CNSL. The global market experienced disturbed supply chain and distribution networks, resulting in limitations associated with acquiring raw materials. Lockdown impositions worldwide caused the closure of markets, operational challenges, and workforce impairment.
The pandemic also affected construction activities across the globe due to government regulations and social distancing regulations. Restrictions on the movement of goods and import/export activities further decreased demand for cashew nutshell liquid. However, the market is expected to experience growth post-COVID-19 owing to supportive government regulations, advancements in green chemistry, and supportive environmental policies.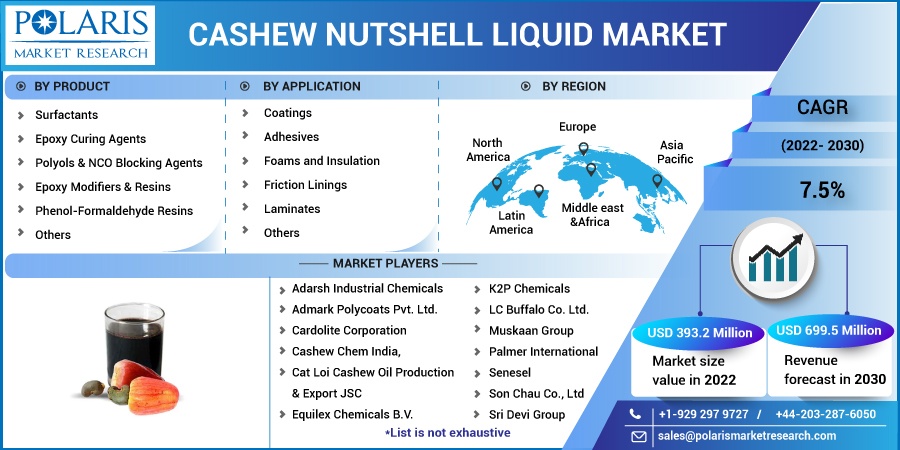 Know more about this report: Request for sample pages
Industry Dynamics
Growth Drivers
Growth in industrialization, urbanization and the rise in commercial activities worldwide supports the growth of the global market. Rising applications in the automotive and construction sectors have been observed. The rise in disposable income in developing countries coupled with enhancing living standards have resulted in strengthening the construction sector, thereby increasing the demand for cashew nutshell liquid.
Greater demand for phenolic resins derived from cashew nutshell liquid, rise in use in the woodworking industry, and wider application areas further accelerate the adoption of cashew nutshell liquid. Also, technological advancements, material advancements, and rising investments in R&D have further increased the demand.
Report Segmentation
The market is primarily segmented based on product, application, and region.
By Product

By Application

By Region

Surfactants
Epoxy Curing Agents
Polyols & NCO Blocking Agents
Epoxy Modifiers & Resins
Phenol-Formaldehyde Resins
Others

Coatings
Adhesives
Foams and Insulation
Friction Linings
Laminates
Others

North America (U.S., Canada)
Europe (France, Germany, UK, Italy, Netherlands, Spain, Russia)
Asia Pacific (Japan, China, India, Malaysia, Indonesia, South Korea)
Latin America (Brazil, Mexico, Argentina)
Middle East & Africa (Saudi Arabia, UAE, Israel, South Africa)
Know more about this report: Request for sample pages
Epoxy-curing agents accounted for a significant share in 2021
Based on product, the global market has been segmented into surfactants, epoxy curing agents, polyols & NCO blocking agents, epoxy modifiers & resins, phenol-formaldehyde resins, and others. The epoxy curing agents accounted for a significant share of the market in 2021 owing to greater demand for renewable biomaterial with high performance.
Cashew nutshell liquid-based epoxy curing agents offer high bio-content while providing benefits such as high-water resistance, superior mechanical strength, and greater adhesion to various substrates. Epoxy-curing agents derived from cashew nutshell liquid offer fast curing, greater adhesion properties, and long-term corrosion protection.
Stringent environmental regulation and the development of formulations with low VOC support the growth of this segment. The growth of this segment is also driven by growing industrialization, enhancing the construction sector, and increasing the penetration of automobiles across the globe.
Coatings segment accounted for a major revenue share
Based on application, the global market has been segmented into coatings, adhesives, foams and insulation, friction linings, laminates, and others. Several coatings derived from cashew nutshell liquid are available in the market, which includes industrial coatings, varnishes, marine coatings, lacquers, and enamels, among others. Cashew nutshell liquid-based coatings offer superior glossiness, high adhesion, and greater resistance to oils and chemicals.
There has been increasing adoption of cashew nutshell liquid-based coatings in automotive, general industries, and marine sectors on account of their greater performance and enhanced aesthetics. Increasing inclination toward environmentally friendly, sustainable, and bio-based coatings has been observed worldwide. Growth in environmental concerns and rising awareness regarding environmental and health hazards are factors expected to offer growth opportunities in the coming years.
Europe dominated the cashew nutshell liquid market in 2021
Europe accounted for a significant share of the global market in 2021. The high industrial growth, growing environmental awareness, and rising demand for bio-based products drive market growth in the region. Well-established automotive and energy industries and growing initiatives to reduce carbon emissions in the region accelerate the adoption of cashew nutshell liquid.
Rising inclination in the region toward the use of sustainable and organic products, initiation of stringent regulations, and adoption of green technologies and chemistry would further contribute to the growth in the region during the forecast period.
Asia Pacific is expected to experience significant growth during the forecast period. Rising industrialization, growing urbanization, and expansion of global players boost the growth of the market in the region. The increasing automotive penetration in developing countries and growing construction and development activities have increased the demand for cashew nutshell liquid in several applications.
Competitive Insight
The leading players in the market include Adarsh Industrial Chemicals, Admark Polycoats Pvt. Ltd., Cardolite Corporation, Cashew Chem India, Cat Loi Cashew Oil Production & Export JSC, Equilex Chemicals B.V., Golden Cashew Products Pvt. Ltd., K2P Chemicals, LC Buffalo Co. Ltd., Muskaan Group, Palmer International, Senesel, Son Chau Co., Ltd., Sri Devi Group, and Zhejiang Wansheng Co., Ltd. The major players operating in the global market are investing in R&D and technological advancements to expand their offerings in the market, strengthen market presence, and cater to the growing consumer demand.
Recent Developments
In December 2021, Farmforte Agro collaborated with Allied Solutions Limited to establish a Cashew Processing Facility in Benin City, Edo state, Nigeria. The new plant is aimed at strengthening the harvesting of cashew nuts. The development also involved setting up a cashew nut shell liquid processing facility to cater to the growing demand from various applications such as rubber compounding resins, laminating resins, paints and varnishes, and cashew cement.
In April 2021, Cardolite introduced its new product, NX-9212. The product is a polyether diol, which is derived from cashew nutshell liquid. NX-9212 offer low viscosity along with low or zero VOC polyurethanes.
Cashew nutshell liquid Market Report Scope
| | |
| --- | --- |
| Report Attributes | Details |
| Market size value in 2022 | USD 393.2 million |
| Revenue forecast in 2030 | USD 699.5 million |
| CAGR | 7.5% from 2022 - 2030 |
| Base year | 2021 |
| Historical data | 2018 - 2020 |
| Forecast period | 2022 - 2030 |
| Quantitative units | Revenue in USD million and CAGR from 2022 to 2030 |
| Segments Covered | By Product, By Application, By Region |
| Regional scope | North America, Europe, Asia Pacific, Latin America; Middle East & Africa |
| Key Companies | Adarsh Industrial Chemicals, Admark Polycoats Pvt. Ltd., Cardolite Corporation, Cashew Chem India, Cat Loi Cashew Oil Production & Export JSC, Equilex Chemicals B.V., Golden Cashew Products Pvt. Ltd., K2P Chemicals, LC Buffalo Co. Ltd., Muskaan Group, Palmer International, Senesel, Son Chau Co., Ltd., Sri Devi Group, and Zhejiang Wansheng Co., Ltd |