The global causal AI market was valued at USD 18.45 million in 2022 and is expected to grow at a CAGR of 40.3% during the forecast period. Growing research and development (R&D), activities play a crucial role in driving the growth of the causal AI market. CausaLens reports a significant increase in papers presented at NeurIPS, the major AI conference focusing on Causal AI in recent years. This surge in papers signifies a growing interest in and recognition of Causal AI within the research community. The increasing number of documents at NeurIPS indicates a rise in research activities in Causal AI. This signifies the dedication of researchers and academics to advance the understanding, methodologies, and applications of causal inference and analysis. As more research is conducted, new insights, techniques, and advancements emerge, contributing to developing more sophisticated and effective causal AI solutions.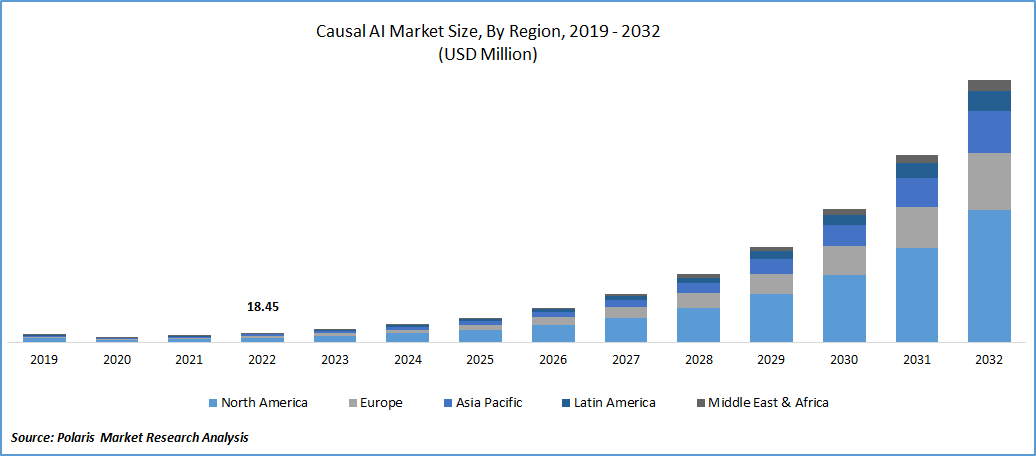 To Understand More About this Research: Request a Free Sample Report
Industry Dynamics
Growth Drivers
Healthcare plays a crucial role in driving the growth of the causal AI market. Using causal artificial intelligence to supplement a polygenic risk score for coronary artery disease has made it possible to determine how much each patient's LDL, systolic blood pressure, or both must be lowered to reduce the genetic risk for a major coronary event. This application facilitates advancements in personalized healthcare, improves risk assessment accuracy, enables precision medicine approaches, stimulates research and innovation, and enhances patient outcomes. The demand for causal AI solutions in healthcare settings is increasing due to their potential to provide highly personalized treatment plans and improve risk management. By utilizing causal AI to estimate the required reductions in modifiable risk factors based on the individual's inherited risk, healthcare providers can deliver highly personalized treatment plans. This advancement in personalized healthcare drives the demand for causal AI solutions, leading to the market's growth.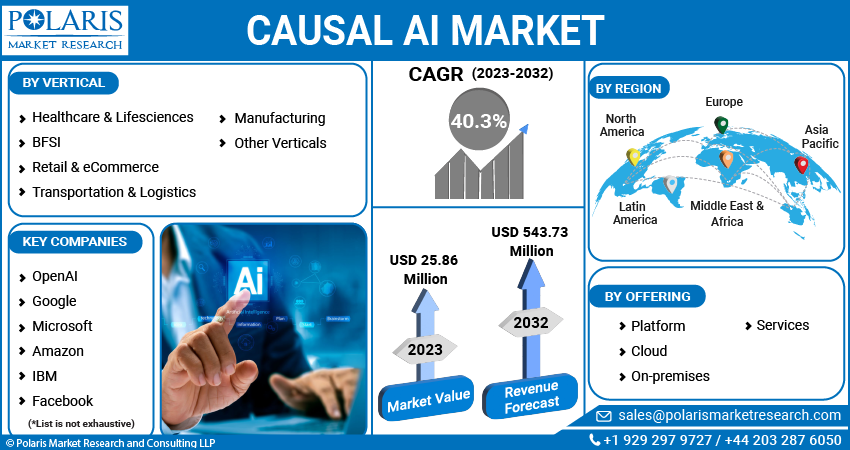 For Specific Research Requirements, Request for a Customized Report
Report Segmentation
The market is primarily segmented based on offering, vertical and region.
By Offering

By Vertical

By Region

Platform

Cloud

On-premises

Services

Healthcare & Lifesciences

BFSI

Retail & eCommerce

Transportation & Logistics

Manufacturing

Other Verticals

North America (U.S., Canada)

Europe (France, Germany, UK, Italy, Netherlands, Spain, Russia)

Asia Pacific (Japan, China, India, Malaysia, Indonesia. South Korea)

Latin America (Brazil, Mexico, Argentina)

Middle East & Africa (Saudi Arabia, UAE, Israel, South Africa)
To Understand the Scope of this Report: Speak to Analyst
Platform segment is projected to experience a faster growth in the forecast period
The platform segment is expected to have faster growth in the market. These platforms provide the necessary infrastructure and tools to develop, deploy, and manage causal AI models and applications. These platforms offer computing resources, data storage, and processing capabilities, enabling organizations to leverage causal AI technology without requiring extensive in-house infrastructure. The availability of robust and scalable platforms simplifies the adoption and implementation of causal AI, driving the market growth. Causal AI platforms facilitate the integration and preprocessing of diverse data sources. They offer functionalities to handle complex and large-scale datasets, clean and preprocess data, and merge data from various sources. By providing these capabilities, platforms make it easier for organizations to access and analyze the data required for causal modeling, accelerating the development of causal AI applications. These platforms drive the market's growth by simplifying complex technical aspects and offering user-friendly solutions.
Healthcare & Life Sciences segment accounted for the largest market share in 2022
Healthcare & Life Sciences segment holds the largest market share in the study period. This industry faces complex challenges such as disease diagnosis, treatment optimization, patient outcomes, drug discovery, and personalized medicine. Causal AI offers unique capabilities to analyze and understand complex relationships within healthcare data, identifying causal factors that influence health outcomes. By leveraging causal AI, healthcare professionals can gain valuable insights, improve decision-making processes, and develop more effective healthcare strategies. It enables the identification of causal relationships between genetic, environmental, and lifestyle factors, leading to advancements in precision medicine and personalized care. Healthcare providers can tailor treatment plans and interventions based on individual characteristics and causal factors by analyzing large-scale patient data and identifying causal links. This approach enhances patient outcomes, reduces healthcare costs, and drives the adoption of causal AI solutions in the healthcare sector.
APAC registered with the highest growth rate in the study period
APAC is projected to witness a higher growth rate for the market. Countries in this region heavily invest in digital transformation initiatives, which often involve AI implementation. Industries are adopting AI to automate processes, optimize operations, and enhance customer experiences. The region's commitment to digital transformation and AI technologies is expected to fuel the market's growth in various sectors.
The region's large population, growing middle class, and digital transformation initiatives contribute to the higher adoption and subsequent market growth. NASSCOM reports that the Industrials, Automotive & BFSI sectors are projected to account for 60 percent of the AI-driven value to India's GDP by FY 2026. As these sectors embrace AI technologies, the demand for Causal AI solutions will grow, leading to the expansion of the market.
North America is expected to witness a larger revenue share in the market. This region attracts significant investment and funding in the AI sector. Venture capital firms, private investors, and regional corporate entities actively invest in AI startups, research projects, and AI-driven initiatives. The availability of capital and funding supports the development and commercialization of AI technologies, leading to larger revenue shares in the market. Governments in North America, at both federal and state levels, recognize the strategic importance of AI and provide support through initiatives, policies, and funding. For instance, governments invest in research and development, foster partnerships between academia and industry, and create regulatory frameworks conducive to AI innovation.
These supportive measures encourage the growth and adoption of causal AI technologies, leading to market expansion. Moreover, the investment of around 900 Mn in the computation services and announce EUR 100 Mn as the startup financing for a task force charged with advancing the UK's potential in a fast-growing area of artificial intelligence. This will create sufficient funding for research and development activities on artificial intelligence and causal AI.
Competitive Insight
Some of the major players operating in the global market include OpenAI, Google, Microsoft, Amazon, IBM, Facebook, Apple, Baidu, Salesforce, NVIDIA, Intel, Tencent, Alibaba, Huawei, Samsung, Oracle, SAP, Adobe, Twitter, Lyft, Uber, Pinterest, Netflix, Spotify, Airbnb, Dropbox, Slack, Zoom, TikTok, Snapchat, WeChat, Didi Chuxing, Xiaomi, Zillow, Expedia, Yelp, PayPal, Square, Stripe, Shopify, Intellectyx, CognitiveScale, CognitiveScale, H2O.ai, DataRobot, Cognizant, Accenture, Infosys, Wipro, TCS, Deloitte, PwC, Ernst & Young, Capgemini, Palantir Technologies, ThoughtSpot, UiPath, Automation Anywhere, Blue Prism, Dataiku, Trifacta, Databricks, Alteryx, RapidMiner, Attivio, Ayasdi, Clarifai, Descartes Labs, Indico, Anki & iCarbonX.
Recent Developments
In January 2023, CausaLens, a leading deep tech company based in London, introduced decisionOS. This innovative operating system marks a significant milestone as it utilizes cause-and-effect reasoning to enhance every facet of decision-making within an enterprise.
In June 2022, AWS & Microsoft jointly established the "PyWhy" as the new GitHub organization. PyWhy's primary goal is to integrate AWS algorithms into the "DoWhy," a causal machine learning library developed by Microsoft, which has now transitioned to the "PyWhy."
Causal AI Market Report Scope
| | |
| --- | --- |
| Report Attributes | Details |
| Market size value in 2023 | USD 25.86 million |
| Revenue forecast in 2032 | USD 543.73 million |
| CAGR | 40.3% from 2023 - 2032 |
| Base year | 2022 |
| Historical data | 2019 - 2021 |
| Forecast period | 2023 - 2032 |
| Quantitative units | Revenue in USD million/billion and CAGR from 2023 to 2032 |
| Segments covered | By Offering, By Vertical, By Region |
| Regional scope | North America, Europe, Asia Pacific, Latin America; Middle East & Africa |
| Key companies | OpenAI, Google, Microsoft, Amazon, IBM, Facebook, Apple, Baidu, Salesforce, NVIDIA, Intel, Tencent, Alibaba, Huawei, Samsung, Oracle, SAP, Adobe, Twitter, Lyft, Uber, Pinterest, Netflix, Spotify, Airbnb, Dropbox, Slack, Zoom, TikTok, Snapchat, WeChat, Didi Chuxing, Xiaomi, Zillow, Expedia, Yelp, PayPal, Square, Stripe, Shopify, Intellectyx, CognitiveScale, CognitiveScale, H2O.ai, DataRobot, Cognizant, Accenture, Infosys, Wipro, TCS, Deloitte, PwC, Ernst & Young, Capgemini, Palantir Technologies, ThoughtSpot, UiPath, Automation Anywhere, Blue Prism, Dataiku, Trifacta, Databricks, Alteryx, RapidMiner, Attivio, Ayasdi, Clarifai, Descartes Labs, Indico, Anki & iCarbonX. |