The global Circulating Tumor Cells market was valued at USD 11,661.2 million in 2022 and is expected to grow at a CAGR of 13.6% during the forecast period.
The circulating tumor cells (CTCs) market is a rapidly growing sector in cancer diagnostics and personalized medicine. CTCs are cancer cells detached from the primary tumor and entered the bloodstream, allowing them to potentially spread to other parts of the body and form secondary tumors, known as metastases. The ability to detect and analyze CTCs provides valuable insights into cancer progression, monitoring treatment effectiveness, and predicting patient outcomes.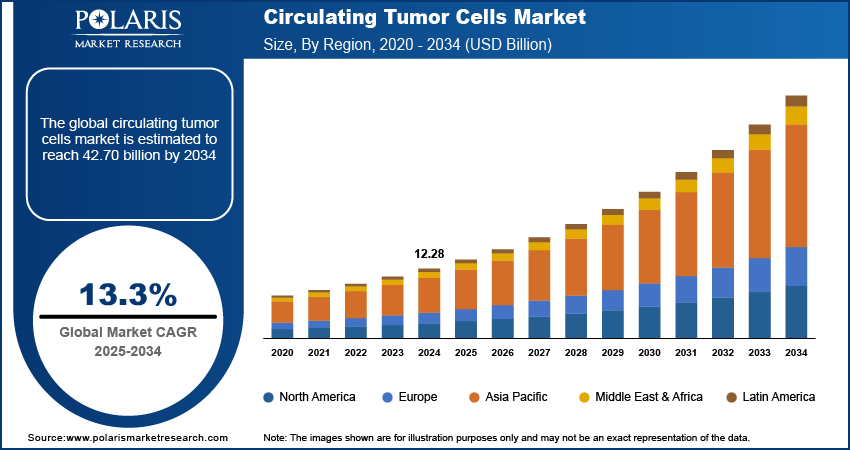 To Understand More About this Research : Request a Free Sample Report
Cancer is growing worldwide, increasing the demand for effective diagnostic tools. CTCs offer a non-invasive alternative to traditional tissue biopsies, providing real-time information about the tumor's characteristics and genetic mutations. This allows oncologists to make more informed treatment decisions and personalize therapies for individual patients.
Advancements in technology and the development of innovative platforms have also contributed to the growth of the CTCs market. Various methods, such as immunomagnetic separation, microfluidics, and image-based detection systems, have been developed to isolate and capture CTCs from blood samples. These technologies enable highly sensitive and specific detection of CTCs, even at very low concentrations, improving the accuracy of diagnosis and monitoring.
Furthermore, pharmaceutical companies and research institutions are increasingly investing in developing targeted therapies. CTCs are a valuable tool for drug development and clinical trials, as they can be used to assess drug efficacy, predict drug resistance, and identify potential biomarkers for patient stratification.
The COVID-19 pandemic has significantly affected the market of circulating tumor cells (CTCs). Healthcare systems worldwide experienced disruptions, leading to postponed or canceled cancer screenings, diagnoses, and treatments. Research and development efforts related to CTCs were also impacted as resources and focus shifted to COVID-19 research.
However, the pandemic brought increased attention to liquid biopsy, including the detection of CTCs, as it provides a non-invasive alternative to tissue biopsies. The demand for liquid biopsy-based CTC testing potentially rose during this time. Telemedicine and remote monitoring gained prominence, enabling healthcare professionals to remotely track CTC levels and monitor cancer patients through virtual consultations and home-based sample collection. Regulatory processes faced challenges and delays, affecting the introduction of new CTC technologies and tests.
Industry Dynamics
Growth Drivers
Empowering early cancer detection and personalized medicine
The market is experiencing growth due to the increasing prevalence of cancer worldwide necessitates effective diagnostic tools. CTCs provide valuable insights into cancer progression, aiding in early detection, treatment monitoring, and personalized medicine. As cancer cases rise, the demand for CTC-based solutions grows.
Advancements in technology play a crucial role in driving the market. Innovations in isolation, detection, and analysis methods have significantly improved the sensitivity and specificity of CTC detection. The development of platforms such as immunomagnetic separation, microfluidics, and image-based detection systems enables the identification of CTCs even at low concentrations. These technological advancements further fuel market growth.
Another significant driver is the focus on personalized medicine and targeted therapies. CTCs are instrumental in the development and evaluation of targeted treatments. They help assess drug efficacy, predict resistance, and identify biomarkers for patient stratification. With the increasing interest in precision medicine, there is a growing demand for CTC-based tests and technologies.
Report Segmentation
The market is primarily segmented based on technology, application, product, specimen, and region.
By Technology

By Application

By Product

By Specimen

By Region

Circulating Tumor Cells Detection & Enrichment Methods

Immunocapture

Size-based Separation

Density-based Separation

Combined Methods

Circulating Tumor Cells Direct Detection Methods

Circulating Tumor Cells Analysis

Clinical/ Liquid Biopsy

Research

Kits & Reagents

Blood Collection Tubes

Devices or Systems

Blood

Bone Marrow

Other Body Fluids

North America (U.S., Canada)

Europe (France, Germany, UK, Italy, Netherlands, Spain, Russia)

Asia Pacific (Japan, China, India, Malaysia, Indonesia, South Korea)

Latin America (Brazil, Mexico, Argentina)

Middle East & Africa (Saudi Arabia, UAE, Israel, South Africa)
To Understand the Scope of this Report : Speak to Analyst
By Technology Analysis
The circulating tumor cells (CTCs) detection and enrichment method segment accounted for the largest market share in 2022
The circulating tumor cells (CTCs) detection and enrichment method segment held the largest market share. This segment involves capturing and enriching CTCs based on their biological properties. Enrichment methods can be either positive or negative based on their approach.
Positive enrichment methods aim to capture CTCs by targeting tumor-associated markers expressed in these cells. This approach allows for the selective isolation and enrichment of CTCs from the bloodstream, facilitating their detection and analysis. Positive enrichment methods are designed to capture CTCs while minimizing the capture of other blood cells or components.
By Product Analysis
Devices segment held the largest market revenue share in 2022
The devices segment of circulating tumor cells (CTCs) holds the largest revenue shares of the market. This segment focuses on developing and utilizing devices specifically designed for CTC-related applications. To enhance technical capabilities and facilitate mass production, the market has witnessed the introduction of manufactured glass microchips, which address challenges and improve overall efficiency.
Significant advances in microfluidic technology drive the growth of this segment. Microfluidics and microfabrication techniques have undergone remarkable advancements in the past decade. These innovations have applications in various fields, including chemical engineering, biotechnology, pharmaceutics, and medicine. Using microfluidic devices and systems as versatile research tools has contributed to the rapid growth of CTCs devices.
By Specimen Analysis
Blood segment hold significant market revenue shares in 2022
The blood segment holds significant market revenue shares and is likely to continue its growth during the forecast period. This segment has witnessed the highest penetration primarily because of the high concentration of CTCs in blood samples compared to other biospecimens. Blood specimens offer a rich source of CTCs, allowing for easier detection and analysis, leading to their widespread adoption in research and clinical applications.
Technological improvements have played a significant role in driving the growth of the blood segment. These advancements have effectively accelerated the identification and characterization of genomic changes among CTCs. By utilizing advanced technologies, researchers and clinicians can gain valuable insights into the genetic alterations and molecular profiles of CTCs, which are crucial for understanding tumor biology and guiding personalized treatment strategies.
Regional Insights
North America dominated the global market in 2022
The North American region has dominated the market with largest market share in the circulating tumor cells industry. This dominance can be attributed to key players in the region, including Advanced Cell Diagnostics, Aviva Biosciences, Apocell, Inc., Biocept, Inc., CellTraffix, Inc., and Biofluidica, Inc. These companies have established operations and significantly contributed to advancing CTC-related technologies and solutions, driving market growth in North America.
The rising prevalence of cancer diseases in the United States has also fueled the demand for circulating tumor cells in the region. With an increasing number of cancer cases, there is a growing need for effective diagnostic tools and treatment monitoring solutions, including CTC-based technologies. The demand for early detection, personalized medicine, and improved patient outcomes has further propelled the growth of North America's circulating tumor cells market.
Key Market Players & Competitive Insights
The increasing demand for minimally invasive cancer diagnostics and monitoring tools. Key players are at the forefront of CTC technology innovation, continually enhancing capture and analysis methods to improve sensitivity and specificity. Moreover, strategic collaborations with research institutions and healthcare providers, regulatory approvals, and clinical validations are pivotal for market growth. The global CTC market is poised for expansion, as it plays a crucial role in personalized cancer therapy and treatment monitoring, making it an attractive arena for established leaders and emerging companies in the life sciences and diagnostics sectors.
Some of the major players operating in the global market include:
AVIVA Biosciences

Bio-Techne Corporation

BioFluidica

Biolidics Limited

Canopus Bioscience Ltd.

Creativ MicroTech, Inc.

Epic Sciences

Fluxion Biosciences

Greiner Bio-One International GmbH

Ikonisys Inc

IVDiagnostics

LineaRx, Inc. (Vitatex, Inc.)

LungLife AI, Inc.

Menarini Silicon Biosystems

Miltenyi Biotec

Precision for Medicine

QIAGEN

Rarecells Diagnostics

ScreenCell

STEMCELL Technologies, Inc.

Sysmex Corporation
Recent Developments
In October 2022, Thermo Fisher has acquired The Binding Site Group. The Binding Site Group is dedicated to serving clinicians and laboratory professionals worldwide, offering a range of specialty diagnostic assays and instruments. Thermo Fisher aims to strengthen its position in the specialty diagnostics market with this strategic acquisition.

In February 2021, Menarini Silicon Biosystems launched the CellMag product line, a range of innovative solutions designed for manually enriching and staining rare circulating tumor cells (CTCs). The CellMag product line offers advanced technologies and techniques that facilitate the identification and analysis of CTCs, a valuable tool in cancer research and diagnosis.
Circulating Tumor Cells Market Report Scope
| | |
| --- | --- |
| Report Attributes | Details |
| Market size value in 2023 | USD 12,930.0 million |
| Revenue forecast in 2032 | USD 40,808.7 million |
| CAGR | 13.6% from 2023 – 2032 |
| Base year | 2022 |
| Historical data | 2019 – 2021 |
| Forecast period | 2023 – 2032 |
| Quantitative units | Revenue in USD million and CAGR from 2023 to 2032 |
| Segments Covered | By Technology, By Application, By Product, By Specimen, By Region |
| Regional scope | North America, Europe, Asia Pacific, Latin America; Middle East & Africa |
| Customization | Report customization as per your requirements with respect to countries, region and segmentation. |