The global artificial intelligence market was valued at USD 51.50 billion in 2021 and is expected to grow at a CAGR of 21.3% during the forecast period. The constant research and innovation guided by the tech giants are propelling the acquisitions of advanced technologies in industry verticals such as healthcare, retail, automotive, manufacturing, and finance.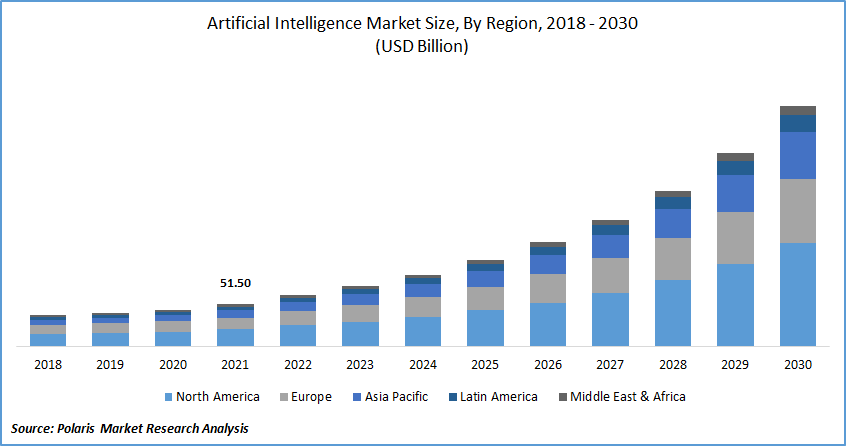 Know more about this report: Request for sample pages
Also, the rise in market demand for intelligent systems to increase efficiency and productivity is pushing the growth of the global artificial intelligence market. Technological progressions in the artificial intelligence market, such as rapid speech and natural language processing, are affirmatively influencing the growth of the market. Artificial intelligence, frequently called machine intelligence, is a field of computer science that concentrates on advancing and managing technology that can learn to make choices and independently execute transactions on behalf of humans.
The covid-19 pandemic has positively influenced the artificial intelligence market. It can be due to increased digital transformation trends in business organizations and an escalation in demand for automation solutions in several SMEs and large firms. Additionally, companies are likely to concentrate on solutions that can enhance efficiency and holistic production during the post-pandemic period. Thus, businesses are anticipated to make crucial investments in artificial intelligence solutions in the years to come.
Also, tech companies are scaling up their product offerings and services to broaden their obtainability globally. For instance, in April 2020, Google LLC set in motion an AI-enabled chatbot called Rapid Response Virtual Agent for call centers. This chatbot is structured to answer the issues customers might encounter because of the pandemic outbreak over voice, chat, and other social channels.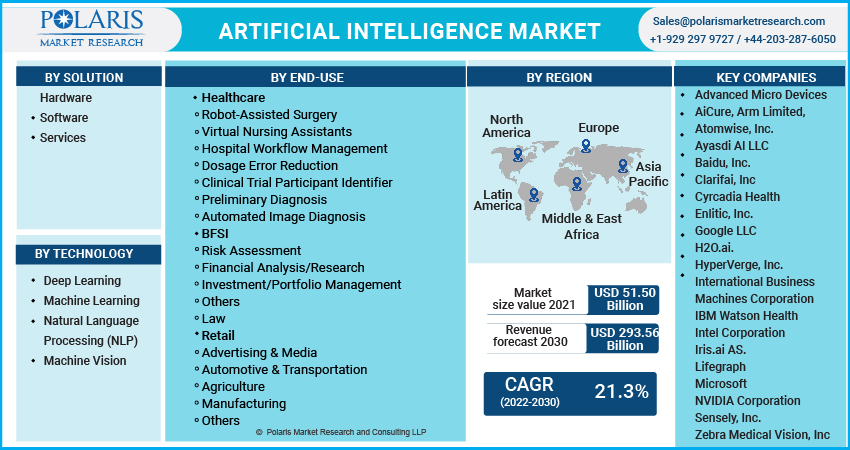 Know more about this report: Request for sample pages
Industry Dynamics
Growth Drivers
The crucial certainty hastening the rate of innovation in artificial intelligence is the historical data availability. Since data storage and recovery have become more economical, government agencies and healthcare institutions build unstructured and available data for the research domain. Researchers are obtaining an approach to rich datasets from historic rain trends to clinical imaging. The next-generation computing architectures with availability to rich datasets are inspiring researchers and information scientists to innovate speedily. Additionally, advancement in intense learning and ANN has fuelled artificial intelligence acquisition in several industries such as manufacturing, automotive, healthcare, and aerospace.
ANN is set up to recognize similar motifs and assist in offering modified solutions. Tech companies such as Google Maps have been acquiring ANN to enhance their route and motivate the feedback secured using the ANN. ANN is exchanging traditional machine learning systems to develop accurate and precise versions.
For instance, current progressions in computer vision techniques such as GAN and SDD have expedited digital image processing procedures. For example, videos and images were taken in low resolution, and low light can be modified into HD quality by engaging these techniques. The continual research in computer vision has structured the footing of digital image processing in surveillance and security and healthcare and transportation. Such surfacing machine learning methods are expected to alter how artificial intelligence versions are deployed and trained.
Report Segmentation
The market is primarily segmented on the basis of solution, technology, end-use, and region.
By Solution

By Technology

By End-Use

By Region

Hardware
Software
Services

Deep Learning
Machine Learning
Natural Language Processing (NLP)
Machine Vision

Healthcare

Robot-Assisted Surgery
Virtual Nursing Assistants
Hospital Workflow Management
Dosage Error Reduction
Clinical Trial Participant Identifier
Preliminary Diagnosis
Automated Image Diagnosis

BFSI

Risk Assessment
Financial Analysis/Research
Investment/Portfolio Management
Others
Law

Retail
Advertising & Media
Automotive & Transportation
Agriculture
Manufacturing
Others

North America (U.S., Canada)
Europe (France, Germany, UK, Italy, Netherlands, Russia, Spain)
Asia Pacific (Japan, China, India, Malaysia, Indonesia. South Korea)
Latin America (Brazil, Mexico, Argentina)
Middle East & Africa (Saudi Arabia, UAE, Israel, South Africa)
Know more about this report: Request for sample pages
Insight by solution
The software solution segment led the market and attributed to a massive revenue share in the global market. The high percentage can be ascribed to judicious progressions in information storage capacity, high computing power, and equidistant processing potential to provide high-end services. Additionally, the ability to remove data, offer real-time insights, and help in decision-making stationed this segment to apprehend the most significant market share.
Artificial intelligence software solutions involve libraries for designing and deploying AI applications such as linear algebra, primitives, inference, sparse matrices, and video analytics. The requirement by firms to comprehend and analyze visual content to obtain insights that are meaningful is anticipated to propel the adoption of artificial intelligence software over the forecast period.
Companies are adopting Artificial Intelligence as a service (AIAAS) to gain a competitive advantage over the cloud. Artificial intelligence services include integration, installation, support undertakings, and maintenance. This segment is projected to grow notably in the forecast period. Artificial intelligence hardware includes GPUs and CPUs due to their high computing potential for AI frameworks.
Geographic Overview
North America controlled the market and accounted for a massive revenue share in the global market. The high percentage is obtainable because of government initiatives that are favorable to inspire the adoption of AI across various industries. For instance, in February 2019, US President Donald J Trump initiated the American AI resourcefulness as the country's strategy for encouraging leadership in AI. As a part of this initiative, federal agencies have promoted public trust in AI-based systems by instituting guidelines for its advancement and actual life application across the varied industrial sector.
In the Asia Pacific, the market is expected to observe a notable CAGR over the forecast period. His development owes to the remarkably escalating investments in artificial intelligence. For instance, in April 2018, Baidu Inc., a China-based tech power, declared that it is forging definitive agreements with the investors regarding the disinvestment of its financial services group offering wealth management, consumer credit, and other business services. The investors are directed by Carlyle Investment Management LLC and Tarrant Capital IP, LLC, with contributions from ABC International, and Taikanglife, among others.
Competitive Insight
Some of the prominent players in the artificial intelligence market include Advanced Micro Devices, AiCure, Arm Limited, Atomwise, Inc., Ayasdi AI LLC, Baidu, Inc., Clarifai, Inc, Cyrcadia Health, Enlitic, Inc., Google LLC, H2O.ai., HyperVerge, Inc., International Business Machines Corporation, IBM Watson Health, Intel Corporation, Iris.ai AS., Lifegraph, Microsoft, NVIDIA Corporation, Sensely, Inc., Zebra Medical Vision, Inc.
Recent developments
In December 2019, Intel Corporation finished the acquisition of Habana Labs Ltd. An Israel-established deep learning company. The acquisition is anticipated to reinforce Intel Corporation's AI portfolio and push its efforts in the AI silicon market.
Artificial Intelligence Market Report Scope
| | |
| --- | --- |
| Report Attributes | Details |
| The market size value in 2021 | USD 51.50 Billion |
| The revenue forecast in 2030 | USD 293.56 Billion |
| CAGR | 21.3% from 2022 - 2030 |
| Base year | 2021 |
| Historical data | 2018 - 2020 |
| Forecast period | 2022 - 2030 |
| Quantitative units | Revenue in USD Billion and CAGR from 2022 to 2030 |
| Segments covered | By Solution, By Technology, By End-Use, and By Region |
| Regional scope | North America, Europe, Asia Pacific, Latin America, Middle East & Africa |
| Key companies | Advanced Micro Devices, AiCure, Arm Limited, Atomwise, Inc., Ayasdi AI LLC, Baidu, Inc., Clarifai, Inc, Cyrcadia Health, Enlitic, Inc., Google LLC, H2O.ai., HyperVerge, Inc., International Business Machines Corporation, IBM Watson Health, Intel Corporation, Iris.ai AS., Lifegraph, Microsoft, NVIDIA Corporation, Sensely, Inc., Zebra Medical Vision, Inc. |