The global cloud seeding market was valued at USD 120.2 million in 2021 and is expected to grow at a CAGR of 5.2% during the forecast period.
The global market is expanding as a result of rising investments in cloud modification programs, the introduction of new technologies, and an increase in demand to reduce environmental hazards. Additionally, the increased use of cloud seeding technology to create artificial rain and keep water levels at a certain level in arid locations opens up new prospects.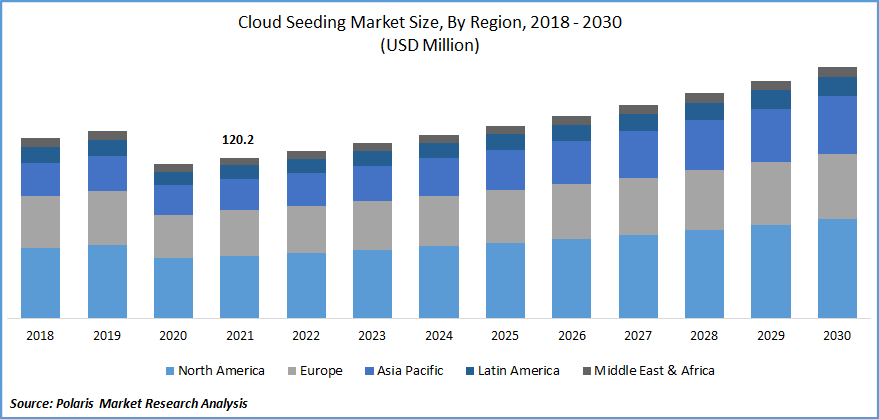 Know more about this report: Request for sample pages
The market is anticipated to be driven by government initiatives, such as boosting the adoption of artificial rainfall technologies to enhance water levels in nations like India. Additionally, governments in China, India, and the United Arab Emirates are investing extensively in weather modification projects, creating tremendous potential for market players to conduct research and introduce new products.
Wide sections of the human population now really worry about water scarcity. More than 2 billion people worldwide are experiencing significant water distress, according to 2019 UN research. According to a Food and Agriculture Organization (FAO) report from 2020, 3.2 billion people live in agricultural areas that experience moderate to severe water shortages.
Therefore, there is an urgent need for weather technologies that can replace depleted natural water reserves and increase water sufficiency in susceptible places due to the world's expanding water crisis.
Cloud seeding technologies, which can encourage artificial rain and increase access to usable water in water-scarce areas, can play a critical role in addressing these concerns. These tools can be really helpful in deserted regions like Middle Eastern and Northern Africa regions.
The outbreak of the COVID-19 pandemic has significantly impacted the growth of the market. The Covid-19 pandemic epidemic caused the manufacturing, trade, transportation, and local commute sectors to abruptly shut down, which had a detrimental effect on the global cloud-seeding economy. It became challenging to make predictions during the pandemic. For instance, Vail Resorts, one of the longest-running financiers of climate change projects in the central Colorado Mountains, stopped supporting all of its scheduled programs this year owing to budgetary effects of COVID-19.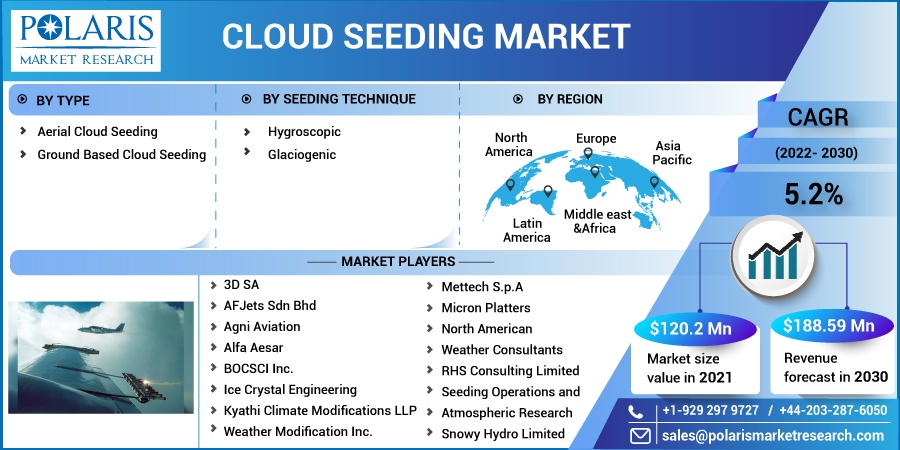 Know more about this report: Request for sample pages
Industry Dynamics
Growth Drivers
Worldwide, there is a growing need for agricultural products as well as water sources, which is projected to have a positive impact on the market for cloud seeding systems during the forecast period.
It has been determined that some areas are seeing an increase in the use of cloud seeding technologies to create artificial rain and keep the level of water in drought-stricken areas, and that this is the key driver of the cloud seeding system market. The analysis predicts that there will be more investment in cloud modification initiatives, which will raise demand for cloud-seeding devices in the marketplace.
Rising water demands from various sectors propel the market's growth. In the upcoming years, rising consumer awareness of cloud seeding's advantages is anticipated to drive market expansion. During the projection period, it is expected that increasing government investments in enhancing water resources would open up new potential for market participants.
Over the next few years, it is anticipated that demand for these goods will increase as commercial and private operators implement cloud seeding technologies at a faster rate. During the forecast period, cloud seeding equipment technological advances are anticipated to open up new potential for market participants.
Report Segmentation
The market is primarily segmented based on type, seeding technique and region.
By Type

By Seeding Technique

By Region

Aerial Cloud Seeding
Ground Based Cloud Seeding

North America (U.S., Canada)
Europe (France, Germany, UK, Italy, Netherlands, Spain, Russia)
Asia Pacific (Japan, China, India, Malaysia, Indonesia, South Korea)
Latin America (Brazil, Mexico, Argentina)
Middle East & Africa (Saudi Arabia, UAE, Israel, South Africa)
Know more about this report: Request for sample pages
Aerial cloud seeding segment is expected to witness the fastest growth in 2021
According to type, the aerial segment accounted for over two-thirds of the global in 2021. It is anticipated that it will continue to hold the top spot throughout the rest of the forecast period. The global market is expanding as a result of rising investments in cloud modification programs, the introduction of new technologies, and an increase in demand to reduce environmental hazards.
Additionally, the increased use of this technology to create artificial rain and keep water levels at a certain level in arid locations opens up new prospects. The entry of the private service provider boosts the use of cloud seeding, which fuels the segment's growth. The ground-based cloud seeding market is also examined in the paper.
Hygroscopic accounted for the second-largest market share in 2021
The hygroscopic segment contributed to almost three-fourths of the global market. Facts like water are becoming increasingly important for various industrial and daily activities has caused many businesses are competing in the market to offer various cloud-seeding systems, each with its special characteristic.
Multiple market actors contribute to the market's extreme fragmentation. Increased market demand and profitability attract more players to the industry, boosting market competition. Business opportunities are positively impacted by the increase in demand to create rainfall or quicken the cloud condensation process to meet freshwater scarcity demands.
The demand in North America is expected to witness significant growth
According to region, North America accounted for more than one-fourth of the global market in 2021 and had the greatest revenue share. The government's encouragement of expanding its commercial application and the variety of active cloud seeding activities around the U.S. boost market expansion. Due to significant technological improvements in climate control systems, North America held the biggest market share for cloud seeding.
The usage of climate-modifying technologies for communication and surveillance is also propelling market growth in North America.
Due to the region's determined attempts to lessen its reliance on irregular rainfall and create its own "rain cycles," Europe is also anticipated to experience healthy growth in this sector.
On the other hand, the Asia Pacific market is anticipated to grow due to the many rain-inducing initiatives conducted by the region's governments and the rise in demand for commercial applications.
Competitive Insight
Some of the major players operating in the global market include 3D SA, AFJets Sdn Bhd, Agni Aviation, Alfa Aesar, BOCSCI Inc., Cloud Seeding Technologies, Ice Crystal Engineering, Kyathi Climate Modifications LLP, Mettech S.p.A, Micron Platters, North American Weather Consultants, RHS Consulting Limited, Seeding Operations and Atmospheric Research, Snowy Hydro Limited, and Weather Modification Inc.
Recent Developments
China announced intentions to rapidly extend its weather modification, which entails creating artificial rain and snow, in December 2020. The goal is to cover an area of 5.5 million square kilometres by 2025.
Ethiopia also declared its entry into the cloud seeding market in March 2021, with the government revealing that the rains that fell throughout the nation that month resulted from the government's attempts to modernize its technology.
Researchers at Khalifa University of Science and Technology in the United Arab Emirates are investigating cloud-seeding materials based on nanotechnology that can potentially increase the size and density of raindrops greatly.
Over 4,500 flares produced by the NCM's Weather Enhancement Plant were used in 219 cloud seeding operations across the nation, according to the National Center of Meteorology (NCM), UAE.
Cloud seeding Market Report Scope
| | |
| --- | --- |
| Report Attributes | Details |
| Market size value in 2022 | USD 125.53 million |
| Revenue forecast in 2030 | USD 188.59 million |
| CAGR | 5.2% from 2022 - 2030 |
| Base year | 2021 |
| Historical data | 2018 - 2020 |
| Forecast period | 2022 - 2030 |
| Quantitative units | Revenue in USD million and CAGR from 2022 to 2030 |
| Segments Covered | By Type, By Seeding Technique, By Region |
| Regional scope | North America, Europe, Asia Pacific, Latin America; Middle East & Africa |
| Key Companies | 3D SA, AFJets Sdn Bhd, Agni Aviation, Alfa Aesar, BOCSCI Inc., Ice Crystal Engineering, Kyathi Climate Modifications LLP, Mettech S.p.A, Micron Platters, North American Weather Consultants, RHS Consulting Limited, Seeding Operations and Atmospheric Research, Snowy Hydro Limited, and Weather Modification Inc. |