The global concrete restoration market was valued at USD 15.90 billion in 2022 and is expected to grow at a CAGR of 6.0% during the forecast period. Continuous growth in the investments and spending on housing & transport infrastructure development and, growing prevalence of the maintenance & renovation of existing building infrastructures, and innovations and enhancements in advanced mortar admixtures by major chemical companies across the globe are among the key factors expected to fuel the growth of the market. The rising popularity of these mortars worldwide is due to a wide range of beneficial properties like tensile strength, stress immunity, thixotropy, and impermeability. It offers resistance against corrosion to internal structural supports and is likely to provide huge growth opportunities for the market.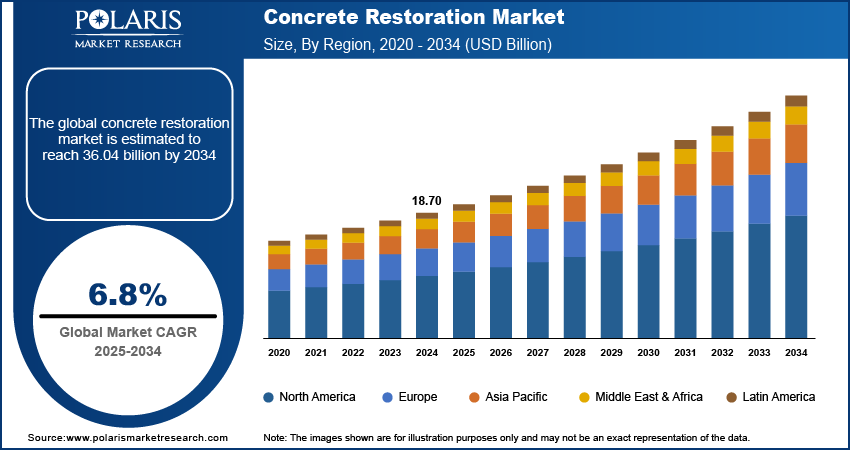 To Understand More About this Research: Request a Free Sample Report
For instance, in January 2023, Groundworks, a leading and fastest-growing water management solutions and foundation company, announced the expansion of its FFS to the greater Houston area, including foundation repair and concrete repair services. With this expansion, the company will be able to serve a larger number of homeowners and businesses.
There has been a significant rise in the demand for the product globally owing to the increasing number of applications in the construction industry, mainly for restoring structural strength and architectural shape of old and existing buildings. Additionally, it is widely used for restarting the incomplete work of old buildings likely to deteriorate over time because of their crack-resistant properties. The outbreak of the COVID-19 pandemic has significantly impacted the growth of the concrete restoration services market. The rapid spread of the novel coronavirus pandemic across the globe has created several negative effects on the market as construction activities were disturbed and were on hold due to imposed lockdowns in many countries, lack of raw materials, and high disruptions in the global supply chain.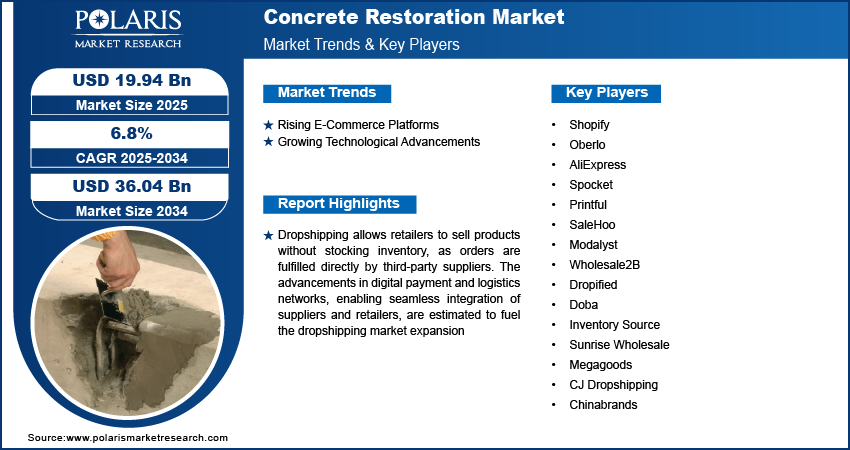 For Specific Research Requirements, Request for a Customized Report
Industry Dynamics
Growth Drivers
Increasing pressure on the existing infrastructure across the globe mainly due to the rising population and migrants, which has led to high pressure on existing infrastructure development along with this, rising focus on research & development activities to innovate new products/ services with improved capabilities and features by major market players, are among the prominent factors influencing the demand and growth of the concrete restoration market.
Furthermore, the growing prevalence of reducing the carbon emissions rate, mainly in developed countries of Europe and North America region, that resulted in a significant shift to renewable energy generation like wind energy and hydropower, which has created huge growth opportunities for concrete restoration manufacturers to expand their businesses in these sectors.
Report Segmentation
The market is primarily segmented based on material type, application, and region.
By Material Type

By Application

By Region

Shotcrete

Quick Setting Cement Mortar

Fibe Concrete

Others

Water & Wastewater Treatment

Dams & Reservoirs

Civil Infrastructure

Marine

Building & Balconies

Road, Highways, and Bridges

Others

North America (U.S., Canada)

Europe (France, Germany, UK, Italy, Netherlands, Spain, Russia)

Asia Pacific (Japan, China, India, Malaysia, Indonesia. South Korea)

Latin America (Brazil, Mexico, Argentina)

Middle East & Africa (Saudi Arabia, UAE, Israel, South Africa)
For Specific Research Requirements: Request for Customized Report
Quick setting cement mortar accounted for largest market share in 2022
The quick-setting cement mortar accounted for the largest market share and will likely retain its market position over the projected period. The growth of the segment market can be highly attributed to its high prevalence regarding its rapid compressive strength and ability to significantly reduce the waiting on cement time compared to other traditional cement systems. Moreover, these materials have gained huge popularity and are being used in several applications, including cement plaster and grout, underwater construction, and many others, as it provides greater strength to the material, minimize hydration, enhance durability, and help reduce permeability.
The shotcrete segment is anticipated to expand significantly during the study period, mainly driven by the growing adoption of the product across numerous applications worldwide because of its advantageous and beneficial characteristics, adaptability to any shape, and easily colored. It can be effectively sculptures after application along with the increasing use of fancy concrete, including rock walls, canopy roofs, dams, & zoo enclosures.
Road, highways, and bridges segment held the significant market share in 2022
The road, highways, and bridges segment held a significant market share in 2022 and is likely to grow at a considerable growth rate over the coming years on account increasing focus of many countries and their governments on developing and improving their road and transport infrastructure, to reduce the overall transportation cost and reduces the number of road accidents. In addition, the increasing prevalence of several factors above has led to a significant shift in focus of governments, which will lead to the construction of new road infrastructure across the globe, which is likely to create huge demand and growth for the market in the projected period.
The marine segment is likely to grow at a significant growth rate during the anticipated period, which is mainly accelerated by the increasing number of marine activities worldwide, especially in emerging economies like China, India, Brazil, and Indonesia, as it provides several types of natural resources and easy access to transport and international trade. Thus, various economies are increasingly emphasizing or improving their marine infrastructure to enhance their economic growth, which will create high demand for concrete restoration services over the coming years.
Asia Pacific region is expected to witness highest growth over forecast period
Asia Pacific region is projected to have the highest rate of growth in the market over the forecast period, owing to the presence of a large consumer base for these services and products, rapidly increasing modernization, urbanization, and expansion of several industries in major developing countries like China, India, and South Korea. Various mega infrastructure repair projects and repairing of bridges, public buildings, water structures, and pipelines, among others, have fueled the demand for concrete restoration, as these products add more strength and power to old systems, including highways, marine structures, buildings, water treatment plants, parking structures, and bridges.
Asia Pacific region has growing economies, and construction and infrastructure developments are the major sectors in these economies. Thus, the high socio-economic standards, rising private sector investment, growing government spending on repairing infrastructures, and increasing know-how and awareness regarding the advantages of concrete restoration services will also stimulate market growth in the region.
North America dominated the global market in 2022 and is expected to maintain its dominance throughout the forecast period. The growth of the segment market can be largely attributed to the growing number of favorable government initiatives and steps towards repaying and restoring the existing construction and widespread use of concrete in buildings in developed countries like the US and Canada.
Competitive Insight
Some of the major players operating in the global concrete restoration market include Mapie, Master Builders Solution, BASF, Pidilite Industries, RPM International, Saint-Gobain., Euclid Chemical, Fosroc, Sika, Chembond Chemicals, Concrete Craft, Schomburg, TCC Materials, Ardex GmbH, Concrete Repairs, Daniello and Associates, Durable Surfaces, Hystrength Construction, & Sherling Technotrade.
Recent Developments
In June 2022, Cortec introduced an improved horizontal concrete repair mortar named "MCI-2039", a single-component, fast-setting, cement-based, high-strength repair mortar enhanced with migrating corrosion inhibitors. The inhibitor creates a molecular protective layer on the surface while increasing the product quality and extending the service life of the repair.

In August 2021, Hawk expanded its concrete coating systems & CreteFx Concrete re-surfacing systems, a range of high-performance, low odor, & low VOC concrete systems that further includes "CreteFx Concrete Repair System" for filling the substantial holes & cracks. These systems are available as individual components and product kits.
Concrete Restoration Services Market Report Scope
| | |
| --- | --- |
| Report Attributes | Details |
| Market size value in 2023 | USD 16.83 billion |
| Revenue forecast in 2032 | USD 28.56 billion |
| CAGR | 6.0% from 2023– 2032 |
| Base year | 2022 |
| Historical data | 2019– 2021 |
| Forecast period | 2023– 2032 |
| Quantitative units | Revenue in USD billion and CAGR from 2023 to 2032 |
| Segments covered | By Material Type, By Application, By Region |
| Regional scope | North America, Europe, Asia Pacific, Latin America; Middle East & Africa |
| Key companies | Mapie S.p.A., Master Builders Solution, BASF SE, Pidilite Industries, RPM International, Fyte Saint-Gobain Weber S.A., The Euclid Chemical Company, Fosroc, Sika AG, Chembond Chemicals, Concrete Craft, Schomburg GmbH & Co. KG, TCC Materials, Ardex GmbH, Concrete Repairs Ltd., Daniello and Associates Inc., Durable Surfaces, Hystrength Construction Co. Inc., and Sherling Technotrade India Pvt Ltd. |