The global condensing unit market was valued at USD 36.7 billion in 2021 and is expected to grow at a CAGR of 7.7% during the forecast period.
Some of the most significant factors that will accelerate the market's growth include the rising requirement for condensing units in the commercial and industrial sectors of developing economies and the rising demand for improved, top-notch condensing units for various applications, and the expanding retail industry. In October 2021, Danfoss debuted its innovative Optyma condensing units and MTZ/NTZ compressors. The most comprehensive selection of R1234yf, R454C, and R455A compatible A2L-ready refrigeration equipment is offered by Danfoss.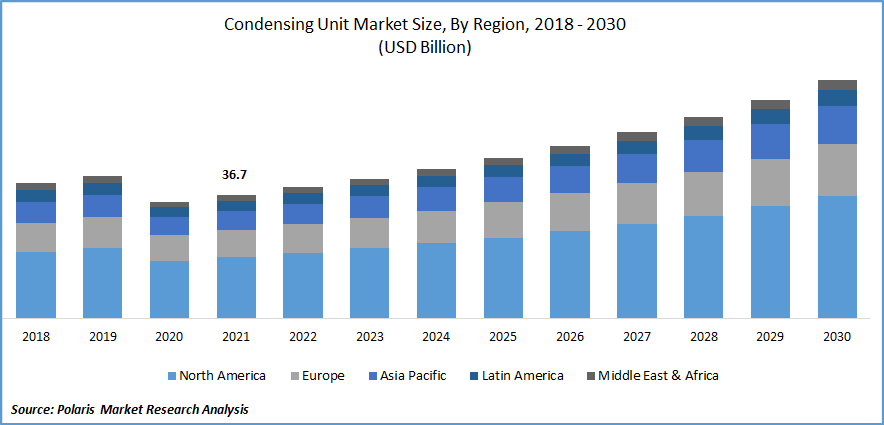 Know more about this report: Request for sample pages
Cooled using temperature control mechanisms, the condensing unit condenses materials from gaseous to liquid. Either a heat pump or an air conditioner could be this device. Refrigerators, air conditioners, heat pumps, and chillers are the most common appliances that use condensing systems for condensation reasons. The compressor, fan, and condensing coil comprise its three main parts. By compressing a gas known as a "refrigerant," pumping it through a system of coils, and utilizing the air around the coils to heat and cool areas, they transport energy in the form of heat. Rings, fans, pumps, and electronic controllers operate the condenser.
On the other hand, possibilities for market growth will be presented by the growing technological developments and the expanding demand for natural refrigerants. In October 2022, Transaera is making an air conditioner that uses less energy using certain materials. Also, in August 2022, an international cooling solution was created by Danfoss and transported from India. The technology is just one of many developed by the Danish technological solutions company's R&D expressly for India and sold to other countries. However, the market's expansion will be constrained by strict environmental laws on refrigerants. Condensing the unit market will also be difficult due to producers' growing complexity and uncertainty.
The operations of condensing unit makers, suppliers, and distributors have been impacted by COVID-19. Due to the worldwide shutdown brought on by COVID-19, the condensing market's supply chain has been affected. Since China provides most of the material, COVID-19 has halted global shipment. Due to regulatory regulations or a decline in market demand, certain condenser businesses have temporarily closed. And the temporary stoppage cost the business a great deal of money. The global fall in export and import cargo, project delays brought on by a lack of labor, and the slow national demand for condensing units as a result of pre-COVID-19 levels all contributed to the market's growth being constrained in the second quarter.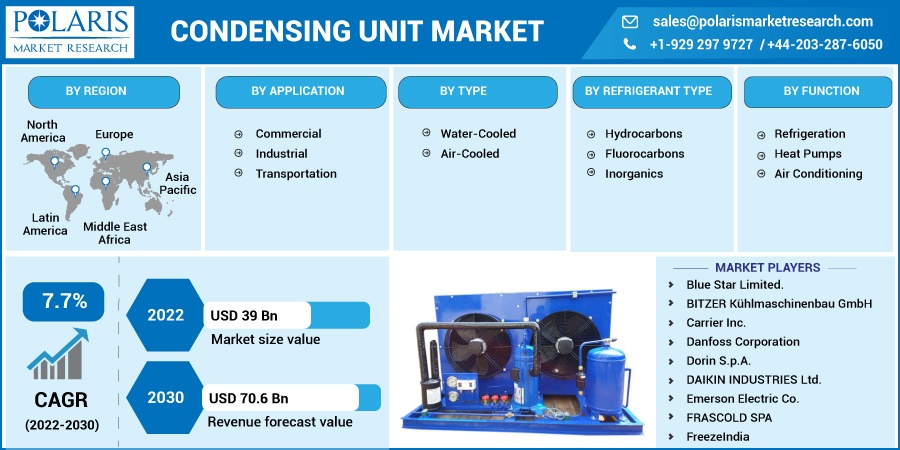 Know more about this report: Request for sample pages
Industry Dynamics
Growth Drivers
The rising consumer desire for higher-quality condensing units is anticipated to fuel the overall market demand for condensing units globally. Technically sophisticated products are expected to meet the demands of customers and suppliers, increasing demand for the product in the market through improved performance, durability, and shelf life. Another major driving factor contributing to the market's growth is the high acceptance of new technologies coupled with new launches. For instance, in August 2020, Xiaomi launched a SmartMi air purifier under Kickstarter. The device contains inbuilt precision laser particulate sensors that collect the air and analyze data to determine the proper intensity for air filtering.
Further, In July 2021, Carrier launched its Wi-Fi-enabled smart air purifier to improve indoor air quality. The air purifier continuously measures the pollution level of the incoming air and indicates the air quality on the LED screen. It also provides a Home app that allows homeowners to operate the purifier from anywhere. In April 2020, SmartMi introduced an antimicrobial HEPA air purifier that automatically monitors and cleans indoor air. Thus, the advancements in the product launch for air purifiers which increased the demand for condensing units, are the major factor boosting the market growth over the forecast period.
However, as the average global temperature rises due to increased pollution, there is a greater need for refrigeration in both household and commercial settings. Pharmaceutical industry advancements are meeting market demand in various areas, including product storage, production, R&D, and other application areas. This unit has occasionally played a significant part in the international condensing unit industry.
Food processing, food service, and warehousing are also seeing substantial growth from the base year and are anticipated to continue doing so over the expansionary period, which will increase demand from these businesses. The increase in automotive production has long fueled the need for condensing units.
Report Segmentation
The market is primarily segmented based on application, type, refrigerant type, function, and region.
By Application

By Type

By Refrigerant Type

By Function

By Region

Commercial
Industrial
Transportation

Hydrocarbons
Fluorocarbons
Inorganics

Refrigeration
Heat Pumps
Air Conditioning

North America (U.S., Canada)
Europe (France, Germany, UK, Italy, Netherlands, Spain, Russia)
Asia Pacific (Japan, China, India, Malaysia, Indonesia, South Korea)
Latin America (Brazil, Mexico, Argentina)
Middle East & Africa (Saudi Arabia, UAE, Israel, South Africa)
Know more about this report: Request for sample pages
The air conditioning segment industry accounted for the highest market share in 2021
The air conditioning segment is anticipated to have the biggest market share. One of the essential elements expected to fuel market expansion is the expanding number of malls and other commercial structures. Cooling in centralized systems is generated in chillers at one base location. It is then distributed to air-handling units throughout the building spaces.
Centralized AC systems are used when large buildings, airports, theatres, shopping malls, and others must be thoroughly air-conditioned. A constant volume (CV) system might be used to cool the interior with relatively uniform cooling requirements. At the same time, a variable air volume (VAV) has varying needs.
Due to expanding applications in cold storage and food processing facilities during the projection period, the refrigeration category is also anticipated to have the greatest market share in the revenue. Due to its commercial uses and more affordable setup costs, the cool condensing unit phase is expected to steer the market within the forecast amount.
Air-cooled is expected to hold the significant revenue share
Condensing machines that use air cooling are simple to install and have few maintenance issues. In November 2019, The KM Medium Outdoor Air-Cooled Condensing Unit was introduced by KeepRite Refrigeration. The KM line of moderate outdoor air-cooled condensing devices is energy efficient, uses less power and coolant charge, and is suitable to be used with various refrigerants, including Low GWP Refrigerants. Compared to water-cooled condensing units with a longer lifespan and higher energy efficiency, air-cooled condensing units are simple to install and have few maintenance issues.
The demand in North America is expected to witness significant growth
Significant factors anticipated to support the market's growth shortly include increasing infrastructure spending and rising demand for condensing units from various industries, including cold storage, food and beverage manufacturing, and refrigerated storage facilities. The ozone layer is being destroyed, and the increased use of refrigerants is exacerbating global warming. Several estimates predict that by 2050, air conditioning will be responsible for 25% of global warming. As a result, different nations have implemented regulations to manage the rising levels of air pollution.
The Asia-Pacific region is predicted to grow fastest due to increased investments and cooperation in the condensing unit industry. Because of the expanding use of refrigeration across various end industries, China is predicted to dominate the market. The Chinese government is promoting natural refrigerants for multiple services. These refrigerants are particularly favored for heat pumps, room air conditioners, and industrial and commercial applications.
In the upcoming years, ongoing regional development initiatives in numerous industries will expand the market's demand. Due to the availability of skilled labor and technological advancements, investors' increasing interest in investing in the area has been identified as a crucial reason. The market demand will increase over the next few years due to the sizeable industries in electronics, automotive, dairy products, chemical research, pharmaceutical, and many other fields.
Competitive Insight
Some of the major players operating in the global market include Blue Star Limited., BITZER Kühlmaschinenbau GmbH, Carrier Inc., Danfoss Corporation, Dorin S.p.A., DAIKIN INDUSTRIES Ltd., Emerson Electric Co., FRASCOLD SPA, FreezeIndia, GEA Group Aktiengesellschaft, Heatcraft Worldwide Refrigeration, Howe Corporation, Hussmann Corporation, KeepRite Refrigeration, MTA S.p.A., National Comfort Products, Prijai Heat Exchangers Pvt. Ltd., SCM Frigo S.p.A., Tecumseh Products Company, and Voltas Industries.
Recent Developments
In September 2021, Emerson Electric new state-of-art component for condensing units called "Copeland Co2 compressors based on the "Dynamic Vapor Injection" technology & smart electronics. Emerson asserts that the invention provided a novel CO2 booster system solution that lowers system expenses and complexity while maintaining high effectiveness in any environment.
In May 2021, Danfoss introduced multi-refrigerant, A2L-ready condensing units. This product launch has aided the company's ability to diversify its product line.
In May 2022, Blue Star increased the capacity of its deep freezer production at a top-notch manufacturing plant in Wada. Temperature controls for the newly created and produced line of deep freezers range from +2°C to -24°C.
Condensing Unit Market Report Scope
| | |
| --- | --- |
| Report Attributes | Details |
| Market size value in 2022 | USD 39 billion |
| Revenue forecast in 2030 | USD 70.6 billion |
| CAGR | 7.7% from 2022 - 2030 |
| Base year | 2021 |
| Historical data | 2018 - 2020 |
| Forecast period | 2022 - 2030 |
| Quantitative units | Revenue in USD billion and CAGR from 2022 to 2030 |
| Segments Covered | By Application, By Type, By Refrigerant Type, By Function, By Region |
| Regional scope | North America, Europe, Asia Pacific, Latin America; Middle East & Africa |
| Key Companies | Blue Star Limited., BITZER Kühlmaschinenbau GmbH, Carrier Inc., Danfoss Corporation, Dorin S.p.A., DAIKIN INDUSTRIES Ltd., Emerson Electric Co., FRASCOLD SPA, FreezeIndia, GEA Group Aktiengesellschaft, Heatcraft Worldwide Refrigeration, Howe Corporation, Hussmann Corporation, KeepRite Refrigeration, MTA S.p.A., National Comfort Products, Prijai Heat Exchangers Pvt. Ltd., SCM Frigo S.p.A., Tecumseh Products Company, and Voltas Industries Ltd. |