The worldwide market size for Consumer NAS market is estimated to be USD 2,620.8 million in 2017 and is estimated to grow at a CAGR of 14.3% during the forecast period. The growth is majorly propelled by the increase in network sharing capabilities as well as data storage capacities. NAS is a storage device, which enables the user to connect to business or personal network thus, allowing the user to access files stored in drive through PCs or mobile phones, without the need to plug drive externally. The ease to access stored data from mobile device or computerized system improves customer experience thereby, bolstering the demand of consumer NAS market.
Furthermore, the increasing spending capability of individuals among developing nations, is also driving the market growth. The population, these days, have become more tech-savvy and the acceptance for better and advance technology has also increased. Additionally, the rising need for surveillance is another key driver of the market growth. The increased security level within an organization has resulted in intensified regulatory needs to share or store data. Such factors are anticipated to bolster the market for consumer NAS during the coming years.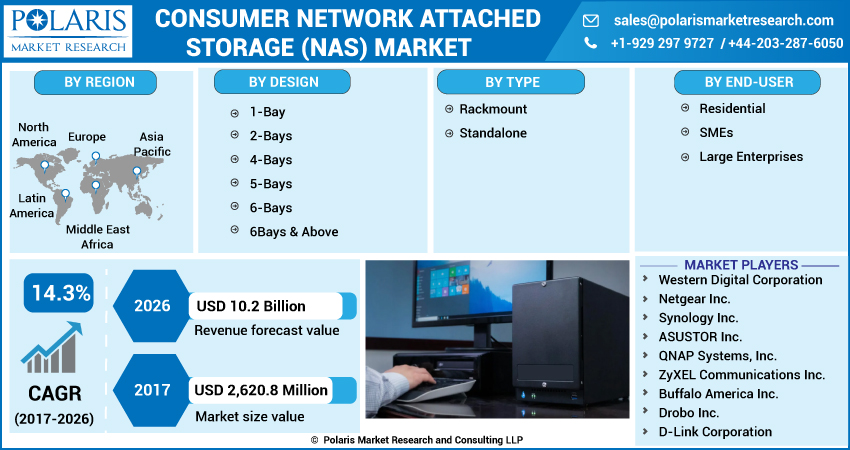 Segment Analysis
The design segment is categorized into 1-Bay, 2-Bays, 4-Bays, 5-Bays, 6-Bays, and 6-Bays & above designs. Among these, 2-Bays design segment is anticipated to experience the fastest growth during the projected period. However, the 4-Bays design segment will be dominating the market throughout the forecast period.
By end-user, the SMEs segment is dominating the market and is anticipated to continue its dominance during the forecast period. Further, the residential segment is expected to grow at a highest CAGR among end-users owing to features such as efficient backup and easy installation. Also, the growth by SMEs is attributed to factors such as centralized control, shared storage and flexibility to share capacity among several hosts. Moreover, adoption of consumer NAS enables in reducing total cost of ownership for SMEs, which is another prime factor influencing the market growth.
Regional Analysis
The North America market for Consumer NAS is currently leading with the largest market share among geographies, followed by Europe. The presence of huge number of technology firms in the region coupled with their considerable investments in R&D is driving the growth in North American market. Further, the demand in European region is influenced by increasing awareness among constantly increasing SMEs in the region. Moreover, US being one of the hub for start-ups has propelled the market demand in the country.
Competitive Landscape
Western Digital Corporation, Netgear Inc., Synology Inc., ASUSTOR Inc., QNAP Systems, Inc., ZyXEL Communications Inc., Buffalo America Inc., Drobo Inc., D-Link Corporation, and Seagate Technology Public Limited Company among others. The players operating in the market are focusing on providing solutions to SMEs, as SMEs are highly adopting consumer NAS solutions owing to its features including back solutions and easy data storage.