The global convergent billing market was valued at USD 12.17 billion in 2021 and is expected to grow at a CAGR of 21.8% during the forecast period. The telecommunications sector uses a convergent billing platform, a revenue management tool, to combine all service fees into a single consumer bill.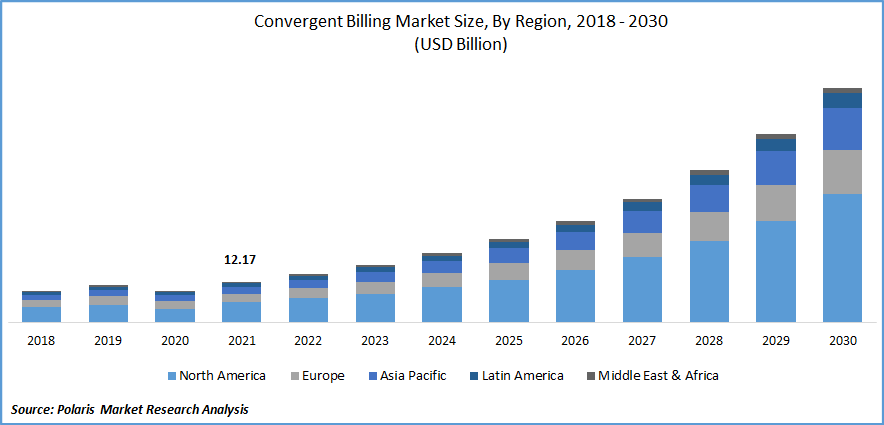 Know more about this report: Request for sample pages
The improved customer experience, multiservice packaging and pricing that let clients choose the services at discounted costs, and centralized customer assistance are all factors that have contributed to the sector's growth.
Consumer desire has changed toward more advanced and digital service offerings due to increased digitalization. Customers may get a comprehensive list of all the services they have chosen from the business on one bill. Customers can receive cross-service savings through this single view, allowing them to take advantage of a more advantageous price structure when choosing numerous services.
Additionally, the savings provided may be used as a marketing strategy to entice additional clients to choose more services. Convergent billing allows for the provision of a single product and service catalog, improving marketing time and lowering installation costs.
The telecom market environment has seen a significant upheaval since smartphones first appeared. Nowadays, smartphones do more than merely carry voice and text messages. Because of this, unlimited data plans are more crucial than ever, forcing operators to provide a range of services in order to thrive.
Although, convergent billing system implementation can be a time-consuming and laborious operation. It might take time to change a complete billing system. However, telecom operators consider it a necessary component of the telecom sector's future, which is anticipated to fuel the market's expansion throughout the projection period.
The COVID-19 pandemic's impact on the world has been unprecedented and astounding, with items experiencing a negative demand shock in every region. Smartphone usage among consumers has changed as a result of the COVID-19 outbreak. With regard to sending voice and text messages, digital media platforms, maps and travel guides, and business tools, smartphones and networks provide a variety of functions. The demand for unlimited data subscriptions has surged because of the rise in smartphone usage during the epidemic. To meet the demands of its consumers, telecom carriers have adopted convergent billing models due to the rise in demand for various services.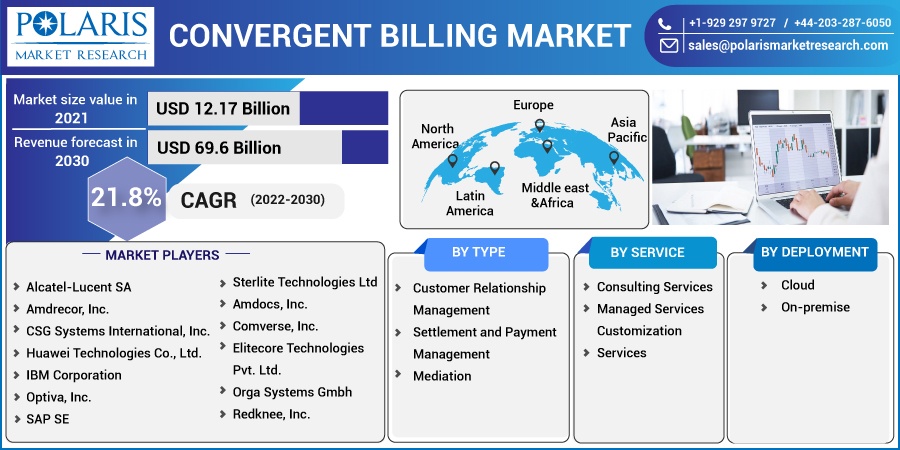 Know more about this report: Request for sample pages
Industry Dynamics
Growth Drivers
The global need for business solutions and systems is anticipated to fuel the market for convergence billing. Increased client satisfaction and the benefits of employing these technologies drive this demand.
Additionally, anticipated market growth drivers have decreased overall prices and newly launched unified services. De-regularization of the telecommunications industry and legal billing procedures are anticipated to be some of the market restraints. However, it is anticipated that the rising cloud computing industry influence and demand for VAS and data services will provide the market with significant development prospects.
The growing use of micro-services in 5G billing is expected to lead to considerable growth in the cloud-convergent billing industry. The need for convergent billing solutions is increasing as 5G technology is used globally, creating additional chances for solution providers to gain market momentum. Customers who use cloud-based services, which let them check bills and follow service records, have access to more real-time experiences.
Report Segmentation
The market is primarily segmented based on solution, service, deployment, region
By Solution

By Service

By Deployment

By Region

Customer Relationship Management
Settlement and Payment Management
Mediation

Consulting Services
Managed Services
Customization Services

North America (U.S., Canada)
Europe (France, Germany, UK, Italy, Netherlands, Spain, Russia)
Asia Pacific (Japan, China, India, Malaysia, Indonesia, South Korea)
Latin America (Brazil, Mexico, Argentina)
Middle East & Africa (Saudi Arabia, UAE, Israel, South Africa)
Know more about this report: Request for sample pages
The customer relationship management (CRM) segment dominated the market in 2021
Customer Relationship Management (CRM) led the convergent billing market in 2021. When communicating with clients, CRM takes the organization's driving values into account. It includes operations relating to sales and services, forecasting, and analyzing consumer behavior, in addition to direct client engagement. CRM programs can provide advanced discount programs, segment-based product offers, and customer assistance.
CRM is a crucial instrument in the convergent billing industry since there is no cap on the number of defined services, which promotes sector expansion.
Since it has emerged as the most potent tool in the ongoing war for consumers, the customer experience is the top focus. By allowing for the production of convergent offers and personalized services, the billing platform of the operator should support the customer-centric approach. Any combination of services in a package should be delivered by the operator, who should also be able to enhance the customer's experience continually. Customer data becomes an important resource that should be monetized through cross- and up-selling.
The managed services segment accounted for the largest revenue share
The managed services category generated more than 48.0% of total revenue. The seamless operation of the software/application on the customer's system is ensured via managed services. Managed systems assume software/IT-related application responsibilities, allowing enterprises to concentrate on their core products and services.
Managed services also comprise several other value-added services to assist businesses in making the best use of convergent billing software. The category's expansion is anticipated to be fueled by managed services' improved performance and dependability.
By 2029, the managed services sector is anticipated to hold the biggest market share, mainly to the expansion of communications services and the need for coordinated client services. The growing trend of outsourcing allows businesses to focus on their core competencies and increase income.
The cloud deployment segment is expected to register the fastest growth over the forecast period.
Over the projected period, the sector for cloud deployment is anticipated to increase at the quickest rate. Because of its scalability and ease, cloud-convergent billing systems are preferred by customers all over the world. Employee collaboration and communication are made possible through a secure intranet, which speeds up processes.
The popularity of the cloud deployment segment is anticipated to increase throughout the projection period as a result of the fact that cloud-based services also decrease deployment times and overhead IT expenditures.
A shared instance with several tenants is hosted in the cloud for cloud-based systems. Due to the growing use of micro-services in 5G billing, the cloud-based segment is predicted to expand. Users of cloud-based services benefit from a more immediate experience, which enables them to track bills and service history.
North America accounted for the largest revenue share in 2021.
The expansion of the area may be credited to the presence of important firms like Amdocs and CSG International. Additionally, firms and customers in this area have historically been among the first to adopt new technologies. North American nations, particularly the U.S. and Canada, are investing significantly in cutting-edge technologies like cloud computing, artificial intelligence, and 5G. The regional market is expanding due to the region's growing need to enhance the customer experience.
Throughout the forecast period, Asia Pacific is expected to develop at the quickest rate. The proliferation of IT-based businesses in the area, which promotes cutting-edge technology backed by research and inventions, may be credited with the expansion.
Additionally, the enormous populations of nations like China and India offer telecom companies a sizable consumer base, driving the adoption of convergent billing systems and enhancing the customer experience. Moreover, it is anticipated that regional growth would be supported by government measures to enhance internet access.
Competitive Insight
Some of the major players operating in the global market include Alcatel-Lucent SA, Amdrecor, Inc., CSG Systems International, Inc., Huawei Technologies Co., Ltd., IBM Corporation, Optiva, Inc., SAP SE, Sterlite Technologies Limited, Amdocs, Inc., Comverse, Inc., Elitecore Technologies Pvt. Ltd., Orga Systems Gmbh, Redknee, Inc.
Recent Developments
In March 2021, Huawei announced CBS R21, a brand-new cloud-native architecture-based convergent billing system with a 5G monetization mode.
In December 2020, CSG International increased its billing deal with Airtel Africa to provide managed services, including convergent pricing, billing solutions, and customer relationship management, in order to improve its position throughout its 14-country presence in Africa.
Convergent Billing Market Report Scope
| | |
| --- | --- |
| Report Attributes | Details |
| Market size value in 2022 | USD 14.38 billion |
| Revenue forecast in 2030 | USD 69.6 billion |
| CAGR | 21.8% from 2022 - 2030 |
| Base year | 2021 |
| Historical data | 2019 - 2021 |
| Forecast period | 2022 - 2030 |
| Quantitative units | Revenue in USD billion and CAGR from 2022 to 2030 |
| Segments Covered | By Solution, By Service, By Deployment, By Region |
| Regional scope | North America, Europe, Asia Pacific, Latin America; Middle East & Africa |
| Key Companies | Alcatel-Lucent SA, Amdrecor, Inc., CSG Systems International, Inc., Huawei Technologies Co., Ltd., IBM Corporation, Optiva, Inc., SAP SE, Sterlite Technologies Limited, Amdocs, Inc., Comverse, Inc., Elitecore Technologies Pvt. Ltd., Orga Systems Gmbh, Redknee, Inc. |