The global cosmetic surgery market was valued at USD 63.39 billion in 2021 and is expected to grow at a CAGR of 9.5% during the forecast period. Advanced products have been introduced to the market as a result of the rising demand for new products among patients and healthcare professionals, as well as the growing focus on minimizing or eliminating the negative effects of implants and other cosmetic products. This factor fuels the expansion of the market together with the increased emphasis on aesthetics and rising public knowledge of available procedures.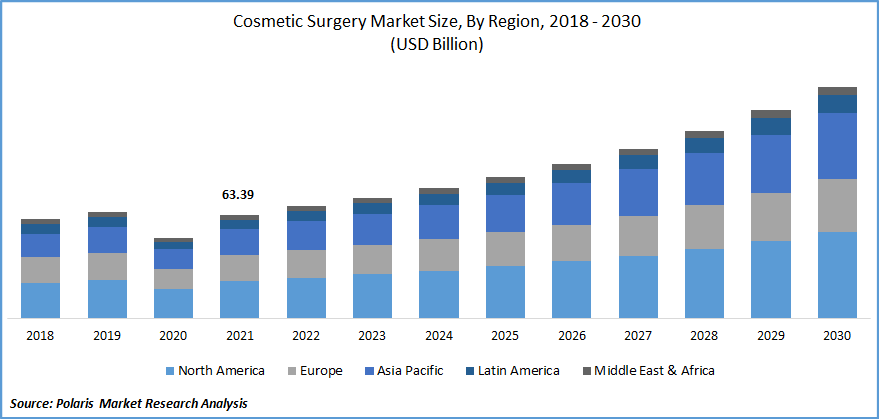 Know more about this report: Request for sample pages
The market's leading providers of goods and instruments have pointed to the lucrative growth and are trying to increase their present market share. Market participants are concentrating on R&D to introduce advanced products due to the rising demand for advanced products with fewer complications and post-surgical interventions.
For its novel dermal filler called "Jeuveau," Evolus Inc. gained U.S.-FDA approval in February 2019. This neurotoxic medicine competes with well-known dermal fillers like Botox from Allergan and is used to address wrinkles. Additionally, in May 2021, GC Aesthetics Ltd. announced the introduction of the PERLE, breast implants. The innovative Round Breast Implant PERLE features highly cohesive Emunomic Breast Tissue Dynamic Gel and innovative BioQ- Surface technology.
The healthcare industry is directly impacted by the COVID-19 pandemic since it is the focal point of this unprecedented worldwide pandemic issue. Due to the decreased demand for numerous aesthetic applications, the COVID-19 pandemic has harmed cosmetic surgery and products that are connected around the globe.
The three most obvious causes of the lower market demand are strictly enforced lockdowns, the stoppage of elective surgeries, and disruptions in the supply chain. Therefore, various medical and cosmetic organizations offered recommendations for telehealth and virtual consultations to support the cosmetic industry throughout the epidemic. Therefore, it is projected that over the forecast period, such sophisticated models will present a new set of models for aesthetic home care settings processes.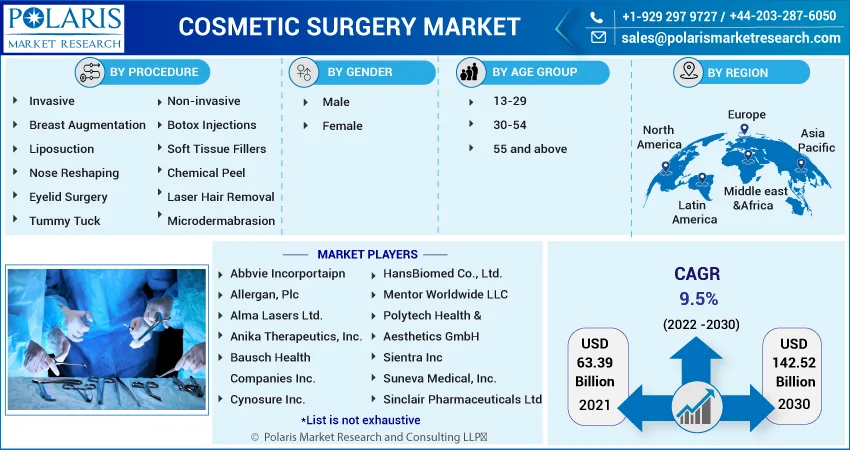 Know more about this report: Request for sample pages
Industry Dynamics
Growth Drivers
To improve their competitive positions, major firms focus on the improvement and approval of new products. For instance, in October 2021, Cynosure Inc. announced the development of Potenza radiofrequency (RF) micro-needling technology for skin rejuvenation in Canada.
Additionally, in the U.S., Europe, and Australia, Cynosure introduced the Elite iQ for laser hair removal and skin rejuvenation in June 2020. The company's position in the developed market was strengthened by this introduction. Even in nations where historically and traditionally these operations were viewed as carrying a social stigma, cosmetic or aesthetic surgery is growing in popularity worldwide.
Influences from the media, the fashion and entertainment industries, peer pressure to look good and be attractive, the changing definitions of beauty, etc. are examples of social and cultural influences. Increased exposure to cosmetic procedures has resulted from the growth of the tourism industry and the formation of tourism clusters, as well as increased market demand for these procedures.
The rise in weight, accidents, the increasing safety margin of cosmetic surgery, the rise in the number of cosmetic surgery hospitals, and other factors all have an impact on health. The major drivers in the global market include economic factors including rising per capita income, declining cosmetic surgery costs, and so on.
Report Segmentation
The market is primarily segmented based on procedure, gender, age group, and region.
By Procedure

By Gender

By Age Group

By Region

Invasive

Breast Augmentation
Liposuction
Nose Reshaping
Eyelid Surgery
Tummy Tuck
Others

Non-invasive

Botox Injections
Soft Tissue Fillers
Chemical Peel
Laser Hair Removal
Microdermabrasion
Others

North America (U.S., Canada)
Europe (France, Germany, UK, Italy, Netherlands, Spain, Russia)
Asia Pacific (Japan, China, India, Malaysia, Indonesia. South Korea)
Latin America (Brazil, Mexico, Argentina)
Middle East & Africa (Saudi Arabia, UAE, Israel, South Africa)
Know more about this report: Request for sample pages
Female segment is expected to witness fastest growth
The International Society of Aesthetic Plastic Surgery (ISAPS) states that the rise in female cosmetic surgery patients can be attributed to females' increasingly strong emphasis on their physical appearance and to emerging countries' rising per capita spending. This element is further strengthened by the growing number of medical spas that provide a variety of services and claim cutting-edge equipment and goods. These elements fuel the market's female segment's expansion.
Overall, the number of cosmetic plastic surgery treatments declined by 10.9% in 2020, with 77.8% of doctors worldwide facing temporary practice closures due to the COVID-19 pandemic. Although nonsurgical operations (mainly fillers and hair removal treatments) increased, they did so at a slower rate than in prior years (5.7% in 2020 versus 7.6% in 2019). Overall, all operations saw a decrease of 1.8% as a result of this.
Invasive segment industry accounted for the highest market share in 2021
The surgical procedures market sector was the largest revenue contributor. Although there are much fewer surgical procedures performed globally than non-surgical procedures, the higher cost of these surgical procedures due to long-term effects is crucial in the larger revenue share of the cosmetic surgery market.
Data from the International Society of Aesthetic Plastic Surgery show that breast enhancement, liposuction, laser treatment, abdominoplasty, and rhinoplasty were the most popular medical treatments in terms of volume in 2019. The number of treatments for eyelid surgery increased by 14.5% over 2018, while rhinoplasty experienced a notable 13.1% increase from 2018 to 2019.
The demand in North America is expected to witness significant growth
An estimated 4.0 million cosmetic treatments were carried out in the United States in 2019, according to the International Society of Aesthetic and Plastic Surgeons (ISAPS). The country's significantly higher pricing per procedure and higher per capita expenditures help to encourage this issue even further. These elements have enabled North America to continue to rule the world. Latin America and the Asia-Pacific region would overtake North America as the cosmetic surgery market leader.
The rise of the aesthetic surgery industry in Latin America is being driven by the presence of a lucrative market, as well as the region's expanding medical tourism. There has been a noticeable increase in the number of individuals receiving certain surgical procedures, including facelifts, eyelid surgeries, and nose contouring. The American Society for Aesthetic Plastic Surgery (ASAPS) said that the top surgical operations in the U.S. in 2020 included nose reshaping (rhinoplasty) (15.2%), eyelid surgery (14.0%), and facelift (18%).
Patients seeking cosmetic surgery now have easy access due to an increase in the number of certified hospitals and clinics. Cosmetic surgeons like to be connected with hospitals and specialist clinics that provide a wide range of services, even though there are many spas and centers for cosmetic surgery that offer a variety of operations.
New medical spas are opening up in Brazil and the Asia-Pacific nations as a result of expanding medical tourism in these regions. Brazil and South Korea are among the most popular destinations worldwide for cosmetic surgery after the United States. This aspect has increased the number of authorized medical spas and clinics for cosmetic surgery in these nations, fueling the expansion of this market sector
Over the past few years, China's rising obesity rates have increased the demand for cosmetic surgery. Additionally, the nation saw an increase in the selling of dietary and nutritional supplements along with weight-loss procedures like liposuction. Due to their quick outcomes, non-invasive techniques have been the favored option in this area.
In addition, the number of women working has increased, which has increased the demand for aesthetic operations. In addition, younger people are more likely to want a westernized appearance, which increases the demand for facelifts, Botox, and eyelid operations. As a result, the market for cosmetic surgery and procedures is being supported by the rise in aesthetic treatments.
Competitive Insight
Some of the major players operating in the global cosmetic surgery market include Abbvie Incorportaipn, Allergan, Plc, Alma Lasers Ltd., Anika Therapeutics, Inc., Bausch Health Companies Inc., Cynosure inc., Cosmetic Surgery (UK) Limited, Galderma SA, HansBiomed Co., Ltd., Mentor Worldwide LLC, Merz Pharma GmbH and Co. KGaA, Polytech Health & Aesthetics GmbH, Sientra Inc, Suneva Medical, Inc., Sinclair Pharmaceuticals Limited, Teoxane Laboratories, and Valeant Pharmaceuticals International, Inc.
Recent Developments
In February 2021, Galderma reports that Restylane® Defyne has received FDA approval for the enhancement and treatment of moderate to severe chin retrusion in individuals over the age of 21. The only chin filler to exhibit results across a diverse group of participants, including people with various skin types, male candidates, and adults over the age of 52, is Restylane Defyne.
Cosmetic Surgery Market Report Scope
| | |
| --- | --- |
| Report Attributes | Details |
| Market size value in 2021 | USD 63.39 billion |
| Revenue forecast in 2030 | USD 142.52 billion |
| CAGR | 9.5% from 2022 - 2030 |
| Base year | 2021 |
| Historical data | 2018 - 2020 |
| Forecast period | 2022 - 2030 |
| Quantitative units | Revenue in USD billion and CAGR from 2022 to 2030 |
| Segments Covered | By Procedure, By Gender, By Age Group, By Region |
| Regional scope | North America, Europe, Asia Pacific, Latin America; Middle East & Africa |
| Key Companies | Abbvie Incorportaipn, Allergan, Plc, Alma Lasers Ltd., Anika Therapeutics, Inc., Bausch Health Companies Inc., Cynosure Inc., Cosmetic Surgery (UK) Limited, Galderma SA, HansBiomed Co., Ltd., Mentor Worldwide LLC, Merz Pharma GmbH and Co. KGaA, Polytech Health & Aesthetics GmbH, Sientra Inc, Suneva Medical, Inc., Sinclair Pharmaceuticals Limited, Teoxane Laboratories, and Valeant Pharmaceuticals International, Inc. |