The global COVID-19 sample collection kits market was valued at USD 12.83 billion in 2020 and is expected to grow at a CAGR of 2.3% during the forecast period. The recent surge in COVID-19 cases and a worldwide necessity for collecting samples of COVID-19 strains are the prominent factors attributing to the COVID-19 sample collection kits market growth.
Collecting samples is the most important and critical step in the effective diagnosis of the COVID-19 strains, as false specimen collection could lead to misleading test results. In line with this, CDC and other concerned healthcare organizations have introduced standard protocols to be followed for collecting samples and streamlining the value chain of COVID-19 related services.
During the ongoing pandemic, with lockdown in place all over the globe, the companies involved in the production of swabs and viral sample collection kits have scaled up their production to cater to the exponential increase in demand.
For instance, in May 2020, India-based personal hygiene firm "Suparshva Swabs" announced to scale-up its production of polyester swabs, to be used in sample collecting for COVID-19 testing from 2 to 5 million. According to the company's claim, it has the largest capacity of cotton buds in whole Asia and can ramp up swab production to more than 30 million in a week. Polyester swabs would cost around INR 3 per unit or less, which is far cheaper than imported swabs.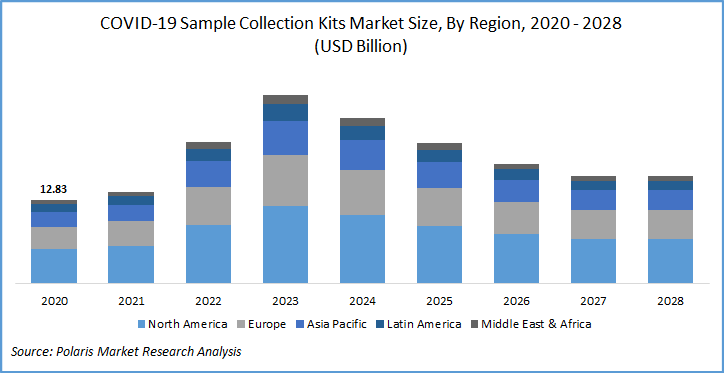 Know more about this report: request for sample pages
Industry Dynamics
Growth Drivers
Key stakeholders in the COVID-19 sample collection kits market have collaborated with regional manufacturers and suppliers to accelerate the supply of swabs and viral transport media in the global COVID-19 sample kits market. With the ongoing pandemic and surge in demand, companies across the globe are focusing on strategic initiatives to maximize output and supply in the market.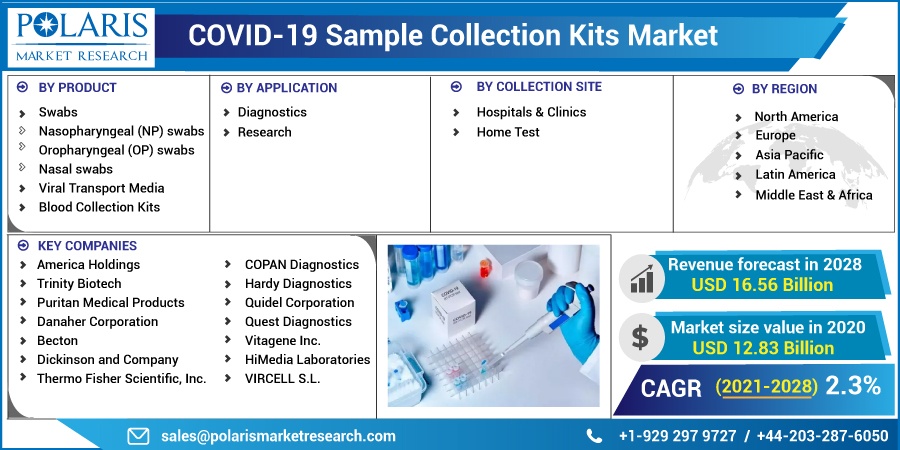 Know more about this report: request for sample pages
In this direction, in November 2020, the University of South Florida (USF) has introduced a 3D printed nasal swab for commercial use. The organization has produced more than 100,000+ products, and hospitals across the world have used 3D files to develop millions of swabs for use in PoC testing.
COVID-19 Sample Collection Kits Market Report Scope
The market is primarily segmented on the basis of product, application, end-use, and geographic region.
By Product

By Application

By Collection Site

By Region

Swabs

Nasopharyngeal (NP) swabs
Oropharyngeal (OP) swabs
Nasal swabs

Viral Transport Media
Blood Collection Kits
Other Consumables

Hospitals & Clinics
Home Test

North America (U.S., Canada)
Europe (France, Germany, UK, Italy, Spain, Netherlands, Austria)
Asia Pacific (Japan, China, India, Malaysia, Indonesia, South Korea)
Latin America (Brazil, Mexico, Argentina)
Middle East & Africa (Saudi Arabia, UAE, Israel, South Africa)
Know more about this report: request for sample pages
Insight by Application
In 2020, the diagnostics market segment accounted for the largest share in the global market for COVID-19 sample collection kits. Such a high share is due to approvals for diagnostic tests by FDA for the COVID-19. It is being estimated that, by December 2020, there were 1,295 tests were approved by FDA under emergency use authorization. It included 227 molecular tests, 61 antibody tests, and 7 antigen tests for the diagnosis of COVID-19 infections.
However, the research market segment is expected to witness lucrative market growth over the forecast period. This market growth is due to the rise in research and development programs, which deploy sample collection kits to prove the effectiveness of various diagnostic tests. Moreover, extensive research on COVID-19 pathogenesis is further boosted the market segment's growth prospects.
Insight by Collection Site
In 2020, the hospitals and clinics segment accounted for the largest revenue share for these sample collection kits. The exponential rise in hospitalization due to COVID-19 is primarily responsible for such market growth. As there is a global rise in COVID-19 cases, most hospitals are expanding their capabilities for the diagnosis of COVID-19. This has directly resulted in increased sample collection in the hospital settings through kits.
The home test market segment is projected to witness a lucrative growth rate over the forecast period, owing to the high infection rate of the COVID-19 virus and nation-wide lockdown. Recently, in November 2020, Mybiopassport introduced the "COVID-19 & Immunity Profile" test. It is a home-based blood sample collection test. This will help an individual in determining whether he was previously infected with COVID-19 or not.
Geographic Overview
Geographically, the global market for COVID-19 sample collection kits is bifurcated into North America, Europe, Asia Pacific, Latin America, and Middle East & Africa (MEA). In North America, the U.S. is the most highly affected country with the highest number of active cases.
It is being reported that, as of December 7, 2020, U.S. had performed more than 207 million COVID-19 tests through kits, which is the highest among all the countries, followed by the European market. In November 2020, the UK government planned to ramp up testing capacity by establishing new labs across the nation, by early next year. These facilities would likely process 600,000 PCR tests in a day through these kits.
Competitive Insight
The global market for COVID-19 sample collection kits is flooded with small- and large-scale players. Some of the key players operating in the market for COVID-19 sample collection kits are Lucence Diagnostics Pte Ltd., Laboratory Corporation of America Holdings, Trinity Biotech, Puritan Medical Products, Danaher Corporation, Becton, Dickinson and Company, Thermo Fisher Scientific, Inc., COPAN Diagnostics, Hardy Diagnostics, Quidel Corporation, Quest Diagnostics, Vitagene Inc., HiMedia Laboratories, and VIRCELL S.L.