The global crash barrier systems market was valued at USD 7.58 billion in 2021 and is expected to grow at a CAGR of 3.4% during the forecast period. The global crash barrier systems market is predicted to expand steadily, owing to rising prospects in emerging economies around the world. In addition, the rapid growth of the vehicle sector and increased infrastructure spending, particularly in developing nations, will accelerate the expansion of the global automotive market.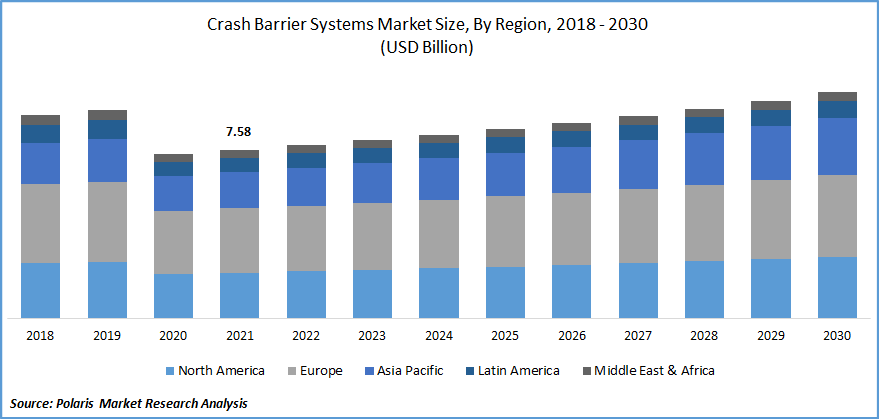 Know more about this report: Request for sample pages
Road safety barriers reduce both the frequency and the impact of road accidents. The market segments include fences, drop arms, crash barrier systems, barricades, and others. Furthermore, the advantages of plastic, such as its affordability, reusability, and recycling potential, as well as its ease of maintenance, inspire big firms to focus on developing plastic crash barrier systems with cutting-edge, immediately evident designs.
Manufacturers are also interested in high-tech crash barriers for security and safety reasons. For instance, in May 2019, Delta Scientific created the MP5000 mobile development vehicle crash barriers that are self-contained. At 64 kph, these barriers offer a 7.5-ton stopping power. Furthermore, several government programs are aimed at enhancing infrastructure, which is predicted to create new market opportunities for the crash barrier systems.
During COVID-19, the global market slowed in growth, owing mostly to delays in barrier manufacturing and supply chain disruption. On the other hand, significant players in the global barrier systems market, like Barrier 1 Systems, LLC, a well-known manufacturer of contemporary, robust physical barriers, are developing new products with unique attributes.
For instance, in March 21, Barrier Systems announced a partnership with Cepton Technologies to integrate their barrier control systems with "Cepton's Hellas Smart Lidar System" to deliver cutting-edge safety solutions. A successful future in the global market may also come from such product value integration.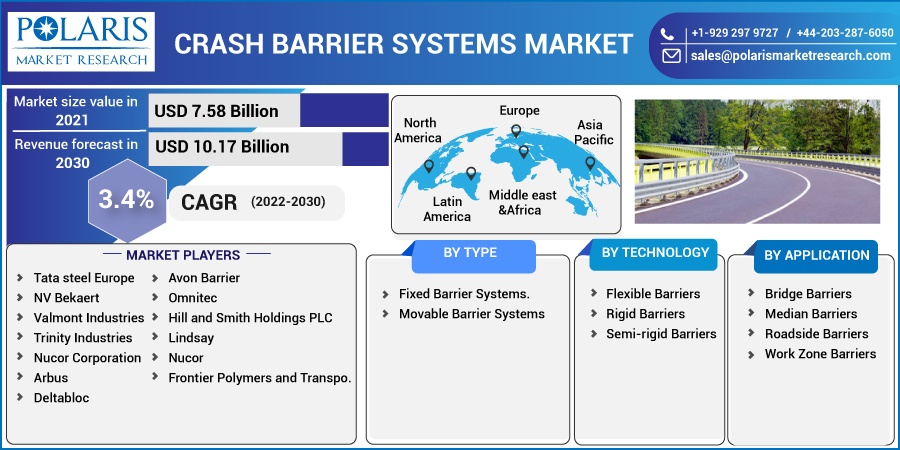 Know more about this report: Request for sample pages
Industry Dynamics
Growth Drivers
The market for crash barrier systems is expected to be driven in the upcoming years by factors such as the increasing number of traffic accidents, increased vehicle encroachment, and traffic congestion. Due to growing investment in the automotive and transportation infrastructure sectors as well as the manufacturers' adoption of cutting-edge safety measures, the market is expected to grow in the future years.
The government's rigorous regulations, the absence of a viable alternative, and growing safety concerns at airports, roads, commercial buildings, and residential lanes, among other areas, are also anticipated to boost the market. There are a variety of limitations and challenges that could impede market expansion. The market is anticipated to be restricted by issues such as the high cost of repairs and the variable cost of raw materials used to make such barrier systems.
Report Segmentation
The market is primarily segmented based on type, technology, application, and region.
By Type

By Technology

By Application

By Region

Fixed Barrier Systems.
Movable Barrier Systems

Flexible Barriers
Rigid Barriers
Semi-rigid Barriers

Bridge Barriers
Median Barriers
Roadside Barriers
Work Zone Barriers

North America (U.S., Canada)
Europe (France, Germany, UK, Italy, Netherlands, Spain, Russia)
Asia Pacific (Japan, China, India, Malaysia, Indonesia. South Korea)
Latin America (Brazil, Mexico, Argentina)
Middle East & Africa (Saudi Arabia, UAE, Israel, South Africa)
Know more about this report: Request for sample pages
Fixed Barrier segment is expected to witness fastest growth
The fixed barrier category, which had the largest market share globally in 2021, is also expected to grow at the fastest rate during the projection period. Fixed crash barriers act as safety barriers to stop collisions and the collapse of cars into ravines or over the edge of the road. For instance, in December 2019, Valmont Industries developed Highway Guard LDS, a steel safety barrier that complies with MASH 16 TL-3 standards.
Its T-connector speeds up the assembly, removal, and separation of the barrier part. The opportunity to remove portions of a run to create access gaps, fix damaged areas, or alter barrier courses is also offered. On roads that are rough and mountainous, near water, or that run alongside them, fixed crash barriers are frequently built. The market has been fueled by the rise of globalization over the past year, which has led to an upgrade in the land transportation system.
Rigid segment will account for a higher share of the market.
The market's greatest share belonged to the rigid category, which is anticipated to continue to rule during the forecast period. When a vehicle strikes a rigid barrier, there is little dynamic deflection due to the vehicle's internal storage of kinetic energy. These barriers have little movement, yield, or distortion when struck and are constructed of steel, concrete, or a mix of the two.
The need for strong crash barriers has increased due to the rising accident rate. For instance, recent data from the National Crime Records Bureau shows that in 2021, over 1.55 lakh people an average of 426 per day or 18 per hour, were killed in road crashes in India. Barrier systems impacted by crashes. Due to this, most highway authorities, including ERF and NCHRP, have started developing flexible crash barriers comprised of ropes & wires. These barriers absorb the greatest energy when they collide with moving vehicles, lessening the severity of collisions.
Roadside is expected to hold the significant revenue share
The roadside market sector was the largest in 2021. Constructions that block access to roadsides may be composed of steel, concrete, or a combination of the two. They are fastened to bridges, retaining walls, and highway construction sites. The main goal is to lessen collision severity and prevent wayward vehicles from slamming into the structures. To prevent cars from hitting the side of the barrier, median barriers are longitudinal barriers that segregate opposing traffic on a divided highway.
Due to the relatively high speeds on split roads and expressways, median barriers greatly minimize the occurrence of cross-median crashes. In order to prevent work-zone traffic accidents, including complete road closure, work-zone barriers are measures between employees and motorized traffic that contain or redirect cars. These barriers allow good management to expedite highway construction projects and physically separate workers from moving traffic, lowering work zone footprints and ensuring useful, affordable work zone safety.
The demand in Europe is expected to witness significant growth
The market expansion in Europe is attributable to the growth of technologically advanced structures since there are more traffic accidents. For instance, road traffic injuries are a serious public health concern in the 53 countries that make up the WHO European Region. The Global Burden of Disease research by WHO estimates that 129 000 people will die annually due to road accidents in 2004. Additionally, car accidents result in the injuries of almost 2.4 million people each year.
Additionally, the European Union's initiatives to increase the use of cutting-edge materials to guarantee the structural security of buildings will further fuel the market.
Due to technological improvements and the development of construction techniques, North America's market growth can be ascribed to the world's largest construction sector. Rallies and protests have also escalated on the streets due to rising tensions between the populace and the administration. Because of this, temporary barricades have been put up to stop cars from colliding with the protesters.
Competitive Insight
Some of the major players operating in the global market Tata steel Europe, NV Bekaert, Valmont Industries, Trinity Industries, Nucor Corporation, Arbus, Deltabloc, Avon Barrier, Omnitec, Hill and Smith Holdings PLC, Lindsay, Nucor, Frontier Polymers and Transpo.
Recent Developments
In June 2021, Trinity Highway Products, LLC dealt with Highway Care Ltd. to make, distribute, and rent the MASH-tested Highway Guard Barner in North America. Through this cooperation, Trinity Highway expanded its commitment to provide cutting-edge Highway Guard roadway solutions to Mexico, the US, and Canada.
In July 2021, a perimeter security company acquired Avon Barrier for an undisclosed sum. This company is a top supplier of barriers for controlling access for vehicles and people and securing perimeters. With this acquisition, the perimeter protection group hopes to grow the size of its crash barrier market.
Crash Barrier Systems Report Scope
| | |
| --- | --- |
| Report Attributes | Details |
| Market size value in 2022 | USD 7.78 billion |
| Revenue forecast in 2030 | USD 10.17 billion |
| CAGR | 3.4% from 2022 - 2030 |
| Base year | 2021 |
| Historical data | 2018 - 2020 |
| Forecast period | 2022 - 2030 |
| Quantitative units | Revenue in USD billion and CAGR from 2022 to 2030 |
| Segments Covered | By Type, By Technology, By Application, By Region |
| Regional scope | North America, Europe, Asia Pacific, Latin America; Middle East & Africa |
| Key Companies | Tata steel Europe, NV Bekaert, Valmont Industries, Trinity Industries, Nucor Corporation, Arbus, Deltabloc, Avon Barrier, Omnitec, Hill and Smith Holdings PLC, Lindsay, Nucor, Frontier Polymers and Transpo. |