The global delivery drone market size was valued at USD 68.42 million in 2019 and is anticipated to grow at a CAGR of 33.1% during the forecast period. Delivery drone provides the advantages of reduced roadway congestion when compared to heavy traffic in the roadways and reduced greenhouse gas emissions when compared to heavy emissions created by traditional heavy manned vehicles.
Delivery drones are rapidly gaining traction over delivery vehicles in the industry as most of the logistics vendors are adopting this technology in order to provide better service to their customers. For instance, in March 2019 Airbus 'Skyways' drone trials which is one of the first shore-to-ship delivery services and expected to aid in the growth of market during the near future.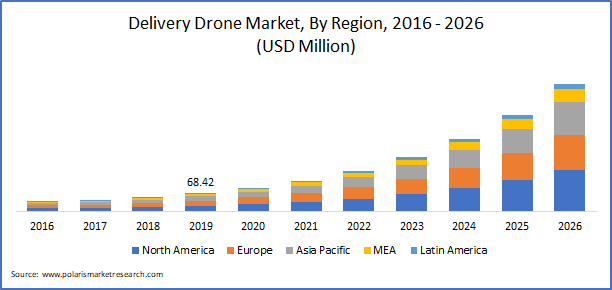 Know more about this report: request for sample pages
Increasing production due to rising demand for different application across end use industries such as e-commerce/logistics and convenience stores is one of the major factors driving the growth for delivery drone market. Transforming transportation industry due to rising trend of automation for goods & delivery services is another major fueling factor which is expected to drive the market during the forecast period.
Factors such as stringent regulations regarding the use for commercial purposes across different regions by Federal Aviation Administration and limited range of drones or short flight time due to inefficient power supply or backup are challenging the adoption of them for logistics and transportation enterprises.
Delivery Drone Market Report Scope
The market is primarily segmented on the basis of Type, By Application, By Component, and By Region.
By Drone Type

By Application

By Component

By Region

Rotary Blade
Fixed Wing
Hybrid

E-commerce
Quick Service Restaurants
Retail
Healthcare

Airframe
Propulsion System
Controller System
Camera & Sensors
Others

North America (U.S., Canada)
Europe (UK, France, Italy, Germany)
Asia Pacific (China, Japan, India, South Korea)
Latin America (Brazil, Mexico)
MEA (GCC Countries, South Africa)
Know more about this report: request for sample pages
Drone Type Outlook
Among types, the market is segmented into rotary blade, fixed wing, and hybrid. According to Polaris Market Research, in 2019 rotary blade was estimated to be the largest market. This is owing to its ease of use, higher payload capacity than fixed wings, and its VTOL capability which allows the operator to operate easily at the time of take-off from the ground.
Hybrid ones are expected to be the fastest growing type during the forecast period. Introduction of hybrid drones along with higher payload capacity than rotary blade and fixed wing, longer flight time, and increased efficiency.
Application Outlook
Among application, the market is segmented into e-commerce, retail, quick service restaurants (QSR), and healthcare. E-commerce is estimated to be the most dominant segment in the global delivery drone market and is expected to be the largest segment during the forecast period as well. This is owing to increasing adoption by delivery service providers for providing services in the last mile distance at remote locations. For example, many companies such as Amazon, Google, and UPS are testing the trials for home delivery of the parcel or goods to the customers. This is expected to be one of the major factors which is expected to create a healthy opportunity for major manufacturers to grab the market share during the forecast period.
In the quick service restaurants applications, delivery drones are deployed for a variety of application such as serving the food items to the customer's desk or send the food packages to nearby customers in any specific area. For example, in Finland, Switzerland, and Iceland the companies such as Wing, Flytrex, and Matternet are providing the services for retail supplies, food products, and medicines supply.
Component Outlook
Among component, the market is segmented into airframe, propulsion system, controller system, camera & sensors, and others which comprises of batteries, etc. Airframe was estimated to be the largest and fastest growing component type in 2019, and during the forecast period. The growth of this segment is majorly attributed to increasing research & development by maximum drone manufacturers in order to improve the overall efficiency by reduced weight, higher fuel efficiency, and higher durability across the world.
Regional Outlook
North America was estimated to be the most dominant region in 2019 and is expected to be the largest region during the forecast period of 2020-2026. The reason behind its dominance is the presence of largest drone sector throughout the world propelled by rising adoption of drone technologies in commercial and military applications for supplying of goods and medical supplies. Some of the logistics companies which provide drone-based delivery services in many states of the U.S. are FedEx, Wing, Flytrex, Volans-i, and UPS.
Asia Pacific is expected to be the fastest growing region during the forecast period for delivery drones globally. The growth of this region is fueled by increasing government initiatives towards adoption of this technology for supplies of e-commerce/retail, food, and medicine products across different urban and remote areas. For instance, in China and Japan companies such as Rakuten, JD.com, Ele.me, and SF Express are gaining the attraction of customers from their drone delivery services. In addition, in 2019, government of Vanuatu awarded a contract to Swoop Aero and Wingcopter to trial the use of drones for supplying lifesaving vaccines to children in remote rural islands. Furthermore, India is another major country in Asia Pacific which is expected to be one of the fastest growing countries in this region wherein Zipline is also expected to launch its drone delivery services around 2020.
Competitive Landscape
Vendors in this market and delivery drone service providers are continuously making efforts to cater industry's requirements by developing & testing a variety of delivery drones. For instance, in 2015, Alibaba Group Holding Ltd., tested its first ever drone delivery service to deliver whisk ginger tea for the customers of China in the major cities such as Beijing, commercial hub Shanghai, and Guangzhou in the south. Companies such as Airbus SE, CyPhy Works, DJI Technology Co. Ltd., Drone America, JD.com, Matternet, SKYCART Inc., The Boeing Company, and Zipline are some of the key players operating in the market.