The global digital scent technology market was valued at USD 996.6 million in 2020 and is expected to grow at a CAGR of 9.1% during the forecast period. The key factors driving the market growth are the development in E-nose technology with its increasing use in a device for disease indicative applications and growing demand for the technology in food & beverages industry for improved quality assurance.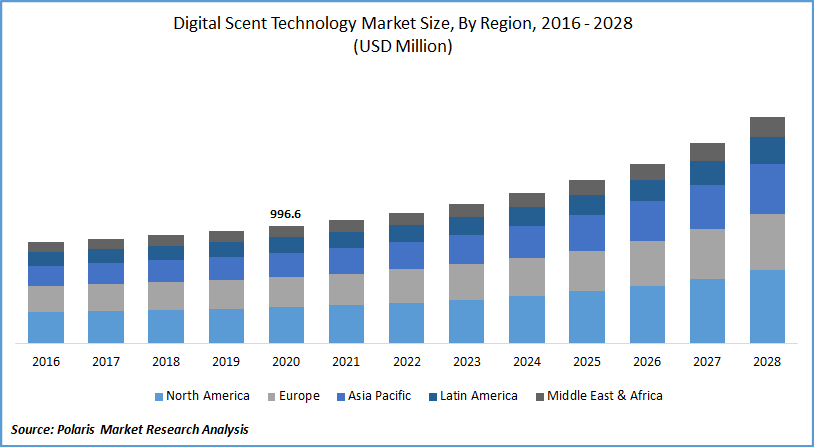 Know more about this report: request for sample pages
The technology is useful in the recognition of patterns for various gaseous. E-noses sense the change in air composition enabling it to identify a potential gas leak. It creates signal patterns that aids in detecting an exposed gas mixture thus can be used to categorize the need for medical treatment in crucial scenarios. It has given a thrust to growth for digital scent technology across the globe.
In recent years, E-noses are integrated into IoT sensors and devices. Major players in digital scent technology market are working towards developing low power consumption and low-cost IoT enables E-noses which is expected to drive growth for digital scent technology over the forecast period. The delay in the consecutive tests is up to a few minutes and, the device needs to be clean with a reactive agent which is a major threat for market development over the coming years.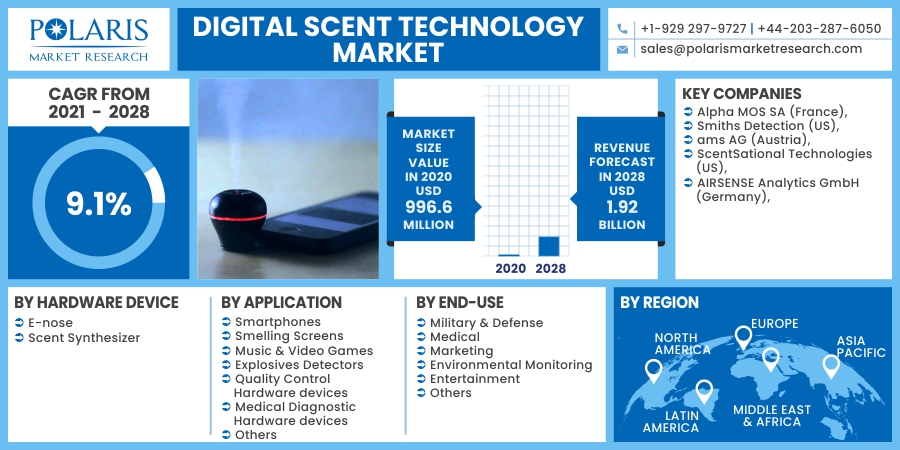 Know more about this report: request for sample pages
Digital Scent Technology Market Report Scope
The market is primarily segmented on the basis of hardware devices, application, end-use, and region.
By Hardware device

Application

By End-Use

By Region

Smartphones
Smelling Screens
Music & Video Games
Explosives Detectors
Quality Control Hardware devices
Medical Diagnostic Hardware devices
Others

Military & Defense
Medical
Marketing
Environmental Monitoring
Entertainment
Others

North America (U.S., Canada)
Europe (France, Germany, UK, Italy, Spain, Netherlands, Austria)
Asia Pacific (Japan, China, India, Malaysia, Indonesia. South Korea)
Latin America (Brazil, Mexico, Argentina)
Middle East & Africa (Saudi Arabia, UAE, Israel, South Africa)
Know more about this report: request for sample pages
Insight by Hardware Devices
The market is bifurcated into E-nose and scent synthesizers based on hardware devices. The industry was dominated by E-nose in the year 2020, due to its wide range of applications in healthcare, military & defense, and food and beverages. Technological development and reducing the cost of E-nose are aspects anticipated to fuel its growth for digital scent technology over the estimated period.
E-nose aids in maintaining the standard of raw ingredients in the food & beverages industry and thus use significantly for quality assurance. Increasing incorporation of E-noses for medical examination in the healthcare segments is expected to drive its demand over the coming years.
Scent synthesizer has promising growth potential in the coming years considering its use in generating and sensing various types of smells. The technological development is focusing on using scent synthesizers for transmitting and receiving scent for digital platforms such as movies, music, and media which gives a boost for its growth.
Insight by Application
Based on application, the industry is segmented into smelling screens, music and video games, smartphones, quality control hardware, explosive detectors, medical diagnostic hardware, and others. The market was dominated by medical diagnostic hardware in the year 2020, owing to its use in the early detection of crucial diseases.
The explosive detectors segment is anticipated to witness growth over the forecast period attributing to its extensive use in military & defense. An increasing number of bomb blasts from terrorist groups has created a significant demand for technology that can assist in detecting explosives effectively and quickly to minimize the damage. Explosive detectors are used by the military as well as the police force to identify explosives in war fields and in public areas to safeguard civilians.
Smelling screens have market potential across the globe in the coming years. Ecommerce is booming and adopting new technologies to cater to changing consumer demands. With the help of digital scent technology, buyers can smell the perfume virtually empowering them to make smart decisions. It acts as a catalyst for growth.
Insight by End-Use
The medical segment dominated with the largest share in the year 2020, owing to the integration of digital scent technology in a selection of effective technology for patients in medical diagnosis. The Healthcare sector is adopting new advanced technologies to deliver fast and effective results contributing to escalating the market demand.
The military & defense segment is expected to witness growth over the forecast period due to the rising demand for explosive detectors. It helps in detecting the bombs at higher accuracy and can be used in war fields as well as in public areas.
The increasing adoption of scent technology in environmental monitoring is anticipated to drive market growth in the upcoming years. It can be used to detect air quality using small sensors and has the capabilities to differentiate numerous gaseous and helps in simplifying the process.
Geographic Overview
North America was the market leader for digital scent technology in the year 2020, owing to the existence of several prominent players in the region. Increasing application of biosensors for primary detection of crucial diseases and enhanced digital services for shifting consumer demands is anticipated to fuel growth over the forecast period.
Stringent guidelines on air quality and development in E-nose for agricultural and medical applications is expected to further contribute to growth for the region. The U.S. has well established military and defense sector with the highest spending in the region which acts as a key driver for market development. Technological progress with advanced infrastructure is expected to boost the demand in the coming years.
Asia Pacific is projected to witness a high growth rate over the forecast period due to significant spending in R&D for developing high-end digital scent technology. Key industries in the region are focusing on integrating artificial intelligence to deliver efficient results which is anticipated to drive the market.
Competitive Insight
Key players in the digital scent technology market consist of Alpha MOS SA (France), Smiths Detection (US), ams AG (Austria), ScentSational Technologies (US), AIRSENSE Analytics GmbH (Germany), etc. Several startups are entering the market with innovative technologies. Industries are focusing on strategic partnerships, mergers, acquisitions, product development and innovations to dominate the market.
John Morris Group entered partnership with Alpha MOS SA in the year 2020 to effectively manage the distribution of sensory analysis solutions in New Zealand and Australia. ams AG an Australia-based company launched thinnest sensor for blood oxygen saturation measurement, to integrate with products such as wristbands, smartwatches, and oximeters.