The global digital transaction management (DTM) market size was valued at USD 1,095.4 million in 2017 and is anticipated to grow at a CAGR of 27.7% during the forecast period. Digital transaction management (DTM) is an important technological business application which facilitates a digital transformation of enterprises in terms of managing complex document processes. It has emerged as a new classification for digital solutions which are aimed at managing document-based transactions and its security.
Adoption of DTM provides organizations with several benefits such as an accelerated implementation of transaction processes, reduction in operational costs, and eradication of errors from transactions involving documents, people, and data. Other benefits associated with DTM include providing enterprises with the capability of eliminating resistance in transactions by creating simpler and quicker processes with additional convenience and security.
The increasing push and inclination for transforming various business processes to a completely digital platform in multiple industry verticals such as banking, real estate, healthcare, education, and the government provides a tremendous potential for the growth of digital transformation market. This drive towards digital transformation along with overcoming of traditional complications involving proper authentication and compliance, misplacing/loss of documents and data, and absence of workflow clarity is expected to further supplement the growth in this market.
Increase in adoption of cloud services and the establishment of security frameworks for cloud-based management of data are other factors which positively impact the digital transaction management (DTM) market potential. However, exposure to cyber-attacks and risks including digital fraudulent transactions are daunting challenges witnessed in the digital transaction management market.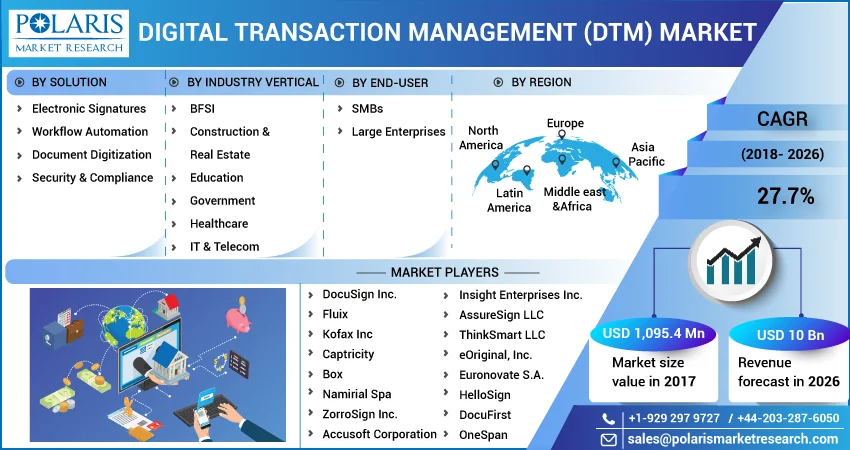 Segment Analysis
The global digital transaction management market is segmented on the basis of solution, end user, industry vertical, and region. Based on solution, the market is segmented into electronic signatures, workflow automation, document digitization, security & compliance, and others. Industry vertical segment is divided into BFSI, construction, education, government, healthcare, IT & Telecom, and others.
The existing inclination of banking and financial services industry towards digital platforms' adoption along with increasing drive and importance across other industry verticals towards digital transformation, provides significant opportunities for digital transaction management market growth in the near future. SMBs and large enterprises are covered in the end user segment of this report. In terms of solutions, market for electronic signatures sub segment is observed to be in leading position and is projected to continue its dominating position throughout the forecast period.
Regional Analysis
Commercial adoption of cloud based digital services across regions is a major factor responsible for the growth in this market. This digital transaction management market report comprises a detailed geographic distribution across North America, Europe, Asia Pacific. North America is further segmented into U.S., and Canada. Europe is divided into Germany, UK, Italy, and France. Asia Pacific regional segment is bifurcated into China, Japan. North America presently leads the digital transaction market in terms of market share due to organized technological availability and inclination towards quick adoption of latest digital technologies in this region.
Competitive Analysis
The leading players in the digital transaction management market include DocuSign Inc., Fluix, Kofax Inc., Captricity, Box, Namirial Spa, ZorroSign Inc., Insight Enterprises Inc., AssureSign LLC, ThinkSmart LLC, eOriginal, Inc., Euronovate S.A., HelloSign, DocuFirst, OneSpan, Accusoft Corporation. The leading players in the market have innovative offerings catering to growing consumer demands from different industry verticals. Global players are entering new markets in developing regions to expand their customer base and strengthen market presence.