The global eggshell membrane market was valued at USD 109.7 million in 2020 and is expected to grow at a CAGR of 8.9% during the forecast period. Eggshell membrane is a thin extracellular lining inside the calcified eggshell, which has important naturally occurring nutrients. The eggshell membrane serves as a protection guard against micro-organism. It is regarded as an important source of calcium, which is an important mineral required for bone density, and has collagen type I, bioactive elements, chondroitin, and hyaluronic acid, among others.
Know more about this report: request for sample pages
Eggshell membrane due to its natural presence and high levels of elastin, keratin, and hyaluronic acid. These are suitable for skin and hair growth, bringing together essential elements of hydration, and also prove excellent for promoting joint health as they have dietary proteins, minerals, acids, and enzymes.
Moreover, eggshell membrane powder is regarded as a key ingredient to control aging, which further uptake its penetration in the cosmetics market. Product is also essential for skin and joints pets and fulfills the important requirement of the pet food industry.
Key factors responsible for the eggshell membrane market growth include growing consumer awareness regarding the nutritional benefits, the significance of the high potential ingredients across various industry verticals and increasing investments by the food ingredients company.
Its consumption pattern is majorly found in cosmetics, nutraceuticals, and dermatological products. It is perceived as a natural elixir for the treatment of arthritis and is used in different drug candidates. Presently, the eggshell membrane is mostly being used in a wide range of products and services with enormous health benefits.
The U.S. is one of the important countries involved in the manufacturing of eggshell membrane, owing to its nutritional value in the food industry. Moreover, the country is projected to account for a significant share of the eggshell membrane industry and is expected to continue to do so in coming years due to rapid advancements in the pharmaceutical market and the presence of key ingredients.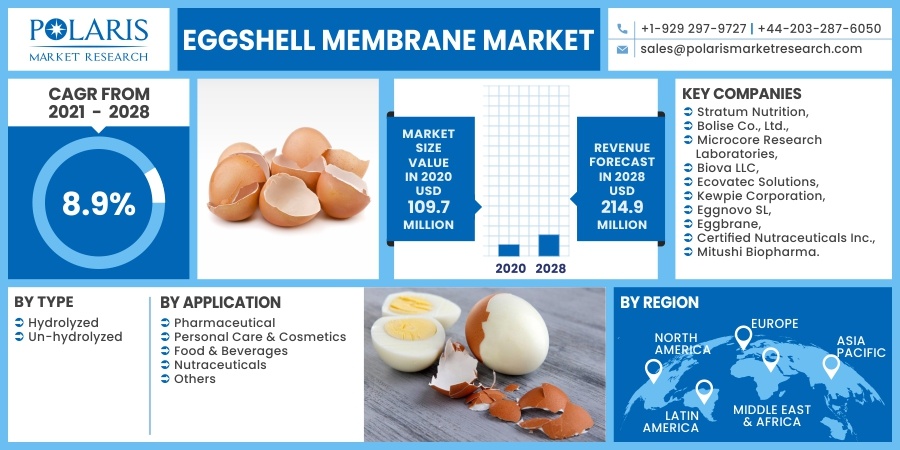 Know more about this report: request for sample pages
Eggshell Membrane Market Report Scope
The market is primarily segmented on the basis of type, by application, and geographic region.
By Type

By Application

By Region

Pharmaceutical
Personal Care & Cosmetics
Food & Beverages
Nutraceuticals
Others

North America (U.S., Canada)
Europe (France, Germany, UK, Italy, Spain, Netherlands, Austria)
Asia Pacific (Japan, China, India, Malaysia, Indonesia, South Korea)
Latin America (Brazil, Mexico, Argentina)
Middle East & Africa (Saudi Arabia, UAE, Israel, South Africa)
Know more about this report: request for sample pages
Insight by Type
Hydrolyzed eggshell membrane segment accounted for the largest market share, in 2020. This high share is attributed to its mass availability, optimum concentration, and high composition in the membrane. Moreover, the presence of significant producers in the developed economies is boosting the market growth for eggshell membranes.
These eggshell membranes are used in several industries, as they contain the highest content of the membrane. The membrane consists of a huge number of bioactive compounds, which are involved in the physiology of skin, hair, and nails. Both the demand and supply sides have the highest preference of this type. Hence, the market segment of eggshell membrane industry is likely to dominate over the assessment period.
Insight by Application
In 2020, the food & beverages eggshell market segment accounted for the largest share. This high share is due to the high use of an eggshell membrane in dietary supplements to increase the final product's nutrient value and its ability to treat a chronic health condition and joint health. It is an important source of calcium in the food & beverage market and is gaining momentum among manufacturers to direct their investments to this naturally occurring component, which assures huge benefits.
Geographic Overview
In 2020, the North America eggshell membrane market accounted for a significant share of the global market. Consumers in the region are very health conscious, affordability and rising market demand for nutritional supplements are the prominent regional factors, boosting the market growth. Moreover, the keen interest of big players in exploiting the potential of egg membranes with heavy investments in technology and bolstering supply chain networks.
Asia Pacific eggshell membrane industry is projected to register a significant market growth over the assessment period. This growth is attributed to the presence of mid and smaller companies, cheaper procurement of raw materials, and huge availability of manpower. Moreover, rising consumer awareness of its benefits in several industries is expected to drive the segment's market growth forward. The booming export scenario and surplus manufacturing also favoring the market growth.
Competitive Insight
The prominent players operating in the market for eggshell membranes include Stratum Nutrition, Bolise Co., Ltd., Microcore Research Laboratories, Biova LLC, Ecovatec Solutions, Kewpie Corporation, Eggnovo SL, Eggbrane, Certified Nutraceuticals Inc., and Mitushi Biopharma.