The global electric traction motor market size is anticipated to grow at a CAGR of 16.7% from 2018 to 2026. Electric traction motor is gaining popularity in several locomotive engine types and in electric vehicles. Trains, in the present time are powered by the most refined energy source i.e. electricity, which is costly in production, distribution and even transmission. The product plays an important role in offering solution to reduce the use of electricity in trains. Industry participants are offering traction motors that adapt perfectly to actual operating conditions, hence enabling sustainable energy reductions. With time, product manufactures have been focusing on improving the efficiency of these motors to save higher amount of energy on locomotives. Moreover, improving efficiency has also significantly influenced its maintenance cost, as recently developed totally enclosed traction motors requires less maintenance compared to the conventional ones. Therefore, demand along with its availability and use of high efficiency electric traction motor are expanding fast.
These high-tech instruments that were primarily designed to be used in rail vehicles are required to be small enough to be housed in a limited space under the vehicle floor and should be light enough to relieve the impact applied to the tracks. Hence, with its increasing popularity and application in locomotives and in the present industry's energy efficiency trends, manufacturers are focused on designing these products with attachment to reduction of its size and weight rather than losses in the motor, to formulate the maximum output while achieving highest efficiency. In the present industry space, companies have been able to formulate several technological up gradations to enhance its efficiency with launch of more advanced equipment model every time when they innovate something new. As choice of material of traction motors play a significant role, several models of these types of induction motors are made with high performance materials such as low-less electrical steel sheet and low-resistivity conductors. These products have been gaining much popularity in the current industry scenario owing to its contribution towards a sustainable energy utilization source with increase in its application industries stretching to even in automobiles, conveyors and industrial machinery.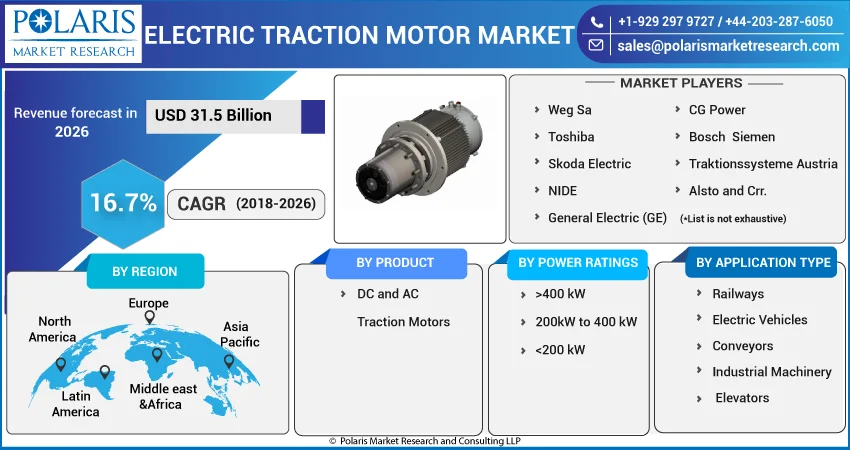 Segment Analysis
The global electric traction motor industry is segmented based on product type, power ratings, application and regional markets. Product or motor types are further segmented into DC and AC traction motors. The power rating segment is also divided into three groups including >400 kW, 200 kW to 400 kW and <200 kW segments. Application category is broadly segmented into railway, electric vehicles and others that include conveyors and industrial machinery. Railway segment is further segmented into three engine types (including electric, diesel and electric-diesel), rapid transit vehicles (electric multiple units, diesel multiple units, light rail vehicles, metro and subways trains), and railroad cars (including freight wagons and passenger coaches). The electric vehicle segment is further bifurcated into battery electric vehicles, hybrid electric vehicles, plug-in-hybrids and fuel cell vehicles.
The railway application sector was the largest segment in 2017. Electric traction motor were conventionally designed for its use in railway engines, but in the present industry scenario these equipments have made their way to the automotive industry as well which is the second largest end use segment. DC motors were the mainstay of electric traction drives for both the electric and electric-diesel engines. However, the modern locomotive engines use more of the AC motors as modern power electronics has eased the use of these equipments and has become the preferred type.
The modern AC motors are more efficient over the DC traction motors, however these are still used widely in several geographies and depending on operational requirements. The currently advanced electronic systems allow the control of AC motors more effectively to improve both traction and adhesion along with their robustness and ease of maintenance.
Regional Analysis
Asia Pacific was the largest regional market in 2017. China, Japan and India are the major manufacturers and even the consumers in the region. China's current plans to increase intercity rail networks , possibly reaching 93,000 miles by 2020, along with mushrooming subway and light rail lines, the country is anticipated to account for over half of the global rail equipment expenditures in the next five years. Around 70 – 90 percent of the rail equipments are to be manufactured domestically as per the current plans. Such significant investment space provides the electric traction manufacturing industry to develop and grow to its potential.
Germany is yet another globally leading rail and transit manufacturing markets. The country's rail and associated equipment manufacturing industry has been leading the worldwide industry technology underpinned by strong internal demand and even larger export sales. It contributes primarily to the European electric traction motor manufacturing industry.
Competitive Analysis
Some of the leading industry participants include Weg Sa, Toshiba, Skoda Electric, NIDE, General Electric (GE), CG Power, Bosch, Siemen, Traktionssysteme Austria, Alsto and Crr.