The global exosome research market was valued at USD 163.5 million in 2021 and is expected to grow at a CAGR of 31.5% during the forecast period.
The market is expanding quickly in terms of revenue due to a variety of factors, including the rising incidence of cancer, significant scientific developments in exosome technology and research, efficient technology for the separation, characterization, and component identification of exosomes, and an increase in clinical studies and research in the area of exosome-based research.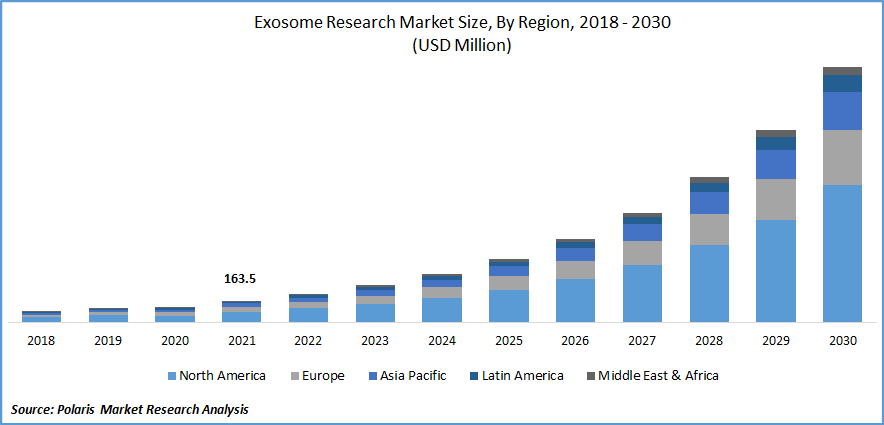 Know more about this report: Request for sample pages
It is anticipated that R&D investment in nanovesicles, essential for intercellular communication, will rise dramatically. As the significance of exosome roles in pathophysiological disease pathways has come to light, more and more exosomes are being created for the treatment and diagnostics of disease.
The rising incidence of cancer, improvements in exosome separation and analysis techniques, and an increased number of sophisticated exosome applications are reasons for boosting the market growth.
The increased need for exosomes correlates with the rising number of cancer patients. 19.29 million Individuals worldwide were estimated to be living with cancer as of the GLOBOCAN 2020 study, and this figure is projected to increase over the following 20 years. Additionally, the American Cancer Society predicts that in 2021, there may be 1,898,160 new cases of cancer diagnosed in the country, and there may be 608,570 cancer-related deaths.
The FDA has not yet approved any antiviral medications for COVID-19, Hence is urgently necessary to create efficient therapeutic approaches to prevent SARS-CoV-2 infections. Numerous methods, such as novel exosome-based therapeutics, have been studied. In addition, the pandemic has sparked a resurgence of interest among researchers in exosomes' potential applications. As a result, research is now focused on creating safe and effective treatments to treat disorders linked to COVID-19.
To assess the security of exosome-based therapy options on COVID-19-positive patients, seven clinical trials have been submitted as of December 2021. For instance, According to a Vitti Labs, LLC report published on June 2022, clinical trial.gov, novel therapies must be created to further improve clinical outcomes. In order to treat COVID-19 patients with moderate to severe ARDS, the aim of this study is to investigate the safety and advantages of administering WJPure and EVPure intravenously.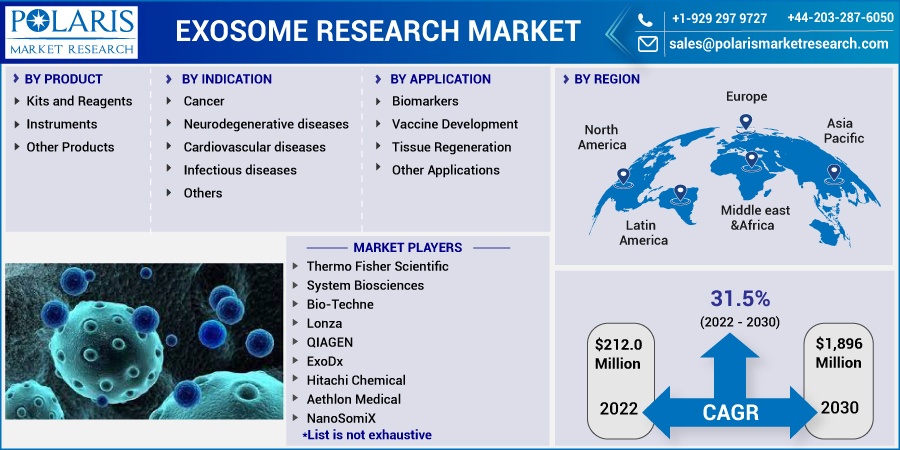 Know more about this report: Request for sample pages
Industry Dynamics
Growth Drivers
Exosomes can be used as a treatment platform for various illnesses, including COVID-19. Exosomes are cell-free treatments for a variety of diseases and for tissue regeneration. Furthermore, the expansion of this market is also fueled by factors such as most pharmaceutical, biopharmaceutical, and medical device firms investing heavily in creating novel medications and technologies. R&D is important to the pharmaceutical sector. Pharmaceutical businesses spend in R&D to bring the market cutting-edge, high-quality goods.
More than 6,000 items are presently being examined in clinical trials globally, which represents a 68% increase over 2016, according to the Pharmaceutical R&D spending trends in 2022 report. With over 40% of the pipeline, oncology is the discipline with the greatest number of experimental treatments. In the past two years, the US venture capital market has seen an increase in deal activity and investment flow. Over 2,000 transactions worth $47 billion occurred in 2021. More than $133 billion, a record amount, was invested in R&D by the top 15 pharmaceutical companies in 2017, up from more than 44% in 2016.
Report Segmentation
The market is primarily segmented based on product, indication, application, and region.
By Product

By Indication

By Application

By Region

Kits and Reagents
Instruments
Other Products

Cancer
Neurodegenerative diseases
Cardiovascular diseases
Infectious diseases
Others

Biomarkers
Vaccine Development
Tissue Regeneration
Other Applications

North America (U.S., Canada)
Europe (France, Germany, UK, Italy, Netherlands, Spain, Russia)
Asia Pacific (Japan, China, India, Malaysia, Indonesia, South Korea)
Latin America (Brazil, Mexico, Argentina)
Middle East & Africa (Saudi Arabia, UAE, Israel, South Africa)
Know more about this report: Request for sample pages
Kits & reagents segment will be the industry's largest market segment in 2021
In 2021, the kits and reagents section was the largest contributor to sales. Exosomes must be precisely characterized since circulating exosomal microRNAs provide significant potential as biomarkers. As a result, easy-to-use kits and reagents have been developed, encouraging the use of these items in exosome research. The essential processes of isolation and purification are also required for exosome research approaches, hastening their general commercialization.
For instance, Exosome and EV heterogeneity is addressed by standardized exosome separation kits that offer an easy, repeatable method for isolating EVs. These kits can be used to extract exosomes and EV from a variety of biological fluids, including serum, plasma, and blood.
Exosomes are also purified using affinity purification and spin-column technology, which outperform conventional isolation techniques such as density gradient centrifugation and ultracentrifugation. With this technology, it is simple to generate high yields of exosomes and other extracellular vesicles from a highly pure cell culture medium.
Neurodegenerative disease segment will account for a higher share of the market.
The market for neuro-degenerative diseases contributed significantly to global revenue in 2021. Neurodegenerative diseases continue to be the leading cause of disability and mortality, as well as a substantial financial burden on healthcare systems. Exosomes are involved in intercellular communication, myelin sheath maintenance, and waste disposal from the nervous system.
According to a United Nations report, as the world's population ages, the number of dementia cases in developed countries is expected to rise from 13.5 million in 2000 to 21.2 million in 2025 to 36.7 million in 2050. This increase is expected to be attributed to an increase in the incidence of neurodegenerative diseases, advancements in exosome separation and analysis techniques, and an increase in the number of sophisticated exosome applications. Parkinson's disease, amyotrophic lateral sclerosis, spinal muscular atrophy, and Alzheimer's disease collectively cost USD 655 billion annually in 2020.
Biomarkers is expected to hold the significant revenue share
The biomarker segment contributed significantly to sales in 2021. Blood, urine, and saliva are three readily available physiological fluids from which exosomes can be extracted, supporting their use as biomarkers in the diagnosis and treatment of disease. Growth hormones and anti-apoptotic proteins, among other exosome protein markers, are present in oncogenic cells from many cancer types, including colon, breast, and melanoma.
Tetraspanins and CD63 are two molecules whose levels are significantly increased in melanoma patients. Additionally, certain cancer cells secrete extracellular vesicles that include growth factors like VEGF and anti-apoptotic proteins like surviving to encourage angiogenesis in the tumor microenvironment. Exosomal biomarkers are still in the infancy of discovery and development, and their clinical diagnostic potential has not yet been thoroughly explored. Exosomes are also employed in developing COVID-19 viral vaccines, which accounts for the segment's quick growth.
The demand in North America is expected to witness significant growth
North American region maintains one of the largest shares in the global exosomes market thanks to its excellent healthcare infrastructure, effective public regulations, a sizable population of multinational enterprises, and a high degree of public awareness regarding diagnostics and healthcare. Many government-funded research studies have been conducted regarding the use of exosome-based drugs in treating a variety of cancers, including melanoma, breast cancer, lung cancer, and pancreatic cancer.
For instance, an Exosome-based therapeutic method for treating colorectal cancer was introduced in April 2021 thanks to a partnership between EV Therapeutics and the University of Minnesota Medical School. The development of an exosome-based therapeutic approach would secure its use in diagnostic facilities and hospitals for promptly treating patients with colorectal cancer. Over the course of the projection period, small businesses flooding the market and accelerating the development of cutting-edge technologies and novel platforms may potentially fuel market expansion.
Competitive Insight
Some of the major players operating in the global market include Thermo Fisher Scientific, System Biosciences, Bio-Techne, Lonza, QIAGEN, ExoDx, Hitachi Chemical, Aethlon Medical, NanoSomiX, Malvern Panalytical, Sistemic Scotland Limited, NX PharmaGen, Miltenyi Biotec, AMS Biotechnology, Norgen Biotek, Novus Biologicals, BioVision, Pall Corporation, Exopharm, and EverZom.
Exosomes Research Market Report Scope
| | |
| --- | --- |
| Report Attributes | Details |
| Market size value in 2022 | USD 212.0 million |
| Revenue forecast in 2030 | USD 1,896 million |
| CAGR | 31.5% from 2022 - 2030 |
| Base year | 2021 |
| Historical data | 2018 - 2020 |
| Forecast period | 2022 - 2030 |
| Quantitative units | Revenue in USD million and CAGR from 2022 to 2030 |
| Segments Covered | By Product, By Indication, By Application, By Region |
| Regional scope | North America, Europe, Asia Pacific, Latin America; Middle East & Africa |
| Key Companies | Thermo Fisher Scientific, System Biosciences, Bio-Techne, Lonza, QIAGEN, ExoDx, Hitachi Chemical, Aethlon Medical, NanoSomiX, Malvern Panalytical, Sistemic Scotland Limited, NX PharmaGen, Miltenyi Biotec, AMS Biotechnology, Norgen Biotek, Novus Biologicals, BioVision, Pall Corporation, Exopharm, and EverZom. |