The global federated learning market was valued at USD 110.82 million in 2021 and is expected to grow at a CAGR 10.7% during the forecast period. It is a decentralized method of ML. In ML the data is trained that is accumulated from various edge gadgets such as smart phones, tablets, laptops, and so on, and is further grouped into a centralized server, and the algorithms read the data on its own and generates the data on itself.

Know more about this report: Request for sample pages
However, this technique guides an algorithm through various decentralized edge servers carrying local data, without substituting it. Moreover, this technique is the junction of blockchain, artificial intelligence, and cloud computing, and Internet of Things (IoT).
One of the important parameters of the market is that the approaches ensure data privacy, as local data is not uploaded on any external server. Therefore, there are less or no chances of data hacking. The algorithm of this technique is used across various application such as transportation, smart manufacturing, digital health, and others.
In the transportation sector, the market is run on self-driving cars, wherein it helps in providing a solution for reducing data transfer volume and quickening learning methods. Likewise, for smart manufacturing, this method is used for Industry 4.0. AI services designed by leading players offer a convenient solution for several purposes and workflows.
AI services simply address general use cases, for instance, improving safety and security, increasing customer engagement, and personalizing recommendations. AI-infused instant messaging apps, chatbots, and relevant smart tools can be used by service providers to provide tailored customer experiences. Innovative AI services allow airlines to quickly design, deliver, and reiterate state-of-the-art solutions & services.
The various benefits associated with ML, such as elimination of unnecessary costs and complex defect identification, make ML a powerful tool and enhance the adoption rate among various fields such as natural language processing, social network filtering, bioinformatics, speech recognition, computer vision, weather prediction, handwriting recognition, oil-exploration data analysis, facial recognition, audio recognition, and others. Increase in areas of application for ML solutions is expected to create lucrative opportunities for market growth. In addition, technological advancement in data analytics is expected to cause robust adoption of the market, which would create demand among several enterprises.
The COVID-19 pandemic had a positive impact on the global federated learning market and its opportunities. AI and ML technologies predicted and analyzed the threats across the nation for COVID-10 outspread. Moreover, artificial intelligence has a vital role in the future prediction of COVID-19 across the globe with the help of real-time data.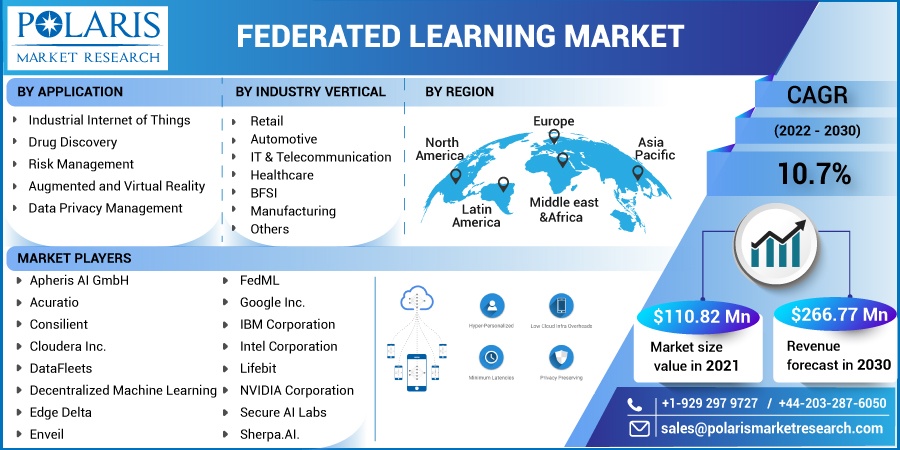 Know more about this report: Request for sample pages
Industry Dynamics
Growth Drivers
The market demand for the global federated learning is primarily driven by the increased need to improve learning between devices and organizations. Moreover, rising need to allow predictive methods without hacking any personal information is likely to boost the federated learning industry during the forecast period.
Furthermore, greater concerns associated with data privacy and security has boosted the adoption of federated learning. Technologies such as artificial intelligence and ML have revolutionized the automotive industry. The human interaction in driving a vehicle has minimized as compared to the last decade.
Car keys are estimated to become obsolete, and vehicles are expected to be controlled by mobile phones. In the current scenario, a mobile phone is utilized to book taxis, track down vehicles, open or start cars, which enhances the user experience due to requirement of minimal efforts and convenience. Greater development of autonomous vehicles in the coming years is expected to increase the adoption of federated learning.
Report Segmentation
The market is primarily segmented based on application, industry vertical, and region.
By Application

By Industry Vertical

By Region

Industrial Internet of Things
Drug Discovery
Risk Management
Augmented and Virtual Reality
Data Privacy Management
Others

Retail
Automotive
IT & Telecommunication
Healthcare
BFSI
Manufacturing
Others

North America (U.S., Canada)
Europe (France, Germany, UK, Italy, Netherlands, Spain, Russia)
Asia Pacific (Japan, China, India, Malaysia, Indonesia. South Korea)
Latin America (Brazil, Mexico, Argentina)
Middle East & Africa (Saudi Arabia, UAE, Israel, South Africa)
Know more about this report: Request for sample pages
Industrial Internet of Things to account for a significant share in 2030
By application, the federated learning market is segmented into industrial internet of things, drug discovery, risk management, augmented and virtual reality, data privacy management, and others. The market for industrial internet of things is expected to hold a significant share in 2030 owing to the rising technological advancements in the developing economies, and adoption of big data analytics.
Advantages offered by industrial internet of things such as greater productivity, decreased costs, and implementation of new business models supports the growth of federated learning in this segment. In addition, increase use of federated learning in the healthcare sector is further expected to offer growth opportunities during the forecast period.
Automotive segment is expected to be the fastest growing segment during the forecast period
By industry vertical, the federated learning market is segmented into retail, automotive, IT & telecommunication, healthcare, BFSI, manufacturing, and others. Among this automotive is expected to be the fastest growing segment during the forecast period.
Rising economy and increasing population in developing countries are the factors causing an increase in the usage of automobiles. Moreover, rise in adoption for artificial intelligence (AI) enabled federated education technique and increase in the level of vehicle automation drives the growth of the segment. Furthermore, self-driving vehicles save cost, lower fuel emissions, and minimize the chances of road accidents, which are expected to enhance the potential market.
Moreover, federated learning in manufacturing segment is also garnering market share. Developments in AI technology are expected to support aerospace organizations in improving their engineering processes. After merging with AI, generative design programming can allow product designers to assess numerous design options in a short span of time.
Exploiting this innovation, designers can produce new products that are economical and lightweight. Artificial intelligence-powered design coupled with 3D printing technology can be applied to manufacture several aircraft parts, such as turbines and wings. Hence, application of federated education can restructure design and manufacturing systems.
Europe region will lead the global federated learning market by 2030
The European region is expected to account for larger share in the federated learning market. This is due to the scarcity of workforce and speedily emerging biomedical and healthcare industries in the European region. Further, healthcare sector will boost in the Europe owing to the increasing population and lack of proper healthcare workers, leading to greater adoption of technologies such as artificial intelligence.
Likewise, there is an increasing demand for federated learning in drug discovery, since the field is vast, and sorting of data is extremely tedious. Federated learning is used to decentralize this data.
Competitive Insight
Some major players operating in the global market include Apheris AI GmbH, Acuratio, Consilient, Cloudera Inc., DataFleets, Decentralized Machine Learning, Edge Delta, Enveil, FedML, Google Inc., IBM Corporation, Intel Corporation, Lifebit, NVIDIA Corporation, Secure AI Labs, and Sherpa.AI.
The leading players in the market are investing in geographic expansion and strengthening market presence through partnerships and collaborations. Development of new and technologically advanced solutions also assist these companies in enhancing product offerings in the market.
Recent Developments
In June 2022, Intel Corporation entered into a collaboration with Aster Innovation and Research Centre and CARPL for providing a secure federated education platform. This mutual collaboration will help in boosting innovation in industries such as diagnosis, genomics, drug discovery, and predictive healthcare.
In November 2021, NVIDIA Corporation announced introduction of federated learning technique by open sourcing a product, which is a software development kit, NVDIA Flare. This was undertaken for companies to develop artificial intelligence model.
In April 2021, IBM Corporation underwent product development on the Watson AI technology, to offer new federated education capabilities for applying ML techniques and offering greater level of data privacy and regulatory compliance.
Federated Learning Market Report Scope
| | |
| --- | --- |
| Report Attributes | Details |
| Market size value in 2021 | USD 110.82 million |
| Revenue forecast in 2030 | USD 266.77 million |
| CAGR | 10.7% from 2022 - 2030 |
| Base year | 2021 |
| Historical data | 2018 - 2020 |
| Forecast period | 2022 - 2030 |
| Quantitative units | Revenue in USD million and CAGR from 2022 to 2030 |
| Segments covered | By Application, By Industry Vertical, By Region |
| Regional scope | North America, Europe, Asia Pacific, Latin America; Middle East & Africa |
| Key companies | Apheris AI GmbH, Acuratio, Consilient, Cloudera Inc., DataFleets, Decentralized Machine Learning, Edge Delta, Enveil, FedML, Google Inc., IBM Corporation, Intel Corporation, Lifebit, NVIDIA Corporation, Secure AI Labs, and Sherpa.AI. |