The global gifts retailing market was valued at USD 18.41 billion in 2022 and is expected to grow at a CAGR of 3.26% during the forecast period. Rising disposable income is having a significant impact on the growth of the gift retailing market in several ways. As disposable incomes increase, consumers have more money to spend on gifts and other luxury items, driving demand for the gift retailing market. As disposable incomes rise, consumers are becoming more interested in high-end gifts, such as jewelry, luxury goods, and other premium products, driving the growth of the gift retailing market. According to projections by Trading Economics, India's disposable personal income will equal INR 1.2 billion by 2023. This signifies a wide range of opportunities for growth and demand for the gift retailing market.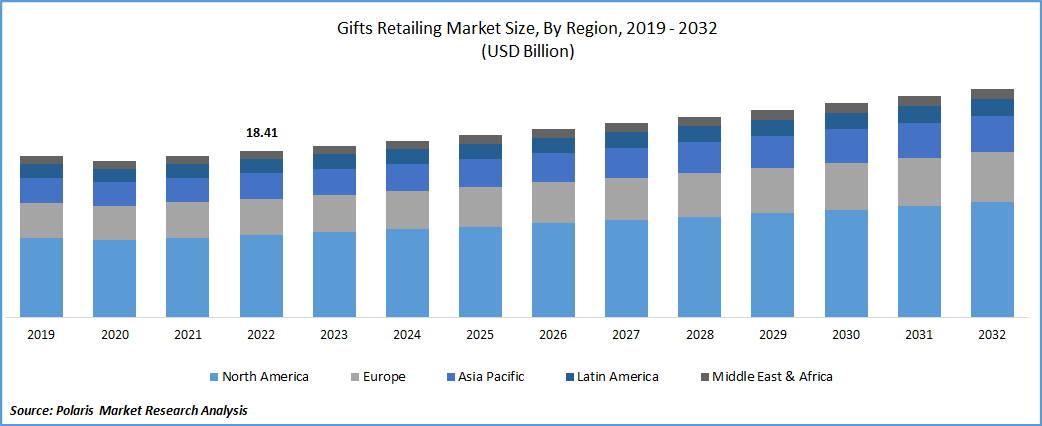 Know more about this report: Request for sample pages
It is expThen of distribution channels, and the rising popularity of gift-exchanging would drive market expansion. In the upcoming years, the need for seasonal decor and greater social media marketing will drive market expansion. R&D activities are expanding, gifts are evolving, and there are more occasions like weddings, birthdays, and anniversaries. It is predicted that such widespread product use will boost market performance.
They are growing consumer awareness of the tradition of giving gifts and rising product sales during holidays like Halloween, Christmas, Hanukkah, and Easter. Market expansion is anticipated to be fueled by increasing sales of personalized presents and a growing desire to give gifts. In addition, increased manufacturing of fragrances and cosmetics and high demand for personal products are anticipated to fuel gifts retailing market growth. Increased demand for customized presents such as polarized sunglasses, wigs, and toys will spur future expansion.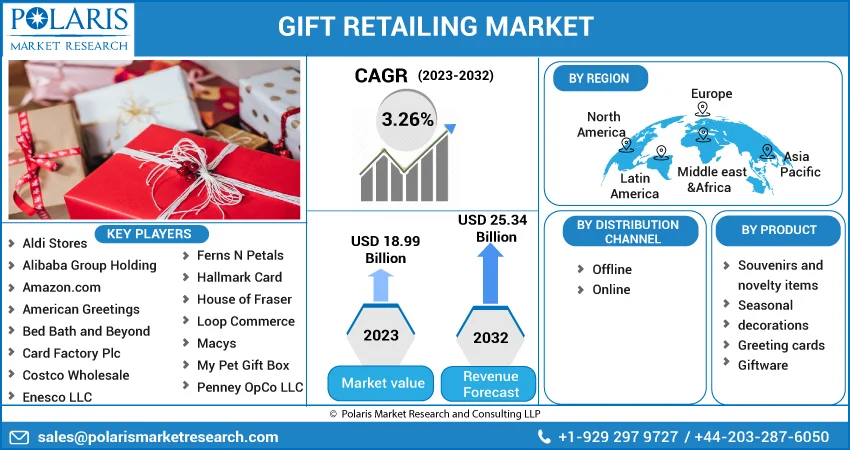 Know more about this report: Request for sample pages
Industry Dynamics
Growth Drivers
As incomes rise, consumers are more likely to spend money on gifts for themselves and others, driving growth in the gift retailing market. This is creating new opportunities for the gift retailing products demand in the coming future. The increasing popularity of online shopping has made it easier for consumers to purchase gifts from the comfort of their own homes, leading to increased sales and gifts retailing market growth.
Gift-giving is an important part of many cultures, and social trends, such as the increasing popularity of experiences over material possessions, can influence the types of gifts consumers choose to purchase. The use of technology in the gift retailing industry, such as the use of augmented reality for product visualization, has made the shopping experience more interactive and appealing, driving the market's growth. The trend towards personalized and customized gifts is growing as consumers seek unique and meaningful gifts for themselves and others. This trend is driving growth in the gift retailing market as retailers offer more options for customization. Gift-giving is often tied to special occasions and events, such as holidays, birthdays, and weddings, which drive demand in the gift retailing market.
Report Segmentation
The market is primarily segmented based on product, wax type, distribution channel and region.
By Distribution Channel

By Product

By Region

Souvenirs and novelty items

Seasonal decorations

Greeting cards

Giftware

North America (U.S., Canada)

Europe (France, Germany, UK, Italy, Netherlands, Spain, Russia)

Asia Pacific (Japan, China, India, Malaysia, Indonesia. South Korea)

Latin America (Brazil, Mexico, Argentina)

Middle East & Africa (Saudi Arabia, UAE, Israel, South Africa)
Know more about this report: Request for sample pages
Offline distribution channel is expected to witness fastest growth during forecast period
The offline distribution channel, such as brick-and-mortar stores, plays a significant role in the market's growth. These stores offer customers the opportunity to physically touch and see products before making a purchase, which can lead to increased customer satisfaction and loyalty. Additionally, physical stores in communities can increase brand visibility and awareness, leading to higher foot traffic and sales. In-store events and promotions can also drive traffic and sales, making the offline distribution channel a valuable tool for gift retailers to reach customers and boost the market growth.
Souvenirs and novelty items accounted for the highest growth in 2022
The souvenirs and novelty items segment is expected to grow more in the coming years. They play an important role in the growth of the gift retailing market by providing customers with unique and memorable products. These items often have a strong emotional appeal and sentimental value, making them popular choices for gifts and personal keepsakes. Additionally, souvenirs and novelty items are often associated with travel and cultural experiences, which can make them appealing to a broad customer base. As more consumers seek memorable and meaningful gifts, the demand for souvenirs and novelty items will likely continue to drive growth in the gift retailing market. Furthermore, these items are often priced affordably, making them accessible to a wide range of customers and adding to their appeal as gift options.
The demand in North America is expected to have a largest revenue share during forecast period
North America will experience the largest revenue share throughout the forecast period. The region has a high disposable income, a large consumer base, and a strong culture of gift-giving, which creates a favorable environment for gift retailers. According to Trade Economics, the US reached an all-time high disposable income of 21,826.63 USD Billion in 2021. This will propel the market demand in the upcoming years. Additionally, the growth of e-commerce in North America has made it easier for consumers to purchase gifts from the comfort of their own homes, leading to increased sales and market growth. The presence of major retail players, established brands, and a well-developed infrastructure also contribute to the region's growth.
Asia Pacific is expected to have a higher growth rate in the market in the coming years. The region, particularly countries such as China and India, is experiencing rapid economic growth and a rising middle-class population, driving the demand for gifts. According to a poll conducted by financial research firm PRICE, the percentage of middle-class households with an annual income of INR 5-30 lacs doubled from 14% in 2004–05 to around 31% in 2021 & it is expected to reach nearly 63 percent by 2047. The middle class will double among Indians—almost one-third—in 25 years. Additionally, increasing disposable incomes and changing consumer preferences towards more personalized and unique gifts are also contributing to the market growth in this region.
Competitive Insight
Some of the major players operating in the global market include Aldi Stores, Alibaba Group, Amazon.com, American Greetings, Bed Bath and Beyond, Card Factory, Costco Wholesale, Enesco, Ferns N Petals, Hallmark Card, House of Fraser, Loop Commerce, Macys, My Pet Gift Box, Penney OpCo, Shutterfly, Spencer Gifts, Walt Disney, Walmart and Williams Sonoma.
Recent Developments
In January 2023, Aldi inaugurated three new stores as part of a continuing, ambitious development strategy that has seen the German discounter create more than 1,000 new markets in the last ten years. Two of the three recent locations are in Missouri.

In January 2023, Enesco, a pioneer in the market-places for gifts, home accessories, & collectibles, was sold to Ad Populum. With this deal, Enesco, its artist partners, hundreds of independent shops, and its cherished end customers are all expected to be better off in the future.
Gifts Retailing Market Report Scope
| | |
| --- | --- |
| Report Attributes | Details |
| Market size value in 2023 | USD 18.99 billion |
| Revenue forecast in 2032 | USD 25.34 billion |
| CAGR | 3.26% from 2023 - 2032 |
| Base year | 2022 |
| Historical data | 2019 - 2021 |
| Forecast period | 2023- 2032 |
| Quantitative units | Revenue in USD billion and CAGR from 2023 to 2032 |
| Segments covered | By Distribution Channel, By Product, By Region |
| Regional scope | North America, Europe, Asia Pacific, Latin America; Middle East & Africa |
| Key companies | Aldi Stores, Alibaba Group Holding, Amazon.com, American Greetings, Bed Bath and Beyond, Card Factory Plc, Costco Wholesale, Enesco LLC, Ferns N Petals, Hallmark Card, House of Fraser, Loop Commerce, Macys, My Pet Gift Box, Penney OpCo LLC, Shutterfly, Spencer Gifts LLC, The Walt Disney, Walmart and Williams Sonoma. |