The global addiction treatment market was valued at USD 8.28 billion in 2021 and is expected to grow at a CAGR of 6.4% during the forecast period. There has been a rising prevalence of drug dependency among individuals across the world attributable to the rising utilization of liquor, drugs, and other unsafe substances that can be lethal to human wellbeing.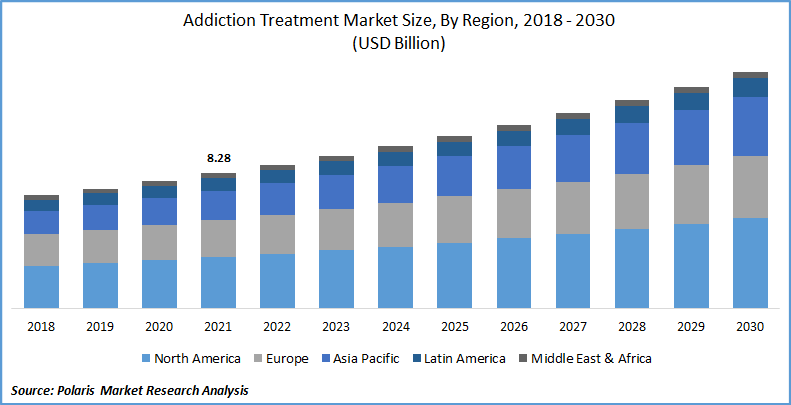 Know more about this report: Request for sample pages
The factors that are projected to speed up the development of the addiction treatment market include the development of research and development centers, expanding government support to check addiction, improvement of new dependence research facilities that coincide with patient consideration settings, and surging habit cases around the world.
The growth of the addiction treatment market is attributed to the outbreak of the Covid-19 pandemic. Smoking items, for example, water pipes, frequently include the sharing of mouthpieces and hoses, which works with the transmission of the novel Covid in mutual and group environments. Conditions that increment oxygen need or diminish the capacity of the body to utilize it appropriately risk patients by making them defenseless against genuine lung contaminations like pneumonia.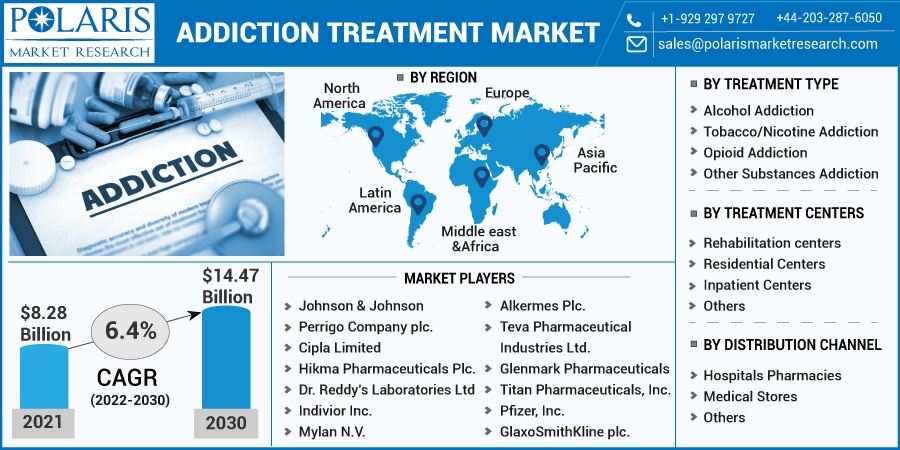 Know more about this report: Request for sample pages
Industry Dynamics
Growth Drivers
Drug awareness campaigns and addiction & rehab centers among the populace are contributing significantly to the market growth. Awareness campaigns and related anticipation programs is one of its essential elements related to the development of the addiction treatment market. This incorporates rising patient mindfulness, a higher medication-chasing rate with expanded government mediation, and support to control substance medication in a few nations. For example, in December 2021, the Indian government sent off the "Medication Free India" crusade and gave bearings for checking chronic drug use in the Indian people.
Moreover, in October 2021, the Centers for Disease Control and Prevention (CDC) sent off four reciprocal training efforts planned to arrive at youthful grown-ups ages 18-34 years targeted at preventing drug overdose deaths. The missions give data about the pervasiveness and risks of fentanyl, the dangers and outcomes of blending drugs, the life-saving force of naloxone, and the significance of decreasing the shame around drug use to help medicine and recuperation. Such missions and drives are expanding mindfulness in regard to substance misuse medication among the dependent populace, accordingly adding to the addiction treatment market's development.
Report Segmentation
The market is primarily segmented based on treatment type, treatment centers, distribution channels, and region.
By Treatment Type

By Treatment Centers

By Distribution Channel

By Region

Alcohol Addiction
Tobacco/Nicotine Addiction
Opioid Addiction
Other Substances Addiction

Rehabilitation centers
Residential Centers
Inpatient Centers
Others

Hospitals Pharmacies
Medical Stores
Others

North America (U.S., Canada)
Europe (France, Germany, UK, Italy, Spain, Netherlands, Russia)
Asia Pacific (Japan, China, India, Malaysia, Indonesia, South Korea)
Latin America (Brazil, Mexico, Argentina)
Middle East & Africa (Saudi Arabia, UAE, Israel, South Africa)
Know more about this report: Request for sample pages
Tobacco addiction treatment is expected to witness largest market growth
Based on addiction treatment type, the expanded prevalence of cigarette smoking has supported the possibilities for the tobacco and nicotine compulsion addiction treatment market. Cigarette smoking has expanded the commonness of cellular breakdowns in the lungs and cardiovascular sicknesses.
Luckily, states have perceived this danger and have found a substantial way to restrict the setbacks emerging out of substance dependence. Awareness about the risks has provoked patients to pick smoking suspension medication, which is one of the drivers of the worldwide addiction treatment market. Additionally, the more extensive accessibility of nicotine substitution items and medications to battle tobacco and nicotine habit will likewise drive market development.
Treatment centers to register the fastest market growth
Based on application, rehabilitation programs are acquiring huge ground overall for treating the most terrible influence substance misuse populace. Restoration programs assist individuals with recapturing command over their lives and reintegrating into society. Drug restoration focuses assist guide victims with 12-venture programs, including remedial meetings and others. Besides, mediation of local area pioneers in building novel de-habit recovery projects will also animate the market development bend before long.
For example, in 2021, Sahyog Clinic sent off its new host of medicines like de-enslavement from liquor and medications, restoration, and detoxification from liquor and medications, and that's only the tip of the iceberg. These new arrangements of restoration and different projects would uphold the Government of Delhi's drive to lessen the interest in liquor and medication in the country.
Distribution Channels is expected to hold the significant revenue share
Based on the distribution channels, the hospital pharmacies are proven as one of the most effective and easily approachable centers for purchasing addiction medication at the primary or initial level. Various kinds of medicines are available with different dose levels to calm the subject and decrease the urge for substance abuse. Almost all kinds of prescribed and non-prescribed medicines can be easily available for addicted patients.
The demand in North America is expected to witness significant growth
Geographically, the North American region is estimated to register the largest market growth during the forecast period. Inside North America, the United States is supposed to rule the market because of the rising abuse of tobacco and a rising number of government drives pointed toward diminishing substance misuse.
For example, according to a December 2020 update by the Centers for Disease Control and Prevention (CDC), almost 14 out of every 100 United States grown-ups matured 18 years, or more seasoned (14.0%) smoked cigarettes in 2019. According to a similar source, an expected 34.1 million adults in the U.S are presently smoking cigarettes, and around 16 Mn people live with smoking-related ailments and associated ill effects. Such a common dependence populace inside the nation will require the interest in fixation medicines, thus driving the market development in the United States.
Besides, different drives are being executed by the United States government to screen the side effects and decide on substance addiction among the American populace. For example, according to a February 2022 update, the United States government and the United Kingdom are directing Narcan, a brand name for the medication naloxone, in 16 regions at no expense to help lessen glut passings. Such drives will additionally enhance the development of substance misuse medication inside the country.
Also, the United States has a high-level medical care framework with probably the biggest use on medical services. Its interest in innovative work, alongside measures to control and take out substance misuse, is further supporting admittance to fixation medicines among Americans.
Because of these elements, a huge populace can seek the necessary care it needs. For example, according to a February 2022 update, Texas and a portion of its biggest districts will get USD 1.17 billion as a narcotic help reserve as a component of a cross-country settlement from three huge drug dispersion organizations.
Besides, in February 2022, the "United States Department of Human Health and Services" reported a USD 10 Mn substance abuse cases, and the Mental Health Services Administration (SAMHSA) award program tending to the well-being needs of pregnant ladies and kids impacted by substance use. Such projects are expected to drive the interest in substance misuse management in the United States, accordingly driving the market development.
Competitive Insight
Some of the major market players operating in the market include Alkermes Plc., Teva Pharmaceutical., Glenmark Pharmaceuticals, Titan Pharmaceuticals, Pfizer, Inc., GlaxoSmithKline. Johnson & Johnson, Perrigo Company., Cipla Limited, Hikma Pharmaceuticals., Dr. Reddy's Laboratories, Indivior, and Mylan N.V.
Recent Developments
June 2021 - AELIS FARMA, a biotechnology organization working in the ailment of cerebrum issues, declared essential cooperation and choice permit concurrence with INDIVIOR PLC to address the serious results of weed use problems (CUD), including marijuana prompted psychosis (CIP).
June 2021 - Terveystalo Healthcare has procured 72 %o shareholding in Feelgood Svenska AB and unveils a suggested required deal of SEK 5.7/share.
June 2021 - The Ridge is opening another office that offers restrictive private medication to the people who experience the ill effects of medication and liquor enslavement.
Addiction Treatment Market Report Scope
| | |
| --- | --- |
| Report Attributes | Details |
| Market size value in 2021 | USD 8.28 billion |
| Revenue forecast in 2030 | USD 14.47 billion |
| CAGR | 6.4% from 2022 - 2030 |
| Base year | 2021 |
| Historical data | 2018 - 2020 |
| Forecast period | 2022 - 2030 |
| Quantitative units | Revenue in USD billion and CAGR from 2022 to 2030 |
| Segments covered | By Treatment Type, By Treatment Centers, By Distribution Channel, By Region |
| Regional scope | North America, Europe, Asia Pacific, Latin America; Middle East & Africa |
| Key companies | Alkermes Plc., Teva Pharmaceutical Industries Ltd., Glenmark Pharmaceuticals, Titan Pharmaceuticals, Inc., Pfizer, Inc., GlaxoSmithKline plc. Johnson & Johnson, Perrigo Company plc., Cipla Limited, Hikma Pharmaceuticals Plc., Dr. Reddy's Laboratories Limited, Indivior Inc., and Mylan N.V. |