The global congestive heart failure market was valued at USD 11.54 billion in 2021 and is expected to grow at a CAGR of 5.4% during the forecast period. The market for congestive heart failure is expanding as a result of both industry expansion and the rise in coronary artery disease and heart attacks globally.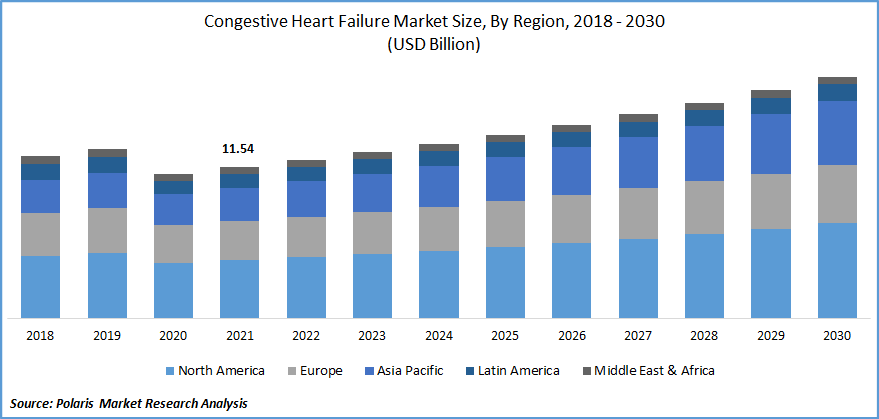 Know more about this report: Request for sample pages
Another reason driving the market for congestive heart failure is the rise in cardiomyopathy, diabetes-related cardiomyopathy, and hypertension. Initiatives from governmental and non-governmental organizations, ongoing medical developments, and drug discovery contribute to the market's expansion. Additionally, COVID-19 had a significant impact on the market expansion.
As per World Health Organization (WHO) published statistics, CVDs are responsible for 17.9 Mn deaths across the globe - 32% of all fatalities. CVDs were the leading cause of 38% of the 17 million premature deaths (before the age of 70) that were not caused by infectious diseases in 2019.
Furthermore, the most prevalent form of heart disease, coronary heart disease (CAD), will claim 382,820 deaths in 2020, according to the Centers for Disease Control and Prevention. Approximately 7.2% of adults aged 20 and over, or 20.1 million people, have CAD. In 2020, about two out of every 10 CAD deaths will be caused by individuals under 65.
Recent developments include Bluetooth-enabled cardiac devices that may measure various parameters and transmit the results back to healthcare professionals for remote patient treatment. The forecast for the industry will also be boosted by a significant rise in healthcare spending in developing nations and the prevalence of obesity worldwide. Congestive heart failure treatment will increase dramatically in the following years since obesity is associated with an enlarged left ventricle.
One of the most dangerous pandemics that have seriously damaged the global economy was the COVID-19 outbreak. Due to the pandemic's onset, many businesses were destroyed, while others were severely harmed. Lockdowns had to be implemented by governments everywhere, which resulted in the temporary closure of many different manufacturing facilities. The world's supply chain was further hampered by the rigorous travel restrictions put in place by states. This hindered the expansion of numerous industries.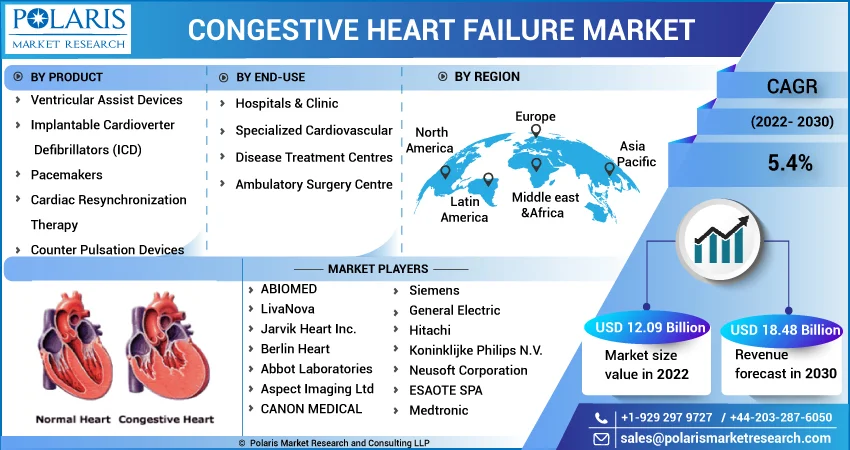 Know more about this report: Request for sample pages
Industry Dynamics
Growth Drivers
The market is growing due to increased cardiovascular procedures, modern medicine trends, and technological improvements. Additionally, the percutaneous circulatory support devices boost native cardiac output, reduce the ventricular size & filling pressure, keep vital organs perfused, and enhance coronary perfusion.
The therapy area permitted for devices includes Automated External Defibrillators, Pacemakers, and Catheters. Additionally included are implantable cardioverter defibrillators. Atrial fibrillation and arrhythmia are becoming more common, boosting the use of cardiac implantable electronic devices and gaining medical authorization.
For instance, Medtronic PLC received the CE Mark, in June 2020, for the Micra AV Transcatheter Pacing System, the smallest pacemaker in the world with atrioventricular synchronization. Therefore, the advantages of congestive heart failure treatment technologies fuel market expansion. Additionally, the development of new medical technologies, the growth of healthcare facilities, and the rising cost of healthcare drive market expansion.
Report Segmentation
The market is primarily segmented based on product, end-users, and region.
By Product

By End-Use

By Region

Ventricular Assist Devices
Implantable Cardioverter Defibrillators (ICD)
Pacemakers
Cardiac Resynchronization Therapy
Counter Pulsation Devices

Hospitals & Clinic
Specialized Cardiovascular Disease Treatment Centres
Ambulatory Surgery Centres

North America (U.S., Canada)
Europe (France, Germany, UK, Italy, Netherlands, Spain, Russia)
Asia Pacific (Japan, China, India, Malaysia, Indonesia, South Korea)
Latin America (Brazil, Mexico, Argentina)
Middle East & Africa (Saudi Arabia, UAE, Israel, South Africa)
Know more about this report: Request for sample pages
Pacemakers segment accounted for the largest revenue share in 2021
Pacemakers had the highest revenue share in the congestive heart failure treatment technologies market in 2021. The segment is expanding due to a rise in pacemaker use, pharmaceutical, and medical device R&D. Additionally, it is more well-liked by both patients and surgeons because it painlessly maintains the cardiac rhythm. For instance, Medtronic introduced the smallest pacemaker in the world to treat heart block in June 2021. The pacemaker was created on-site and is small enough to be put into the heart via a catheter. This will substantially change the pacemaker market.
Heart pacemakers are delicate medical devices; thus, before they can be sold, usage authorization is needed. In such circumstances, an increase in approvals will enable the global market to grow. The requirements for the Food and Drug Administration's approval of cardiac treatment devices have been lowered. Businesses are now creating novel items as a result of rising FDA approvals. For instance, the U.S. FDA granted Abbott approval for the EnSite X EP System with EnSite omnipolar technology for the treatment of cardiac arrhythmias, in January 2022.
Hospital's is expected to hold the significant revenue share
The growing number of patients and the substantial concentration of skilled professionals in hospital settings have contributed to the growth of this hospital segment. According to research published in 2020 by Hironobu Mitani et al., heart failure affects an estimated 26 million people worldwide and causes more than 1 million hospital admissions annually in the USA and Europe. In Japan, there are 1 million patients with HF (prevalence of 1%), and by 2030, there will be 1.3 million outpatients with HF. Hospitalization for heart failure is also anticipated to rise by 2040.
Additionally, it is anticipated that the expanding hospital population will encourage sector expansion during the projection period. For instance, according to the American Hospital Association, there will be 6,093 hospitals in the United States by 2022. During crucial medical operations, hospitals also assist in minimizing adverse patient reactions.
For instance, the Cardiovascular Care Center at Charlton Memorial Hospital announced the establishment of a new electrophysiology lab in July 2021. They also revealed plans to redesign the cardiac catheterization lab to handle elective and emergency treatments.
The demand in North America is expected to witness significant growth
North America led the global market in 2021 with the highest revenue share. Some of the key factors boosting and supporting market growth throughout the anticipated period include the presence of leading manufacturers in the United States and the rising prevalence of cardiac disorders in both the United States and Canada.
For instance, as per the estimates of the CDC, in 2020, heart disease will cause around 697,000 deaths in the U.S. or 1 in every five fatalities. In addition, a heart attack occurs in the U.S. every 40 seconds. More than 805,000 Americans experience a heart attack each year. These are a few factors promoting market expansion in North America.
Additionally, it is projected that a robust clinical pipeline, favorable reimbursement rules for therapeutic items, and greater acceptance of these devices would all contribute to the increase in revenue. Several businesses are launching various initiatives to retain and grow their market shares, such as alliances, new products, and mergers and acquisitions.
Competitive Insight
Some of the major players operating in the global market include ABIOMED, Berlin Heart, Abbot Laboratories, Aspect Imaging Ltd, Siemens, General Electric, Hitachi, Koninklijke Philips, Neusoft Corporation, ESAOTE, Medtronic, OMRON Corporation, Dexcom, Masimo, Jarvik Heart, Biotronik, Teleflex, Jude Medical, Lepu Medical, Osypka Medical GmbH, Medtronic, and Boston Scientific Corporation.
Recent Developments
Boston Scientific acquired the sophisticated transseptal access solutions company Baylis Medical Company in February 2022. Boston Scientific sought to expand its position in the cardiology market with acquisition of the Baylis platform into its portfolio of offerings.
Boston Scientific purchased Devoro Medical, the company of the WOLF Thrombectomy, in September 2021. Additionally, using prongs that resemble fingers, WOLF technology quickly locates and seizes blood clots in the venous and arterial systems.
Congestive Heart Failure Market Report Scope
| | |
| --- | --- |
| Report Attributes | Details |
| Market size value in 2022 | USD 12.09 billion |
| Revenue forecast in 2030 | USD 18.48 billion |
| CAGR | 5.4% from 2022 - 2030 |
| Base year | 2021 |
| Historical data | 2018 - 2020 |
| Forecast period | 2022 - 2030 |
| Quantitative units | Revenue in USD billion and CAGR from 2022 to 2030 |
| Segments covered | By Product, By End-Users, By Region |
| Regional scope | North America, Europe, Asia Pacific, Latin America; Middle East & Africa |
| Key companies | ABIOMED, LivaNova, Jarvik Heart Inc., Berlin Heart, Abbot Laboratories, Aspect Imaging Ltd, CANON MEDICAL SYSTEMS CORPORATION, Siemens, General Electric, Hitachi, Koninklijke Philips N.V., Neusoft Corporation, ESAOTE SPA, Medtronic, OMRON Corporation, Dexcom, Masimo, Jarvik Heart, Biotronik, Teleflex, St. Jude Medical, Lepu Medical, Jarvik Heart, Osypka Medical GmbH, Medtronic, and Boston Scientific Corporation. |