The global Industrial Fasteners market was valued at USD 69.24 billion in 2021 and is expected to grow at a CAGR of 4.0% during the forecast period. The rise in the need for industrial fasteners in the automotive industry and the increasing use of micro and hybrid fastening in small assemblies are the main drivers of the industrial fastener market's revenue growth.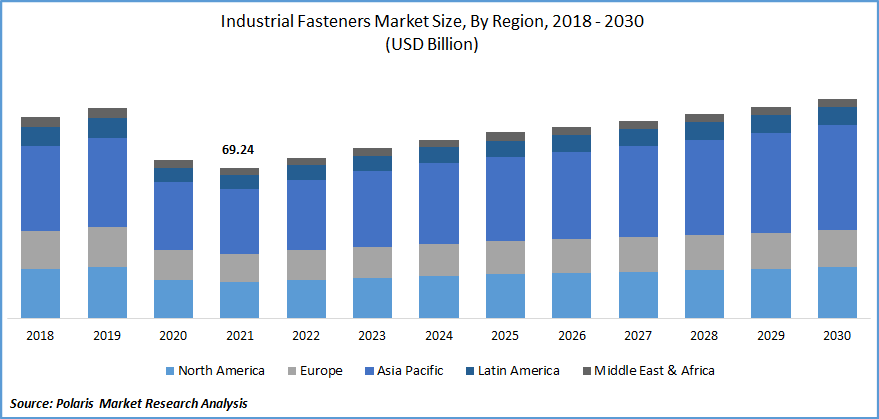 Know more about this report: Request for sample pages
Industrial fasteners are a vast group of instruments that are used to connect two or more components, including screws, nuts, bolts, flanges, anchors, hooks, rivets, and washers. These instruments are utilized in a wide range of industrial items, including cell phones, electronics machines or motors, automobiles, and the building and construction sectors.
To accommodate consumer demand, several firms are bringing innovative fastening technology to the marketplace. For instance, in March 2021, Valley Forge & Bolt. has announced the launch of a new High Temp Maxbolt. This dependable component has a proven track record in extended high-temperature run durations and thermal cycling, and it can work in temperatures up to 650° F for practically infinite applications. This fasteners development by the major players is assisting the market to grow.
During COVID-19, there was a shutdown of automotive manufacturing facilities as well. Companies either closed their facilities or reduced their capacities as a result of a lack of skilled workers and availability. The demand for autos decreased as customers turned their attention to necessities. Important firms in the automobile sector cut back on output, which decreased the market share for industrial fasteners.
The epidemic had a disastrous impact on the airline business. The drastic decline in air travel brought on by the epidemic and containment measures put the viability of air travel in uncertainty. The shortage of spare pins at gas stations and repair shops was caused by the closure of airports and public transportation.
Industry Dynamics
Growth Drivers
The market is expanding as micro fasteners are being used in small assemblies more frequently. Miniature fasteners are increasingly being used in small assemblies because of their superior design as industrial fasteners increasingly focus on maximizing space utilization. As an alternative to adhesives, these fasteners are frequently employed in electronic devices including laptops, tablets, and smartphones. When adhesives are used in electronic parts, it is impossible to separate connected components for repair. Additionally, excessive heating of the item could destroy the adhesives and harm it.
The growing popularity of tiny devices has increased the need for tiny screws and other fasteners, which has led manufacturers to boost output. For instance, in July 2019, Vishay Intertechnology Inc. introduced a new series of miniature screw terminal aluminum capacitors. These capacitors have a 10% higher capacity and 10% improved ripple current handling than earlier models.
According to the manufacturer, a variety of applications and finished goods, such as motor drives, HVAC, welders inverters, UPS, X-ray instruments, microgrid connections, wind generators, and scientific testing equipment, will use the latest Vishay BCcomponents 501 PGM-ST category devices. Thus, the launches and adoption of miniature industrial fasteners is the factor boosting the market growth over the forecast period.
Report Segmentation
The market is primarily segmented based on raw material, type, product, application, and region.
By Raw Material

By Type

By Product

By Application

By Region

Externally Threaded
Internally Threaded
Non-threaded
Aerospace Grade

Nuts & Bolts
Screws
Nails
Washers
Anchors
Rivets

Automotive
Aerospace
Building & Construction
Industrial Machinery
Home Appliances
Lawn and Garden
Motors and Pumps
Furniture
Plumbing Products
Others

North America (U.S., Canada)
Europe (France, Germany, UK, Italy, Netherlands, Spain, Russia)
Asia Pacific (Japan, China, India, Malaysia, Indonesia, South Korea)
Latin America (Brazil, Mexico, Argentina)
Middle East & Africa (Saudi Arabia, UAE, Israel, South Africa)
Know more about this report: Request for sample pages
Construction Segment is expected to witness fastest growth
Due to higher maintenance and repair work, modern building construction, on-site assembling of pre-cut, panelized & prefabricated houses, and the infrastructure of distribution lines, buildings, and utility structures, the construction industry is anticipated to grow quickly over the forecast period.
Further, President Biden of the United States signed a USD 1 trillion infrastructure plan in November 2021, which is anticipated to result in a significant increase in the consumption of industrial fasteners in the nation. The new infrastructure development bill calls for a variety of construction tasks, which will raise the demand for fasteners.
Externally threaded fasteners segment accounted for a significant market share in 2021
The externally threaded fasteners are expected to hold a greater revenue share in the global market. The two primary categories of externally threaded fasteners are nuts and bolts, which are mostly utilized in the manufacturing, automobile, railroad, shipbuilding, electronics, and automotive sectors.
Inserts and nuts are two more of the most often utilized bolts. Typically, two or more major elements are stacked using nuts and bolts. Hexagonal nuts are highly sought after in the construction, automotive, and industrial machinery sectors.
Further, in January 2022, Suncor Stainless announced the launch of the product of Forged Shackles. These shackles are forged, giving them greater strength owing to the production process, superior fatigue resistance for products with longer life, and tougher substances for better wearing.
Due to the advantages of being reversible, the internally threaded fasteners market is anticipated to increase steadily during the forecast period. These fasteners are utilized in a variety of construction and automotive applications, including wire harnesses, pipe fittings, and cable management, even after pieces have been assembled.
Metal segment is expected to hold the largest revenue share
Construction infrastructure and industrial machinery benefit from metals' superior resilience and mechanical strength, which is projected to fuel market demand. To advance in the value chain and improve their competitiveness, businesses are providing a wide variety of metal and plastic products to their end users.
Due to growing industrialization and the emerging demand for automation in the manufacturing industry, the metal category accounted for the biggest revenue share. As a result, metal fasteners like bolts, nuts, and screws have been more widely used. Metal products' superior heat resistance, corrosion resistance, and durability are likely to boost their demand in industrial settings.
Due to the expanding use of plastic fasteners in the electronics and automotive businesses, the plastic segment is anticipated to rise steadily over the projected period. Because plastics are so much lighter than metals, demands for lightweight Electric Vehicles (EVs) and other small electronic gadgets are rising. Additionally, plastic fasteners can withstand UV rays, making them appropriate to be used in space stations. NASA employs plastic micro screws in its spacecraft and Hubble observatory.
The demand in Asia-Pacific is expected to witness significant growth
The presence of domestic and international manufacturers of machinery, components, and automobiles has raised the demand for industrial fasteners in this area. Additionally, there is a significant need for industrial fasteners in the construction industry as a result of economic expansion and infrastructure development, particularly in China, India, Malaysia, and Thailand.
Due to the growing use of fasteners in automobile parts, there is also a considerable demand for industrial fasteners in China and India. For instance, in March 2022, Kotadia Inc., an Indian maker of fasteners, anticipates an increase in orders from Original Equipment Manufacturers (OEMs) as a result of India's strong EV market.
In January 2022, Ascend Performance Company recently announced the agreement to develop a new hexamethylene diamine and chemicals facility In Xuwei, China. The new location will be Ascend's first place to produce chemicals and the biggest investment the business has ever made abroad.
The growth of the North American regional industry will be fueled by the increase in the manufacturing of electric vehicles in the United States combined with plastic fastening items. Due to the region's widespread demand for compact tractors and lawnmowers, which is anticipated to increase in the commercial and residential sectors, Europe holds the second-largest market share. This market share will be driven by the production of lawn and garden equipment in this area. Additionally, Europe is a significant hub for the production of passenger cars, which will support the expansion of the industrial fasteners market.
Competitive Insight
Some of the major players operating in the global market include Acument Global Technologies Incorp., Brunner Manufacturing Co., Inc., Birmingham Fastener and Supply, Inc., Decker Industries Corporation, Dokka Fasteners A S, Eastwood Manufacturing Inc., Elgin Fastener Group LLC, Hilti Corporation, Illinois Tool Works, Inc., KOVA Fasteners Pvt. Ltd., MW Industries, Inc., Manufacturing Associates, Inc., Nippon Industrial Fasteners Company, Penn Engineering & Manufacturing Corp., Precision Castparts Corp., Rockford Fastener, Inc., Slidematic Precision Components, Inc., SESCO Industries, Inc., Stanley Black & Decker, Inc., and Standard Fasteners Ltd.
Recent Developments
In December 2021, AALL AMERICAN Fasteners (AAF), situated in Cinnaminson, was bought by AFC Industries. This acquisition is consistent with AFC's expansion plans as they sell fasteners and assembling components to manufacturing and assembly facilities across a range of industrial applications.
In September 2021, with the acquisition of Air-O Fasteners ("Air-O"), LINC Systems, LLC increased its market share in the Western U.S. Family. A manufacturer of fastening tools and consumables, Air-O Fasteners serves the building and general industrial sectors.
Industrial Fasteners Market Report Scope
| | |
| --- | --- |
| Report Attributes | Details |
| Market size value in 2021 | USD 69.24 billion |
| Revenue forecast in 2030 | USD 101.37 billion |
| CAGR | 4.0% from 2022 - 2030 |
| Base year | 2021 |
| Historical data | 2018 - 2020 |
| Forecast period | 2022 - 2030 |
| Quantitative units | Revenue in USD million/billion and CAGR from 2022 to 2030 |
| Segments covered | By Product, By Raw Material, By Type, By Application, By Region |
| Regional scope | North America, Europe, Asia Pacific, Latin America; Middle East & Africa |
| Key companies | Acument Global Technologies Incorp., Brunner Manufacturing Co., Inc., Birmingham Fastener and Supply, Inc., Decker Industries Corporation, Dokka Fasteners A S, Eastwood Manufacturing Inc., Elgin Fastener Group LLC, Hilti Corporation, Illinois Tool Works, Inc., KOVA Fasteners Pvt. Ltd., MW Industries, Inc., Manufacturing Associates, Inc., Nippon Industrial Fasteners Company, Penn Engineering & Manufacturing Corp., Precision Castparts Corp., Rockford Fastener, Inc., Slidematic Precision Components, Inc., SESCO Industries, Inc., Stanley Black & Decker, Inc., and Standard Fasteners Ltd. |