The global industrial fasteners market was valued at USD 89,677.07 million in 2022 and is expected to grow at a CAGR of 4.4% during the forecast period.The industrial fasteners market is experiencing revenue growth due to the increasing demand for fasteners in the automotive industry and the rising use of micro and hybrid fastening techniques in small assemblies. Industrial fasteners encompass many tools, including screws, nuts, bolts, flanges, anchors, hooks, rivets, and washers. These tools find applications in various industrial products such as cell phones, electronic devices, machinery, automobiles, and the construction sector.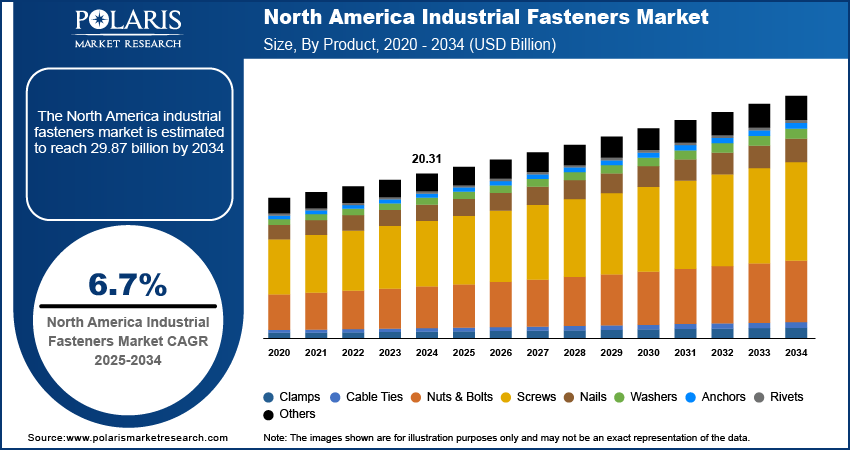 To Understand More About this Research: Request a Free Sample Report
Several companies are introducing innovative fastening technologies to meet evolving consumer needs. For instance, in March 2021, Valley Forge & Bolt announced the launch of the High Temp Maxbolt. This reliable component has a proven track record of extended high-temperature performance and thermal cycling, making it suitable for various applications in temperatures up to 650°F. Such advancements in fastener technology by key players contribute to the market's overall growth.
Furthermore, technological advancements and innovations also influence the industrial fasteners market. Fasteners are constantly evolving to meet the changing needs of industries. For example, there is a growing demand for lightweight fasteners in industries like aerospace, where weight reduction is crucial for fuel efficiency. Additionally, adopting automated manufacturing processes, such as robotics and 3D printing, impacts the fasteners market by enabling more precise and efficient production methods.
The COVID-19 pandemic had significant short-term disruptions in the market, with temporary shutdowns and supply chain challenges impacting demand and production. However, as industries gradually recovered, demand was resurgent, particularly in the automotive, construction, and electronics sectors. The pandemic also led to shifts in demand patterns, such as increased requirements for fasteners in medical equipment and a focus on hygiene and safety standards. Market trends such as automation, digitalization, and sustainability have been accelerated in the long term.
Industry Dynamics
Growth Drivers
The industrial fasteners market experiences growth, and expansion driven by the development of the manufacturing sector plays a crucial role. Industries such as automotive, aerospace, machinery, construction, and electronics continue to expand, leading to an increased demand for fasteners. These fasteners are essential for assembling and maintaining machinery, vehicles, infrastructure, and consumer products, driving the market growth.
Infrastructure development projects contribute significantly to the demand for industrial fasteners. Construction of roads, bridges, railways, buildings, and utilities requires substantial fasteners. With increasing investments in infrastructure development, particularly in emerging economies, the demand for fasteners for construction and maintenance continues to rise.
Technological advancements and innovations drive the market forward. Ongoing innovations in fastener design, materials, and manufacturing processes enhance their performance, durability, and efficiency. Lightweight materials, high-strength alloys, and advanced coating techniques are being utilized, catering to the evolving needs of industries such as automotive and aerospace. These advancements ensure that fasteners meet the requirements of modern manufacturing processes.
Moreover, the focus on product quality and safety drives the market. Industries across various sectors strongly emphasize the reliability and safety of their products. Fasteners are critical in ensuring the integrity and security of assembled components and products. Stricter regulations and standards related to product quality and safety further fuel the demand for certified and reliable fasteners.
Furthermore, globalization and international trade contribute to the growth of the industrial fasteners market. With increased global business and the establishment of manufacturing hubs in emerging economies, fasteners have become integral to global supply chains. They are needed for manufacturing, assembly, and maintenance activities across industries, creating new opportunities for market expansion.
Report Segmentation
The market is primarily segmented based on material, product, industry, and region.
By Material

By Product

By Industry

By Region

Plastic

Clamps

Cable Ties

Screws

Nuts & Bolts

Rivets

Nail

Washers

Anchors

Others

Metal

Clamps

Cable Ties

Screws

Nuts & Bolts

Rivets

Nail

Washers

Anchors

Others

Clamps

Cable Ties

Screws

Nuts & Bolts

Rivets

Nail

Washers

Anchors

Others

Automotive

Aerospace

Building & Construction

Industrial Machinery

Home Appliances

Lawn & Garden

Motors & Pumps

Furniture

Plumbing

Other

North America (U.S., Canada)

Europe (France, Germany, UK, Italy, Netherlands, Spain, Russia)

Asia Pacific (Japan, China, India, Malaysia, Indonesia, South Korea)

Latin America (Brazil, Mexico, Argentina)

Middle East & Africa (Saudi Arabia, UAE, Israel, South Africa)
To Understand the Scope of this Report: Speak to Analyst
Metal segment accounted for the highest market share in 2022
Metal segment is accounted for highest market shares of the market in 2022. Metal fasteners are vital in manufacturing, construction, and everyday applications, serving as essential components in various industries. They provide durability, strength, and resistance to corrosion and heat. Steel, bronze, aluminum, copper, and titanium are commonly used for metal fasteners, with stainless steel being the most widely preferred material. Stainless steel fasteners offer environmental friendliness, recyclability, visual appeal, and affordability. They are often used in challenging conditions, including underwater and extreme environments.
Steel is a primary fastener material, with carbon steel, stainless steel, and alloy steel widely utilized in different industries. Ongoing technological innovations in the fastener industry have led to the development of new alloys, enhancing the performance and properties of fasteners in severe environments. These alloys exhibit unique characteristics such as anti-corrosion properties, superconductivity, and ultra-lightweight, further expanding the possibilities and applications of fasteners.
Nuts & bolts segment held the largest market revenue share in 2022
Nuts and Bolts segment dominated the market in 2022, and expected to continue its dominance over the forecast period. Nuts are small metal objects with a center hole and curved threads. They are used as fastening material in conjunction with bolts. Nuts have a hexagonal or circular cap and are internally threaded for easy tightening onto the bolt. They come in various types, such as Cap Nut, Acorn Nut, Hex Nut, T-nut, Flange Nut, and Nylon Insert Lock Nut, the most common being a hexagonal nut. Nuts have internal threads, while bolts have external threads. They are available in materials like steel, titanium, or plastic, with widely used nickel and chrome.
Bolts, on the other hand, are screws with threaded cylinders and various types of heads. They are commonly paired with nuts that have matching threaded holes. Bolts come in different sizes, lengths, and materials. Examples include toggle bolts, U-bolts, lag bolts, and J-bolts. Unlike nuts, bolts do not have a locking mechanism.
Both nuts and bolts are widely used in various applications for fastening materials. In the automotive industry, they are used to hold engine components, dashboards, suspension arms, and more. The construction industry relies heavily on nuts and bolts for safe and durable construction, driven by the increasing demand for commercial and residential spaces and infrastructure investments. Additionally, technological advancements have produced lightweight bolts for industrial applications, contributing to the high need for these fasteners. The availability of raw materials and the growing traction of energy-efficient carbon and alloy bolts further fuel the overall growth of this segment.
Automotive segment anticipated to hold largest market share during forecast period
Automotive fasteners play a crucial role in connecting various vehicle parts temporarily or permanently. These fasteners, such as screws, nuts, rivets, snap rings, studs, and clips, are widely used in the automotive sector. The automotive industry benefits from the wide range of forms, coatings, and colors available for automotive fasteners, contributing to their appealing designs and quality. The usage of automotive fasteners in components like door panels and airbag housings drives the market's growth as vehicle production and demand continues to rise.
Clamps are also extensively used in the automotive industry, particularly power clamps that enhance productivity by automating processes and minimizing manual intervention. These clamps find application on assembly lines, saving time and improving efficiency. Additionally, cable ties are employed in the commercial vehicle building industry to secure and organize cables or pipework to panels.
The automotive industry's demand for lightweight fasteners is increasing, particularly in the luxury or premium car market. The need for improved vehicle performance and fuel efficiency drives this demand. To meet these requirements, fastener manufacturers use materials like magnesium, known for its lightweight properties, as an alternative to aluminum and steel.
Asia Pacific dominated the global market in 2022
Asia Pacific region holds the largest share of the market and dominated the global market. The market is witnessing increased demand due to the presence of domestic and international manufacturers in the machinery, components, and automobile sectors. The construction industry, particularly in China, India, Malaysia, and Thailand, is driving the need for industrial fasteners due to economic expansion and infrastructure development. Additionally, the growing usage of fasteners in automobile parts contributes to significant demand in China and India, fueled by their strong electric vehicle markets.
For example, Kotadia Inc., an Indian fastener manufacturer, expects an increase in orders from Original Equipment Manufacturers (OEMs) in the electric vehicle sector in India. In China, Ascend Performance Company announced plans to develop a new chemical production facility, indicating the market's growth potential in the region.
North America expected to hold significant CAGR during the forecast period. In North America, the manufacturing of electric vehicles in the United States, along with the use of plastic fastening products, is driving the growth of the industrial fasteners market. On the other hand, Europe holds the second-largest market share, driven by the production of lawn and garden equipment and passenger cars. The region's demand for compact tractors and lawnmowers in the commercial and residential sectors is expected to increase, supporting the expansion of the industrial fasteners market.
Competitive Insight
Some of the major players operating in the global market include Penn Engineering & Manufacturing Corp., SHUR-LOK (Precision Castparts Corp.), Slidematic Precision Components, Sesco Industries Inc, Stanley Black & Decker, Standard Fasteners Ltd., Hellermann Tyton, Panduit, Advanced Cable Ties, Inc., BAND-IT IDEX, Inc, Wenzhou Longhua Daily Electron, Changhong Plastics Group Imperial Plastics Co. Ltd., NORMA Group, Acument Global Technologies, Brunner Manufacturing Co., Inc., Birmingham Fastener and Supply Inc., Decker Industries Corporation, Dokka Fasteners A.S., Eastwood Manufacturing, Elgin Fastener Group LLC, Hilti Corporation, Illinois Tool Works, Inc, KOVA Fasteners Pvt Ltd., MW Industries, Inc, Nippon International, Manufacturing Associates, Inc.
Recent Developments
In November 2022, Bossard Holding AG acquired Penn Engineered Fasteners Corporation from Penn Engineering & Manufacturing Corp.

In December 2021, AALL AMERICAN Fasteners (AAF), situated in Cinnaminson, was bought by AFC Industries. This acquisition is consistent with AFC's expansion plans as they sell fasteners and assembling components to manufacturing and assembly facilities across a range of industrial applications.
Industrial Fasteners Market Report Scope
| | |
| --- | --- |
| Report Attributes | Details |
| Market size value in 2023 | USD 93,551.12 million |
| Revenue forecast in 2032 | USD 137,476.98 million |
| CAGR | 4.4% from 2023 – 2032 |
| Base year | 2022 |
| Historical data | 2019 – 2021 |
| Forecast period | 2023 – 2032 |
| Quantitative units | Revenue in USD million and CAGR from 2023 to 2032 |
| Segments Covered | By Material, By Product, By Industry, By Region |
| Regional scope | North America, Europe, Asia Pacific, Latin America; Middle East & Africa |
| Key Companies | Penn Engineering & Manufacturing Corp., SHUR-LOK (Precision Castparts Corp.), Slidematic Precision Components, Sesco Industries Inc, Stanley Black & Decker, Standard Fasteners Ltd., Hellermann Tyton, Panduit, Advanced Cable Ties, Inc., BAND-IT IDEX, Inc, Wenzhou Longhua Daily Electron, Changhong Plastics Group Imperial Plastics Co. Ltd., NORMA Group, Acument Global Technologies, Brunner Manufacturing Co., Inc., Birmingham Fastener and Supply Inc., Decker Industries Corporation, Dokka Fasteners A.S., Eastwood Manufacturing, Elgin Fastener Group LLC, Hilti Corporation, Illinois Tool Works, Inc, KOVA Fasteners Pvt Ltd., MW Industries, Inc, Nippon International, Manufacturing Associates, Inc. |