The global Parkinson's Disease Treatment market was valued at USD 4.55 billion in 2021 and is expected to grow at a CAGR of 6.2% during the forecast period. The need for Parkinson's disease treatments has increased due to evolving environmental factors and genetic predisposition. Parkinson's disease prevalence rises with an aging population, which is expected to boost market expansion. In addition, the launch of new drugs by key players is expected to drive the market's growth.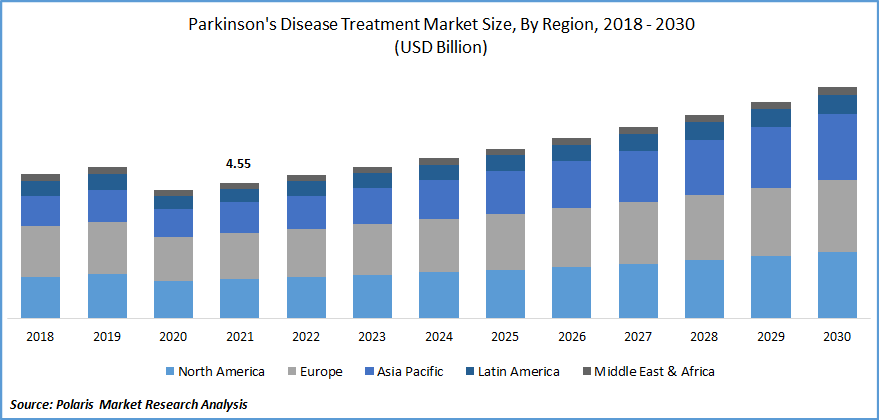 Know more about this report: Request for sample pages
Parkinson's disease is a brain and nerve condition that affects the ability to control movements. Parkinson's disease is caused by the breakdown or destruction of nerve cells (neurons) in the substantia nigra (SN) region of the brain. Often, the problem develops gradually and gets worse over time. The few indicators of Parkinson's disease include trembling, muscle rigidity, poor mobility, maintaining bodily balance, and cooperation. Speaking and sleeping problems, trouble with thinking and memory, and behavioral abnormalities could develop as the illness worsens.
The major factors that propel market growth include the significant prevalence of Parkinson's disease globally. For instance, according to the World Health Organization (WHO), in the past 25 years, the prevalence of Parkinson's disease (PD) has increased, with predictions for 2019 estimating that over 8.5 million people worldwide have PD. More people are becoming disabled and dying from PD than any other neurological condition. According to current estimates, PD claimed 329,000 fatalities in 2019, a rise of over 100% since 2000, and 5.8 million disorder life years, a growth of 81 percent since 2000.
There is presently no one treatment or cure for Parkinson's disease. However, there are several supportive therapies, including physiotherapy, surgery, and medications. The market for medications to treat Parkinson's disease is anticipated to rise. The Parkinson's disease drug market will also be driven by additional medications that offer some respite from the disease's effects to preserve the quality of life for the patient.
Public health is at risk due to the ongoing COVID-19 epidemic, which is unprecedented. A recent study suggests that COVID-19 may exacerbate parkinsonism through various pathways, including pharmacodynamic alterations and systemic inflammatory responses. As a result, scientists around the world are working to create amantadine and other Parkinson's disease therapies to treat patients who are suffering from the condition, sustaining a steady demand for these treatments. However, COVID-19 limits and resource redistribution have made effective Parkinson's disease symptomatic treatments inaccessible.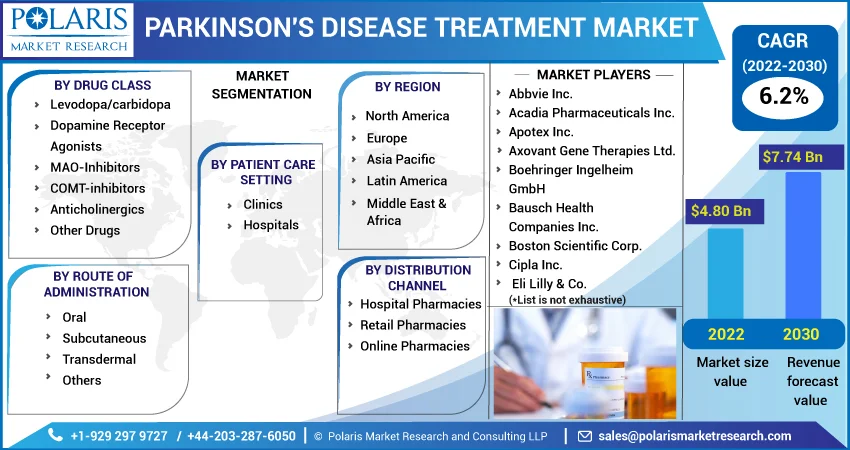 Know more about this report: Request for sample pages
Industry Dynamics
Growth Drivers
The market is anticipated to rise due to the strong pipeline of new medications for the condition. For instance, in October 2021, Appello Pharmaceuticals Inc., a diagnostic and therapeutic company dedicated to finding novel early-stage drug targets for patients with neurological disorders, started phase 1 clinical studies of a Parkinson's disease potential drug formed at the Warren Center for Neuroscience Drug Discovery. The mGlu4 PAM AP-472 is designed to work with levodopa, a currently available treatment for Parkinson's disease, to extend the time that patients experience relief from their Parkinson's illnesses without suffering from crippling side effects like dyskinesias—uncontrollable unconscious movements.
Additionally, in May 2021, PharmaTher Holdings Ltd. is excited to announce that the U.S. Food and Drug Administration has confirmed the Firm's Investigational New Drug ("IND") application to move forward with a Phase 2 clinical trial to assess the safety, effectiveness, and pharmacokinetic properties of ketamine in the diagnosis of dopamine antagonists dyskinesia in patients suffering from Parkinson's disease. Thus, the major drugs in clinical development are the factor that is boosting the market growth over the forecast period.
Furtherly, the increasing number of generic drug manufacturers along with rising research and development spending from government and private firms are also lifting the market growth in the above-mentioned forecast period
Report Segmentation
The market is primarily segmented based on drug class, distribution channel, route of administration, patient care setting, and region.
By Drug Class

By Distribution Channel

By Route of Administration

By Patient Care Setting

By Region

Levodopa/carbidopa
Dopamine Receptor Agonists
MAO-Inhibitors
COMT-inhibitors
Anticholinergics
Other Drugs

Hospital Pharmacies
Retail Pharmacies
Online Pharmacies

Oral
Subcutaneous
Transdermal
Others

North America (U.S., Canada)
Europe (France, Germany, UK, Italy, Netherlands, Spain, Russia)
Asia Pacific (Japan, China, India, Malaysia, Indonesia. South Korea)
Latin America (Brazil, Mexico, Argentina)
Middle East & Africa (Saudi Arabia, UAE, Israel, South Africa)
Know more about this report: Request for sample pages
The MAO-Inhibitors segment is expected to witness the fastest growth
Dopamine and other substances found in the brain, are broken down by the Monoamine Oxidase Type B (MAO-B) enzyme in the nervous system. An MAO-B inhibitor, a medication, increases the amount of dopamine available for the brain, which can mildly alleviate several Parkinson's Disease (PD) movement symptoms. To treat PD, MOA-B inhibitors have lately become popular. Over the projection period, this is anticipated to accelerate segment growth.
The oral route of the administration segment accounted for a significant market share in 2021
The market for Parkinson's disease therapies significantly increased in the oral segment, driven by patient compliance, simplicity of consumption, pain avoidance, and adaptability to various drug types. To improve clinical outcomes, several dopamine agonists are given orally, including ropinirole and pramipexole. As a result, these variables increase the demand for oral administration, which will fuel market growth.
Levodopa/carbidopa segment is expected to hold the largest revenue share
The benefits of levodopa/carbidopa for treating Parkinson's are the factor boosting the market growth over the forecast period. The best medication for controlling Parkinson's disease symptoms is a combination of carbidopa and levodopa. Levodopa can have specific negative side effects, such as nausea, tiredness, and postural hypotension. Levodopa is frequently used to treat Parkinson's disease since these adverse effects are frequently successfully managed. Levodopa can also cause dyskinesias, or uncontrollable movements, as the condition worsens and the brain loses its capacity to make and process dopamine. Carbidopa/levodopa comes in a variety of forms and strengths, including controlled release (Sinemet CR), extended releasing (RytaryTM), a composition that dissolves in the tongue without water (Parcopa), and the form of a gel (DuopaTM) that needs to be implanted surgically.
However, in May 2022, ABBV-951 (for carbidopa/for levodopa), which treats behavioral fluctuations in people with advanced Parkinson's disease, has been the focus of a New Drug Application (NDA) from AbbVie to the American Food and Drug Administration (FDA). The application is based on Phase 3 head-to-head, randomized, controlled clinical study that showed statistically significant improvements in "On" time without bothersome dyskinesia compared to oral instant carbidopa/levodopa (CD/LD). As a result, it is also anticipated that the FDA's clearance of the pharmaceuticals and their extensive clinical testing will help the market expand.
The demand in North America is expected to witness significant growth
The market for Parkinson's disease medications in North America is expanding significantly, mainly in the US. The rising prevalence of Parkinson's illness in the nation, government organizations' initiatives to treat Parkinson's disorders, and different market competitors are all contributing factors to the market's growth. According to the Parkinson's Foundation, more Americans have Parkinson's disease (PD) than have Lou Gehrig's illness (or Amyotrophic Lateral Sclerosis), neurodegenerative disorders, or muscular dystrophy combination. Nearly one million Americans have PD. By 2030, this is projected to increase to 1.2 million. Annually, PD is diagnosed in about 60,000 Americans. Over 10 million people are suffering from PD.
Moreover, Parkinson's disease costs Americans over $52 billion annually in direct and indirect expenses, including medical care, social security benefits, and lost wages. The average annual cost of just medications is $2,500, and the cost of therapeutic surgery reaches $100,000 per patient. The accessibility of medicines that have been licensed for the treatment of parkinsonism also helps the market in the US. The growing need for Parkinson's disease therapies is also being aided by a developed healthcare system and easier access to medications.
Furthermore, the government's efforts to speed up research and development of parkinsonism medicines are being fueled by the growing burden of managing Parkinson's disease on the healthcare systems of major European nations, including the UK. The UK Parkinson's Disease Consortium (UKPDC) is working to develop new theories, investigate disease causes, and find novel treatments for Parkinson's disease. Additionally, as per the European Parkinson's disease Association, parkinsonism affects more than 1.2 million individuals in Europe right now, and by 2030, that number is expected to treble. Intriguingly, the prevalence of Parkinson's disease is rising globally. Within the next 20 years, it is predicted to double (up to 2 percent in people over the age of 60 and 6 percent in people over 80 years). Parkinson's disease costs Europe an average of €11,000 per person annually, amounting to a total cost of €13.9 billion. This aspect also influences the creation and demand for Parkinson's disease treatments.
Competitive Insight
Some of the major players operating in the global market include Abbvie Inc., Acadia Pharmaceuticals Inc., Apotex Inc., Axovant Gene Therapies Ltd., Boehringer Ingelheim GmbH, Bausch Health Companies Inc., Boston Scientific Corp., Cipla Inc., Daiichi Sankyo Espha Co., Ltd., Eli Lilly & Co., Eisai Co., Ltd., F. Hoffmann-La Roche AG, GlaxoSmithKline Plc, Impax Laboratories, Inc., Merck & Company, Mylan Nv, Novartis AG, Pfizer Incorporation, Sanofi Sa, Teva Pharmaceutical Industries Ltd., Vertical Pharmaceuticals, Llc, And Wockhardt Ltd.
Recent Developments
In March 2022, Neuron23 received $100 million in a Series C investment round, commanded by SoftBank Vision Funding, to promote the creation of a clinical candidate for this disease. The most recent development brings the total amount of money the company has raised to $213.5m.
Parkinson's Disease Treatment Market Report Scope
| | |
| --- | --- |
| Report Attributes | Details |
| Market size value in 2022 | USD 4.80 billion |
| Revenue forecast in 2030 | USD 7.74 billion |
| CAGR | 6.2% from 2022 - 2030 |
| Base year | 2021 |
| Historical data | 2018 - 2020 |
| Forecast period | 2022 - 2030 |
| Quantitative units | Revenue in USD billion and CAGR from 2022 to 2030 |
| Segments Covered | By Drug Class, By Route of Administration, By Patient Care Setting, By Distribution Channel, By Region |
| Regional scope | North America, Europe, Asia Pacific, Latin America; Middle East & Africa |
| Key Companies | Abbvie Inc., Acadia Pharmaceuticals Inc., Apotex Inc., Axovant Gene Therapies Ltd., Boehringer Ingelheim GmbH, Bausch Health Companies Inc., Boston Scientific Corp., Cipla Inc., Daiichi Sankyo Espha Co., Ltd., Eli Lilly & Co., Eisai Co., Ltd., F. Hoffmann-La Roche AG, GlaxoSmithKline Plc, Impax Laboratories, Inc., Merck & Co. Inc., Mylan Nv, Novartis International AG, Pfizer Inc., Sanofi Sa, Teva Pharmaceutical Industries Ltd., Vertical Pharmaceuticals, Llc, And Wockhardt Ltd. |