The global superhydrophobic coatings market is valued at US $17.03 million in 2021 and is expected to grow at a CAGR of 25.2% during the forecast period. A superhydrophobic coating is a nanoscopic outer coat that repels oil, water, and another type of liquids and provides a shiny & finished surface.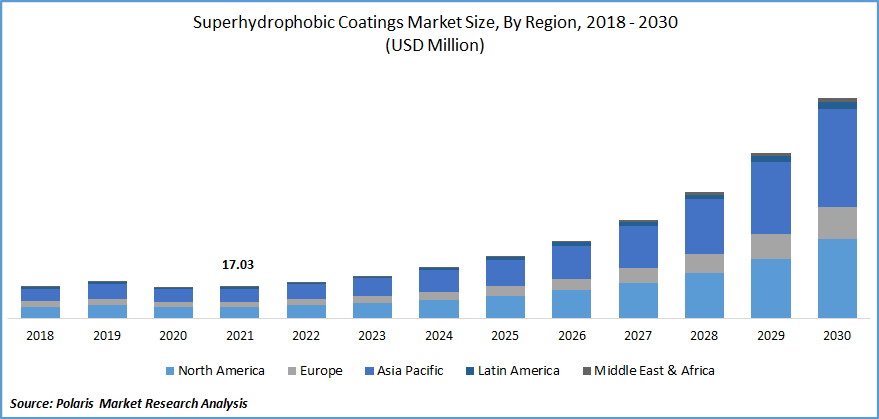 Know more about this report: Request for sample pages
Superhydrophobic coatings are applied to nearly every surface nevertheless of their sophisticated design or material configuration as they are galvanized organically from organic sources such as the beetle and leaf. The brisk development in the construction business is majorly taking part in market expansion by virtue of the increasing requirement to elongation of the life of tangible structures and lower maintenance expenses coupled with sky-scraping glass houses/buildings.
Rapid suburbanization predominantly in developing countries such as South Africa, Japan, China, Brazil, and India is anticipated to uplift market growth in the building and construction sector, which is anticipatory to improve the demand for technologically advanced superhydrophobic coatings and innovative surface shielding methods.
Advanced technological headway in underwater electronics systems and pliable and costumery electronics are contemplated to generate opportunities for the market. The pharmaceutical and healthcare category is anticipated to acquire significant market share over the projection phase due to on motive of surging requirements for anti-microbial, superhydrophobic equipment, and water-resistant coatings.
Anti-microbial exteriors in the superhydrophobic segment are getting greater acceptance owing to their durability, water resistance, rust protection, and biocompatibility inboard the healthcare division. Regardless of hydrophobic coatings being accrescent regular, superhydrophobic coatings are not usually sold as manufacturing cost is comparably high and require huge investment.
The fast pace spread of COVID19 has an obstructive impact on worldwide markets as major financially strong nations' manufacturing sectors around the world are shut down due to this global pandemic. Because of the lockdown, promptly the end users showed low interest in buying superhydrophobic coatings or any other coatings as well. Supply chain interruption, also a global crisis on all trades including transportation, construction, and furniture business as well which was damaged by decelerating demand in goods manufacturing and cross border exports had retardation the demand for superhydrophobic coatings market globally.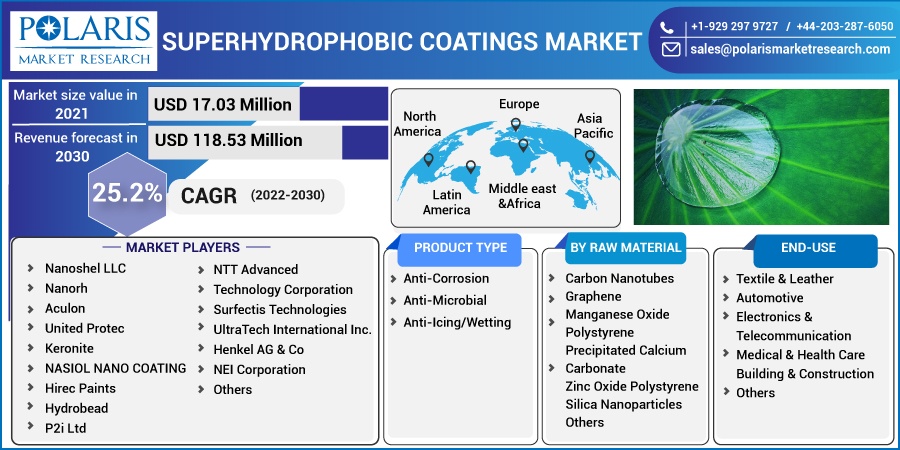 Know more about this report: Request for sample pages
Industry Dynamics
Growth Drivers
The growing acceptance of superhydrophobic coatings from automotive, textile & leather, building & construction, electronics & telecommunication, and other industries are preferable to the mass expansion of the superhydrophobic coatings market on a global level.
Superhydrophobic coatings market players are anticipatory showcasing stupendous revenue gain opportunities in the coming years. Establish organizations in the superhydrophobic coatings market are quickening their product development and capitalizing on a revenue window of opportunity to achieve a big market share.
Additionally, market participants are conquering challenges and broadening their service wing to achieve a strong competitive verge over associated competitors. Flourishing massive infrastructure activities in constantly expanding economies are also granting to the blooming growth of the global superhydrophobic coatings market during the prediction period.
Report Segmentation
The market is primarily segmented based on by product type, raw material, end-use, and regions.
Product Type

Raw Material

End-Use

By Region

Anti-Corrosion
Anti-Microbial
Anti-Icing/Wetting

Carbon Nanotubes
Graphene
Manganese Oxide Polystyrene
Precipitated Calcium Carbonate
Zinc Oxide Polystyrene
Silica Nanoparticles
Others

Textile & Leather
Automotive
Electronics & Telecommunication
Medical & Health Care
Building & Construction
Others

North America (U.S., Canada)
Europe (France, Germany, UK, Italy, Netherlands, Spain, Russia)
Asia Pacific (Japan, China, India, Malaysia, Indonesia. South Korea)
Latin America (Brazil, Mexico, Argentina)
Middle East & Africa (Saudi Arabia, UAE, Israel, South Africa)
Know more about this report: Request for sample pages
Anti-microbial is expected to grow at a significant market share
Anti-microbial superhydrophobic coatings are impressively earning popularity in the pharmaceutical industry, on the virtue of their water repellent property, impregnable, harmful fumes resistance, and subversive biocompatibility. Even though hydrophobic coatings are also mightily popular, superhydrophobic coatings are up to now being commercialized to a greater extent, as the huge expense associated with superhydrophobic coatings needs big investments.
Additional advantageous attributes of an anti-microbial superhydrophobic coating like versatile water contact properties have also motivated the growth of water enclosure for combinative chemistry, biological examination, drug screening, and affiliated applications.
Protective coatings against climatic conditions and anti-icing are anticipated to evolve as the prominent category of the property and to occupy a gigantic share by 2030. In the prevision frame, technological improvements and the development of significant nanomaterials in steel substrates will sustain the prominent growth of the superhydrophobic coatings industry.
Carbon nanotubes holds the protrusive market share in 2021
Carbon nanotubes are anticipated to preserve their dominance in the sector owing to their unique thermal, mechanical, and electrical properties, coupled with their frivolous and concavity attributes. The fragment is anticipatory to occupy significant share of the global market. Although, the required raw material is expensive to manufacture due to burdensome production methodology, which is likely to hinder its growth over the forecast phase.
Further raw materials including oxide polystyrenes and calcium carbonate of zinc and manganese are contemplated to unfold as the fast-emerging section over the estimation phase. These materials are extremely durable in contrast to coatings based on gel, which has gained demand in the global markets.
Silica nanoparticles are credible to persist in the cheapest raw material segment on the basis of their economical and extensive availability. These gel-oriented types were traditionally the most recommended raw material variety, even though enhancement of more significant materials has shown a decrease in market share to a global extent.
North America held the notable share in the global market in 2021
North America dominates the global market due to the availability of major market participants that creates mega technological investments in the market. Furthermore, economic rehabilitation and a surge in demand for ultra-modern consumer electronics are aspects boosting the regional market.
Asia Pacific region is expected to witness lucrative growth with an admirable CAGR over the forecast period, by reason of economical raw material of the finest quality and booming electronics business. Developing consumer awareness of the advantages of such coatings in textiles, automobiles, food packaging and other commercial sector is another vibrant factor driving the market growth.
South and Central America also showed productive opportunities for market players, on basis of multiple construction projects, smart cities, silicon valleys, and other international hubs. Non-residential construction fragments such as stadiums, shopping malls, and other public gathering places are significant for the application of these coatings to protect rusting, provide waterproofing solutions, and foster sustainability.
Competitive Insight
Some of the key players operating in the global market include Nanoshel LLC, Nanorh, Aculon, United Protec, Keronite, NASIOL NANO COATING, Hirec Paints, Hydrobead, P2i Ltd, NTT Advanced Technology Corporation, Surfectis Technologies, UltraTech International Inc. Henkel AG & Co, NEI Corporation, and Others.
Recent Developments
In 2021, Henkel AG & Co collaborated with Extra Horizon. This collaboration will assist the firm to introduce the digitization of the healthcare industry, by utilizing Henkel's proficiency in advanced material solutions.
In March 2020, P2i notifies a partnership with Samsung that creates Barrier nano-coating technology deployed in many smartphone layouts, ensuring water and other types of liquid protection to the internal functional parts of smartphones from the Samsung Galaxy brand. Barrier P2i will be launched under this technology.
In 2020, UltraTech International, Inc. launched the latest surf cleaner technology applied to split water spills. Oil spills in the sea from collisions, accidents and other reasons are a big pollution commination.
Superhydrophobic Coatings Report Scope
| | |
| --- | --- |
| Report Attributes | Details |
| Market size value in 2021 | USD 17.03 million |
| Revenue forecast in 2030 | USD 118.53 million |
| CAGR | 25.2% from 2022 - 2030 |
| Base year | 2021 |
| Historical data | 2018 - 2020 |
| Forecast period | 2022 - 2030 |
| Quantitative units | Revenue in USD million/billion and CAGR from 2022 to 2030 |
| Segments covered | By Product Type, By Raw Material, By End-Use, By Region |
| Regional scope | North America, Europe, Asia Pacific, Latin America; Middle East & Africa |
| Key companies | Nanoshel LLC, Nanorh, Aculon, United Protec, Keronite, NASIOL NANO COATING, Hirec Paints, Hydrobead, P2i Ltd, NTT Advanced Technology Corporation, Surfectis Technologies, UltraTech International Inc. Henkel AG & Co, NEI Corporation, and Others |