The global wetsuit market was valued at USD 2.42 million in 2022 and is expected to grow at a CAGR of 8.4% during the forecast period.
The wetsuit market is a thriving sector within the sports and outdoor industry, catering to individuals engaging in water-based activities, including surfing, wakeboarding, waterskiing, windsurfing, paddleboarding, kiteboarding, swimming, kayaking, triathlons, SCUBA diving, witnessed a surge in popularity. Wetsuits are specialized garments designed to provide thermal insulation and protection against the elements while maintaining flexibility and comfort in aquatic environments.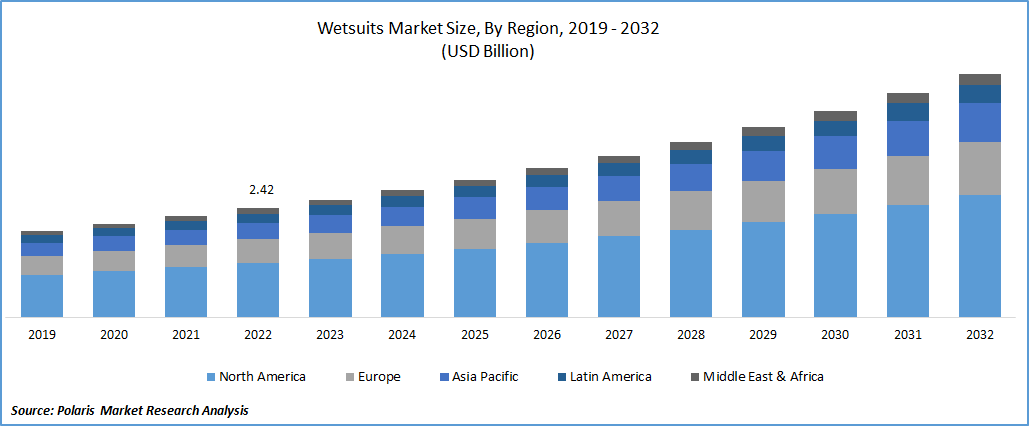 To Understand More About this Research: Request a Free Sample Report
These garments are typically made from neoprene, synthetic rubber with excellent insulation properties. Wetsuits come in different styles and thicknesses, allowing users to choose the suit based on the water temperature and activity level. Thicker wetsuits provide greater insulation in colder waters, while thinner cases offer enhanced flexibility in warmer conditions.
In recent years, the market has witnessed significant advancements in design and technology. Manufacturers focus on developing eco-friendly wetsuits that utilize sustainable materials and manufacturing processes, reducing their environmental impact. Additionally, innovations such as improved seam construction, better fit and ergonomic designs, and enhanced stretch and mobility have elevated the performance and comfort of wetsuits.
The market continues to grow due to increasing participation in water sports, rising consumer awareness about safety and protection, and the influence of fashion and style trends.
Utilizing technology and innovative design has played a crucial role in enhancing winter experiences for individuals. The demand in the industry has witnessed a notable increase, driven by factors such as climate change and the growing need for warmer clothing options.
Moreover, developing new technologies for artificial wave parks has fueled the demand for water sports products. Manufacturers are focusing on creating environmentally friendly suits that utilize water-based glue instead of neoprene and natural rubber in response to growing environmental concerns.
The market has also seen significant advancements in product offerings. For instance, introducing shark-repellent wetsuits equipped with SAMS (Shark Attack Mitigation System) has substantially influenced market growth. These wetsuits utilize disorienting color patterns to camouflage the diver and portray them as a potential predator threat, enhancing safety and peace of mind for water sports enthusiasts.
The market is expected to benefit from favorable regulations promoting health management in surfing and diving and increased disposable incomes. Government laws on environmentally friendly products also drive demand.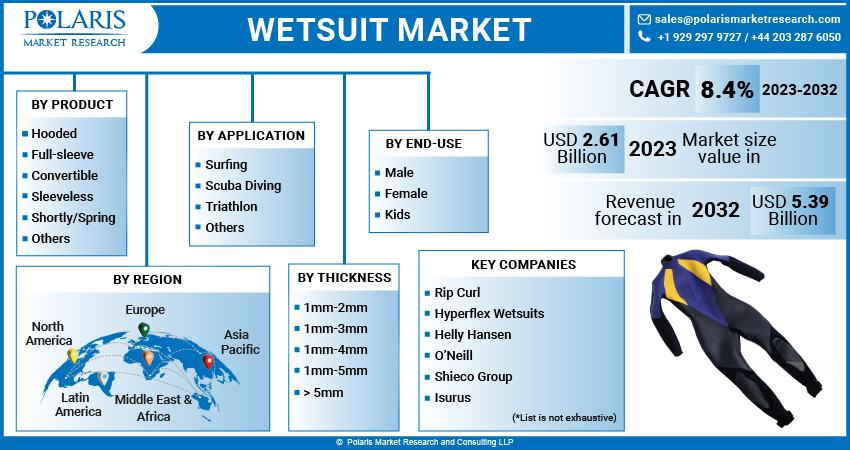 For Specific Research Requirements, Request for a Customized Report
Industry Dynamics
Growth Drivers
Increasing industry innovations and a rising awareness of the importance of wearing wetsuits
The growth of the wetsuit market is fueled by continuous industry innovations and a rising awareness of the importance of wearing wetsuits to prevent fatalities. Aqualung introduced a sustainable collection with a neoprene-free wetsuit in May 2021. Also, SRFACE expanded its Eco collection in April 2022 with a spring/summer-friendly wetsuit. Drowning, including sudden cardiac deaths, has been a concern.
Wetsuits are commonly used in triathlon swims for their performance benefits. The impact of wearing a wetsuit on the risk of cardiac incidents remains unknown. Proposed explanations for triathlon swimming deaths are hypothetical, with wetsuits, especially tight-fitting ones, potentially affecting arterial baroreflex function and blood pressure regulation.
The market has experienced increased demand due to the growth of the travel and tourism industry and the rising interest in water adventure sports among millennials. However, it is important to note that drowning incidents during water-based activities remain a significant concern. According to statistics from the WHO (World Health Organization), drowning is the third cause of obligatory injury-related deaths globally, accounting for approximately 7 percent.
In 2019 alone, an estimated 236,000 individuals died due to drowning. These alarming statistics highlight the need for safety measures, including wetsuits, to prevent drowning incidents. As a result, the rising number of drowning cases drives the demand for wetsuits and contributes to the market's growth during the forecast period.
Report Segmentation
The market is primarily segmented based on product, thickness, application, end-use, and region.
By Product

By Thickness

By Application

By End-Use

By Region

Hooded

Full-sleeve

Convertible

Sleeveless

Shortly/Spring

Others

1mm-2mm

1mm-3mm

1mm-4mm

1mm-5mm

> 5mm

Surfing

Scuba Diving

Triathlon

Others

North America (U.S., Canada)

Europe (France, Germany, UK, Italy, Netherlands, Spain, Russia)

Asia Pacific (Japan, China, India, Malaysia, Indonesia, South Korea)

Latin America (Brazil, Mexico, Argentina)

Middle East & Africa (Saudi Arabia, UAE, Israel, South Africa)
To Understand the Scope of this Report: Speak to Analyst
Full-sleeve segment accounted for the highest market share in 2022
In 2022, the Full-sleeve wetsuit segment accounted for the highest share in the global market. Full-sleeve wetsuits offer enhanced comfort and protect against minor injuries. The demand for safe, comfortable, and flexible wetsuits will rise as leisure activities and water sports gain popularity.
Additionally, introducing the Shark Attack Mitigation System in the industry is projected to drive sales during the forecast period further. Among different water sports, surfing dominates the market growth. It is a widely popular activity that appeals to people of all ages. Surfing offers both a sense of relaxation and an adventurous experience.
Surfing segment accounted for the largest market share in 2022
In 2022, the surfing segment accounted for the largest market share, driven by the popularity of wetsuit apparel. Wetsuits enhance the experience for seasonal surfers and make the sport more accessible to a global audience. They are used throughout the year to provide warmth and protection to surfers. Beyond physical comfort, the lifesaving capability of surfing wetsuits presents significant growth opportunities for the industry.
The advancement of technology has led to the development of innovative sports models, such as artificial waves and wave parks. These developments create favorable prospects for the growth of the surfing industry. Additionally, the industry is experiencing growth through the expansion of surfing to inland regions and the support of prominent corporate sponsors. This amalgamation of factors positions the industry for a significant increase in the forecast period.
North America held the largest revenue share in 2022
In 2022, North America held the largest revenue share in wetsuit market. The region is poised for further growth, fueled by the increasing demand for water activities and the implementation of growth initiatives by various organizations to support diving and surfing. The adoption of artificial wave and wave park technologies is expected to have a positive impact on the surfing industry and related sectors. Locations like the Columbia River Gorge and Maui Islands, renowned as the world's windsurfing capital, are anticipated to bolster overall business sales.
The rising popularity of indoor platforms featuring artificial water wave parks is influencing individuals, particularly millennials, to engage in water-based activities. This trend drives the demand for wetsuits. Moreover, the Professional Association of Diving Instructors (PADI) organized an open event in 2021, inviting PADI dive centers and professionals to come together and celebrate adventure, enthusiasm, and ocean advocacy, further highlighting the industry's growth potential.
Furthermore, the Asia Pacific region is projected to experience a high compound annual growth rate (CAGR) in the global market. The demand for wetsuits is expected to continue rising in China, driven by the increasing popularity of recreational activities and high-quality water sports accessory businesses. Introducing new water sports activities and events will further contribute to the growth of the market in China.
A notable example is the Asia Water Recreational Sports Expo hosted by China in 2020. This event presented numerous opportunities for wetsuit manufacturers. It served as a global platform for water sports equipment manufacturers to engage in exchange and trade, capitalize on emerging trends, and boost sales. The expo played a significant role in promoting the growth of the market by facilitating business opportunities and fostering industry development in the region.
Competitive Insight
Some major global players operating worldwide include Pittasoft, Rip Curl, Hyperflex Wetsuits, Helly Hansen, O'Neill, Shieco Group, Isurus, Carapace Wetsuits, Patagonia, Typhoon, Aqua Lung, Quiksilver, Arena Italia SPA, and Glidz Wetsuits, others.
Recent Developments
In 2021, Rip Curl, a wetsuit supplier, joined forces with TerraCycle, a prominent recycling firm based in the United States, to introduce the "Wetsuit Take Back Recycling Program." This initiative aimed to assist surfers in Australia by enabling them to recycle their branded wetsuits throughout the country.

In 2021, Aqualung unveiled the innovative XSCAPE collection, which includes eco-responsible wetsuits. These wetsuits are 100% free from neoprene and feature a rash guard made from sustainable materials, ensuring a comfortable and environmentally friendly surfing experience.
Wetsuit Market Report Scope
| | |
| --- | --- |
| Report Attributes | Details |
| Market size value in 2023 | USD 2.61 billion |
| Revenue forecast in 2032 | USD 5.39 billion |
| CAGR | 8.4% from 2023 – 2032 |
| Base year | 2022 |
| Historical data | 2019 – 2021 |
| Forecast period | 2023 – 2032 |
| Quantitative units | Revenue in USD billion and CAGR from 2023 to 2032 |
| Segments Covered | By Product, By Thickness, By Application, By End-Use, By Region |
| Regional scope | North America, Europe, Asia Pacific, Latin America; Middle East & Africa |
| Key Companies | Some major global players operating worldwide include Pittasoft, Rip Curl, Hyperflex Wetsuits, Helly Hansen, O'Neill, Shieco Group, Isurus, Carapace Wetsuits, Patagonia, Typhoon, Aqua Lung, Quiksilver, Arena Italia SPA, and Glidz Wetsuits, others. |