The global green and bio polyols market was valued at USD 4.48 billion in 2021 and is expected to grow at a CAGR of 9.3% during the forecast period. The manufacturing of polyurethane, coatings, sealants, thermoplastic elastomers, adhesives, and fake leather all utilize green and bio polyol as primary raw materials.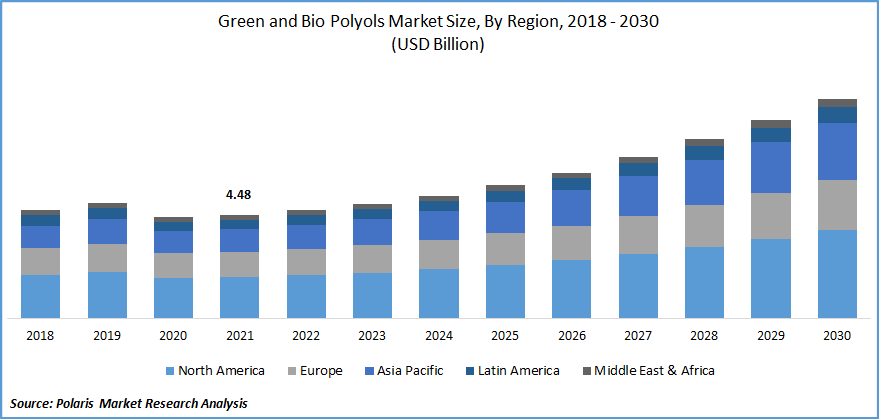 Know more about this report: Request for sample pages
Eco-friendly alcoholic solutions and green and bio polyols are made from recycled polyethylene terephthalate (PET) and polyurethanes. They are top-notch bio-based polyols used in a variety of applications. The green and polyols are created using renewable resources, such as natural oils like soya, castor, palm, canola, sunflower, genuine supplies like corn and sugar, or carbon dioxide.
Also, they are recycled from polymers like polyethylene terephthalate (PET) and polyurethanes (PU). These are used to create coatings, adhesives, sealants, and elastomers (CASE), which are employed in various end-use industries. They also make PU rigid and flexible foams. The growing demand for PU flexible or inflexible foams as insulating material in buildings and the furniture & bedding industry is expected to drive the growth of the global green and bio polyols market.
The factors driving the global industry for green and bio polyol are the eco-friendly and sustainable nature, the steady supply of bio-based feedstock, and changes in the price of crude oil. The industry for green and bio polyol will also grow due to the adoption of stringent environmental standards by various governments and supportive policies that encourage manufacturers to include greener and bio polyol in their goods.
Furthermore, the increasing penetration of green bio-based polyols within the automotive and packaging industry and recycling from foam-based waste are anticipated to supply profitable opportunities for expanding the green and bio polyols market.
COVID-19 is impacting the growth of economies across the globe. Economies are recovering with a reduction in restrictions imposed by major countries. Owing to the spread of the disease, both lives and livelihoods are at risk. The global impacts of the coronavirus disease (COVID-19) will significantly affect the green and bio polyols market production was ceased along with a decline in demand for products.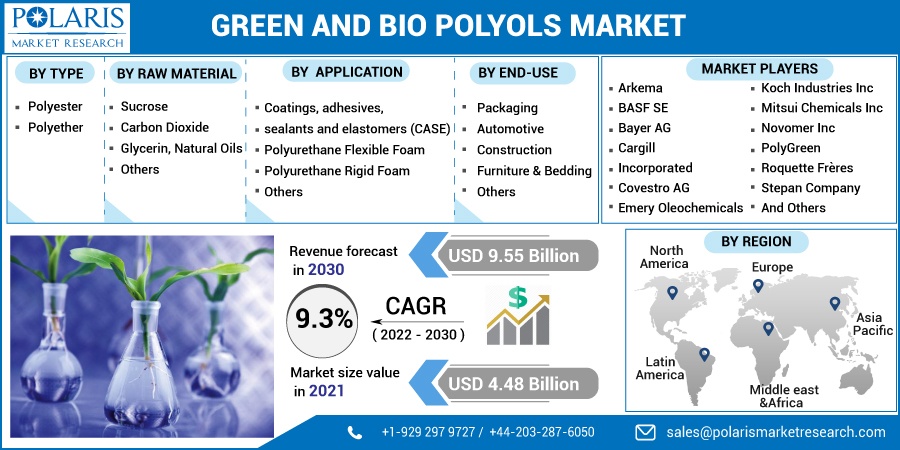 Know more about this report: Request for sample pages
Industry Dynamics
Growth Drivers
The automotive industry is among the most significant users of bio-based polyols. When compared to conventional polyols, bio-based can enhance the load-bearing or hardness properties in molded foams, such as automotive seating and headrests, armrests for insulation purposes, car interior parts, and construction applications such as residential, commercial, infrastructure, and other industrial purposes. Raw ingredients can be poured into molds to produce a precise, dependable shape for the foam. Automobiles, trucks, boats, buses, and airplanes use molded foam. Approximately 85% of all foam molded in North America is used in transportation. Bedding and workplace furniture are some uses. These elements are anticipated to be the main drivers in the polyurethane market, implying growth in the demand for green and bio polyols.
Most often, polyurethane foam supports and protects lighter, sensitive objects. Excellent cushioning is provided by this foam, which can be customized. The egg container, saw-cut pads and blocks, and water jet-cutting pads are examples of clamped-cut polyurethane foam used in disposable packaging. Foam is frequently used in packaging to help safeguard and carry various items, from delicate glassware to electrical and medical diagnostic equipment. Polyurethane foam, a versatile on-site solution for various packaging difficulties, can save time and money by delivering a customized solution.
Report Segmentation
The market is primarily segmented based on type, raw material, application, end-use industry, and region.
By Type

By Raw Material

By Application

By End-Use

By Region

Sucrose
Carbon Dioxide
Glycerin, Natural Oils
Others

Coatings, adhesives, sealants and elastomers (CASE)
Polyurethane Flexible Foam
Polyurethane Rigid Foam
Others

Packaging
Automotive
Construction
Furniture & Bedding
Others

North America (U.S., Canada)
Europe (France, Germany, UK, Italy, Netherlands, Spain, Russia)
Asia Pacific (Japan, China, India, Malaysia, Indonesia. South Korea)
Latin America (Brazil, Mexico, Argentina)
Middle East & Africa (Saudi Arabia, UAE, Israel, South Africa)
Know more about this report: Request for sample pages
Natural oils segment accounted for the largest market share
The natural oils segment led the raw material segment of the market concerning both value and volume. Natural oil green are bio-polyols that are synthesized from natural oils. Soybean oil, rapeseed (canola) oil, palm oil, castor oil, and sunflower oil can be used to make polyols. Although all-natural oil polyols have comparable origins and use, there is a difference in materials that is dependent on how they are created.
These range in color from colorless to light yellow. The molecular weight and the average number of hydroxyl groups present per molecule define the viscosity of these polyols, which varies depending on the source components. The odor of these varies depending on the oil they are made from. Most natural oil is chemically identical to their parent vegetable oils and prone to rancidity.
Polyether accounted for a major share in 2021
Polyether-based polyurethanes are employed in coating, adhesive, sealant, and elastomer applications as they have better hydrolytic stability and good tolerance. The market is expected to develop due to the increasing use of polyether in flexible foams for cushioning applications such as furniture, beds, automobile seats, and carpet underlay.
In their molecular form, polyether has several ether connections and hydroxyl groups. Urethanes, surface-active agents, functional fluids, and synthetic lubricants are made with most of these polyols. The length of the polymer chain affects the physical properties of polyether. The molecular weight of these exceeds 3,000.
PU flexible foams segment will account for the largest revenue share
PU flexible foams are the most significant applications segment of the green and bio polyols market. PU flexible foams are widely used in consumer and commercial items. These items include furniture, cushions, carpet transportation, bedding, packaging, fabrics, and fibers. PU flexible foams provide support, comfort, durability, and energy absorption as cushion material. Armrests, seats, headrests, heating and air conditioning (HVAC) components, vehicle & truck fenders, interior panels & skins, headliners, and other interior systems are a few of the applications for PU flexible foam in the automobile sector. The use of polyurethane in automotive design reduces vehicle weight, improves passenger comfort, and increases compressive strength, necessitating the usage of flexible polyurethane foams in the market.
North America accounted for the largest region of the market
North America leads the green and bio polyols market owing to product innovation in enhancing performance and quality and new developments in applications, such as aerospace, automotive, and wind energy. These are primarily used in the region's automotive, furniture, consumer durables, and food and beverage industries.
The U.S. is the largest market for green and polyols in North America, accounting for a significant market volume. Green and polyols are predicted to fuel regional market expansion in construction, transportation, and applications such as furniture, adhesives, sealants, and binders.
Competitive Insight
The major players in the green and bio polyols market are Arkema, BASF SE, Bayer AG, Cargill, Incorporated, Covestro AG, Emery Oleochemicals, Huntsman International LLC, Jayant Agro-Organics Limited, Koch Industries Inc, Mitsui Chemicals Inc, Novomer Inc, PolyGreen, Roquette Frères, Stepan Company, and The Dow Chemical Company Inc. These players are expanding their presence across various geographies and entering new markets in developing regions to expand their customer base and strengthen presence in the market. The companies are also introducing new innovative products to cater to the growing consumer demands.
Recent Developments
In April 2022, Valentino released the first conscious-driven sneaker. The luxury company is launching the first-ever 'Open for a Change' initiative since the sneakers are made from recycled and bio-based materials.
In December 2021, Cargill agreed to buy most of Croda's performance technologies and industrial chemicals business cash-free and debt-free. As a result of the investment, Cargill's bio-industrial footprint would significantly expand, allowing it to offer better industrial producers searching for greener ingredient solutions.
In September 2021, as part of the RENUVA program, Dow Polyurethanes, a Dow business company, and Orrion Chemicals Orgaform inaugurated a pioneering mattress recycling plant in conjunction with Eco-Mobilier, H&S Anlagentechnik, and The Vita Group.
In June 2021, Dow launched a mass-balance approach to producing new polyurethane systems based on a circular feedstock derived from waste material from the mobility market, which will replace virgin fossil-fuel-based feedstock. The new SPECFLEX C and VORANOL C product lines will be offered to the mobility industry first, collaborating with critical automotive suppliers Adient and Autoneum.
Green and Bio Polyols Materials Market Report Scope
| | |
| --- | --- |
| Report Attributes | Details |
| Market size value in 2021 | USD 4.48 billion |
| Revenue forecast in 2030 | USD 9.55 billion |
| CAGR | 9.3% from 2022 - 2030 |
| Base year | 2021 |
| Historical data | 2018 - 2020 |
| Forecast period | 2022 - 2030 |
| Quantitative units | Revenue in USD billion and CAGR from 2022 to 2030 |
| Segments covered | By Type, By Raw Material, By Application, By End-Use Industry, By Region |
| Regional scope | North America, Europe, Asia Pacific, Latin America; Middle East & Africa |
| Key companies | Arkema, BASF SE, Bayer AG, Cargill, Incorporated, Covestro AG, Emery Oleochemicals, Huntsman International LLC, Jayant Agro-Organics Limited, Koch Industries Inc, Mitsui Chemicals Inc, Novomer Inc, PolyGreen, Roquette Frères, Stepan Company, and The Dow Chemical Company Inc. |