The global healthy snacks market was valued at USD 88.59 billion in 2022 and is expected to grow at a CAGR of 7.5% during the forecast period. The market for healthy snacks has experienced a significant surge in recent years, particularly following the global pandemic. With customers increasingly prioritizing their health, the demand for nutritious yet enjoyable snack options has grown. In addition, advancements in the supply chain of these products are contributing to the market's growth. Major supermarket chains now partner with third-party online delivery companies to broaden their reach through e-commerce channels.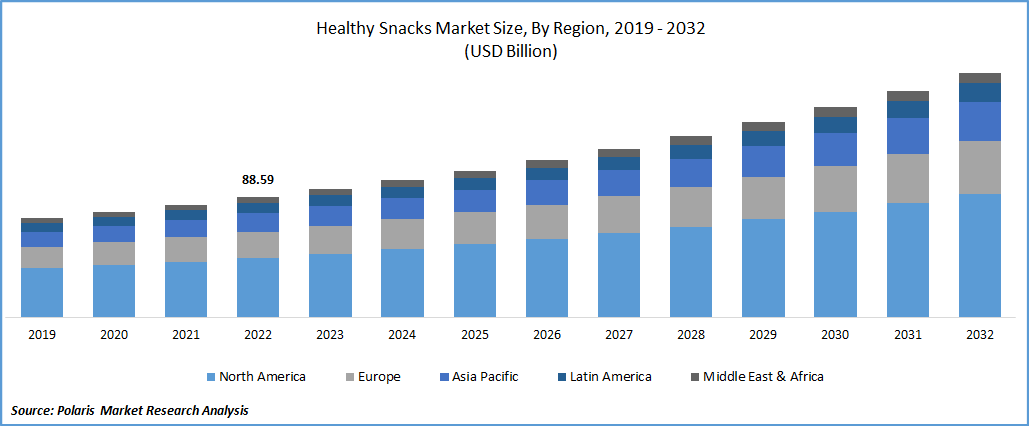 Know more about this report: Request for sample pages
The COVID-19 pandemic has changed individuals' dietary patterns, where restricted options for dining outside have led to a surge in dependence on homemade meals. Consequently, people have developed a greater awareness of their well-being, striving to maintain fitness, avoid sickness, and enhance their overall health. This trend has triggered an upsurge in inventive and nutritious snack choices catering to customers' health demands, convenience, and palatability. These snacks enable them to train for more extended periods at higher intensities.
The combination of increased disposable income and a corporate culture that involves long work hours and stressful lifestyles has caused a shift in eating habits. Historically, snacks have been associated with unhealthy options high in oil and sugar, contributing to health problems such as obesity, hypertension, and high blood sugar. However, there has been a recent change in consumer behavior, shifting away from oily and spicy products towards healthier options that are sugar-free, low-calorie, and packaged in small portions. This significant trend is driving growth in the industry.
Modern-day consumers seek out snacking options that are both nutritious and convenient while also appealing to their taste buds and budget. A 2020 study by MondelÄ "z International found that almost 59% of adults worldwide prefer to consume multiple smaller meals throughout the day rather than a few larger ones. To meet these evolving needs, manufacturers of healthy snacks are developing products that meet nutritional criteria and address age-specific concerns such as energy, digestion, immunity, weight loss, or memory. This trend is driving the growth of the market for healthy snacks.
In the upcoming year, the healthy snacks industry is anticipated to be led by products featuring unique and enticing flavors and textures, developed using sustainable technologies and packaged with recyclable materials while displaying clean labels. Among the emerging trends in this sector are vegan snacks, products with zero fats, high or added protein content, whole grains, reduced or zero sugar content, baked snacks with no oil, and gluten-free snacks, all accompanied by eco-friendly packaging. The market is witnessing many innovative offerings, expanding the range of products.
The trend of personalized healthy snacks is gaining traction in the global industry, with a growing demand for snacks tailored to consumers' lifestyles, dietary restrictions, and health requirements. It has led to a rise in personalized nutrition offerings, including keto-friendly and low-cholesterol snacks and those that promote mood-boosting, gut health, and better sleep. A notable example is the launch of the meatless jerky product by PepsiCo and Beyond Meat in March 2022, marking their first plant-based offering under their PLANeT Partnership joint venture, which aims to develop plant-based healthy snacks and beverages.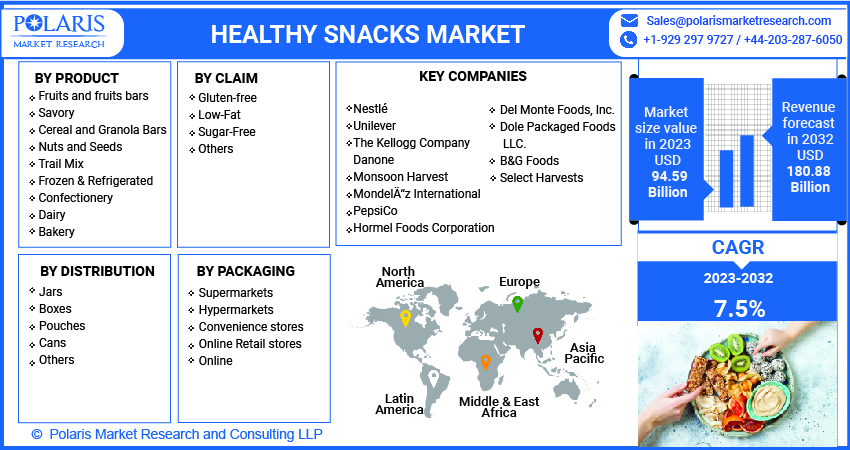 Know more about this report: Request for sample pages
Industry Dynamics
Growth Drivers
Rising consumer demand for functional foods, which aid in promoting overall health and mitigating lifestyle-related chronic health conditions, is the primary driver of the global healthy snacks market. Shoppers are consistently on the lookout for healthier options in grocery stores. Products containing functional ingredients like proteins, micronutrients, organic, fiber, clean-label, and plant-based items have entered mainstream retail channels. The market for healthy snacks is experiencing growth, driven by the increasing promotion of functional foods for digestive health improvement, weight management, and risk reduction of conditions like obesity, diabetes, and cardiovascular diseases.
The healthy snacks market is experiencing growth, largely due to the surging demand for convenient, ready-to-eat foods and on-the-go snacking options. These products offer quick nourishment and satiety for people with busy schedules. A "state of snacking" report published by Mondel?z International revealed that around 59% of adults worldwide prefer consuming multiple smaller meals throughout the day instead of a few larger ones. This trend indicates the increasing popularity of on-the-go snacking to fulfill nutritional requirements. In addition to their controlled portions, consumers regard snacks as an integral component of a healthy diet. These portable and convenient packages boost energy during a busy workday. Healthy eating is transforming the snack industry, with various healthy snack products emerging to meet the growing demand for on-the-go nutrition.
Report Segmentation
The market is primarily segmented based on product, claim, distribution channel, packaging, and region.
By Product

By Claim

By Distribution Channel

By Packaging

By Region

Fruits and fruits bars

savory

Cereal and Granola Bars

Nuts and Seeds

Trail Mix

Frozen & Refrigerated

Confectionery

Dairy

Bakery

Gluten-free

Low-Fat

Sugar-Free

Others

Jars

Boxes

Pouches

Cans

Others

Supermarkets

Hypermarkets

Convenience stores

Online Retail stores

Online

North America (U.S., Canada)

Europe (France, Germany, UK, Italy, Netherlands, Spain, Russia)

Asia Pacific (Japan, China, India, Malaysia, Indonesia. South Korea)

Latin America (Brazil, Mexico, Argentina)

Middle East & Africa (Saudi Arabia, UAE, Israel, South Africa)
Know more about this report: Request for sample pages
The fruit

segment is expected to exhibit the highest growth during forecast period
The fruit segment is anticipated to experience the highest growth in the healthy snacks market, during forecast period. These bars are available in various options, including those fortified with omega-3, prebiotics, and probiotics, as paleo and keto options that are low in high in medium-chain triglycerides and carbohydrates. Protein content in bars is also increasing, with standard whey and soy proteins commonly used and pea protein gaining popularity.
Companies offer various nutritional supplements to cater to consumers' preferences for nutritious, delicious, and convenient snacks, including those in dairy and confectionery forms. The dairy segment's growth has been driven by the popularity of plant-based options, such as Good Karma's Flaxmilk drinkable and spoonable yogurts and Chobani's Non-Dairy Greek yogurt. For example, in September 2021, the manufacturer of chocolate, Mondel?z International, joined the snack bar market in India by launching the Fuse Fit snack bar, highlighting the industry's focus on healthy snacking options.
The supermarkets

accounted for the largest market share in 2022
In 2022, supermarkets held the largest market share of the global market. The dominance of this distribution channel can be attributed to the sheer volume of supermarkets spread across the globe. For example, one of the world's largest supermarket chains, 7-Eleven, operates over 46,000 outlets in 16 countries. Additionally, the rapid development of retail infrastructure across developing economies contributes to the industry's growth.
Moreover, rapid delivery services are achieving rates worldwide, and supermarkets are embracing this process to maximize their value. In recent months, many supermarkets have partnered with or invested in large rapid delivery companies. By leveraging their existing supply chains, supermarkets can increase their margins, while delivery services can extend their distribution networks and reduce market competition.
The North America held the largest revenue share in 2022
In 2022, North America held the largest revenue share of the global healthy snacks market. The demand for healthy snacks in the United States has increased significantly since the emergence of the COVID-19 pandemic. While the U.S. was already a large consumer of snacks, the focus has shifted towards consuming healthier and more nutritious options to prevent health-related risks associated with excessive snacking.
Moreover, the high proliferation rates of supermarkets, hypermarkets, and convenience stores have contributed to sales growth in the region. Convenience stores are collaborating with delivery platforms to enhance their online retail presence. For example, in September 2020, Instacart, a grocery delivery and pick-up service operator in the U.S. and Canada, entered the convenience store market through a partnership with 7-Eleven, Inc. This trend is expected to continue driving market growth in North America.
The Asia Pacific region is projected to experience the highest growth rate in the global market. In this region, there is increasing recognition of the importance of gut-friendly and immunity-boosting products, including prebiotics and probiotics. Many manufacturers have added functional ingredients like macronutrients and antioxidants to snacks to create healthy options. Additionally, companies emphasize clean labels and product flavors to entice customers, which is expected to propel market growth in the coming years.
Competitive Insight
Some of the Major players operating in the global market of healthy snacks include Nestlé, Unilever, The Kellogg Company, Danone, Monsoon Harvest, MondelÄ"z International, PepsiCo, Hormel Foods Corporation, Del Monte Foods, Inc., Dole Packaged Foods, LLC., B&G Foods, Select Harvests.
Recent Developments
In February 2020, Farmwise L.L.C., a Massachusetts-based company that produced veggie rings, veggie tots, and frozen veggie fries, was acquired by B&G Foods, Inc. These snacks are made from navy beans, onions, cauliflower, vegan, non-GMO Project verified, and free of major allergens, such as wheat, gluten, dairy, soy, peanuts, and tree nuts.

In May 2020, Kellogg Company released Jumbo Snax, a line of snack products based on cereal. The product range comprises popular brands such as Fruit Loops, Apple Jacks, Corn Pops, and Tiger Paws.

In September 2019, Tyson Foods, Inc. introduced a new range of refrigerated snacks that offer natural health benefits. The brand was created with a functional value, providing consumers with nutritious and healthy snack options.

In February 2019, Graze, a British snack brand offering a range of natural snacks such as nuts, seeds, trail mixes, and bars with no artificial ingredients, was acquired by Unilever from investment firm The Carlyle Group.
Healthy Snacks Market Report Scope
| | |
| --- | --- |
| Report Attributes | Details |
| Market size value in 2023 | USD 94.59 billion |
| Revenue forecast in 2032 | USD 180.88 billion |
| CAGR | 7.5% from 2023 - 2032 |
| Base year | 2022 |
| Historical data | 2019 - 2022 |
| Forecast period | 2023 - 2032 |
| Quantitative units | Revenue in USD billion and CAGR from 2023 to 2032 |
| Segments covered | By Product, By Claim, By Distribution Channel, By Packaging, By Region |
| Regional scope | North America, Europe, Asia Pacific, Latin America; Middle East & Africa |
| Key companies | Nestlé, Unilever, The Kellogg Company, Danone, Monsoon Harvest, MondelÄ"z International, PepsiCo, Hormel Foods Corporation, Del Monte Foods, Inc., Dole Packaged Foods, LLC., B&G Foods, Select Harvests |