The global Herbal Medicine Market size was valued at USD 84.5 billion in 2019 and is anticipated to grow at a CAGR of 20.5% during the forecast period. This revenue generation can be accredited to its increasing usage by people across the globe for maintaining and improving their health conditions.
Rising demand for natural medicines along with increasing amount of funding for the development of traditional drugs will induce growth opportunities for the industry over coming few years. Additionally, herbal medications are considered as a type of dietary supplements which are available in market in different forms including powder, extracts, fresh leaves, dried plants, teas, capsules as well as tablets.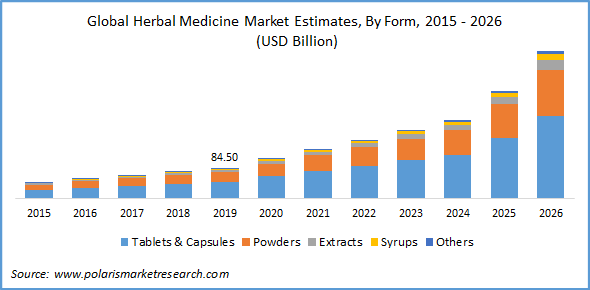 Know more about this report: request for sample pages
Rising number of various types of diseases is anticipated to support the industry growth rate during the projection period. Comparatively low cost of these products and building high value for the customers is primarily supporting the development of the market size. Moreover, awareness of these products among the customers across the globe will further boost the product growth rate over the study period.
Dated back to the ancient times, herbal medicines have been the common source of treatment for various diseases as well as enhancing health conditions. As per the National Center for Biotechnology Information 2015, the World Health Organization (WHO), stated that approximately 70% to 80% of the global population are dependent upon herbal sources for their treatment. In 2016, according to the American Botanical Council the sales of herbal supplements ascended by more than 7% in the U.S. Thus, this increasing demand for traditional drugs will fuel the industry growth over the projected period.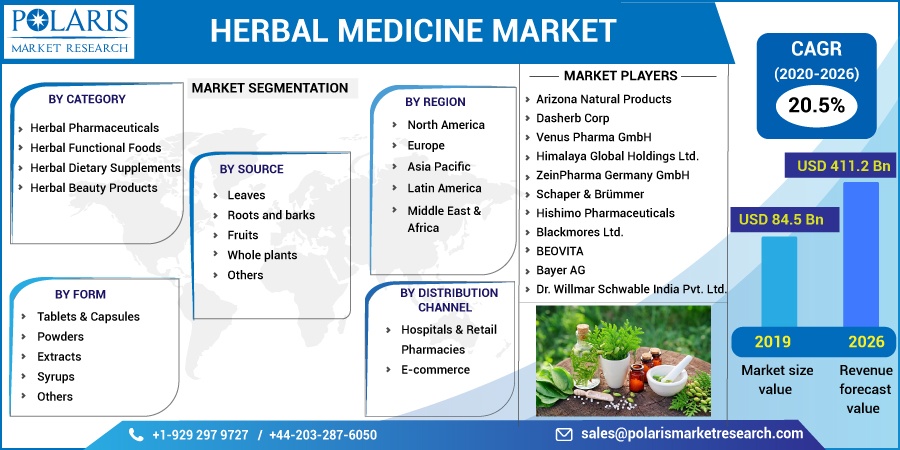 Know more about this report: request for sample pages
Herbal Medicine Market Report Scope
The market is primarily segmented on the basis of Category, Form, Source, Distribution channel, and geographic region.
By Category

By Form

B y Source

By Distribution Channel

By Region

Herbal Pharmaceuticals
Herbal Functional Foods
Herbal Dietary Supplements
Herbal Beauty Products

Tablets & Capsules
Powders
Extracts
Syrups
Others

Leaves
Roots and barks
Fruits
Whole plants
Others

Hospitals & Retail Pharmacies
E-commerce

North America (U.S., Canada)
Europe (France, Germany, UK, Italy)
Asia Pacific (Japan, China, India, Thailand)
Latin America (Mexico, Brazil, Chile)
MEA (UAE, Saudi Arabia, South Africa)
Know more about this report: request for sample pages
Category Outlook
In 2019, herbal pharmaceuticals accounted for a major market share of the herbal medicine market. Increasing aging population along with rising consumer awareness is expected to escalate the segment size during the forecast period. Moreover, various other factors such as supplier innovations, very few or no side effects, and the introduction of Current Good Manufacturing Practices (CGMP) by the FDA for dietary supplements will further enhance the herbal medicine industry size.
Herbal beauty products segment is also expected to witness robust market growth over the forecast period. Rise in demand for beauty products as a whole, increasing disposable income, easy availability of a broad product portfolio is some of the factors benefitting the growth of overall beauty product segment and this trend is also resulting in a rise in demand for herbal beauty products.
Form Outlook
Plants and herbs can be processed and consumed in multiple forms & ways thus making it possible for manufacturing a wide number of products. It includes salves, whole herb, rubs, ointments, essential oils, capsules, syrup, teas, tablets, among others. All these products contain dried form or extract of medicinal herbs.
Herbs and plants extract vary in the solvent used and includes long-term boiled extract, alcoholic extracts, roots, bark, hot water extract, vinegars, acetic acid extracts, and cold infusion of plants. However, there is no standardization and the components of traditional drugs may vary significantly between different manufacturers.
Source Outlook
The traditional drugs are made from flower, leaf, stalk, root, cloves, fruit, etc. For instance, Chamomile (flower) is used in the U.S. as an anxiolytic and sedative for relaxation and anxiety while in Europe it is used to reduce inflammation or swelling and for wound healing. Echinacea (leaf, stalk, root) treats and prevents flu, cold, and infections. Garlic (cloves, root) is used for lowering cholesterol and blood pressure. Milk thistle (fruit) improves liver conditions & high cholesterol, and reduces cancer cells growth. Saint John's wort (flower, leaf) is used as an antidepressant.
Several conventional drugs are mainly made from plants sources such as quinine is originated from cinchona bark, morphine from the opium poppy, digoxin from foxglove, aspirin from willow bark among others. The advancements in plant-based medicines will continue, with the industry participants engaged in the large-scale pharmacologic screening of herbs. This will positively impact the industry growth rate in the near future.
Distribution Channel Outlook
Distribution channel of herbal medicines can be mainly bifurcated into two channels namely hospitals & pharmacies and e-commerce channel. E-commerce channel is predicted to pose high growth rate during the forecast period owing to rising awareness, increasing usage of mobile phones connected with internet facilities, ability to reach at small towns & villages. More importantly it is a cost-efficient channel as the number of intermediaries are certainly reduced.
Regional Outlook
Traditional plant-based medications are attracting significant number of customers from across the globe. In China these drugs play a significant role to contain and treat severe acute respiratory syndrome (SARS). Moreover, as per WHO, India and China have made substantial investments in herbal medicine research. Thus, Asia Pacific is estimated to generate higher revenues between 2020 and 2026.
In 2019, North America, held a considerable market share. As per the National Center for Biotechnology Information 2017, the traditional drugs were primarily utilized for conditions such as stroke (48.7%), arthritis (43%), and cancer (43.1%) across the U.S. Additionally, the U.S. has also invested significantly in research and innovation of traditional drugs. This research to look for novel chemical compounds and promising medicinal herbs will further escalate the industry volume by 2026. However, these researches have to go through several ethical questions, some of which are not seen in other types of drug development.
Rising amount of funds for research in medicinal plants along with increasing preference for the plant-based medications will significantly drive the regional market size. Increasing support from government and rising prevalence of chronic diseases will facilitate the regional market growth during the study timeline.
Competitive Landscape
Some of the few market players in the global herbal medicine market are Arizona Natural Products, Dasherb Corp, Venus Pharma GmbH, Himalaya Global Holdings Ltd., ZeinPharma Germany GmbH, Schaper & Brümmer, Hishimo Pharmaceuticals, Blackmores Ltd., BEOVITA, Bayer AG, Dr. Willmar Schwable India Pvt. Ltd., Dabur, Patanjali Ayurved Ltd, and Arkopharma, among others. The industry participants are engaged in product development and innovation as well as expanding their global footprint.
Some of the major herbal medicine market participants are focusing on expanding their footprint specifically in high growth rate markets such as Asia Pacific. For instance, Blackmores Ltd. acquired Global Therapeutics in May 2016. Also, Arkopharma acquired DISTRIFA in November 2016 to enhance business in Iberian Peninsula. Moreover, in December 2017, Himalaya Global Holdings Ltd. introduced herbal medicine named as Oro-T, an improved mouth rinsing product for cancer patients.